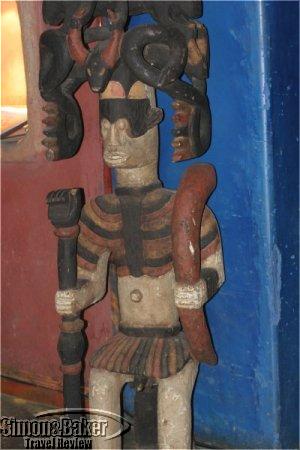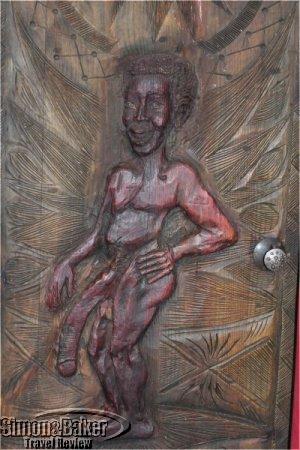 The eclectic African art varying from Moroccan, Mozambican, Zimbabwean and Malawi motifs gave Moyo an exotic feel; it was a place we could enjoy on a regular basis if we lived in Johannesburg.
Overall Impression
When was the last time you washed your hands with rosewater and had your face painted at your dining table? For us our visit to Moyo provided the first opportunity and it was lots of fun. Smiling staff, slightly shy, welcomed us to our corner table on the entertainment level, one of five levels at the 500-seat restaurant in the heart of a swanky Johannesburg neighborhood. Scant minutes passed before a pleasant lady in African garb took our drinks order. A server soon followed with a pitcher and bowl in hand. She poured rose water over our hands and provided a towel for us to dry them. A few minutes later she returned and painted our faces (cheeks and foreheads) following a Masaai Mara tradition. She drew small flowers and dots with black and white water soluble paint; another, the more masculine design was made with dots only. Moyo, which means soul or life in Swahili, was one of four such restaurants in South Africa serving African food (ranging from North Africa Tagines to South African Boboties) to one million guests.
What made Moyo Melrose Arch special, in addition to the stylized and well prepared African dishes, live African music and decor, was the refreshing company policy of Pan African inclusion and individual welcome for staff and guests alike; the recognition of what makes each and every nation and its residents special and the ability to share some of those customs with visitors through the "joy of the five senses" including music, art, and food. In spite of five stories and many guests in attendance on the weekend night we dined there, Moyo felt cozy, even intimate. Staff were agreeable and relaxed; we were unhurried and contented in our nook next to the stairs which had a view of the stage where two local performers played African and international melodies intermittently during our dinner. Cheerful guests danced next to the stage. The eclectic African art varying from Moroccan, Mozambican, Zimbabwean and Malawi motifs gave Moyo an exotic feel; it was a place we could enjoy on a regular basis if we lived in Johannesburg.
Chef De Cuisine
Nicholas Sheperdson
Executive Chef Amos Dlamini
Handicapped Access There were stairs everywhere. To reach one level from another and to access the bathrooms it was necessary to climb or descend stairs.
Location In the ritzy residential area of Melrose Arch in Johannesburg
Manager Mark Gould
Opened Moyo Melrose Arch opened in 2000
Owned Jason Lurie
Pastry Chef Daniel Malisela
Size Moyo had capacity for 500 guests on five floors on 1,000 square meters of space including two kitchens and employed 200 staff.
Type Of Restaurant "Modern sophisticated" Pan African cuisine
Wine Steward Max Khanyiel, a former Moyo head bartender who worked his way up the ranks
DÉCor-Ambiance The style was African eclectic with a nightclub influence. There was a variety of shapes, colors, textures and ethnic influences through the five stories including elements from multiple African countries and some artifacts of the staff's creation emulating art from their countries of origin. Special touches included a fruit boat from Ghana (departing guests were offered fruit instead of mints), traditional mud and straw walls, copper-clad columns, an outdoor tent made by the staff (completely full the night we were there), hand carved (slightly racy) wood bathroom doors from Malawi, a Moroccan style lounge with cushions, rock curtains made by the waiters, and antique brass leopards from Benin. Moyo manufactured and supplied the majority of the decorative items for its restaurants.
Cellars Wine And Alcoholic Beverage Selection
There were some 150 types of wine available at Moyo and more than 1,000 bottles. There were also cognacs; we noticed a noteworthy South African port brandy called Kaapzecht.
Meal Nicholas Sheperdson was the chef the Friday night we dined at Moyo. Shortly after we sat down, a platter of tasty breads arrived: one with sunflower seeds, sweet potato and pumpkin; an Egyptian Sesiate with sesame seeds, cumin and roasted rose petals; Tunesian Arabic flat bread with whole coriander seeds; and coconut bread with coconut and cinnamon. They were accompanied by a chick pea dip, Narrisa chili paste, extra virgin olive oil and Dukka which was made with coarse salt, dried chick peas, roasted peanuts, cumin, coriander and sesame seeds crushed together.
For starters, we ordered the Kudu Bresaola, air dried, red wine marinated kudu loin served with rocket, a pinotage and Ficksburg sour cherry sauce; and Prawn Sy Voanio, Madagascar classic flavor combination king prawns toasted almond and coconut milk sauce. For main courses we had delicious Lephalale springbok shank, South African Hanneport Braised Springbok Shank (of chef Sheperdson's design) with apricot and butter almond chutney with mashed potatoes and Lamb Tagine braised in tomato, coriander, cumin, turmeric and parsley sauce, a North African stew. Dessert was a platter with an aromatic selection of bite size morsels of chocolate biscotti with kernels, apricot truffle fruit fudge, chocolate mampoer (a South African liqueur) balls, and yummy caramel sauce made with Castle beer. Delicious!
We sampled a 2005 Warwick sauvignon Blanc and a 2002 Le Riche cabernet sauvignon, part of the day's wine tasting.
Special Menus There were three set menus. Although these provided a wonderful opportunity for group sampling, we ordered a la carte since there were only two of us.
Other
There were nightly wine tastings in the Moyo cellars hosted by Max, the wine steward, featuring wines from small producers. Moyo was involved in many community projects integrated into the restaurant operations. For example, they trained disadvantaged and disabled workers to make art, metal, fabric and wood decorative items which were incorporated into the restaurant. Existing staff were also invited to participate in the common areas décor. Many young (in years and at heart) musicians were invited to perform at the restaurant. We met Tamba who played the Mbira, a Zimbabwean instrument made from a hollowed out pumpkin he had learned to play from his father. He spent his time atop the fifth floor boulder and walked around singing tableside in Shona. Wearing an ostrich feather headdress he sang "Unite all together as one" and "Farewell" for us. The band playing that night was Phondo Dlosi. Moyo produced two CDs: "1 Night at Moyo Live" featuring mostly local artists (including the band we heard) and the first album entitled Moyo featuring French African and other performers from across the continent. A souvenir shop, to the left of the entrance, sold African music and Moyo CDs.
Smoking was permitted on the top floor; the second floor was the entrance and housed the restrooms; the third floor (where we dined) was the entertainment level where we noticed the main kitchen and music stage; the wine cellar and cigar lounge were on the fourth floor, one level down from our floor; the "rock area" was the lowest level and had a huge granite boulder in the corner (where Tamba liked to sit).
Reservations It seemed advisable to reserve a table, especially for a weekend evening or if a particular table was desired. In spite of the 500-seat capacity, Moyo looked full when we were there. We heard patrons reserved favorite spots weeks, even months in advance.
Date Of Review
November 2005
ReviewersArticle by Elena del Valle
Photos by Gary Cox
Service Moyo employees hailed from many African countries including Botswana, Cameroon, Congo, Malawi, Mozambique, Nigeria, South Africa, Tanzania, and Zimbabwe. Most of the management staff were ex-waiters who had worked their way up. One of the chefs had started out as a dishwasher. The three staff members we met, Mark, Faith and Petronella, were helpful and well informed.
Would You Dine There Again-Recommend It? Yes
Contact Information
Address:
10 Melrose Boulevard
Melrose Arch
Johannesburg, South Africa
Phone:
Fax:
Website:
Email: