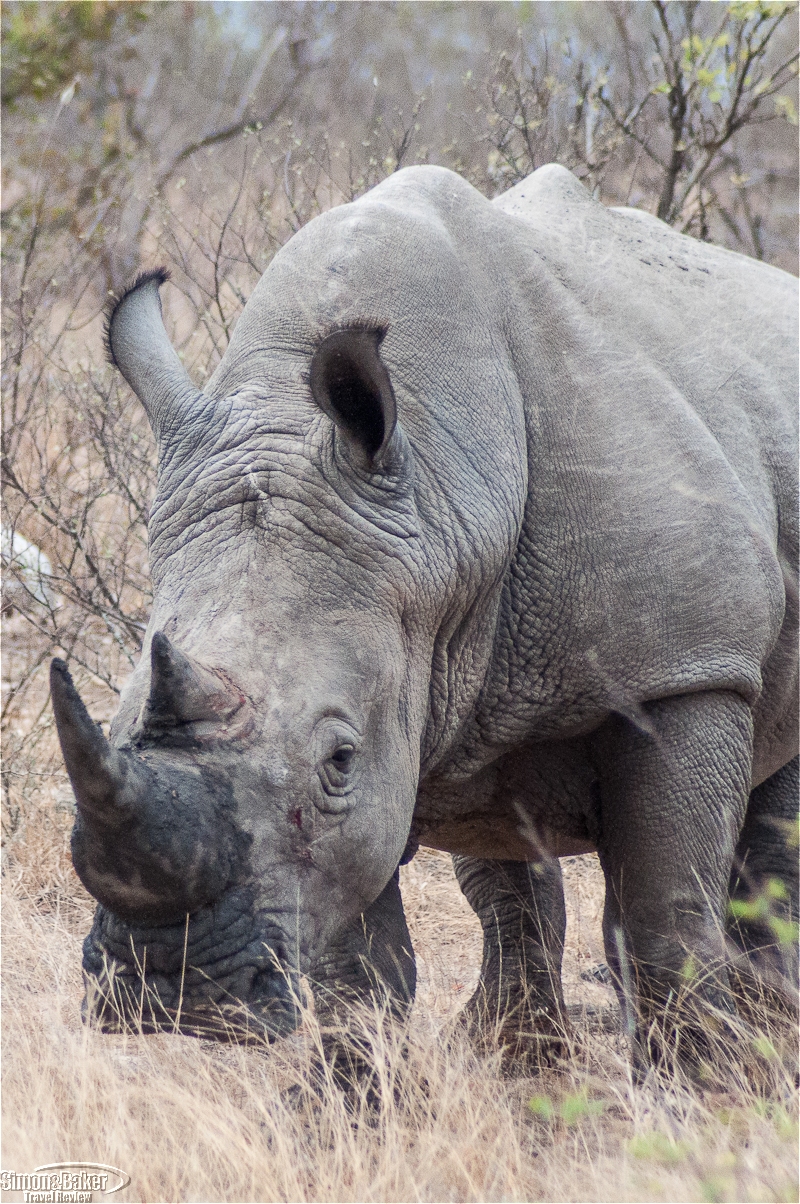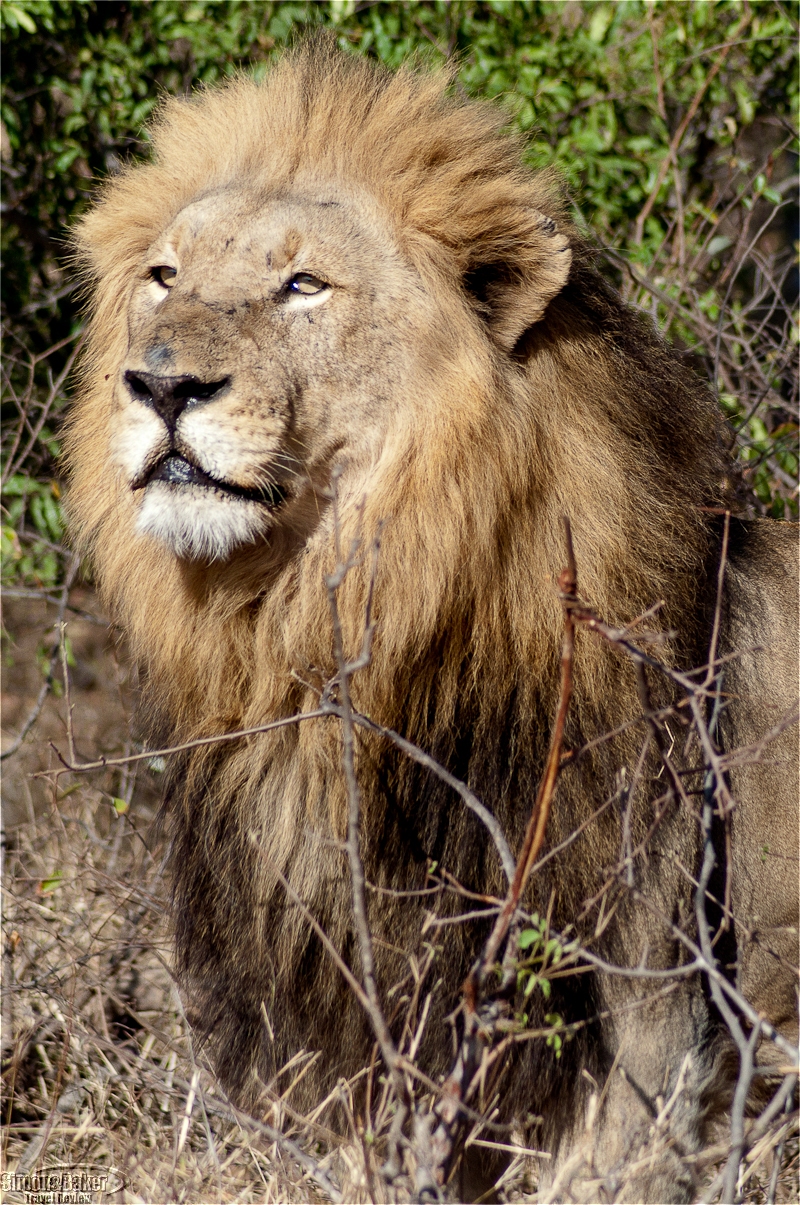 Overall, I found the understated casual comfort of Motswari, its warm and relaxed ambiance and the excellence of its guiding a perfect combination for an exceptional safari experience.
Overall Impression
It was my first visit to Motswari Private Game Reserve within the larger Timbavati Nature Reserve in South Africa. I had barely settled in and yet, as I made my way along the sandy path toward the common areas of the lodge, I experienced an unexpected sense of familiarity. The azure African sky and blazing early afternoon heat were filtering through the branches of towering native trees. Under their neatly trimmed conical thatched roofs, circular pale adobe structures stood in the dappled shade of the grove. I passed staff members along the way, who greeted me with the earnest warmth of someone who has been looking forward for me to show up.
The common areas reinforced the feeling that I was being welcomed at the private country estate of a friend. The décor, created by noted Cape Town interior designer David Strauss, was an eclectic mix of safari antiques, rustic furniture, African crafts and personal memento accents. It had the charm of a family country home that had developed spontaneously over time. But other than taking in the relaxed atmosphere, I barely noticed the details. My attention was focused on a powerful original painting of a wild dog showcased against the natural stone wall of the lounge. I fleetingly wondered if Egon Schiele, one of my favorite early 20th century Viennese expressionist masters, had ever visited Africa. He had not, and the painting, along with a number of others in the lounge and library, was by Marion Geiger, a noted South African artist and the owner of Motswari.
My contemplation was interrupted by the sound of approaching female voices singing in the close harmony style for which South Africa is famous. I was charmed to find theses unexpected artistic touches deep in the bush. The chorus filed into the lounge, the kitchen staff baring large bowls and trays of salads, relishes, meats, savory and sweet pastries to a long buffet table, instantly turning it into a bountiful groaning board. High tea was served in prelude to the afternoon game drive.
Nestled in the heart of the famed 54,000 hectare (209 square mile) Timbavati Nature Reserve, one of the oldest and most pristine in South Africa, and with an unfenced border to the western boundary of Kruger National Park, Motswari was a primeval Eden teaming with Big Five game (buffalo, elephant, leopard, lion and rhino) and many mammals and birds. But throughout the drive and on every subsequent one I was reminded that regardless of the abundance of game and bird life, it was the quality of the guiding that ultimately made the difference between routine game viewing and an unforgettable experience. My guide Hearold Mgiba and tracker Difference (his real name) Hlophe were among the best I have come across anywhere in Africa. With them every drive was a close interaction with the ever unfolding drama of the natural environment: we tracked through the thicket a leopard stealthily returning to the impala dinner it had concealed high in a tree, and witnessed a territorial conflict between two males, so sudden that the pursued had propelled itself to the top of a 20 meter (65 foot) yellow acacia by the time we spotted its pursuer.
We observed at close range the dynamics between two lions feeding on the carcass of a young buffalo, and lionesses and cubs from a resident pride grooming off each other the traces of a recent kill. In every case, Hearold knew how to unobtrusively position the vehicle to ensure the best viewing and photographic angle. And when we eventually returned to the lodge, still buzzing from the experiences of the previous few hours, it was to sumptuous brunches cooked right under our eyes or romantic candle lit dinners around the central fire pit in the traditional boma, and always to the unfailingly attentive hospitality of the Motswari staff.
I also loved the serene haven of my own light filled room and its secluded terrace overlooking the river. Modern comforts, such as air conditioning and electric room appliances, were discretely integrated in the classic décor of rustic wood and rattan furniture in keeping with the casual atmosphere of the property. Overall, I found the understated casual comfort of Motswari, its warm and relaxed ambiance and the excellence of its guiding a perfect combination for an exceptional safari experience.
Children
Motswari welcomed children over the age of six by prior arrangement on a case by case basis.
Class Of Accommodation The property was classified as a Four Star Game Lodge by the South Africa Tourism Grading Council.
Connectivity My GSM 3G/4G international cellular phone service was fully operational at the lodge and intermittently throughout the reserve. A reliable, complimentary WiFi connection was available in the common areas throughout the day and evening.
General Manager David King
Handicapped Access Motion impaired guests could be accommodated by prior arrangement on a case by case basis.
Length Of Stay Three nights
Location Motswari Private Game Reserve was within Timbavati Nature Reserve, adjacent to the southwestern boundary of Kruger National Park. It was a 90 minute drive northeast from Hoedspruit and 75 minutes from Eastgate Airport, or a six hour road trip from Johannesburg.
Managed Newmark Hotels, Reserves & Lodges
Owned Marion Geiger was the owner. Motswari was originally purchased by the late Paul Geiger in 1981 and privately owned by the Geiger family for two generations.
Size The property consisted of 15 guestrooms. It could accommodate a maximum of 30 guests and employed a staff of 41, including six guides and five trackers. There were five game viewing vehicles. The property owned 1,300 hectares of reserve land and had traversing rights to between 13,000 and 17,000 hectares within the Timbavati Nature Reserve, which was home to 12 properties including Motswari.
Year Open-Renovated The property originally opened in 1978. According to property representatives it has been the object of constant enhancements and meticulous maintenance since the Geiger family assumed ownership.
Lobby And Common Areas
The common areas were housed in structures of natural stone under thatch on slabs of polished concrete. Other than the stylish contemporary rondavel with the reception desk and business office at the entrance of the property, they were located on the bank of the seasonal Sohebele River at the far left of the property. The lounge and bar as well as the dining room opened onto a paved terrace and the swimming pool. The library and art gallery was a few steps back into the trees. Throughout the property, David Strauss had created a casual vintage bush environment in a palette of natural hues, where heavy wood and graceful woven rattan furniture blended harmoniously with antique trunks, tribal craft accents and contemporary touches. The lounge featured an array of comfortable seating. Pairs of rattan or upholstered barrel chairs around bistro tables outlined the edge of the terrace. In the center of the room, clusters of mission style, overstuffed and contemporary sofas and chairs were arranged around antique tables or weathered trunks. An old glass case displayed a collection of bleached bones and tortoise shells. At the rear of the room, next to the long arched bar with its heavy polished wood top on a masonry base, a pair of library tables surrounded by high back chairs beckoned board game players. The rear wall was covered with framed photographs spanning several decades. In addition to the aforementioned painting of a wild dog, an equally stunning portrait of a native woman hung at the far end of the room.
More of Marion Geiger's original wildlife art, mainly watercolors, was displayed in the library and art gallery, complemented by several sculptures by local artists. There large French doors opened onto a flagstone veranda separated from the surrounding nature by stone and wire curtains. The patio was furnished with a roughhewn love seat and chair with faded pastel canvas cushions. The wall displayed a collection of weathered wooden tribal masks. The back wall of the library was covered with a mural of a journey of giraffes on the move. In the center of the room, a sofa upholstered in shades of gray, two mission style armchairs with striped gray and white cushions, and a long contemporary bench covered in white cotton were arranged around a butler's tray coffee table on a large floor cloth with geometric designs in shades of red.
Two armchairs covered in tan cotton tweed and a side table with an inlaid chessboard top stood in front of a contemporary fireplace built into the gray plaster side wall. On the opposite side of the room, wall hung bookshelves held a collection of books on wilderness and a random assortment of novels. A contemporary desk, with a comfortable chair, held a desktop computer for guest use. In the dining room, a long masonry buffet bar with a cooking station occupied the entire back wall. Rectangular banquet tables surrounded by rattan chairs lined the room. There were also bistro tables and chairs a few steps below on the terrace near the riverbank for those who preferred intimate alfresco dining.
Bathroom
All impressions of a bygone era ended at the door of the bathroom. There the latest conveyances included gleaming white porcelain appliances and a large shower stall tiled with natural stones and a rain showerhead. The oval washbasin sat on a long polished concrete vanity topped by wall mirror in a white frame of bones and horns, a flush commode and at the far end of the room a deep built in bathtub faced with stones that matched the floor and the shower walls.
Room I thoroughly enjoyed my 45 square meter (500 square foot) circular room, Duiker (the rooms were named for local mammals). It was an airy space with large French doors and windows that opened onto the broad curve of a private terrace overlooking the dry riverbed. The sleeping area was decorated in relaxing neutral tones with a retro mix of rustic wood and rattan furniture. Under the soaring peak of the ceiling, the walls were cream rough plaster and the floor covered with wall to wall natural fiber carpeting, and a rust and white cow hide throw rug. In the small entrance foyer, a long wooden bench served as a luggage rack, next to an early 20th century storage armoire with a central mirror. Under its elegantly draped mosquito net canopy, the comfortable king size bed was clad in snowy white cotton bedding. The bed and two adjoining beside tables rested against a long woven rattan headboard.
On the opposite side of the room, a storage chest stood between two wooden armchairs with tan canvas cushions and grey and white cotton toss pillows. Near the French doors, a rattan armchair sat in front of a writing desk, while on the opposite side of the room a small credenza held a tea and coffee service under a rattan cloche. A large square modern painting in earthy tones hung on the wall above it. The French doors and windows were draped in translucent tan muslin. In addition to a central fan hanging high in the ceiling, the room had a quiet remote controlled air conditioning unit. There were two rustic high back armchairs and a wrought iron side table with a tiled top on the terrace.
Meals
From the continental breakfast prior to the morning drive to the formally served three course dinner or
braai
(South African barbecue) under the stars around the
boma
fire pit, Grace Mnisi, the head chef, and her team clearly delighted in dishing out delicious meals, beautifully prepared from fresh local products. Amazing Grace, as chef Mnisi was often called, discovered her passion for cooking when she joined the Motswari community as a young kitchen assistant in 1996 and steadily worked her way up the ranks to pastry chef and sous chef before taking over the top job in 2004. Her cuisine focused on South African specialties with strong international accents.
Breakfast, brunch and high tea were served buffet style, with such a profusion of appetizing and imaginative offerings that they were an invitation to excess. I was welcome to sit wherever I wanted, at a table with other guests or at one of the small tables on the terrace. Seating for dinner was at designated tables with the guests from my vehicle plus usually a couple of additions based on the guest rotations.
Amenities
Room amenities included facial tissues, a carafe of drinking water, fresh milk for the tea, coffee and hot cocoa service, home baked cookies, electric water kettle, electronic safe and golf umbrella.
Bathroom amenities included full size pump bottles of Terra Firma brand olive and honey conditioning shampoo, body wash, body and insect repellent lotion, and Neroli-scented room and linen freshener mist, hand soap and hairdryer. Meals, soft drinks and house alcoholic beverages were included, as were daily game viewing activities. Daily laundry services as well as top brand alcoholic beverages and vintage wines were available at an additional charge.
Facilities There was a lounge and bar, library and art gallery, a dining room, swimming pool and open air enclosed boma.
Gift Shop A large, well stocked gift shop was located at the rear of the lounge. It carried a variety attractive African crafts and jewelry as well as a broad selection of Motswari branded safari clothing and accessories.
Pool The free form swimming pool was five meters by seven meters (16.5 feet by 26 feet) at its widest and longest. It was set in a large terrace of concrete tiles shaded by mature trees overlooking the dry riverbed, and surrounded by ten lounge chairs with thick gray canvas cushions.
Game Viewing
Game drives at Motswari were some of the best all around safari experiences I have enjoyed anywhere. With its own private property and additional traversing rights within the northern part of Timbavati Nature Reserve, an area reputed to be exceptionally rich in game, and a 25 kilometer (15.5 mile) open boundary to Kruger National Park, there was abundant resident game at Motswari and also large traveling herds of elephants and buffalos.
In addition to daily sightings of the Big Five, game I saw included banded mongoose, blue wildebeest, bush baby, bushbuck, civet, cheetah, common duiker, eland, giraffe, hyena, hippo, impala, kudu, nyala, spotted genet, vervet monkey, warthog, zebra and Nile crocodile.
Birds included: black headed oriole, Wahlberg eagle, crested barbet, African hawk, lilac breasted roller, gray lourie, helmeted guinea fowl, African crake, whiskered tern, Burchell's coucal, Verreaux's eagle owl, grey heron, three-banded plover, wire tail swallow and chanting goshawk.
Activities In addition to twice daily game drives that routinely extended over four hours each, guided walking safaris were also available.
Other
Electricity was 220 volt current. There were several outlets in my room, fitted with universal adapters to accommodate North American and European plugs.
In the local Tswana language, Motswari means "to conserve and protect," and that sums up the ethos of the property. Since its inception over 30 years ago, Motswari began implementing wildlife conservation and environmental management processes as well as providing employment and growth opportunities for the local communities; thus practicing the key principles of responsible tourism and sustainable development long before they were articulated by the international community.
On the public stage, this policy earned Motswari such prestigious recognition as its on going accreditation by Fair Trade in Tourism, South Africa (FTTSA), a distinction the property first earned in 2008. Motswari also achieved Gold Class status in early 2013 on the Heritage Environmental Certification Program (based on internationally recognized sustainability and responsible business initiatives), making it the only environmentally certified lodge in Timbavati. The Heritage Environmental Management Company is an environmental certification company conducting independent review and certification based on environmental best practices such as a property's contribution to environmental conservations, hygiene, food safety and energy efficiency.
Cleanliness
Excellent
Date Of Last Visit October 2013
Reviewers Article and photographs by Josette King
Service My room was serviced daily. Every member of the staff with whom I came in contact was exceptionally friendly and helpful.
Would You Stay There Again? Yes
Contact Information
Address:
P.O. Box 2
Hoedspruit, 1380
South Africa
Lodge:
Reserve:
+27 (0)15 793 1718
+27 (0) 21 427 5900
:
Email: