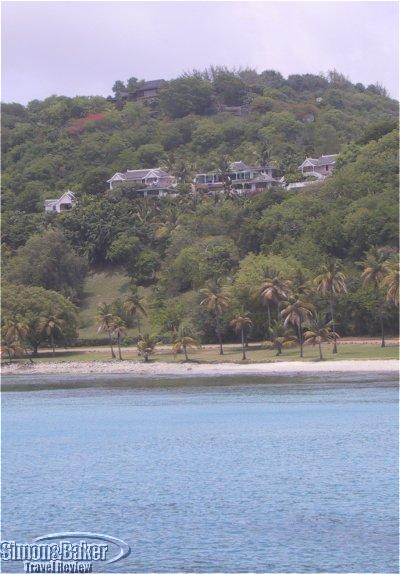 We returned home relaxed, refreshed and smiling.
Overall Impression
Our latest recipe for a worry free off the beaten path luxury vacation in the sun began with a liberal amount of blue skies. These were sprinkled with pretty puffy white clouds for character and occasional shade. Mix in large quantities of calm and clear Caribbean water in many blue and turquoise hues; throw in a well built, roomy and comfort oriented 47 foot catamaran and mild winds to sail by. We made sure to add the key ingredient: a friendly and experienced crew with local knowledge that sailed, cooked, cleaned and most important took us to all the magic corners of this unspoiled area of the Windward Islands; following an itinerary developed together around our preferences, time available and local conditions.
We wanted to get away from it all; somewhere with an island flavor though not too touristy, picturesque, sunny, with beaches, and close enough to home that we could reach it in one day and relax once we arrived. We settled on the Grenadines, a cluster of islands in the southeastern Caribbean and temporary home to countless boating enthusiasts. The best way to see the Grenadines was by boat, preferably a sailboat. Although many weekend sailors choose to hire a bareboat (a boat with basic comforts and no crew), being landlubbers with little sailing knowledge and limited vacation time we figured traveling on a sailboat with a crew from a reputable U.S. company was the way to go. This proved to be the case for many reasons. A U.S. run operation meant, facilities and standards where similar to those we were used to at home. This provided a sense of comfort, reliability and safety. At the same time, the Grenadines have their own flavor, rhythm and style so we felt we were getting away from the every day.
We were thrilled to have a crew who had bought supplies based on our preferences (we filled out a questionnaire weeks before arriving); who knowing what we wanted to do was able to make recommendations for ideal places, shops and vendors; find premium anchorages, guide us to favorite snorkeling and lunch spots and pamper us with three elaborate meals a day and more. Their familiarity with the area, supplies available and contacts in the islands and with the boat vendors meant they minimized the effort and time required to buy food, water, and fuel and dispose of waste; to maximize the time we had to relax, snorkel, play in the sun, swim or just laze around. S.A.M., our chef, was able to whip up savory dishes, find the occasional freshly baked French bread and pastries for breakfast, offer us appetizing fruit and vegetables (always a challenge in the islands), make cakes, cookies, fruit parfaits and other gourmet treats in her small galley. She paired our meals with international wines and satisfied our sweet tooth with treats and chocolates.
Our week of crewed sailing in the Grenadines was wonderful. Island Spirit, our home for the duration, was a comfortable 47 foot sailboat with four cabins which offered plenty of space to spread out and enjoy some occasional privacy. We explored the islands above and below the water (we had a wonderful time snorkeling), bought souvenirs and rested. Thanks to the generator, the cabins and dining area could be air conditioned at night, a welcome relief at the end of a hot Caribbean day. Rich and S.A.M. our uniformed crew were hard working, competent and friendly. They showed us their "backyard," an idyllic paradise of islands, sun, sand, friendly locals and visitors and prepared good the meals everyday. On the Island Spirit we enjoyed some of the best meals and smoothest sailing we have had on a sailboat. We returned home relaxed, refreshed and smiling.
About The Crew
Our English captain was a Royal Yachting Association, RYA, Yachtmaster with an offshore commercial endorsement who had a solid blue-water cruising background with 45,000 miles comprising extensive single-handed voyages. He had been captain of a variety of yachts in locations throughout the world since 1994. A PADI open water diver and a British surfing association instructor, Rich's proud accomplishment was sailing single handed from Japan to Alaska on a 28-day voyage.
Our chef and hostess specialized in a fusion of flavors using best available local produce and drawing on global gourmet influences including Caribbean, Mediterranean, Scottish and Asian. Accustomed to hosting international guests she was able to adapt her cooking for guests with dietary preferences such as vegetarian, low fat or the Atkins diet. She completed The Art of Thai Cooking, an intensive cooking course with Thai master chef Kasma Loha-unchit in California and another cooking skills course at the California Culinary Academy in San Francisco; and various hands on training sessions with professional chefs in the U.S. and New Zealand. A PADI open water diver, she completed a STCW (Standards for Training Certification and Watchkeeping) safety training, and had more than 18,000 miles of sailing experience.
Areas they had traveled by sea included Australia, New Zealand, Pacific Islands, Japan, Alaska, South America, Mexico, Med & Caribbean. Rich was an excellent sailor and S.A.M. a gracious host and competent cook. They were both efficient, knowledgeable, personable, experienced, and accommodating.
Built Our catamaran was built in South Africa in 2001. The Moorings only charter boats that are five years or less old.
Charter 8 nights
Crew captain Rich Malone and chef/hostess S.A.M. Howie
Description our Robert and Caine Leopard 4700 catamaran was South African made. It had four cabins with en suite heads (bathrooms), it had 2 Yanmar 56 hp engines, space for 158 gallons of fuel and 250 gallons of water. Designed in collaboration between the architect Alex Simonis, Robertson & Caine and The Moorings, the Moorings Crewed 4700 was outfitted with top-of-the-line equipment including complete electronics, generator and air conditioning. It featured upgraded interior decor, a 12-foot dinghy with a 25 hp outboard engine, a CD player and a captain and chef who cater to our needs.
Fish Viewing while snorkeling we chose to snorkel daily sometimes twice daily if we were near favorable snorkeling areas. Here are some of the fish were saw and were able to identify: hound, porcupine, trunk fish, juvenile damsel fish, blue tangs, trumpet fish, squirrel fish, queen parrot fish, sergeant major, rock beauties, blue head, banded butterfly fish, French grunts, yellow tail snappers, yellow goat fish, brown chromis, red lip blenny, bluehead wrasse, spotted drum.
Handicapped Access limited wheelchair access
Location on Canouan in the southern part of St.Vincent and the Grenadines in the southeastern Caribbean
Managed The Moorings
Owned Grand Expeditions
Size 46' 10" (long), 24'3" beam and 41'10" tall with a draft 4'4" deep and a 1334 square-foot sail
Transportation from the U.S., there were flights to Canouan from San Juan, Puerto Rico. It was also possible to fly to Barbados or St. Vincent and from there connect on a small carrier to Canouan. Due to the short runway only turboprop plans could land in Canouan. After a long three hour layover, we flew flight from San Juan, Puerto Rico with a stop in St. Lucia. Our connecting flight was late arriving, oversold and required maintenance so we were late departing from the congested airport. Because the airport on Canouan closed at sunset and we were an hour late, we almost didn't make it (we landed a few minutes before sunset). It took us all day to arrive in Canouan. Somewhere en route someone broke into our bags, in spite of our TSA approved locks, and stole a pair of sunglasses we had been unable to fit in our carryon luggage because of the carryon restrictions. Flying through Puerto Rico was the least pleasant part of the voyage. We will consider other flight options in the future.
Sailing Route because our flight arrived at the end of the day and our sailing charter started at noon the following day we spent our first night at the Tamarind Beach Hotel (adjacent to the Moorings base and dock) in Canouan. From Canouan we sailed to the famous Tobago Cays (pronounced "keys") where we spent our first two nights on the Island Spirit. Next we visited Clifton Harbor in Union Island, where we meandered around the town and shopped for souvenirs. Our third night was at Sandy Island, a picturesque strip of sand with great snorkeling. From there it was a short sail to Chatham Bay on the other side of Union Island. After a beach barbeque dinner including some unexpected showers we woke early for our short skip to Salt Whistle Bay in Mayreau. In that beautiful, though crowded bay, we encountered more showers on our walk back from the cozy Catholic church and town at the top of the hill. A brief lunch saw us off to our first extended sail (two hours) to Port Elizabeth in Admiralty Bay in Bequia, a favorite anchorage of Grenadine sailors. After a overnight stay and some sightseeing we headed to Petit Nevis. A midday fire and smoke caused us to flee soon after anchoring and we arrived extra early in Mustique, home away from home of the rich and famous. After a couple of excursions and a rolling night on the island's marine park harbor we returned to Tobago Cays for our final night on board. This time, there were strong winds and the water was choppy so we anchored in a protected spot. The following morning after our usual scrumptious breakfast and a bit of snorkeling, we sailed back to Canouan for our overnight stay at the Tamarind and flight home early the next morning.
Common Areas
a waterproof royal blue Bimini top covered the 120-square-foot white fiberglass cockpit with white seat cushions and blue multipurpose cushions. The cockpit had roll up side and rear screens for sun and rain protection. A cockpit table with seating for eight was where we enjoyed all our meals and most of our conversations while on board. A 24-foot wide rear swim platform including stepped sugar scoop transoms for easy swimming access was adjacent to the cockpit.
From the cockpit we walked inside through 3' foot wide by 6' high twin smoked glass (all saloon windows were smoked) doors into the saloon/dining area. This was a 63 square foot air conditioned dining room with seating for eight. Behind the dining room table, there was a selection of books and games. There was also a TV/VCR, DVD, 6-CD sound system. The ethnic fabric on the cushions matched the cushion in the cabins and there was a teak and holly (wood) effect. There were four side windows and two forward facing windows each with two opening hatches for ventilation; all the windows had Venetian blinds. A small galley (kitchen) was adjacent to the saloon though we never mad use of it. In addition to the filling meals, there was a fruit basket, snacks and chilled beverages readily available in case we were pecking in between meals.
The foredeck and its trampolines, which occupied about one third of the boat, offered plenty of space to relax day (sun bathing, during sailing) and night (stargazing). There were multiple comfortable places to sit and lounge.
Cabins And Heads
our forward cabins were a roomy 56 square feet with headroom of 6'4." The bunk (bed) was 6'3" x 4'9".Decorated in wood laminate and wood trim and white fiberglass our cabins were bright and cheerful with two portholes and a hatch. In addition to the air conditioning vent, there was a small fan above the bed which helped further cool the cabin after a hot day in the sun. There was plenty of shelf space at the foot of the bed and in a small closet adjacent to the bed which even had hanging space. There was a small built-in cloth covered seat next to the storage area. There was a towel mat over the wood color floor at the entrance to the cabin and head. At night, we made use of the main light and reading lights placed on the cabin ceiling.
The head (bathroom) was small but convenient. It housed a manual pumping flush toilet which leaked, splashed and required extensive pumping (our least favorite feature though we understand new sailboats now have push button toilets); storage space for toiletries including a vanity with a small mirror and a sink. To shower we extended the sink hose to convert it into a mobile showerhead. This meant we used one hand to hold the showerhead and the other to shower. At the end of the shower we had to activate a draining mechanism by pressing a button.
Meals
Adapting locally available food stuffs when sailing, especially in the Grenadines where fresh supplies are not always available, is a challenge for many cooks and chefs. Our Scottish born chef met that challenge well. S.A.M.'s dishes were tasty and appealing to the eye. Her table always looked smart including lovely place mats, table cloths and dinnerware. Our first lunch aboard was a cold delicious prawn and chicken salad with a sweet and flavorful mango sauce. It was a sample of things to come. In the evenings we had happy hour drinks and snacks such as endives with goat cheese, coriander, ginger and tomatoes; sesame crusted creamy garlic flavored spread; salmon, goat cheese, fish eggs on seaweed flavored rice crackers; Other lunches included prawn and avocado salad with a creamy garlic dressing; salad with Roquefort cheese, tomatoes, celery, juniper berries, avocado and freshly made bacon. For dinner, we enjoyed yellowtail snapper with a pineapple, coconut and lime juice sauce with eastern style sticky rice served in the shape of our sailboat; a filet mignon tower with mushrooms, sweet mashed potatoes and a green peppercorn sauce. Dessert was a yummy coconut cheesecake with passion fruit frosting decorated with two candles and a "Happy Anniversary" message. We also had coconut crab cubes for appetizers with banana ketchup and a sweet chili sauce.
Breakfast was usually an affair as well. One morning she served a banana omelet, salmon with cream cheese and capers, various cheeses, yogurt, fresh fruit, cereal, jams and toasted bread.
On our chef's night off (from cooking) we enjoyed a memorable beach side barbeque of grilled chicken and lobster prepared by Sharky, a colorful artist whose carvings of large local Cedar wood pelicans were commissioned by visitors and shipped to their homes when they were ready (some required several months to carve). Another night we decided to sample Mac's Pizza in Bequia and were pleasantly surprised.
Amenities blow dryer, 120 volt electric outlet, Sun bar soap, aloe vera liquid soap, bottled water in the cabins, plastic snorkel mouthpiece, coozies (bottle holders) and tissue paper.
Leisure Activities Available included snorkeling, diving (required a rendezvous with a third party operator and some advance planning), fishing, kayak, wind surfing, noodles, knee board and a doughnut. There was also swimming near the sailboat (depending on where we docked), walking on the beach, and visiting the islands.
Other
One of the added luxuries of being on a crewed boat was the air conditioning at night. We especially appreciated this feature because although the ocean breezes were pleasant it was quite humid and brief showers were common.
Grenadine anchorages are remote without easy emergency vehicle access, especially at night when sailing conditions were less than ideal. As a result, this type of vacation was best for ambulatory passengers without severe medical condition requiring immediate health care.
We carried water and fuel for our consumption on the boat. This meant there was a limited water supply requiring us to use water in the heads judiciously.
When swimming, there was a practical easy-to-reach ladder to get in and out of the water. Next to it there was a shower head to wash off saltwater, sand, etc when coming on board. Although shoes were allowed (except for black soled shoes) we all walked barefoot while on board. .
When we wanted to visit and island or snorkel beyond swimming distance, our captain would take us there in the dinghy. Getting off the dinghy in the water was easy. Getting back on, we discovered quickly, was a difficult and undignified affair for all but the most agile and physically fit.
Cleanliness
good
Date Of Review May 2005
Reviewers Article by Elena del Valle
Photos by Gary Cox
Service Rich and S.A.M., our uniformed crew, looked after us during our sail. In addition to handling the sailing, they prepared and served well presented meals and drinks and offered us happy hour hors d'hoeuvres daily. They maintained and cleaned the boat and our cabins daily, changed the linen once a week, found and bought supplies (a time consuming task in the islands where some items may be hard to find), drove us on the dinghy to snorkeling spots and to the islands when we felt like shopping for souvenirs, browsing, walking of just plain getting off the boat for a short while.
Would You Take This Voyage Again? yes
Contact Information
Address:
The Moorings Crewed Yacht
Charter/The Moorings
Signature Vacations
19345 US Highway 19 North
Clearwater, FL 33607
United States
Phone:
USA and Canada
+1-800-669-6529 toll free
All Other Countries
+1-727-535-1446
Address:
United Kingdom
Bradstowe House
Middle Wall
Whitstable, Kent
CT5 1BF
United Kingdom
Phone:
Address:
Germany
Candidplatz9
81543 Munchen
Germany
Phone:
Address:
France and Europe
64 Rue J-J Rousseau
75001 Paris
France
Phone:
Website:
Email: