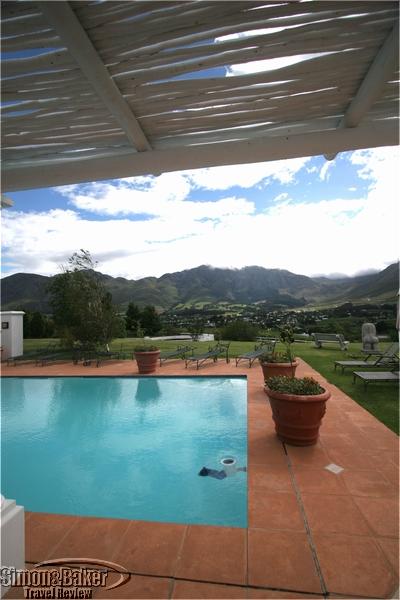 Fortunately there were many additional features to make the property exceptional and worth a revisit.
Overall Impression
Location, location, location! Set on the hills overlooking the town of Franschhoek and the Klein Dassenberg Mountains, Mont Rochelle's most notable asset is its precious setting. The Saturday we arrived, verdant hills peppered with vineyards were a stunning contrast against the perfect blue hues of the sky and puffy white clouds seemingly added by an artist brush.
Strong gusts reminded us we were in South Africa's famous Cape region known for its powerful winds. In the summer sunshine, the strong breeze was pleasant. At the same time, we appreciated the particularly beautiful weather, feeling torn between enjoying our superb suite and hotel facilities and participating in outdoor activities like hiking, tasting wine, horseback riding or just walking around the picturesque town.
Formerly known as the La Couronne Hotel and Restaurant, the hotel was severely damaged by fire in February 2006. The result was a renewal and expansion of the property to include the owners' nearby vineyards. We especially liked our spacious and well appointed suite with a private plunge pool and stunning view of the valley. We also liked the Mont Rochelle gourmet restaurant with a view, agreeable staff, workout room and activities options including wine tasting, horseback riding, and spa treatments. We would return to Mont Rochelle for its location and striking view alone. Fortunately there were many additional features to make the property exceptional and worth a revisit.
Class Of Accommodation
Five star small hotel
Concierge Reception and the duty managers handled concierge needs when guests were on site. Reservations handled requests prior to guest arrival.
Connectivity The business center had a computer with Internet access available to guests.
General Manager Kerrin Titmas (following our visit she took a leave of absence)
Handicapped Access The hotel welcomed handicapped guests and had quite a few handicapped guests who visited regularly. Although the rooms were not designed for handicapped guest use, the hotel invited guests to rely on a nurse during their stay. The staff had experience assisting guests in wheelchairs.
Length Of Stay Two nights
Location In the village of Franschhoek in the Cape Wineland
Owned Miko and Rwayitare family and Erwin Schnitzler
Pets Allowed The hotel welcomed dogs and cats and had designated rooms for pets. Maximum size was medium dogs like Labrador or Alsatian.
Size There were 16 en-suite rooms and six suites in the three wings of the hotel. The hotel had a staff of 105 and the vineyard employed 40. The property occupies 40 hectares, 17 under vine. The hotel sits on four hectares and the remainder is paddocks and forests.
Year Opened-Renovated Erwin Schnitzler bought the property in June 2000 and the Rwayitare family joined as partners in 2001. Following a fire in 2006, the hotel's main wing including the restaurant, kitchen, spa and gymnasium as well as seven rooms were gutted and redone. The owners took the opportunity to merge the nearby vineyards with the hotel and rebrand the combined properties as Mont Rochelle.
Lobby And Common Areas
The Mont Rochelle is divided into three distinct areas: The Garden Wing, home of Reception, Colonial Cigar Bar, Business Centre, eight of the luxury rooms and one junior suite. The second wing is the refurbished Manor House incorporating the fine dining restaurant, two junior suites, one deluxe suite and two luxury rooms. Downstairs from the restaurant is the Vineyard Wing with two deluxe suites with private plunge pools and six luxury rooms with private garden.
Most of the furniture was custom made for Mont Rochelle by Pellerade, a Johannesburg design studio. The décor was Colonial.
Bathroom Down a small hallway from the entrance to the suite there was a guest bathroom. Adjacent to the bedroom there was a master bathroom with a separate WC, Jacuzzi, twin sinks with an attractive pebble feature, wall mirror and extra large glass enclosed shower. The sinks and Jacuzzi areas had beige marble tops. The floor was tiled.
Suite
We stayed in a handsome and comfortable corner one bedroom suite (number 28) with dining and living area, guest bathroom, large master bathroom, dressing room, large covered porch and a private 4 meter by 2 meter plunge pool. As was the case for Mont Rochelle in general, our suite was perfectly positioned on the slope of a hill with a splendid view of the property vineyards and the town of Franschhoek.
The 140 square meter suite was divided into a living area, a sleeping area and an outdoor covered terrace and plunge pool area. In the living area there was ample space to entertain visitors or spend quiet time relaxing. From the entrance, a hallway led to a guest bathroom and past it to the dining and living areas and bedroom.
There was a wood and glass dining room table for four with striped armless chairs. A cabinet next to the rear wall housed a coffee and tea service and well stocked mini bar. The living area, adjacent to the plunge pool and back terrace, had a faux suede sofa with end tables and lamps and two arm chairs, a wood coffee table and an entertainment center with Samsung television and Sansui DVD player (DVDs were available on loan from the hotel reception).
The bedroom was to the right of the living area. It had a king bed made of two smaller mattresses and a king headboard framed by wood night tables. There was a wood desk facing one wall and wood dresser with an LG Flatron television. Beyond the sleeping area there was a vanity corner with a marble counter, stool, make-up mirror with light and large wall mirror. On the opposite side there was a walk in closet with floor to ceiling wood shelves and an electronic safe.
Floor to ceiling glass doors in the bedroom and living room led to a covered terrace populated by lounge chairs and armchairs. In front and to the sides of the porch there was a garden. From the suite we enjoyed an unobstructed view of the nearby vineyards and the town. To one side of the porch there was a plunge pool.
The suite was decorated in subtle shades of beige and sand as if to emphasize the outside rather than the inside. There was carpeting in the entire suite save the bathrooms and porch which were tiled. In the lounge, there was a print of a lady in a yellow dress sitting on a couch. There was also a print in the bedroom and two prints of flowers in the bathroom.
Food And Restaurants
Meals at Mont Rochelle were something to look forward to. Our first night at Mont Rochelle we dined at the gourmet restaurant Mange Tout. We were pleased to discover a quiet and elegant ambiance where cell phone use was discouraged. Breakfast the following morning was in the same dining room or in the outdoor patio both of which had a beautiful view of the valley and mountains. We tried both options.
First we had breakfast in the sunlit patio. A few moments after we selected a prime spot I realized the sun was in my eyes and was wondering what to do when the attentive restaurant manager approached us and offered to bring an umbrella to shield us from the brilliant sun. We immediately accepted. Thanks to that small adjustment we were able to enjoy breakfast outdoors.
We had dinner at The Mange Tout gourmet dining room which was designed in an elegant Provencal and contemporary blend offering partial wrap-around vistas of the Franschhoek valley below. The décor, in contrast, was simple yet subtle. Chairs were draped in shades of mint and tea leaf over the polished Travertine floors. The most notable decorative element was the striking contrast between a beautiful chandelier hanging from the unsophisticated bush style ceiling, reminding us that in spite of the handsome décor and sophisticated menu we were in Africa. The hotel's pianist Alfio, played popular oldies songs on his new white baby piano, while we dined.
Our Degustation Menu with matching wines was the work of Ryan Smith, executive chef of Mange Tout: Seared Yellow Fin Tuna, cape crayfish, organic red and yellow beetroot accompanied by Graham Beck Brut; Pork Belly Ravioli, apple caramel and cinnamon foam with Mont Rochelle Unwooded Chardonnay 2007; Pan Fried Cape Salmon, saldanha bay, oyster champagne and cucumber veloute paired with a Mont Rochelle Sauvignon Blanc 2006. Next we had Roast Beef Fillet, baby summer vegetables, potatoes gallette and truffle infused consommé with a 2003 Mont Rochelle Cabernet Merlot; followed by a cheese plate with a 2003 Mont Rochelle Artemis. We completed the meal with a Chocolate Fondant, mulled wine granite, orange and berry pavlova and a Pierre Jordan Ratafia.
Amenities
In the bathrooms, there was a nail toiletry set as well as Bulgari Green Tea toiletries including shampoo, conditioner, body lotion, shower cap, body gel and soap. There was also a mini bar and coffee and tea service, thick cotton bathrobes and slippers, and bottled water during turn down service.
Facilities A bar, Business Center (small office including a PC with Ethernet Internet access), two restaurants (Mange Tout and Mont Rochelle Restaurant), gym, Wellness Center, vineyards, equestrian center, tasting room, swimming pool and wine cellar.
Fitness Center And Spa There was a small gym with one treadmill, one step machine and a stationary bicycle. There was also a Wellness Center offering massages and spa treatments.
Pool The hotel swimming pool was 10 meters by 5 meters in size.
Other
When we visited Mont Rochelle, 16 of the property's 40 hectares were under vine with Sauvignon Blanc, Chardonnay, Merlot, Shiraz and Cabernet Sauvignon cultivars. The boutique winery produced two Sauvignon Blancs, two Chardonnays, two Merlots, a Cabernet Sauvignon, a Shiraz and an Artemis, a blend of Cabernet Sauvignon, Pinotage, Merlot and Shiraz. Traditional wine making techniques were still employed and the winemaker maintained a hands-on policy.
Mont Rochelle was recognized as Getaway Magazine 2007 Getaway of the Year in September 2007 and as Best accommodation in the Winelands as part of the 2007/08 Wine Tourism Awards by Wines of South Africa in November 2007.
Cleanliness
Excellent
Date Of Review November 2007
ReviewersArticle by Elena del Valle
Photos by Gary Cox
Service There was twice daily room service. Staff were courteous and attentive, especially in the restaurants.
Would You Stay There Again? Yes
Contact Information
Address:
Dassenberg Road
PO Box 448
Franschhoek, 7690
South Africa
Phone:
Fax:
Website:
Email: