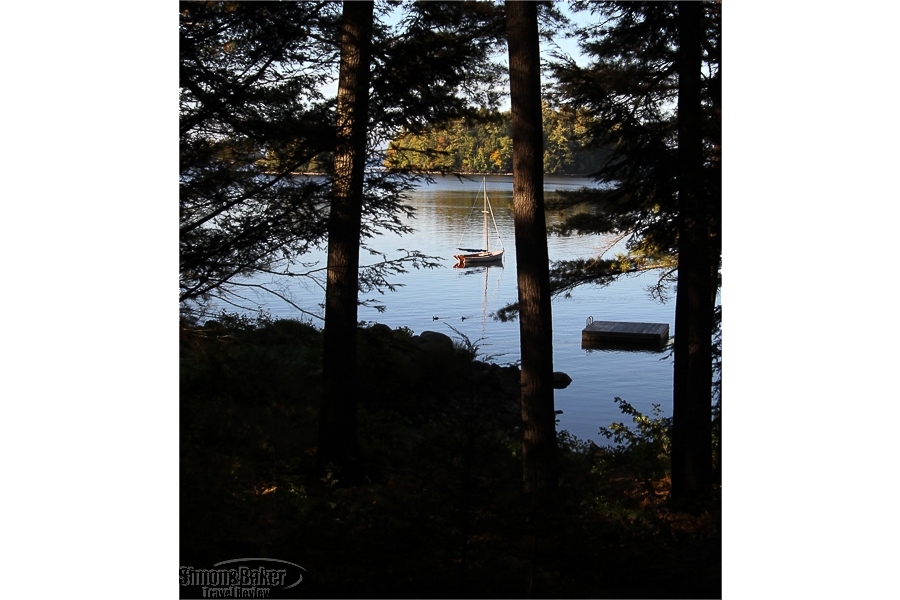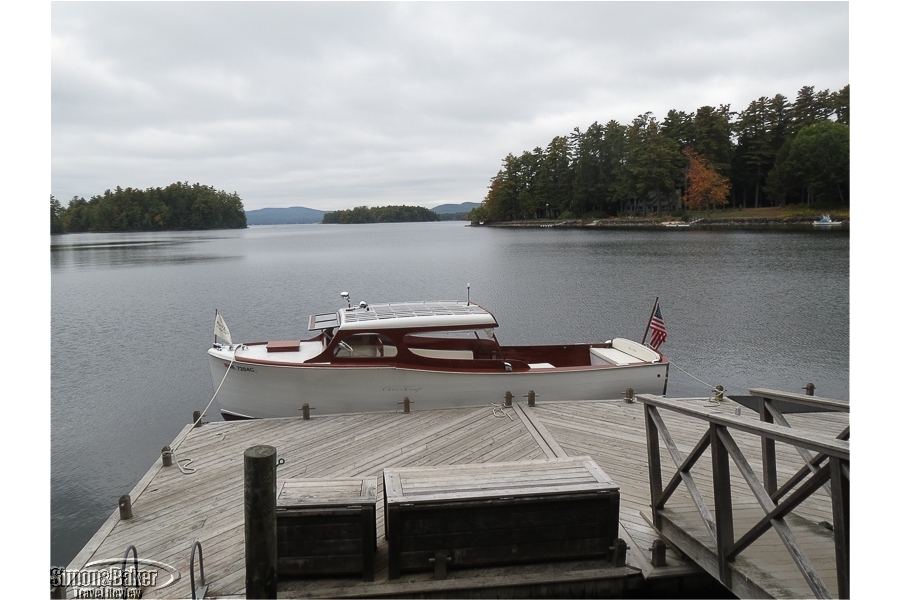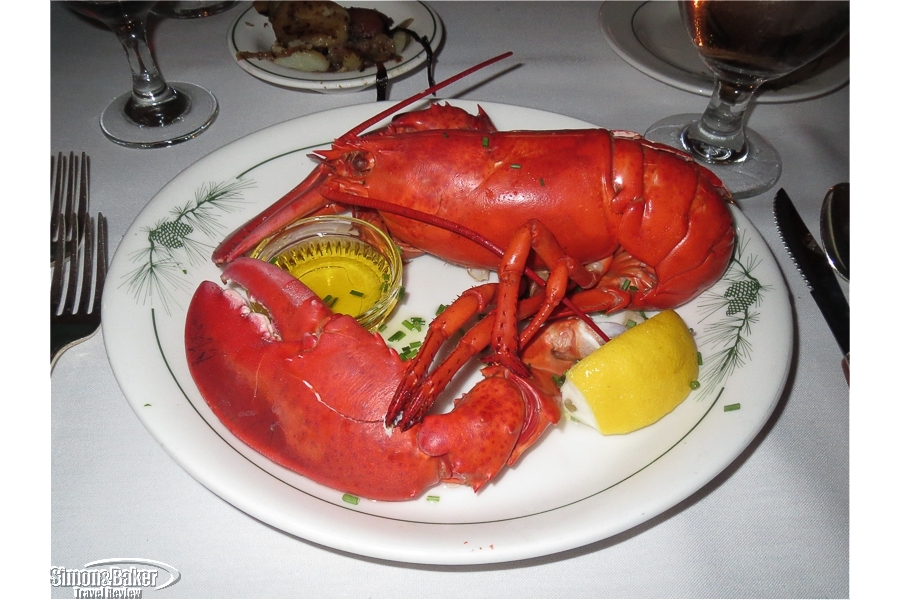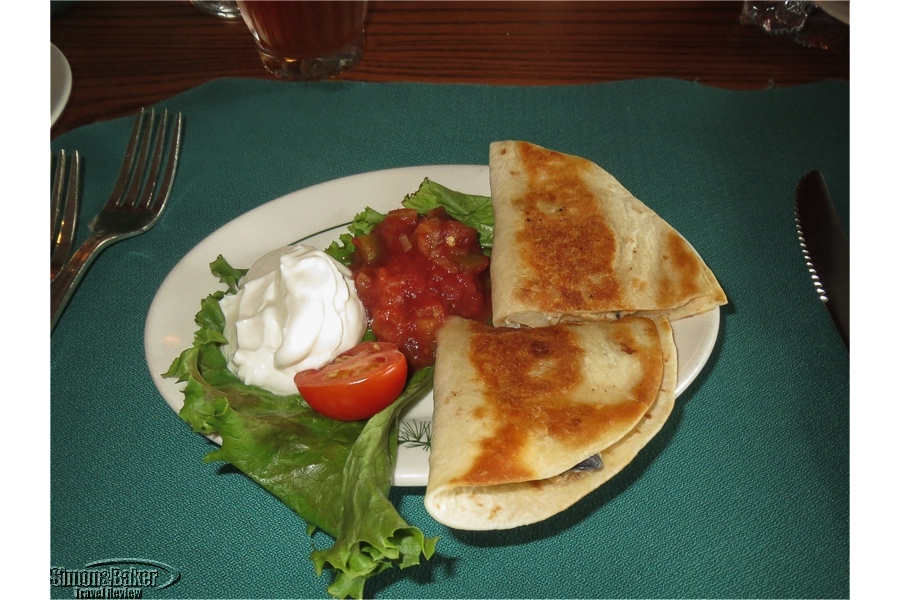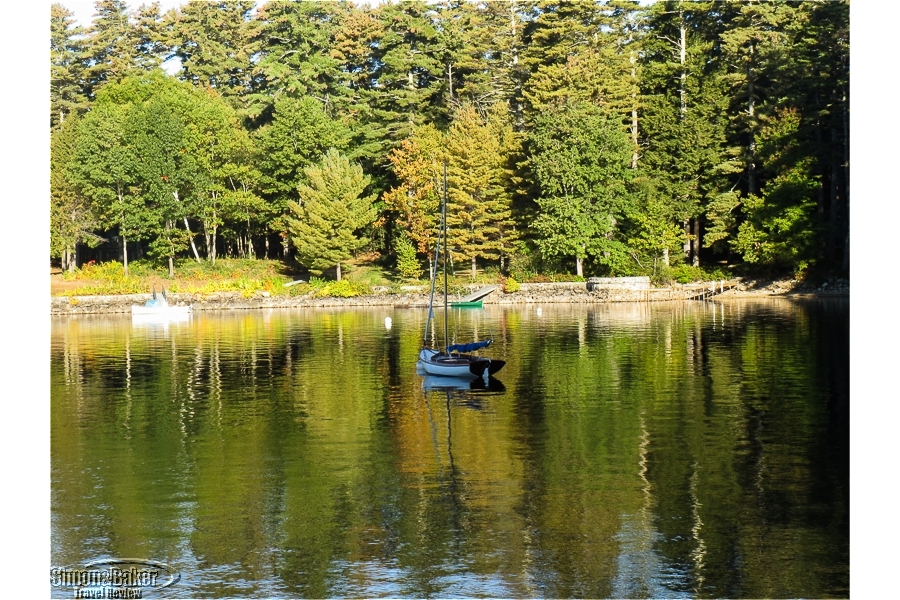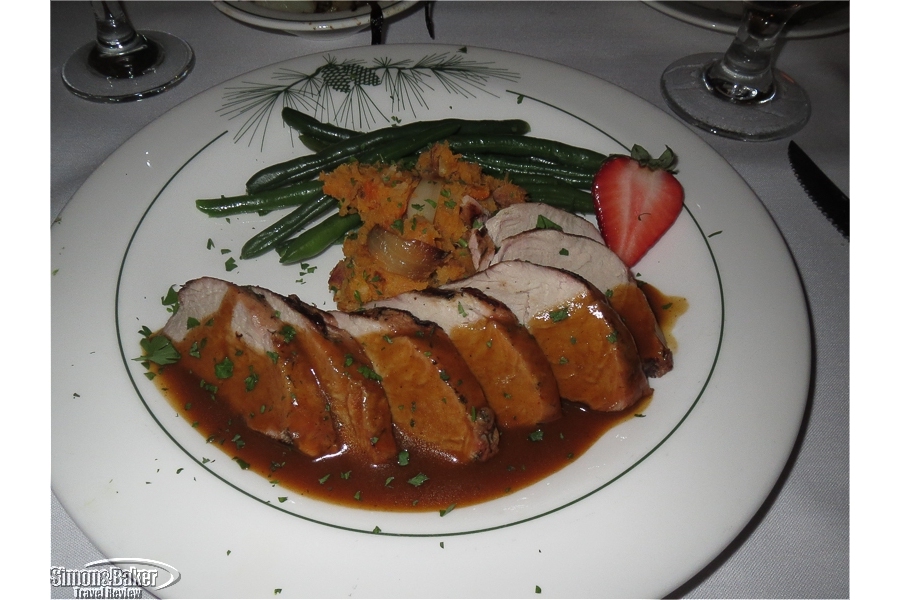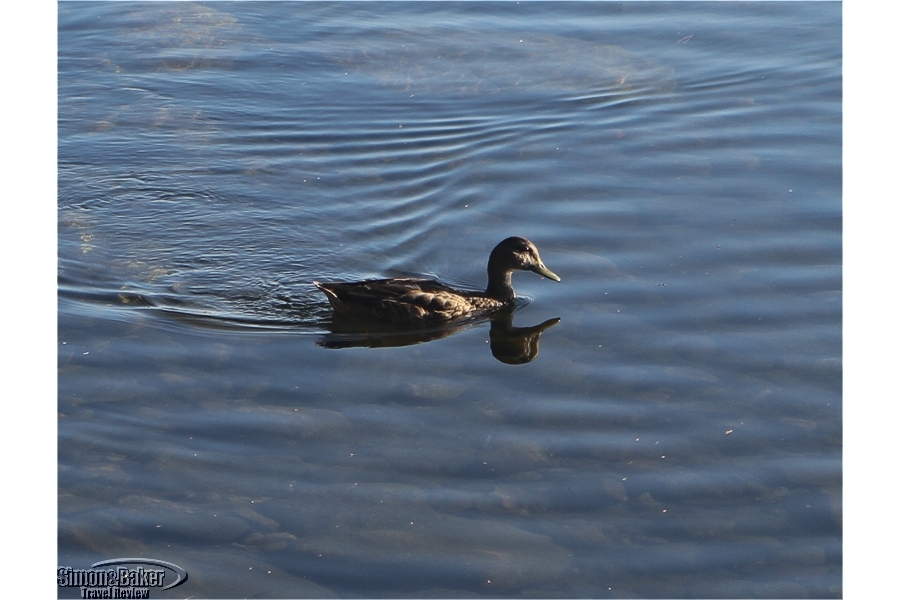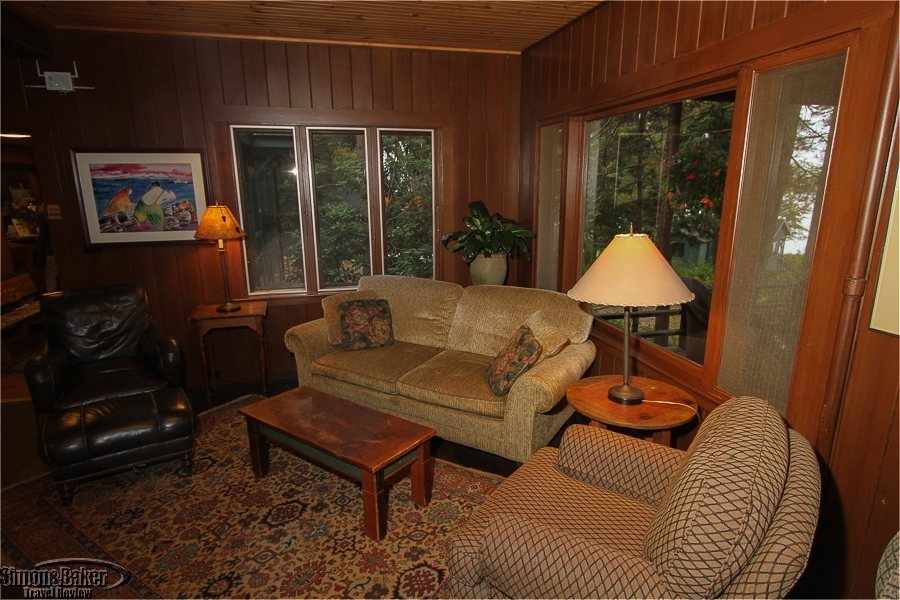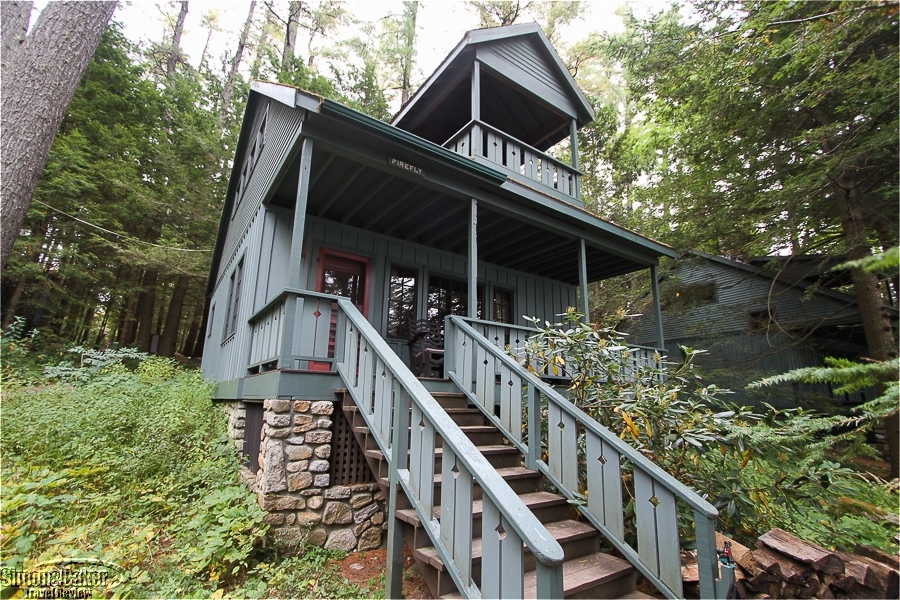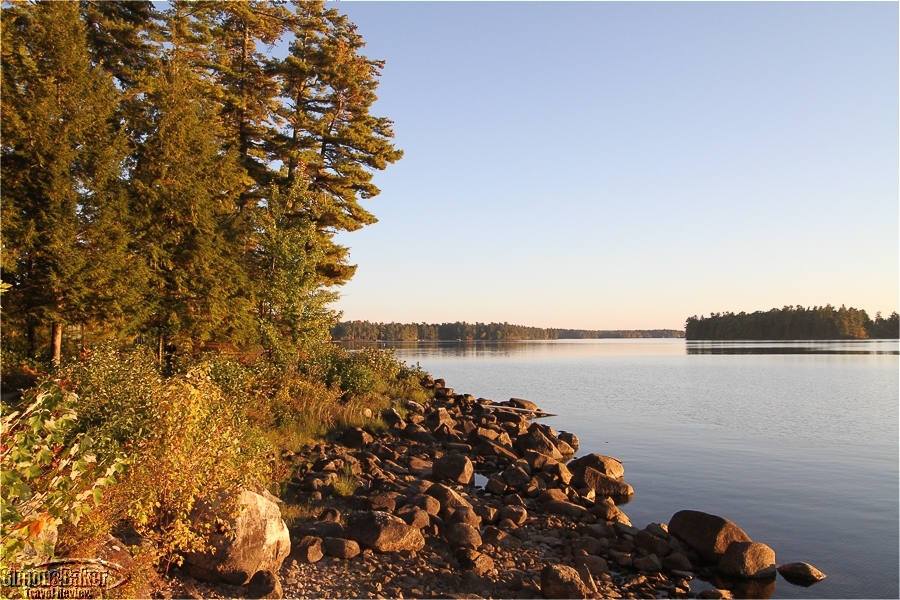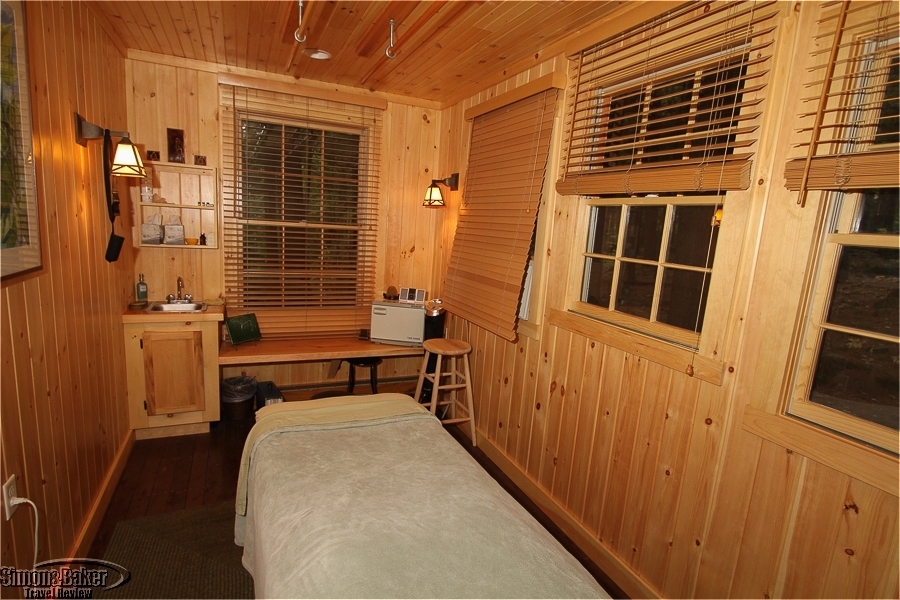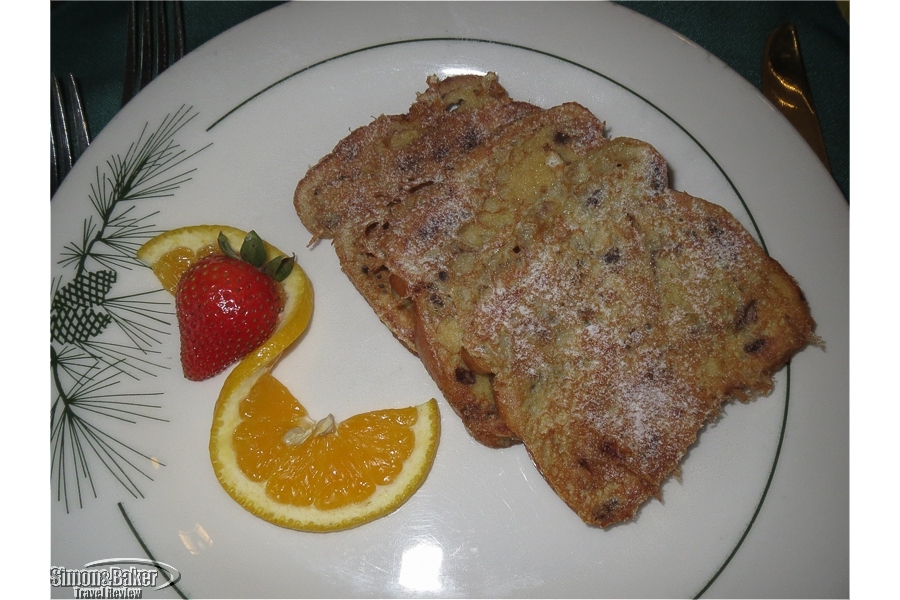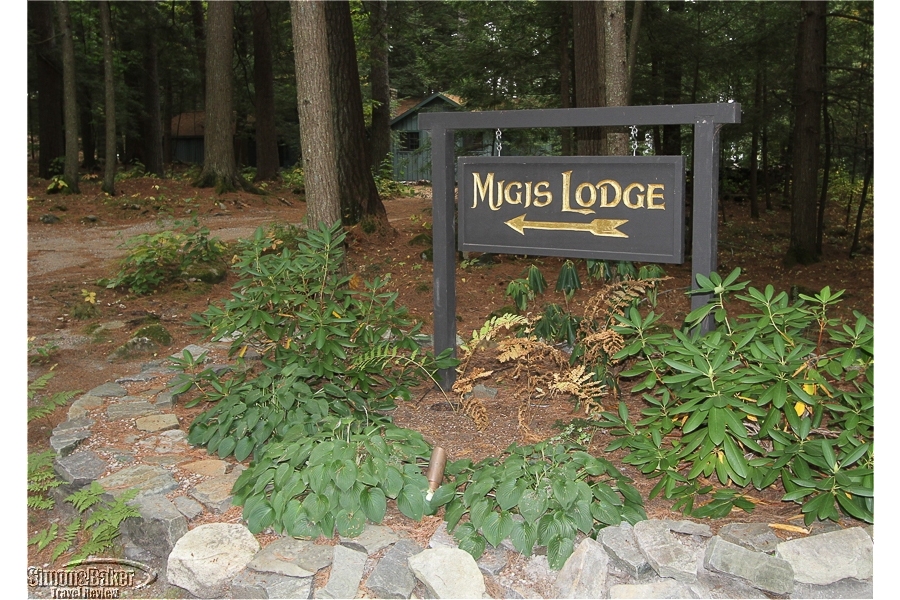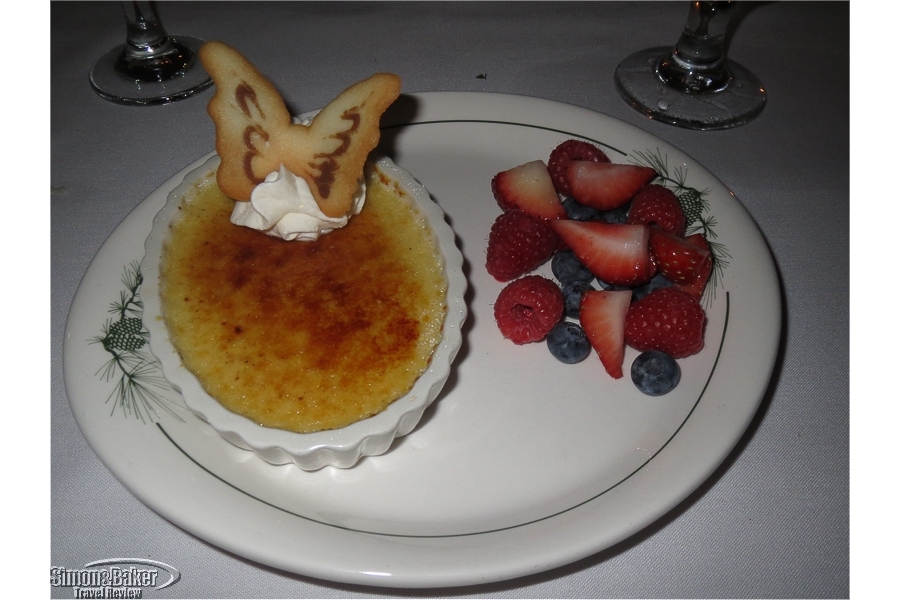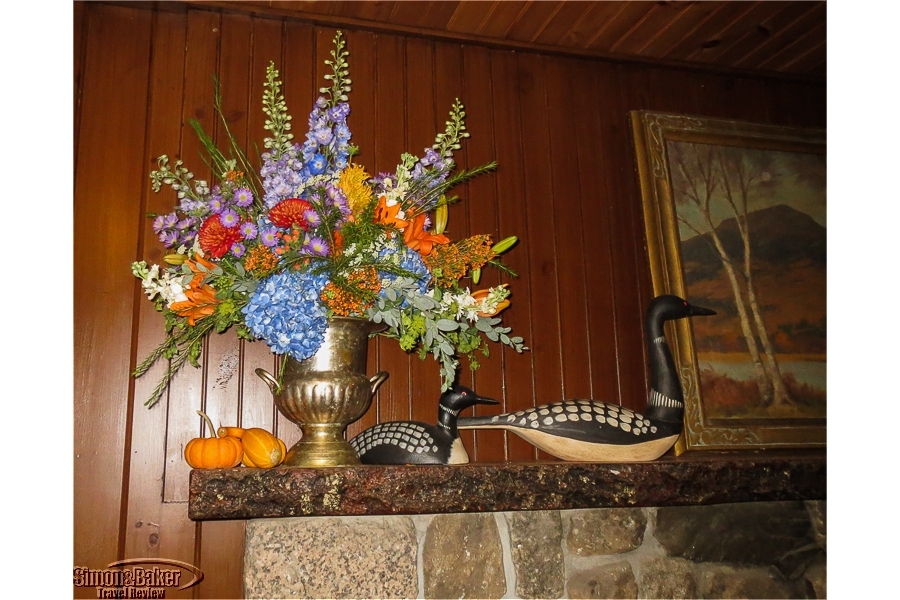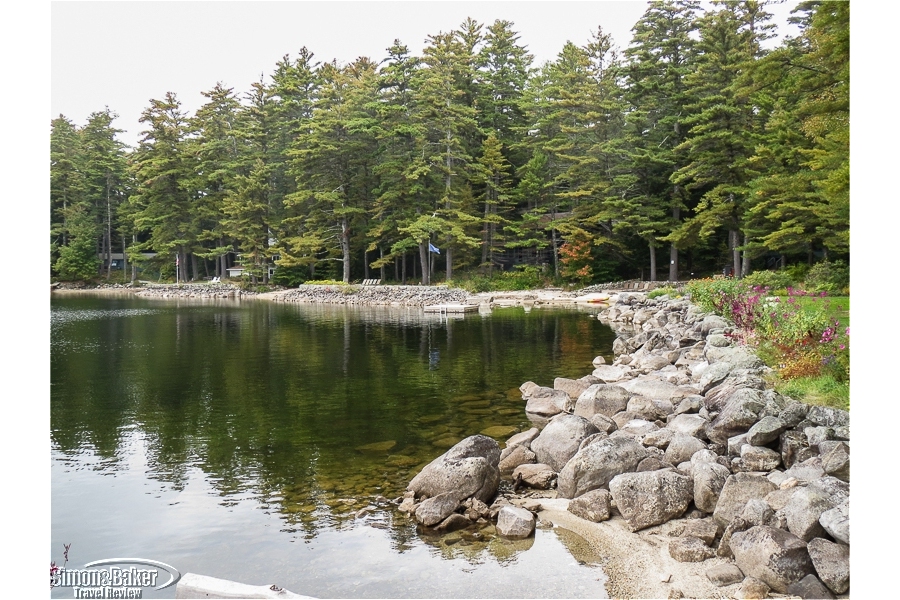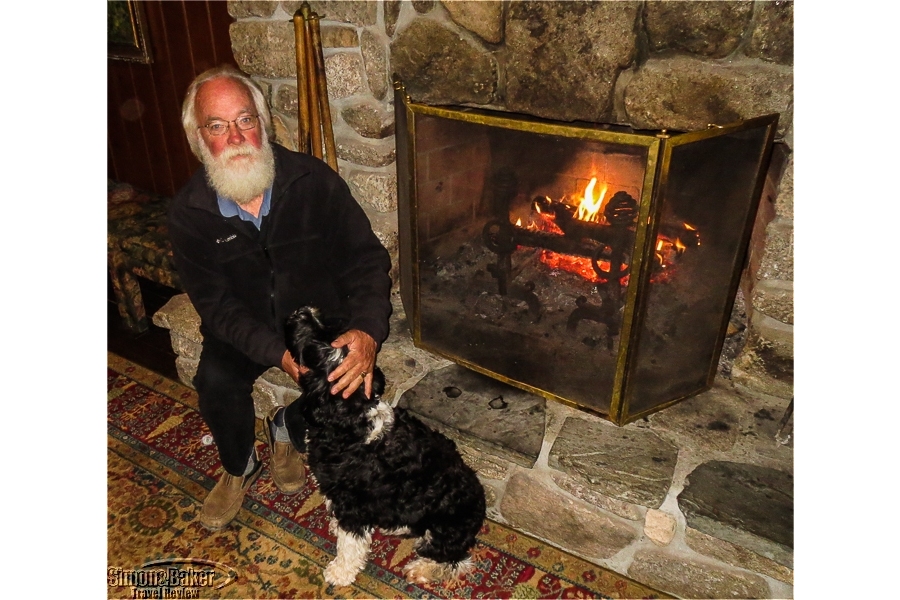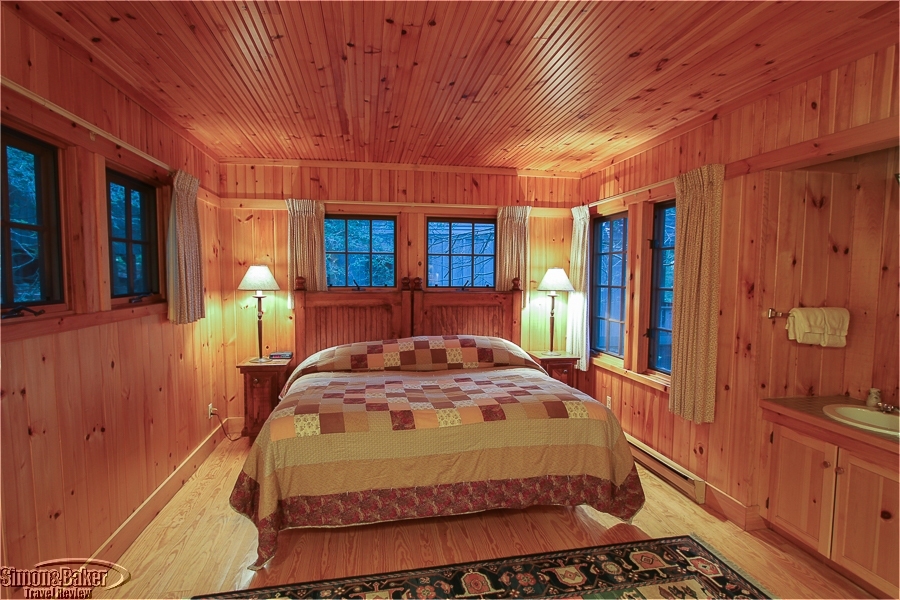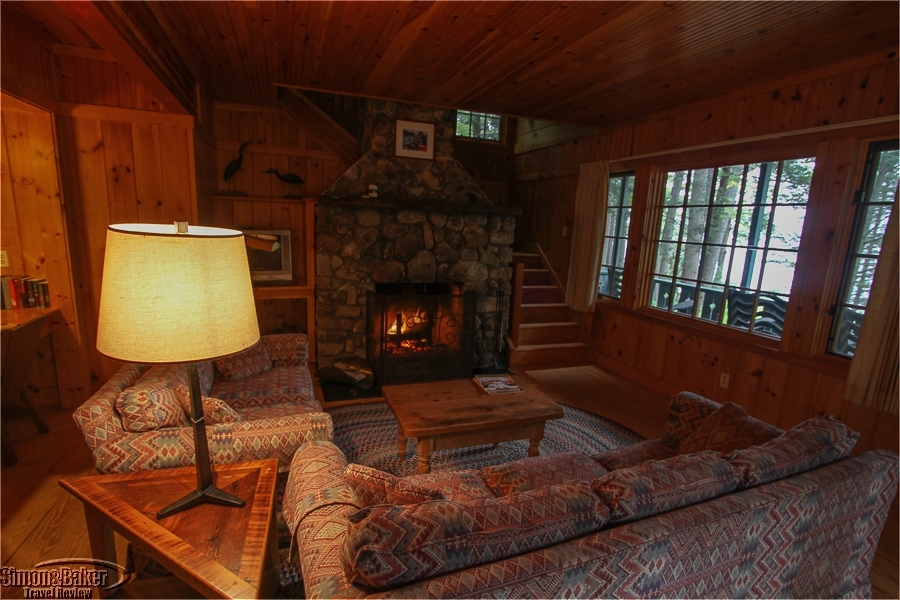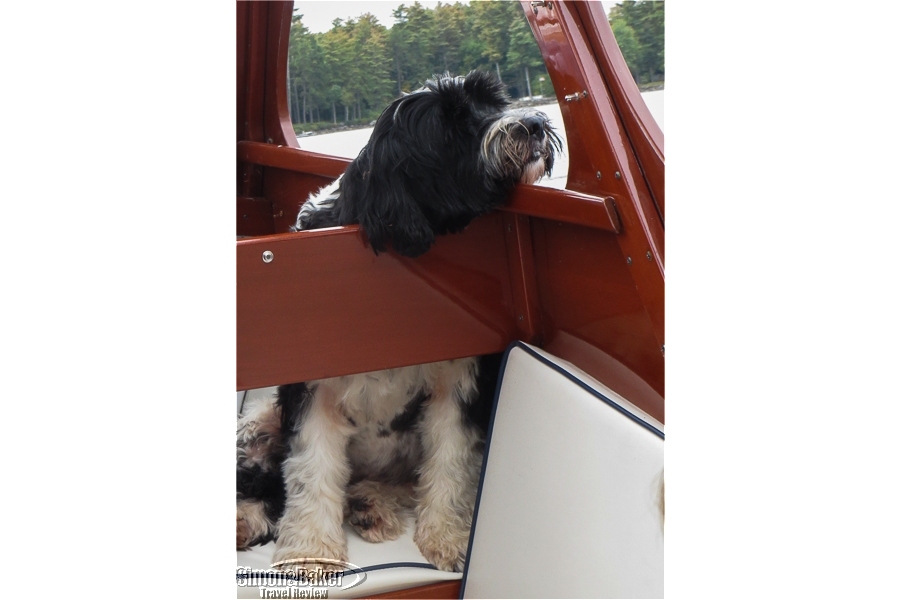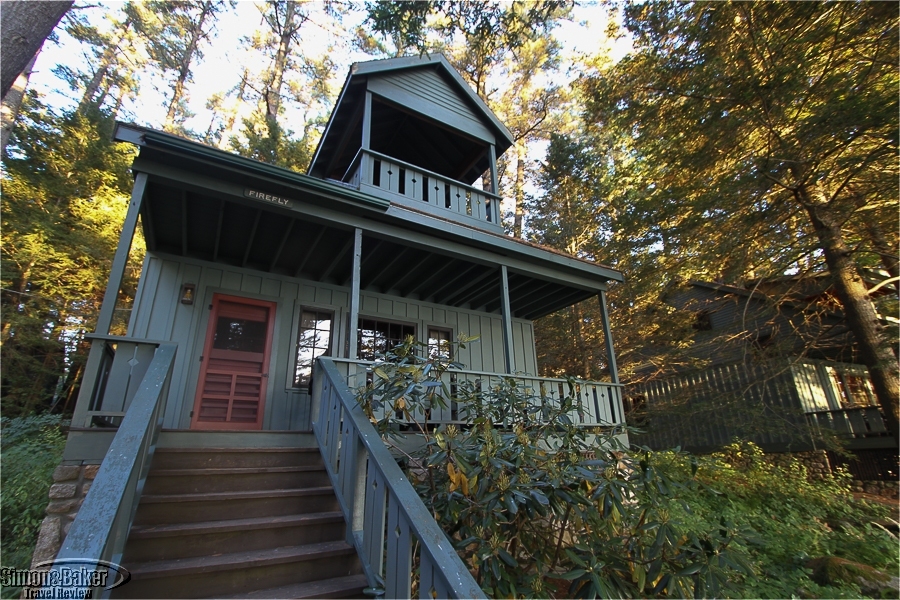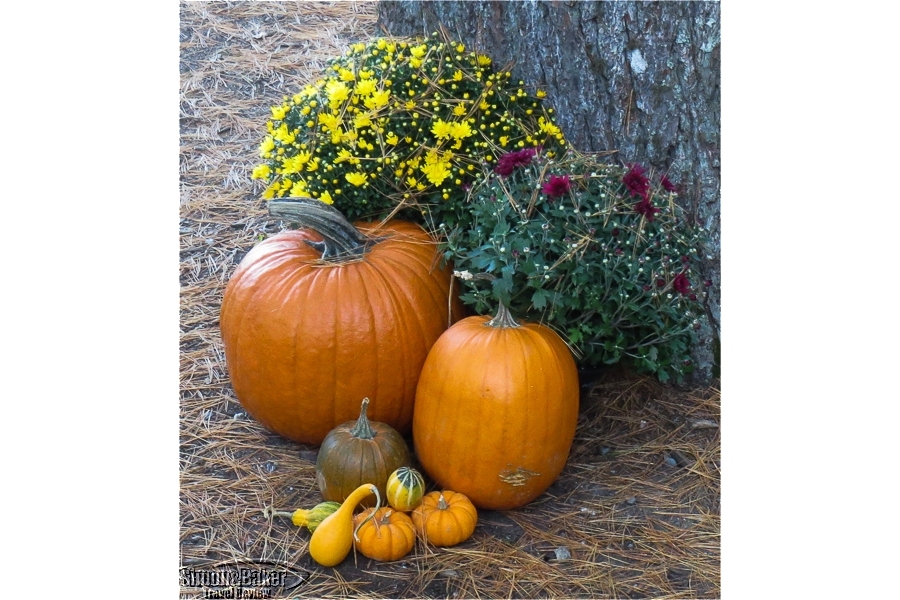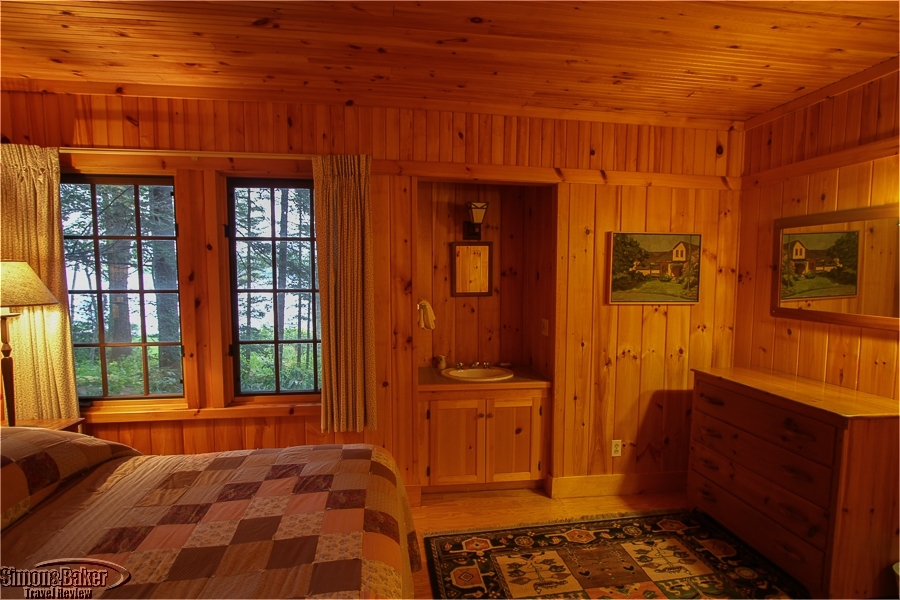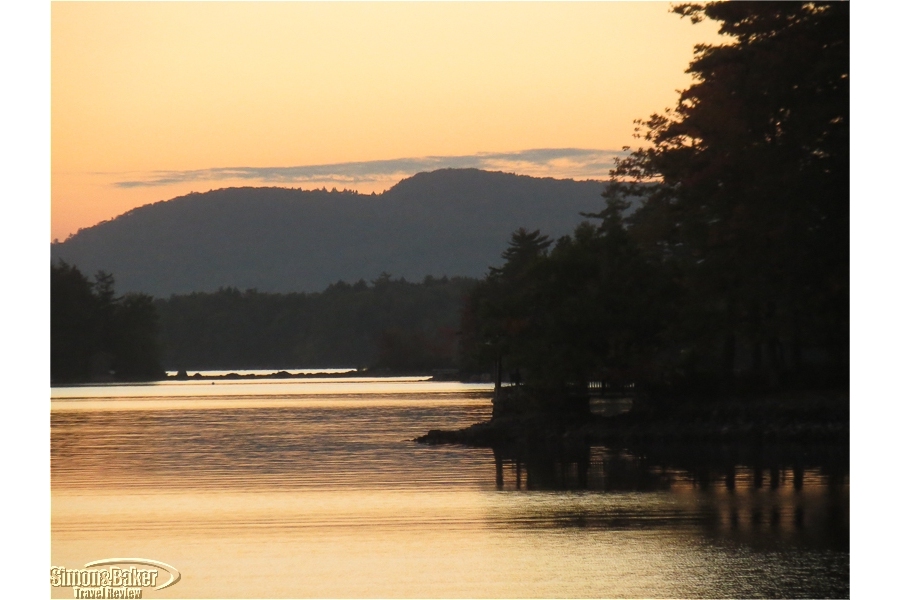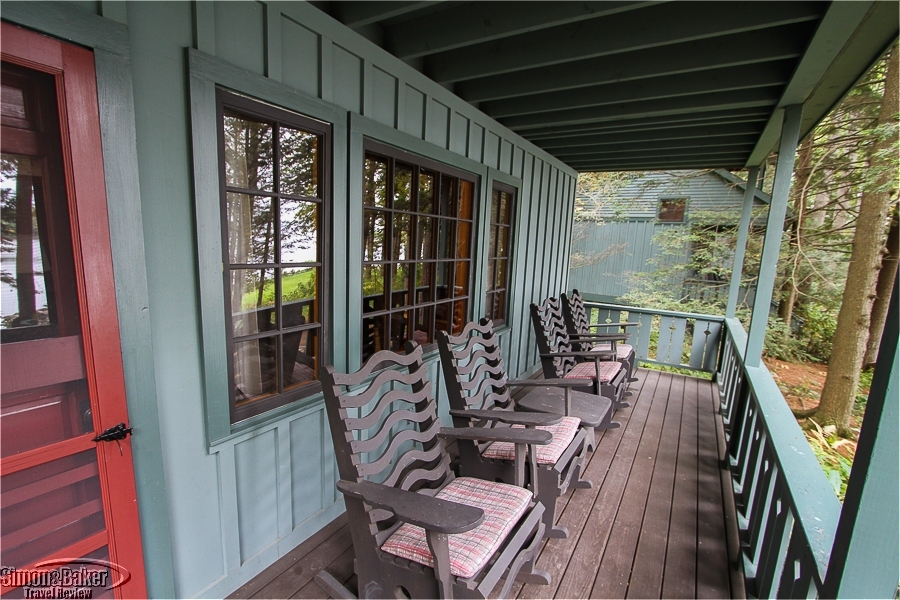 We would recommend Migis in the fall to friends who enjoy their own company in a place reminiscent of a polite era, and where guests dress for dinner and dine at designated mealtimes.
Overall Impression
Migis made us think of a luxury summer camp for adults and families. The 150 acre Maine property with 3,500 feet of shorefront on Sebago Lake was home to 35 Cottages. During our fall visit, we stayed in a new looking and spacious stand alone three bedroom two bathroom suite with internet connectivity, a view of the lake and a fireplace. In addition to the convenient meal plan, there were many features with appeal for a multigenerational audience. For example, there were hiking trails, beaches, tennis courts, massage rooms, a playground and a souvenir shop.
Despite gray and rainy weather we had a pleasant stay thanks in part to our warm, modern and comfortable accommodations. We especially enjoyed our Cottage's large ready to use stone fireplace. It was easy to light and there was plenty of firewood beside it to keep it lit for hours. The staff prepared it every morning for use that day.
Homestyle meals were included as part of an American Plan program. Plated meals were served at set times in a large dining room where we sat at the same staff assigned table for every meal. Dinner featured tablecloth service with silver, china and a full bar. The property was most quiet the Monday we arrived. By Wednesday, while still far from full, there were many more people onsite, including what appeared to be event centered groups and local residents dining out.
The ambiance was reminiscent of another era. A dress code was enforced at the cocktail hour and for dinner when jackets were required for men and bluejeans were discouraged. Thoughtful touches enhanced our stay. We especially enjoyed the fall setting with chilly temperatures and colorful vistas, and staying at the property when it was only part full. Clearly the high season and most of the family activity at Migis was in the summer. In September, although some of the amenities and facilities were unavailable or required advance planning, because the majority of the guests were adults there was a great deal of quiet, serenity and privacy. We would recommend Migis in the fall to friends who enjoy their own company in a place reminiscent of a polite era, and where guests dress for dinner and dine at designated mealtimes.
Children
The lodge welcomed children of all ages. Nightly childcare and a weekday afternoon Kids Camp from children between five and 12 years of age were included in the rates. There were also two playgrounds. During our fall visit we saw five children at the lodge. Children six and younger were seated in the Family Dining room which was adjacent to the main dining room.
Class Of Accommodation Luxury Lodge
Connectivity There was complimentary wireless internet, with a download speed of 50 megabytes throughout the property. The connectivity was uneven in our suite. There was wireless access throughout the property and a Mac computer by reception for guest use.
General Manager Jed Porta
Handicapped Access The property had three handicap accessible accommodations with accessible bathrooms. The Main Lodge had ramps leading to the restaurant.
Length Of Stay Four nights
Location The lodge is eight miles from Windham and 20 miles from Portland, Maine.
Managed Migis Hotel Group
Owned Tim and Joan Porta
Pets Allowed No
Size The 150 acre property with 3,500 feet of shorefront on Sebago Lake was home to 35 Cottages (without kitchen) in 30 buildings and six rooms in the Main Lodge. In the summer, there were 110 staff 10 of which remained on the property year round.
Year Opened-Renovated The property was first established in 1916 it had been enlarged and improved upon over the years. The most recent renovation took place in 2014 when Ridge Cottage was redone.
Common Areas The main building housed the lodge reception and a large living area split in two on one side, and the dining room on the other side. There was a large stone fireplace on one side furnished with well used comfy sofas and chairs. There was a splendid view of the lake from the terrace in front of the main building. It was too chilly for most the hardiest to sit and linger. There was a covered porch with heaters and guest seating which shared the view, although by the time we arrived for cocktails in the late afternoon all the space was occupied and the snack plates were only part full. The beaches and lakefront areas were our favorite places to stroll at anytime. We liked the hiking trails, especially the waterfront one which offered the most unobstructed views of the lake. There were original artworks in our suite and in the common areas and blueswood handmade furniture. The art on display in the dining room was for sale. There were pretty fresh flower arrangements in the main building. Some watercolors on display atop the piano in the Living Room by Madeline Wikler, a local artist during the season, were for sale.
Bathroom The master bathroom was larger than the downstairs bathroom. There were small green tiles on the floor and matching countertop in both bathrooms. Both bathrooms had plastic type bathtubs with double shower curtains. The bathrooms were well heated via individually controlled thermostats. There were twin rectangular wood framed mirrors above twin sinks.
Suite
Parking for our suite was in a designated parking lot next to the playground and a service building. A staff person met us at reception and transferred our suitcases to our suite in a luggage cart. Firefly Cottage, our comfortable 1,000 square foot two story three bedroom wood cabin suite, faced Sebago Lake. It was not possible to lock the door from the outside. The wood floors were smooth and pleasant to walk on even with bare feet. It had a living area, a small dining table with two armless chairs, a wet bar, and two covered porches. We liked that we could control the heat with individual thermostats. The suite had been redone so it had a new and clean looking appearance.
Downstairs there was a living area with the dining table in the corner and a bedroom in the back across the hall from a bathroom. The bedroom had a walk in closet and sink. Two beds together made the large bed. Between the bedroom and the bathroom there was a sink, mini refrigerator, ice bucket, and glasses. In the living area, against the corner facing the wall there was a small desk with a chair. From the living room, master bedroom and porches there was a nice partial view of the lake across a lawn area. A cloth sofa and matching loveseat atop a round multicolor carpet were centered around a rectangular wood table and shared a triangular wood table with a lamp between them. There was an upright lamp on the other side of the sofa. A Toshiba television was in the corner next to a stone fireplace.
Although the interior of the suite was visible from the adjacent pathway and nearby suites, especially during the dark gray fall days when the indoor lights were on, we drew the curtains anytime we wished for privacy. We preferred to leave them open to allow in natural light. A high ceiling on the ground floor enhanced the sense of space. The comfortable living area furniture and cozy fireplace were ideal for reading and relaxing. The large and comfortable beds and the quiet evenings provided an inviting ambiance for rest, naps and a good night's sleep. There were full length mirrors behind the master bedroom door and in the downstairs hallway. There was no phone in our suite. In order to reach reception it was necessary to call from our cell phone. The downstairs front porch had four rocking chairs while the upstairs master bedroom porch had two rocking chairs.
Upstairs, two bedrooms shared the en suite master bathroom. The master bedroom had a king bed with wood headboard and twin night tables, lamps and an alarm clock, rocking chair, dresser, and closet.
Food And Restaurants
Dining was a la carte and plated. The staff usually seated us at the same table. Meal times were as follows: Breakfast from 8 a.m. to 9:30 a.m.; lunch from 12:30 p.m. to 1:30 p.m.; and a multi course dinner from 6:30 p.m. to 7:30 p.m. Servings were generous and the preparation was homestyle. John Strain was the executive chef, Jeffrey Dzierzak the sous chef and Charity Catruch the pastry chef.
Items available during our stay were, for breakfast, coffee (regular or decaffeinated), tea, hot cocoa, milk, skim milk, almond milk and soy milk; chilled juices (orange, grapefruit, apple, cranberry, grape, pineapple, prune, tomato and V-8); cold cereals, oatmeal, Migis homemade granola, plain or vanilla yogurt, fresh fruit (sliced bananas, stewed prunes, blueberries, raspberries, cantaloupe, grapefruit and melon); farm fresh eggs any style, three egg omelet with a choice of (cheddar, Monterey Jack, feta, mushroom, fresh herbs, spinach, tomato, peppers, onion, bacon crumbles and ham), plain or blueberry pancakes with maple syrup, eggs Benedict a la Migis, and French toast with cinnamon swirl bread (three small slices) and warm maple syrup; for sides there was smoked bacon, sugar cured ham steak, Gulf of Maine cod cakes, grilled sausage patties, home fried potatoes, and smoked salmon. There were also muffins, pastries, toast (white, wheat or rye), English muffins and plain or everything bagels with cream cheese.
For lunch one day the choices were fresh fruit cocktail or chilled apple juice; Fried Batter Dipped Onion Rings or Corn on the Cob; Vegetable Spring Roll; White Bean and Spinach Soup; Creamy Cole Slaw; Fried Coconut Shrimp, Glazed Ham Steak, Medley of Seasonal Fresh Fruits, Grilled Reuben Sandwich or Fresh Made Deli Sandwich (egg salad, tuna salad, sliced roast beef, sliced turkey or ham with Swiss); Fresh Sliced Pears, Hot Fudge Sundae, Homemade Tapioca Pudding, Classic Chocolate Layer Cake, Apple Almond Tart, Migis Rhubarb Sauce or Annabelle's Ice Cream and Sorbet; and coffee, tea, milk or lemonade.
For lunch, we tried roasted vegetable quesadilla, broccoli and cheddar, cup of tasty cucumber and dill, grilled ham and cheese sandwiches with potato chips, pickle, side of peas and carrots and mashed potatoes, tapioca pudding and honeydew melon for dessert which wasn't quite ripe, and rhubarb sauce which was sweet and thick enough to eat with a spoon.
A dinner menu during our stay included challah rolls and relishes as well as a choice between Icy Pineapple Shrub, Damariscotta Oysters on the Half Shell or Spinach and Artichoke Dip; New England Clam Chowder or Chilled Strawberry Banana Soup; Tossed Migis Salad or Hydroponic Boston Lettuce Salad; Grilled North Atlantic Tuna Steak, Grilled Marinated Pork Tenderloin, Butternut Squash Ravioli, Char-Grilled New York Sirloin Steak or Boiled Maine Lobster. Entrees were served with sauteed green beans and Lyonnaise potatoes or spicy vegetable couscous. For dessert we could have Cheesecake; Homemade Profiteroles; Creme Brulee; Maple Walnut Sundae; Cheddar, Port Salut and Bleu Cheese Plate or Annabelle's Ice Cream and Sorbet.
The following night there were warm dinner rolls and relishes and a choice between Chilled Grape Juice, Smoked Salmon Plate or Steamed Asian Pork Dumplings; Wild Mushroom and Ginger Soup Sweet Potato and Carrot Vichyssoise; Tossed Migis Salad or Trio of Baby Lettuces; Roast Prime Rib of Black Angus Beef Au Jus, Grilled Swordfish Steak, Wiener Schnitzel, Vegetarian Shepherd's Pie or Boiled Maine Lobster. Entrees were served with asparagus and baked potato or rice and multigrain pilaf. The choices for dessert were: Citrus Almond Pound Cake; Toll House Cookie Torte; Pecan Pie a la Mode; Old Fashioned Hot Fudge Sundae; Cheddar, St. Andre and Brie Cheese Plate or Annabelle's Premium Ice Cream and Sorbet
Hot beverages and cookies (chocolate chip, almond crunch, heath bar, and berry bar among others) were available between 3 p.m. and 5 p.m. Coffee, tea, and lemonade were complimentary. Other beverages including a full bar and a wine list were available for a fee.
Amenities
In addition to full American Plan (three meals a day as well as morning and afternoon hot beverages and cookies) there was cable television via a living room television, wood burning fire with complimentary firewood, daily ice and glass delivery, and Gilchrest & Soams toiletries. In the shower, there were also toiletries in fixed 250 milliliter size bottles of Essentiel Elements from San Francisco in tea tree scented fragrance of shampoo, conditioner and body wash. There was a bar of house brand soap for each sink and the shower. A staff person brought a copy of
USA Today
to our door daily. Overnight laundry service was available although no fees were posted.
In addition to toiletries there were fire extinguishers, ironing table and iron, full length mirrors (behind the master bedroom door and in the downstairs hallway), feather pillows, and quilt bedcovers. There were beach towels, sailboats, canoes, paddle boards and kayaks for guest use, although given the chilly temperatures we didn't see anyone take advantage of them.
Facilities There were three beaches, three Har Tru tennis courts (available on a first come first served basis), three well marked walking or hiking trails of less than a mile each and a water fronting trail (maps were available at the front desk). The fitness center was closed for floor work. There was a beachside sauna. Although it was tempting to pop in for a few minutes into the sauna it meant we would have to swim in the chilly lake or shower in our suite a short walk across the property.
Gift Shop There were some watercolors, candy and branded clothing in limited sizes and styles for sale in the main building. The Cry of the Loon shop, a large souvenir shop on ME 302 property of the Migis owners, sold upscale home furnishings, jewelry and food items. It was possible to charge merchandise to the room account.
Wellness Center There was a 900 square foot massage and wellness area with two treatment rooms and a 150 square foot screened in waiting room (with no temperature control). To have a massage it was necessary to book a minimum of two hours as the masseuse drove in from Portland. She was willing, exceptionally to drive up for an 80 minute massage while we were onsite and the massage was worth the effort.
Conference Facilities
The property had a 1,547 square foot conference room for up to 85 participants. The Conference Package included accommodations, three meals and two breaks daily as well as complimentary use of audiovisual equipment.
Other Check in was at 3 p.m. and check out was at noon. When we checked in we received a handout with property information including a map, meal times, amenities, facilities and onsite rules. There was a small DVD lending library at the front desk. There were stacks of towels by the dock and sauna. For incidentals, the property only accepted cash, checks and travelers checks. We went on a one hour boat ride on the Tykona II at 10 a.m. on a Thursday. There were so many guests wanting to participate that some had to stay behind to wait for an 11 a.m. ride. A group of loud guests detracted from the experience. Lodge owner Tim and his adorable Portuguese water dog Sophie were at the wheel. On the way back we stopped to fuel the boat.
Guests were asked to be considerate in the common areas so as to not disturb others. Cell phones were not welcome in the Dining Room. Smoking inside any of the buildings of Migis was forbidden. Smoking was allowed on guest Cottage porches and on the front porch of the Main Lodge, away from other guests.
There was no lifeguard on duty. Swimming was at guests' risk. There were single sort recycling and LED light bulb programs.
During our stay, in addition to Sophie we met Chance, one of the staff's pets, and Deets, a parrot who spent his time at reception sometimes.
Cleanliness
Excellent
Date Of Review September 2014
Reviewers Article by Elena del Valle
Photos by Gary Cox
Service Staff serviced our Cottage daily to clean it, replace towels, take out trash, refresh the fireplace wood and prepare it for use. A 15 percent service charge was added to guest bills. Some of the staff members we met were Scott, who greeted us warmly when we arrived at reception; Peggy, who was at the front desk early in the week and went out of her way to assist me to book a massage and with directions. Dining room service was generally friendly. Servers included Liz at dinner, Charles and Peter. Another server, David, was always cheerful and took care to make sure we had everything we might need and a pleasant meal. Thomas did a good job assisting us with our luggage.
Would You Stay There Again? Yes
Contact Information
Address:
P.O. Box 40
South Casco
Maine 04077
Phone:
+1 207-655-4524
+1 207-655-2054
Website:
Email: