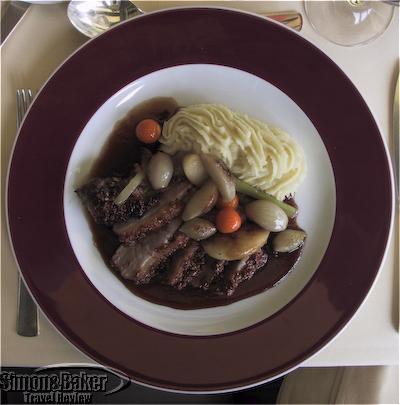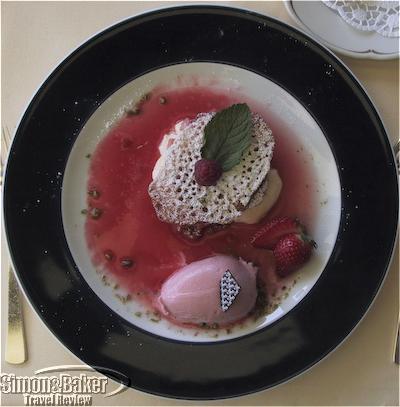 Overall, our spring meal was refined and satisfying.
Overall Impression On the heels of a long transatlantic flight, lunch at Menuett Restaurant was a welcome pleasure. Located in the lobby of the historic and attractive Steigenberger Park Hotel, Menuett's classic décor was inviting. We, like almost everyone else that afternoon, chose to enjoy lunch outdoors on the terrace, which faced the Steigenberger Park Hotel entrance and a nearby park. To match the prominent setting and delicious meal, the service could have been more attentive and customer oriented. Overall, our spring meal was refined and satisfying.
Chef
Michael Görres (since 1983)
Handicapped Access Yes
Location In the lobby of the Düsseldorf Steigenberger Park Hotel in the center of town
Opened-Renovated 2002
Owned Steigenberger Hotel & Resorts Industrie Club
Pastry Chef Hartmut Träger
Restaurant Manager Martina Ebersold
Size 90 indoor seats and 72 terrace seats
Sous Chef: Marcel Scholtun .
Type Of Food German with a French influence
Style Of DÉCor Classic European
Food
A set of wonderful airy soups stimulated our appetite in preparation for the main courses. Our delicate and fresh tasting pan seared baby sea bass with spinach and potatoes was just as good as the sesame honey glaze braised duck with fruits and vegetables and a Topinambur puree. Luscious desserts rounded off the meal: Crunchy almond biscuits with raspberry ragout and rose water ice cream; and tender rhubarb with ginger, vanilla ice cream, sesame chips and mousseline ice.
Wine And Spirits Details Included F rench, Italian, Swiss, and American ( California ) selections.
Other Cell phones were not allowed in the restaurant, which made for a pleasant atmosphere.
Ease Of Reserving
: Excellent. We just walked in for lunch.
Latest Visit-Date Of Review April 2004
Would You Dine There Again? Yes
Service Service was efficient though slow and disinterested. There was no one to greet us when we first arrived. Once they seated us, we had a long wait before anyone tended to our table. We received disapproving glances and an attitude of reproach when we chose to change tables because it was overly windy on that side of the enclosed terrace. Language was an obvious problem. Finally, someone found an English-speaking server and we were able to order. A man, who looked like the headwaiter, visited our area of the dining room often to serve a nearby table and openly ignored our empty glasses and dishes ready to clear.
Contact Information
Address:
Steigenberger Park Hotel
Corneliusplatz 1
D-40213 Düsseldorf
Phone:
+49 (0)211 / 13 81-660
+49 (0)211 / 13 81 570
E-mail :
Website :