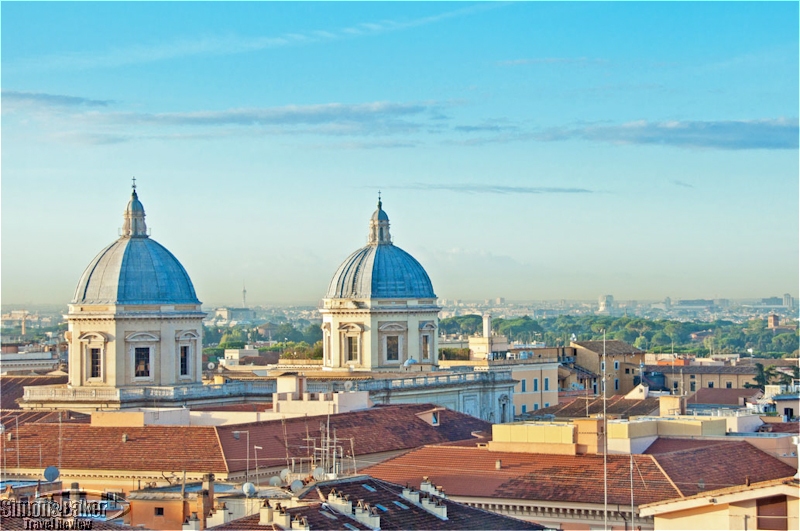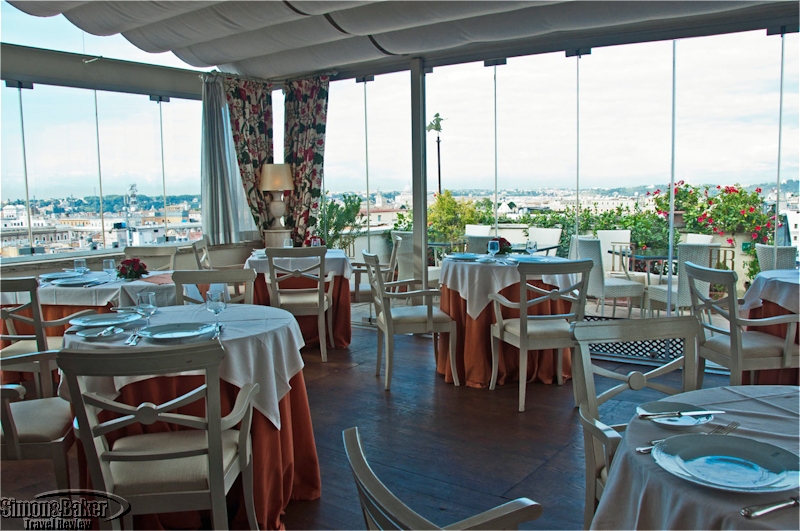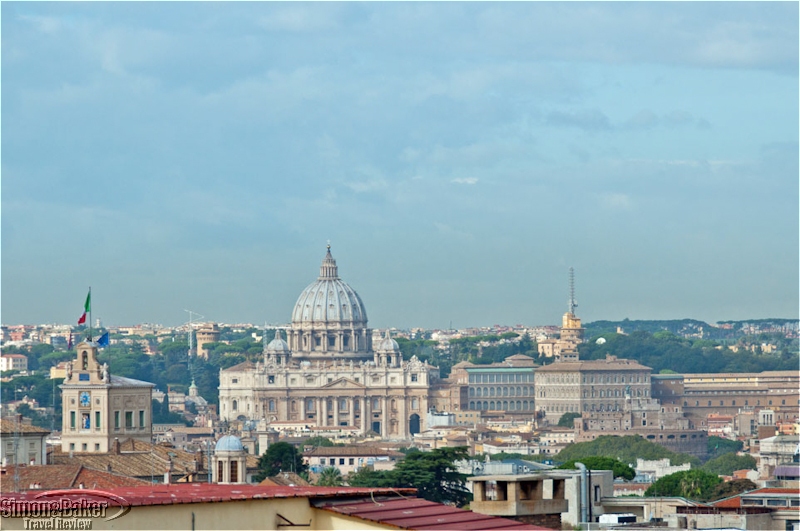 And best of all, I enjoyed the elegance and comfort of my light-filled suite, a relaxing home away from home that I will keep in mind for future visits to Rome.
Overall Impression
Art Deco? That was the last thing that would have come to my mind when thinking of Rome, until my most recent visit to the Eternal City. It was for its location rather than its design that the Hotel Mediterraneo first caught my attention. I was to arrive by train for a three-day stopover between two legs of an extended tour of the region, with no other plans than just being in Rome, to wander around and soak up the atmosphere. The Mediterraneo was 250 meters (820 feet) from
Stazione di Roma Termini
, the main railway station and public transportation hub in the city; and within reasonable walking distance from the most popular landmarks including Santa Maria Maggiore Basilica, the Coliseum, Forum, Trevi Fountain, Piazza Navona, Via Veneto and the Piazza di Spania (and its famous Spanish Steps). The location seemed ideal for my purpose, and it proved to be. But it was the grand, impeccably preserved Art Deco property itself that made my short stay in Rome a memorable experience.
Designed in 1936 by Mario Loreti, a foremost Italian architect of the era, and completed in 1942, it is considered one of the finest examples of Art Deco architecture and rationalist design in Rome. From the moment I entered the lobby with its exotic woods paneling and soaring polished marble columns flanked by busts of Roman emperors, I felt transported into a glamorous 1930s movie set. I would not have been overly surprised to see Fred Astaire materialize at the top of the imposing marble staircase. The Mediterraneo maintained its Art Deco persona throughout its monumental public areas. In the lounge, a parchment map of an ancient perspective of the Mediterranean Sea occupied an entire wall, while the opposite one was covered with an intricate marquetry mural of an allegorical scene. In the dining room, an exquisite wall-size tapestry-like mosaic evoked a medieval hunt. However, the most unique feature of the property was the Roof Garden Restaurant and Terrace. Built high on the Esquiline Hill, the highest of Rome's seven hills, the ten-story, 50 meter (165 foot) high Mediterraneo was the tallest building in the center of the city. Its spectacular view swept across the rooftops, from the twin domes of nearby Santa Maria Maggiore all the way across town to San Pietro in Vaticano (San Peter). It was my favorite spot to linger, especially at dusk when far above the bustle of the city, I could sip a Spritz (local cocktail made of dry white wine, sparking water and bitter Aperol) while watching the sun set over the Vatican.
In pleasing contrast with the majestic and somewhat austere public spaces characteristic of the Art Deco style, my suite was a cozy urban retreat I looked forward to return to after a day of roaming around the city. While the original elaborate woodworks, built-in furniture and sober décor had been meticulously preserved, the suite had modern amenities, including double glazed windows and electric shutters, individually controlled air-conditioning, large widescreen television and contemporary marble-clad bathroom.
I liked the location of the Hotel Mediterraneo, in a lived-in neighborhood with easy access to the major touristic sites of the city, and its distinctive old world atmosphere. And best of all, I enjoyed the elegance and comfort of my light-filled suite, a relaxing home away from home that I will keep in mind for future visits to Rome.
Children
The Mediterraneo welcomed children of all ages.
Class Of Accommodation Four star hotel
Concierge Eugenio Bungaro
Connectivity There was complimentary WiFi in my suite and throughout the common areas. Connectivity was reliable in the common areas but erratic in my suite.
Handicapped Access Yes
Hotel Manager Claudio Garbo
Length Of Stay Three nights
Location Conveniently located in the center of Rome, the Mediteranneo was within reasonable walking distance from most of the popular monuments in the city. It was also a five-minute walk to the Termini central train station, bus terminal and subway, making it especially easy to get around via public transportation. For air travelers, the train shuttle between the Leonardo da Vinci/Fiumicino airport and the center of the city was also a few steps from the hotel.
Owned / managed Bettoja Hotels, one of the oldest and largest family-owned hotel groups in Italy for five generations. Chairman was Angelo Bettoja.
Pets Allowed Yes
Size The ten-story property had 251 rooms including seven executive suites and five junior suites. It employed a staff of 60.
Year Opened-Renovated Following a four-year construction effort, the property opened in 1942. It was the object of on-going meticulous renovations and upkeep to preserve its original Art Deco character.
Lobby And Common Areas Beautifully preserved in their original 1930s style, the common areas had the monumental proportions and slick design of those times. Highly polished taupe marble and precious woods dominated the décor. Cut crystal and bronze sconces and bowl chandeliers provided the lighting, while daylight streamed from tall windows. In the lobby, the wood-paneled reception desk topped in cocoa marble occupied the entire side wall. Above it, a geometric wood frame interspersed with hammered brass inlays held rectangular opaque glass panels. On the opposite side of the lobby, period elevators were flanked by half-flights of marble stairs leading to the lounge, bar and restaurants. In the lounge, plush burgundy carpeting and curvaceous armchairs upholstered in crimson, jade and mauve textured velvets added warmth to the décor. In a corner, built into a wall of white-veined taupe marble, the concave wood-paneled fireplace had an intricate marquetry awning. The hearth was outlined in deep green marble. On both sides of the fireplace, busts of Roman emperors stood under tall bronze sconces. In the next room, the semi-circular bar with its rich golden alabaster countertop was surrounded by hunter green leather barstools with gleaming brass footrests. Around wooden spindle-leg tables, black leather armchairs with lacquered bentwood armrests offered more intimate seating.
Bathroom
Mercifully, at the Mediterraneo, the exacting attention to early 20 century authenticity stopped at the door to the bathroom. Here the floor, walls and vanity top were contemporary polished travertine marble. And the latest high-end white porcelain fixtures prevailed, including commode, bidet, built-in sink and oversize bathtub with in-tub adjustable height or hand-held showerhead and a swinging glass panel to contain the water within the tub. There was a wall size mirror above the vanity. Lighting was recessed in the ceiling.
Room Located on the ninth floor of the ten-story property, and graced with a southwestern orientation, my sun-filled 34 square meter (365 square foot) junior suite, Number 916, had an exceptional view of the city. The suite consisted of three cozy rooms laid out in enfilade, starting with the corner sitting room. The bedroom was in the center, followed by the dressing room and bath. There were burgundy carpeting and cream-glazed walls throughout. All upholstered pieces as well as the king size bed skirt and quilted coverlet were olive green textured velvet. The four tall windows had heavy floor-to-ceiling taffeta draperies in broad aubergine, olive and mauve stripes, trimmed with green fringe that matched the tasseled tieback ropes. Brass sconces with silk shades provided the lighting. In the sitting room, a Parsons-style sofa stood in a shallow mirrored alcove, with two matching barrel armchairs, a rectangular mahogany coffee table and a side table holding a flowered china lamp completing the sitting arrangement.
The most notable features of the room were the original built-in writing desk, bookcases and drawers fitted between the windows of the exterior walls. A grouping of framed etchings of ancient Roman monuments hung on the wall. In both the sitting room and bedroom, a large widescreen television sat on a metal and glass credenza in front of the window. In addition to the king size bed flanked by two round wood and glass side tables, bedroom furniture included a dressing table and chair in a mirrored alcove, recessed shelving above a built-in cabinet that concealed a mini-bar, and on the exterior wall, on both sides of the window, built-in storage drawers and shelves that matched those in the sitting room. A set of framed contemporary prints of harlequins added a whimsical touch. Other than the addition of a contemporary suite hanger and trouser press, the dressing room had fully retained its Art Deco personality with a kidney-shaped mirrored-top brass dressing table skirted in jade silk, black lacquered and brass chair and free-form wall hung mirror. The entire back wall was a paneled mahogany armoire made to accommodate the traveling wardrobe of a bygone era.
Food And Restaurants
The day began at the Sala Taverna breakfast room on the ground floor of the property with an abundant buffet of fresh fruit, cereals, breads, freshly baked croissants and breakfast cakes, assorted yoghurts, boiled eggs, sliced cheeses and cold cuts. The room décor was reminiscent of an ancient tavern with a nautical theme. Carved corbels representing mermaid and tritons figureheads held heavy ceiling beams and wrought iron wall sconces and overhead light fixtures had a similar mermaid and triton ornamentation.
Also on the ground floor were the Lobby Bar and Ristorante 21, a small formal restaurant that served gourmet Italian cuisine for lunch and dinner. Its back wall was covered with a stunning mosaic fresco of a hunting scene. My personal favorite spot for cocktails and dinner was the lovely Roof Garden Restaurant and Bar and its glorious terrace with a panoramic view of the city. Day or night, the glassed-in dining room with its flowered chintz drapes, white painted armchairs and tables clad in cinnabar floor-length cloths with white linen overlays felt like a romantic sky-high garden room. The menu was a mix of Roman and international dishes. I especially enjoyed the bresaola appetizer, a carpaccio of aged air-dried beef served on a bed of peppery arugula with a balsamic reduction, a portion so generous that it could have been a light entrée. The fresh pasta with garlicky sautéed shrimp and zucchini that followed was equally delicious. In brief, everything that my friend and I sampled there was beautifully prepared from the freshest ingredients and made for a pleasing dining experience. In addition to hotel guests, the Roof Garden welcomed local diners for lunch and dinner. It was a popular place where reservations were strongly recommended.
Amenities
In room amenities included an electric kettle with tea and coffee service, bottled mineral water, a generous welcome fruit basket, electronic safe, sewing kit, shoe horn and shoe polish sponge and a trouser press. Bathroom amenities included bathrobes and slippers, magnifying mirror, hairdryer, bathroom scale, facial tissues, cotton pads and swabs, fingernail file, oral hygiene kit and shower cap. Individual house brand toiletries of shampoo, shower gel, facial cleanser, bath salts and body moisturizing lotion.
Facilities There were three restaurants, a bar, a basic business center and a fitness room.
Fitness Center And Spa There was a small fitness center with basic exercise equipment.
Conference Facilities The Hotel Mediterraneo could accommodate up to 150 in four conference rooms.
Cleanliness
Excellent
Date Of Review October 2012
Reviewers Article and photographs by Josette King
Service The room was serviced daily. Every member of the staff I encountered during my stay was professional and efficient.
Would You Stay There Again? Yes
Contact Information
Address:
Via Cavour, 15
00184 Rome
Italy
Phone:
Fax:
Website:
Email: