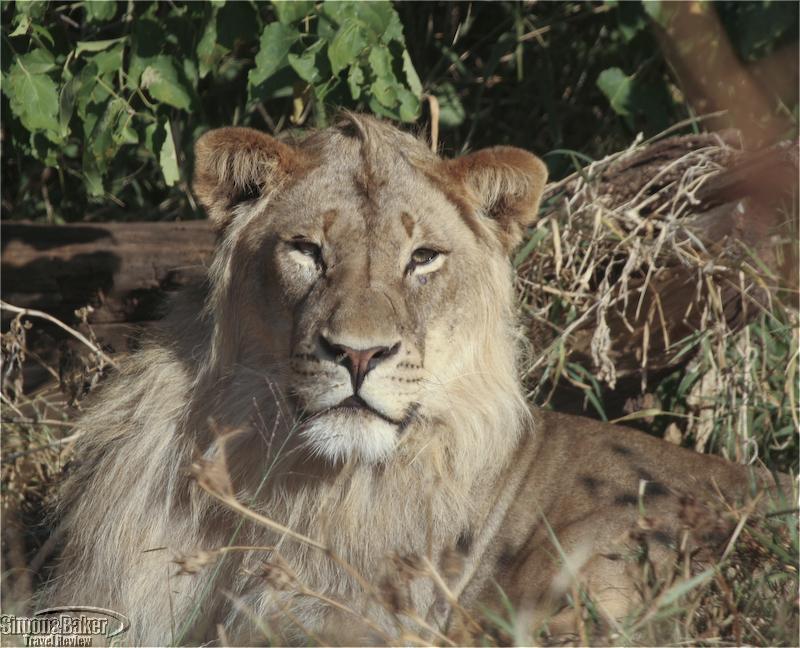 We will recommend this property to our friends with a particular interest in elephants and those wishing to explore Botswana's Tuli Block area.
Overall Impression
On our most recent trip to South Africa we decided to take a detour to visit Mashatu Main Camp within the Mashatu Game Reserve in the Tuli Block of southern Botswana. While this was quite out the way of our original itinerary and meant crossing an international border we felt confident the property would be worthwhile. This belief rested in part on Mashatu's reputation as a haven for elephants. We also liked that Mashatu was a sister property to Mala Mala and Rattray's, two upscale properties we had visited in the Sabi Sand Reserve near South Africa's Kruger National Park. It was a worthwhile detour and we much enjoyed our visit.
Although luxury standards are far more modest in Botswana than in South Africa, accommodations at Mashatu Main Camp (there was also a tented camp) were spacious and spotless and the staff were service oriented and welcoming. Mashatu was named for a local tree and dubbed "The Land of the Giants" in honor of the 1,400 elephants that called the reserve home. It addition to the usual dawn and dusk game drives the reserve was known for its resident predator and elephant researchers and their respective visitor activities.
During our visit we had an opportunity to go out on a morning Ivory Experience with Jeanetta Selier, an elephant specialist who for the past nine years had led the Mashatu Game Reserve elephant research project. Joe Mazebedi, our experienced guide, was at the wheel while the enthusiastic scientist outlined her findings and experience with the resident elephant population. We were fortunate to quickly come across a breeding heard and were able to drive within their midst. We were so close to the elephants that we could almost touch them and they didn't seem to be bothered by our presence. It was a treat to sit so close to the elephants and their young until the heard moved past us and we drove away.
We will recommend this property to our friends with a particular interest in elephants and those wishing to explore Botswana's Tuli Block area.
Camp Manager
Bobson Kontle had been in charge since 2007. He began working with Mashatu as a trainee guide in 1999. He was promoted to head guide and operations manager and participated in a Disney training program before being promoted to camp manager.
Class Of Accommodation Luxury game viewing camp
Handicapped Access Yes, the camp had had disabled guests in the past. They recommended guests make arrangements in advance of arrival.
Length Of Stay Three nights
Location In the Tuli Block of Botswana
Owned And Managed Michael and Norma Rattray and the Botswana Development Corporation were the owners of the reserve.
Phone And Internet Connectivity There was no Internet or phone access at the property. There was a mobile phone for emergencies and phone calls could be made from the nearby border post office a 40-minute drive away.
Size The camp had 14 guest rooms that could accommodate up to 28 guests and two pilots as well as six children. There were 55 staff including seven guides and seven trackers in 30 hectares situated within the larger 30,000 hectare private Mashatu Game Reserve.
Year Established-Renovated Mashatu first opened in 1976 as a small hunting lodge with six rondavels. It was purchased by the Rattrays family in 1987. Between 2001 and 2003 the suites were upgraded and expanded and the camp was upgraded.
Lobby And Common Areas The camp was designed in a classic and simple Africa style with photos of past guests, local crafts including Botswana and South African baskets, animal prints, and animal skins. There were large black and white photos by Shane Doyle.
Bathroom
The suite had a full bathroom with twin sinks, an open bathtub set on a concrete base, a separate doorless shower and a toilet in one corner. There was a half bathroom with a toilet and sink adjoining the master bathroom. Wicker baskets adorned the walls and served as laundry and garbage receptacles. There was also a small framed wood carving on the wall.
Room Suite 11, where we stayed, occupied 83 square meters of indoor space and faced east into the bush. To reach the suite we took a short walk down a dirt path from the main areas of the lodge. The entrance, without a lock, led into a small sitting area and bush facing sliding glass doors. Twin concrete tables stood sentinel near the entrance and with two more just inside the sleeping area. There was a hot beverage service and a pitcher of water on one of the concrete tables to the right of the entrance. Two wicker armchairs with foot rests faced the bush. Past the two wicker chairs a daybed with cushions occupied the space across from the entrance to the room.
Thick orange print curtains provided privacy at night. The floors were concrete and the walls beige. Lamps lit up the room at night. A ceiling fan and remote control air conditioning and heating unit allowed us to regulate interior temperatures. The sleeping area was to the left of the entrance. There were two single beds framed by night tables in the center of the sleeping area. Oversize black and white Africa themed photos hung from the walls above the bed and on one wall. There were also wicker baskets strewn about the room. The closet shelves were made of concrete. There was a safe and ample storage space for luggage, and folded and hanging clothes.
Food
Meals were served buffet style at shared tables in the outer dining area during the day and in the
boma
, an outdoor circular dining area set around a fire, at night. An indoor area was used during inclement weather and for children's meals.
In the early morning, 5:45 a.m., there were hot beverages, fruit, yogurt and cereal at the buffet. After the morning game drive, we enjoyed a buffet breakfast with breads, ready made eggs, bacon, and varied hot dishes as well as cheeses, fruit and cold cuts. At 3:30 p.m. there was a tea service with small sandwiches, cheeses, ice tea and hot beverages and pastries. During the morning bush drives the staff served hot beverages with rusks, thick toasted slices of bread; and during the evening drives there were cold beverages and popcorn.
Although we arrived too late from the border crossing our first day at the lodge to make lunch there was a tea service 90 minutes after our arrival. During our stay the staff served goat, pork, chicken and beef dishes accompanied by various starches such as potatoes, rice, butternut squash, sautéed veggies and a soup or other light starter at dinner. There was also a self serve salad bowl, a daily dessert and cheeses.
Amenities
There were Essence of Africa rooibos bottles of shampoo, conditioner, shower gel, and body lotion. There was also mosquito repellent, insecticide, soap, shower cap, an electronic safe, flashlights, mosquito repellant and umbrellas. Children 12 and under received a backpack with a bird and mammal coloring book, animal checklist, coloring pencil, thermometer, compass and water bottle.
Facilities There was a reception area, small bar, a bush facing air conditioned sitting area for adults, indoor and outdoor dining rooms, boma , pool deck, Discovery Room, conference room for up to 40 and curio shop.
Pool A few steps down from the dining area there was a pool area with lounge chairs. The pool itself was about 7 meters wide by 13 meters long and 2 meters deep.
Game Viewing
Our ranger, Joe Mazebedi, was local born had 22 years of experience at Mashatu. He was one of four full guides and three assistant guides working at the property. Albert Phorabatho was our tracker. Joe's knowledge and love for the bush were admirable. He could spot and identify every bird we came across from near or far and had extensive knowledge of the local flora and fauna. Affable and able he was our constant companion during game drives and at meal times.
There were game viewing drives twice daily in a topless Toyota Land Cruiser 4×4 for a maximum of seven guests per vehicle. Our tracker secured a ladder to the side of the vehicle to allow us to climb on and off. We were the only guests on our vehicle for five of our game drives. Animal sightings were usually limited to three vehicles. Morning departures while we were there were at 6 a.m. with a return around 9 a.m. or 9:30 a.m. Afternoon departures were about 4 p.m. with a return at about 7 pm or 7:30 p.m. Most of the time, the roads were very bumpy on and off road. Many of our drives included a portion through a dry river bed where we always spotted birds and small animals.
During our stay we saw lots of elephant, three female lions as well as two adolescent lions, genet, eland, duiker, springhare, klipspringer, tree squirrel, steenbok, impala, black backed jackal, wildebeest, leopard, kudu, warthog, zebra, spotted hyena (including a hyena den with two suckling cubs), banded mongoose, giraffe, Nile monitor, rock python, and terrapin.
Birds we saw: redcrested korhaan, crowned lapwing, sabota lark, Meyer's parrot, green pigeon, bushveld pipit, tawnyflanked prinia, redbilled quelea, purple roller, Namacqua sandgrouse, common scimitarbill, crimsonbreasted shrike, southern greyheaded sparrow, Meve's starling, wattled starling, blackwinged stilt, black stork, saddlebilled stork, spotted thick knee, southern black tit, whitebacked vulture, black-faced waxbill, blue waxbill, arrowmarked babbler, pied barbet, white-fronted bee-eater, tropical boubou, goldenbreasted bunting, kori bustard, yellow-fronted canary, familiar chat, Burchell's coucal, bronzewinged courser, Tomminick's courser, black crake, Cape turtle dove, laughing dove, redeyed dove, forktailed drongo, African fish eagle, African hawk eagle, brown snake eagle, redheaded finch, marico flycatcher, crested francolin, Natal francolin, Retz's helmeted shrike, grey heron, grey hornbill, redbilled hornbill, pied kingfisher, lesser masked weaver, redbilled buffalo weaver, redheaded weaver, whitebrowed sparrow, lilac breasted roller, green wood-hoopoe, and goldentailed woodpecker.
Activities Options available were twice daily game viewing drives, walks on request, sun bathing, watching television in the conference room and bathing in the lodge pool. There were also several optional activities offered by the resident researchers and third parties including Ivory Experience, Predator Research Drive, Limpopo Valley Horse Safaris, Mashatu Walking Safaris and Mashatu Mountain Biking.
Curio Shop
There was local and African jewelry of silver, beads and natural stones. There was also branded clothing, safari and animal book and souvenirs.
Other Mashatu offered a volunteer program that allowed individuals to assist researchers with their work while staying at the camp. Although most of the time the five volunteers that were there during our stay were involved in separate activities, one morning they shared the Ivory Experience drive with us and we often had a chance to chat at mealtimes. We especially enjoyed the opportunity to chat with the staff, researchers and volunteers at meal times. Also, twice in the evening at the end of the meal the local staff shared local songs and dances with us.
Outdoor temperatures ranged between 64 Fahrenheit in the early morning and 95 Fahrenheit during the day. Recyclables were sent to a nearby recycling plant. Other refuse was incinerated on-site.
The main camp was surrounded by a wall and beyond it there was an electric fence. This meant guests could walk about the property unescorted during the day and evening although most of the time we were escorted to our rooms by one of the staff.
Only children five years of age an older were allowed on the game drives. Younger children could remain in the camp with a staff babysitter. Most travelers to Mashatu Main Camp came from the United States, United Kingdom, Denmark, Italy, Australia, Germany and Norway.
Cleanliness
Excellent
Date Of Last Visit May 2008
Reviewers Article by Elena del Valle
Photographs by Gary Cox
Service There was twice daily room service, morning cleaning and evening turn down service. The staff we interacted with were pleasant and helpful.
Would You Stay Again? Yes
Contact Information
Address:
P.O. Box 26
Lentswe Le Moriti
Botswana
Reservations:
PO Box 55514
Northlands, Johannesburg
South Africa 2116
Phone:
Fax:
Website:
Email: