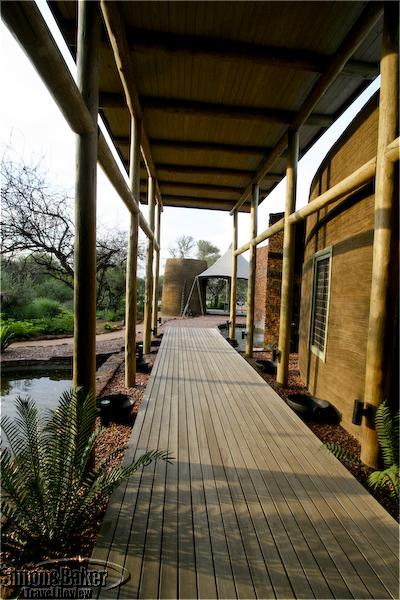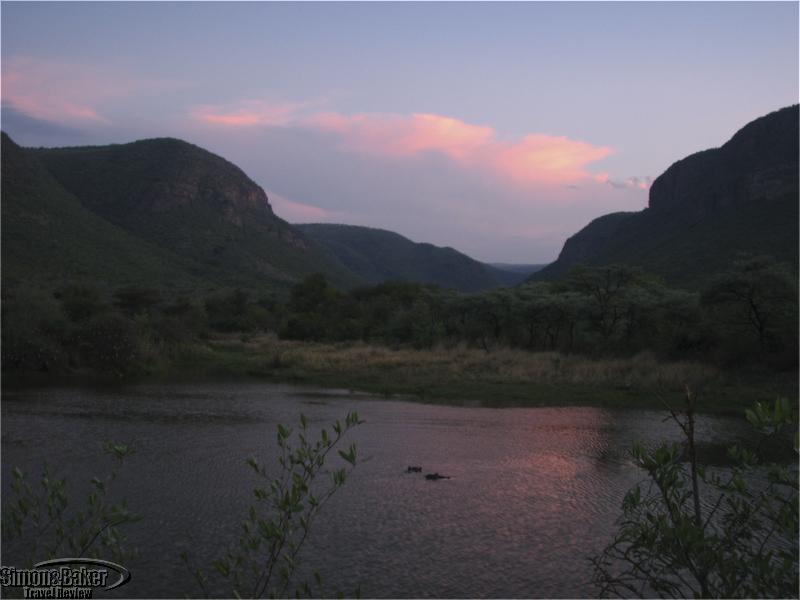 I would recommend this property to friends wishing to go game viewing in a luxury lodge with a gourmet orientation in a malaria free zone; to friends and acquaintances seeking a location for a small group gathering in a bush setting; and to families with children eight years and older seeking luxury and gourmet accommodations in a game viewing setting.
Overall Impression
One of of the features we liked the most about Marataba, meaning place near the mountains in Tsonga, was the splendid view of the Waterberg Mountains. We enjoyed this view from the comfort of our tented room, the common areas and the game drives. Located in a private concession within the Marakele National Park, Marataba was a luxury and gourmet oriented game viewing property managed jointly by South African Parks and Hunter Hotels.
This family friendly property, which welcomed children eight and older, was on repopulated former farmland now the domain of game animals. Although it was touted as a Big Five area, when we arrived, we discovered the buffalo they had had been relocated to a reserve in another area of the country because they had corridor disease. Of the remaining four (of the Big Five) animals we saw three.
What we liked best at Marataba was the malaria free location, spacious and well appointed tented rooms, pleasant common areas, lovely view to the Waterberg Mountains and gourmet meals. I would recommend this property to friends wishing to go game viewing in a luxury lodge with a gourmet orientation in a malaria free zone; to friends and acquaintances seeking a location for a small group gathering in a bush setting; and to families with children eight years and older seeking luxury and gourmet accommodations in a game viewing setting.
Children
Yes, children eight years of age and older were welcome. We saw children that looked younger, and were rather disruptive, in common areas.
Class Of Accommodation Luxury safari tented camp
Connectivity Although there was supposed to be WiFi in the main lodge it was not working during our stay. There was a computer with Internet access in the library. Guests were asked in a printed announcement next to the computer to refrain from downloading large files. The connection was so slow I was only able to connect for the most urgent matters and it took a long time to load pages. It worked intermittently during our stay. Twice of the three times I tried to use it it was down.
General Manager Craig Riddle
Handicapped Access There were no specifically designed rooms or amenities although hotel management indicated willingness to welcome disabled guests on a case by case basis.
Length Of Stay Three nights
Location In the Waterberg, within the Marakele National Park, in South Africa
Owned-Managed Hunter Hotels Family (Ian Hunter)
Pets Allowed No
Size There were 15 luxury tents and a main building inside a private concession of 23,000 hectares within the Marakele National Park. There were 39 staff.
Year Opened-Renovated The property opened December 2005
Lobby And Common Areas
The most noticeable feature at Marataba was the view of the Kransberg Range of Waterberg Mountains from the main lodge, lawn and tents. Our eyes were constantly drawn to a manicured lawn next to the lounge and dining deck and beyond it the mountains. The main lodge building was made of glass and stone with architectural and interior design by the Hunter family and Nick Plewman Architects. There was a spacious lounge with contemporary African touches adjacent to the main lobby. In a corner of the lounge there was a small library and a computer with Internet access. Furnishings, sourced from the local community, had Western and African influences. There were hammocks in the garden (a favorite) and pool areas. Original African art and fabrics were sourced by Jacqui Hunter of Imagenius.
One of the first things we noticed was the lovely water feature at the entrance and masked weavers in a tree. Soothing earth colors, polished and sealed concrete floors, African artifacts, and high ceilings characterized the indoor dining and lounge areas. In addition to the interior dining area and covered dining deck meals were served in the lawn, facing the Kransberg Range of the Waterberg mountains. From some of the tables there was a partial river view.
Bathroom To the left of the room a see-through bead curtain (there was a canvas wall that could be lowered for privacy) provided a view to an open indoor shower in the corner and an oval bathtub made of polished and sealed concrete in the middle. A built-in concrete bench with two cushions took up the area next to the beaded curtain. A small concrete shelf on the far wall held toiletries. Double glass and wood doors led to a covered terrace and an enclosed outdoor shower. A full length mirror hung on the water closet door on the opposite side of the bathroom from the double glass doors.
Room
Our 54 square meter tent (number 8) was spacious and designed with style. Thanks to the solid structure, high end and sturdy material including the canvas, from a comfort perspective it was much more like a regular room than like a tent. Our east facing Tented Suite (since it didn't have a distinct or separate sitting area it was spacious room rather than a suite) was the first one on the right side of the main building. The river facing tent had a fly cover over the canvas, keeping the elements and insects off of our inner tent ceiling. It faced the Matlabas River and the bush in the foreground and Waterberg Mountains in the background. There was a six to eight foot wide covered terrace with access to an outdoor shower. Because we were so near the main building and its lawn area and the bush was thin we could clearly see parts of the path and the lawn, limiting privacy on our terrace. A khaki colored bean bag and small wood table were situated on either side of the tent entrance on the terrace. A zippered tent entrance led to sliding wood screened doors. Two identical olive green cloth armless chairs were in the corners by the entrance to the tent.
Inside, there were blond wood floors in the bedroom area, polished and sealed concrete floors in the rest of the room and a tent ceiling. Wood logs and concrete walls provided conventional elements. The center of the room was taken up by a king bed (two twins together) set against a concrete wall that separated the room from part of the bathroom. The bed was framed by identical wood and glass topped night tables with lamps.
To the right of the room there was a wood table with sherry service, writing paper and a company brochure. The area behind the wall housed a doorless closet with hanging and shelf space and an electronic safe. Across from it there were twin brown open egg shaped sinks atop a polished and sealed concrete base and beneath rectangular framed mirrors. The mirrors hung on the stone wall that was the rear area of the room.
An air conditioner and heater unit above our bed cooled the room from the hot outdoor temperatures while the screen doors to the tent allowed the ambient sounds of the bush to penetrate easily while keeping insects out, mostly.
Food
Marataba had a definite gourmet appeal and meal times were in some ways our favorite time at the camp. Kitchen staff relied on local influences and seasonal ingredients to develop a fusion cuisine. At high tea there were freshly backed goodies. To match the meal with a wine there were South African wine and international alcoholic beverages available.
Around 6 a.m. a guide would come to our tents with our choice of hot beverages and rusks. During the game drives there was a brief stop for beverages and snacks (rusks in the morning and sweet and savory snacks in the afternoon). On our arrival from the morning drive there was a breakfast buffet and made to order eggs with sides. A plated cold three course lunch with two options per course and one dessert item was available in the lawn between 1 p.m and 2:30 p.m. Items served for lunch during our stay included smoked trout salmon wrap, grilled cubed and skewered ostrich, salad with toasted Parma ham and goat cheese and brownies and poppyseed ice cream.
At 4 p.m., tea was served. This included cold beverages served in small glasses (and hot on request) and sweets. Dinner was plated and served on our return from the evening game drive. For the most part we enjoyed the dinners although Indian night was our least a favorite.
Amenities
The nightly rate included full board (breakfast, lunch, tea, dinner and snacks during the safari drives), two game drives per day, tea, coffee, and soft drinks. In the tents, there were Charlotte Rhys Mara scented toiletries (body lotion, shower gel, shampoo, conditioner), house brand soap, shower cap, vanity and sewing kits, linen bathrobes, slippers, complimentary water and a bite of nougat at turndown, complimentary bowl of nuts and complimentary sherry in the tent. There was an electronic safe and a blow dryer in the room.
Facilities There was a swimming pool, indoor and outdoor dining areas, a curio shop, lounge and a lawn area with a fire pit.
Pool To one side of the main building there was a 1.8 meter deep swimming pool surrounded by rigid lounge chairs with towels, umbrellas and hammocks.
Game Viewing
There were five Field Guide Association of Southern Africa (FGASA) qualified rangers at Marataba. Each canvas topped game viewing vehicle was allowed to accommodate a maximum of six guests. Game drives were limited to dirt roads.
We began our game viewing with Aeri, the senior guide at the time of our visit. After two drives on his vehicle with other guests, Aeri was reassigned to a group of 16 newly arrived guests and we were reassigned to Pieter, an enthusiastic and friendly new guide. We were the first guests he took out. A supervising guide, Shaun, accompanied us on the first game drive with Pieter. Since we were on the vehicle with the most junior guide we had to take the route left available by the senior rangers.
Game viewing was on Toyota Land Cruiser vehicles, open except for a canvas top. The first vehicle we went on (the one driven by Aeri) seemed more comfortable than the one assigned to Pieter. Drives began at 6:30 a.m. and returned about three hours later. In the afternoon we set out at about 4 p.m. and returned at about 7:30 p.m. for dinner.
According to Marataba staff the park hosts one of the world's largest breeding colonies of Cape vultures. Marakele is reputed to have a high density of black and white rhinos. There were also reedbuck, mountain reedbuck, eland and tsessebe antelopes.
On five game drives we went on during our visit we saw the following animals: Lesser bushbaby, eland, elephant, giraffe, scrub hare, hippopotamus, brown hyena, impala, black backed jackal (a particularly relaxed group that lay sleeping while we watched), kudu, lion, slender mongoose, white rhino, tree squirrel, steenbok, vervet monkey, waterbuck, blue wildebeest, steenbuck, warthog, and Burchell's zebra. We also saw two types of dung beetles, stick insect, water monitor, tortoise, ostrich and a terrapin.
Birds we saw or heard Grey heron, African fish eagle, Swainson's Spurfowl (francolin), helmeted guineafowl, crowned lapwing (plover), blacksmith lapwing (plover), Cape turtle dove, emerald spotted wood dove, grey go-away bird (lourie), Burchall's coucal, white fronted bee-eater, little bee-eater, red crested korhaan, crested francolin, African hoopoe, Cape vulture, blue crane, magpie shrike, crimson shrike, Egyptian geese, secretary bird, blue waxbill, spurwinged geese, martial eagle, namacqua dove, lilac breasted roller and swallow tailed bee-eater.
Activities In addition to the twice daily three hour game drives, it was possible to spend time in the swimming pool area rigid lounge chairs or hammocks, in the library and at the guest computer.
Curio Shop
Near the entrance of the lodge and the lobby restrooms there was a small curio shop with branded clothing, costume jewelry, suntan lotion, African souvenirs, and children's books and toys.
Other The Relais and Chateaux property was recognized with the 2009 Conde Nate UK and Here's My Card award. Management had undertaken a number of steps in support of the environment. A special sewer system was installed that relied on enzymes and biotechnology to make sewer waters recyclable for irrigation without coli bacteria. Housekeeping staff used biodegradable cleaning products without bleaches. Recycling policies were in place for glass, plastic, tins and bottles. Fires were made with wood from alien plants; energy saving light bulbs were used; air conditioners were switched off when not in use; construction was erected around indigenous trees and plants, and gardeners were mindful of using only non harmful fertilizers.
We were first assigned Room 5 which had an excellent view of the mountains and the bush. However as soon as we arrived we could clearly hear children running and playing loudly from the room next door. When we mentioned our discomfort to the staff they offered to speak to the parents. We requested that they change our room instead which they did within an hour of our request.
Because there were predators within the reserve guests had to be escorted to and from their rooms at night. The main area of the lodge including the dining room, lounge, lobby and lawn area was surrounded by an electric fence.
Cleanliness
Excellent
Date Of Review October 2009
Reviewers Article by Elena del Valle
Photographs by Gary Cox
Service There was twice daily room service. Staff were friendly and pleasant, especially Helen and Ana, our servers for most meals. Service staff became preoccupied with the arrival of a group of 16 new guests. We did our best to arrive at the dining room before the group to make sure we had access to the buffet and serving staff before they took up most of their attention as they did on the night of their arrival.
Would You Stay There Again? Yes
Contact Information
Address:
PO Box 454
Plettenberg Bay 6600
South Africa
Phone:
Fax:
Website:
Email: