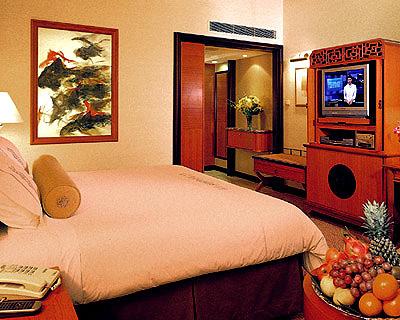 This is a fun area too, with lots of street performers and regular events (mostly promotional), and a great place for people watching.
Overall Impression If you want to see the tourist side of Singapore, this is a fine place to do it from. Reasonably priced for the class of accomodations, with spacious rooms and many facilities, the Mandarin Singapore is a great spot to rest up after a trans-pacific journey. The rotating restaurant in the tower is worth a look, just for the view at night of the entire city/country. The buildings all around this area are honeycombed with stores, although the prices are not really bargains, the selection is overwhelming. This is a fun area too, with lots of street performers and regular events (mostly promotional), and a great place for people watching.
Class Of Accommodation
Five Stars
Length Of Stay Four nights
Location Located in the heart of Orchard Road – Singapore's shopper's paradise. This bustling area has every concievable shop and store within easy walking distance. The crowds can be a bit intense sometimes, particularly during the early evenings, when the shoppers are still out catching last minute items, and the nightclubbers are just starting to come out.
Restaurants The Boiler Pub was a casual spot for drinks (a bit tame as Singapore tends to be). The Pine Court Chinese restaurant was pretty good, and served the breakfast buffet in the morning. The Top of the M restaurant had a great view and wonderful food with associated prices. Frankly, with all the restaurants to choose from in the area, I did not spend many meals other than breakfast at the hotel.
Size 1200 guest rooms, with 54 suites
Year Opened-Renovated N/A
Lobby And Common Areas : Elaborate marble with columns and a spacious feeling. Everything sparkles in this hotel, and the cleaning staff are constantly working around the clock. Doormen (about 10 of them) are quick to help with cabs and directions.
Bathrooms
My bathroom was all marble and clean. The shower/tub combination was comfortable for a full size western man, not always the case in Asian hotels.
Rooms The room I stayed in was standard for the type of hotel. It was reasonably spacious, comfortable and well maintained.
Facilities
The hotel had a good fitness center, free to guests. It also offered a spa, drugstore, gift shops, several restaurants, from a pub to a formal dining room at the top of the towers. There were tennis and squash courts, and an outdoor pool area. The business center had complete services, although prices seemed a bit high.
Pool And-Or Beach The pool area was quite pleasant, although a bit crowded on the hot sunny days of summer. The services by the pool were excellent, with high marks for cleanliness and atmosphere.
Spa I did not sample its offerings.
Amenities Satellite television, coffee and tea service in room, minibar, nice bathroom amenities (I liked the soap particularly). There was a lovely bowl of fruit when I arrived and turndown service with a chocolate on my pillow. The telephone had a data port (no high speed access yet), and the ubiquitous hairdryer. Room service operated 24 hours a day.
Watersports Just the pool.
Other For the type of hotel and service offered, and depending a bit on exchange rates, this hotel is a really a good value. I have heard from other travelers that not all of the upscale Singapore hotels are as nice and well maintained. Oddly enough, food prices are comparable to five star hotels everywhere, and although the quality was good, food is inexpensive and available everywhere in Singapore.
Check-In-Check-Out Process Ease
: Very smooth and a nice relief after 26 hours of flying from the US and a forty-five minute cab ride. Checkout was equally smooth.
Cleanliness The entire hotel was spotless when I was there.
Date Of Review April 2000
Ease Of Reserving A Room Easy
Overall Service Excellent, the staff were all friendly and helpful
Would You Stay Again? Yes
Contact Information
Address :
333 Orchard Road
Singapore 238867
Phone :
Fax :
Website :
Email :