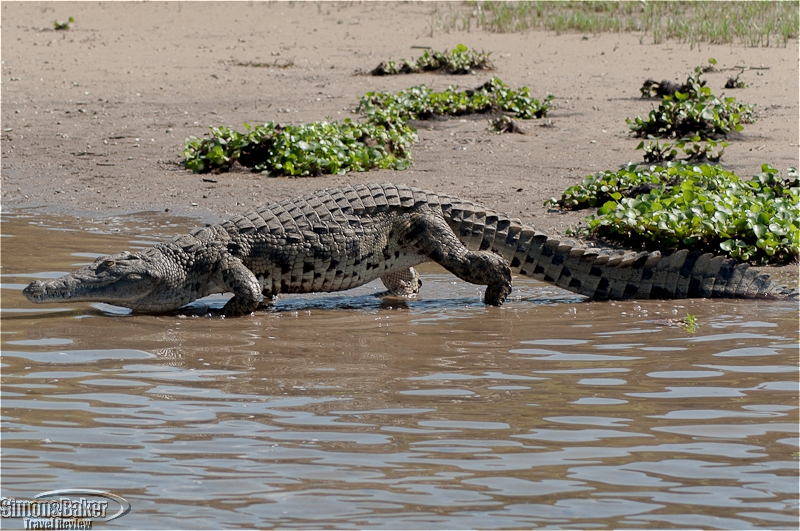 Tourist facilities, including luxury properties, have appeared in these magnificent wilderness and lake areas but remain limited in number, promising an outstanding quasi private wilderness experience for visitors.
Overall Impression
Malawi is a small landlocked country in southeast Africa (less than half the size of the United Kingdom) that had until recently attracted little notice from tourists. With its growing population exceeding 16 million living mainly in rural areas and its economy largely based on subsistence agriculture and international aid, it is one of the least developed nations in the world. However, this long, narrow wedge of granitic land shaped by the Great Rift Valley is home to spectacular vistas of rolling plateaus and mountainous regions dotted with wilderness reserves and national parks.
Dominating the entire country is Lake Malawi, the famous Lake of Stars of 19th century English explorer David Livingstone. Some 580 kilometer (360 mile) long and 75 kilometer (46 mile) wide at its largest, with depths that can reach down 700 meters (2,300 feet) and sun drenched beaches of soft golden sand tucked within its dramatic shores of high granite boulders, the lake had the feel of a fresh water inland sea. At the southern end of it, the Lake Malawi National Park and UNESCO World Heritage Site, with its tiny secluded islands and crystal clear waters was especially breathtaking and popular among water sport enthusiasts.
The Shire River flows out of Lake Malawi to snake along striking rocky banks on its southward journey down the Rift Valley toward Mozambique and the Zambezi River. Along the way it reached the two foremost wildlife reserves in the country. First, on the upper reaches of the river, the Liwonde National Park offered boating safaris that allowed an exceptional opportunity to enjoy close water access to the large population of elephants, hippos and crocodiles, as well as a vast array of waterfowl and birds. Further down river, along the lower Shire Valley, the Majete Wildlife Reserve after being poached to near oblivion in the 1980s and 1990s had been rehabilitated and restocked through a painstaking decade long effort to become the first Big Five safari destination in the county. Tourist facilities, including luxury properties, have appeared in these magnificent wilderness and lake areas but remain limited in number, promising an outstanding quasi private wilderness experience for visitors.
Climate
The climate was typical of tropical inland regions, with a dry season from May to November. I experienced daytime temperatures around 30 degrees Celcius (86 Fahrenheit), and cooler nights in the southern part of the country and at the lake. The dry bush and the shortage of water that drove animals to the remaining waterholes and the river made for superior game viewing.
Cost Of Visiting Moderate
Currency The country's unit of currency is the kwatcha, abbreviated internationally to MWK and simply K locally. At the time of my visit, there was an exchange rate of 425 MWK per United States dollar.
Electrical Current Electricity was based on the 220/240 volt system. The electric grid supply was somewhat erratic. Most of the tourism facilities where I stayed generated their own solar electricity and all had backup gas or diesel generators. A NW-135C adapter was necessary when using electrical outlets (as used in the United Kingdom)
How To Get There There were no direct flights from the United States to Malawi. I flew via Europe where there were nonstop flights to hubs in Nairobi or Johannesburg with connecting flights from Kenya Airways and South African Airways respectively to Lilongwe and Blantyre. Air Malawi also offered regional links between Malawi and Kenya, South Africa, Zambia and Zimbabwe. A valid passport was required for entering Malawi. Visas were not required for tourists from the United States, most European Union and British Commonwealth countries or Japan.
Location Malawi is located in southeastern Africa. It is bordered by Zambia to the northwest, Tanzania to the northeast and Mozambique to the south, southeast and southwest.
Measures The metric system prevailed.
Money Issues The properties I visited accepted U.S. dollars and credit cards. Local vendors in tourist areas also readily accepted cash in U.S. dollars, but did not accept denominations lower than five dollar bills (with change returned in local currency). I had been forewarned that one dollar bills were not accepted or exchanged anywhere in Malawi due to counterfeiting problems in the past. There were ATMs in the three main cities, Lilongwe, Blantyre and Mzuzu, that dispensed local currency only.
Technology The telephone system was rudimentary, with local mobile phone service apparently more reliable than landlines. My international 3G/4G GSM telephone had only rare random reception. However, reliable 2G communications were possible with a GSM card from local service providers. A slow WiFI connection was available in the urban areas and at some of the properties.
Time GMT/UTC + 2 hours
Transportation With relatively short distances between the destinations on my itinerary I used pre arranged road transfers to get around. While secondary roads were unpaved, main roads were paved, in reasonably good shape and with little motor traffic. Driving was on the left and speed was limited as it was commonplace to find people and animals on any road. Air links were available between cities and the main tourism destinations.
Health And Vaccinations Since all of Malawi was a malaria zone, I took the usual daily malaria prophylactics prescribed by my local travel medicine clinic. The United States Center for Disease Control and Prevention (C.D.C.) recommended precautionary tetanus, typhoid and hepatitis A vaccination and identified the country as a high risk area for HIV/AIDS. Additionally, I was made aware of a possible risk of contracting bilharzia if bathing in some parts of Lake Malawi. However, the properties I visited routinely tested the waters in the vicinity of their beaches and snorkeling areas to ensure they were free of the parasite.
Facilities
There were banks, department stores, markets and supermarkets, pharmacies, some Internet cafes and cell phone stores, as well as limited healthcare facilities the cities. These became rare outside of the urban areas, with health care facilities virtually nonexistent. Safari properties required guests to carry mandatory emergency evacuation insurance.
Shopping And Souvenirs I saw Supermarkets and European style shops in Lilongwe and Blantyre only with small markets and general stores in small towns and larger villages. Roadside vendors were ubiquitous in the countryside. Souvenirs included good quality woodcarving and straw goods as well as attractive small jewelry articles. In the markets, bargaining was expected.
Tourism Highlights
By far the most popular tourist destination in the country was Lake Malawi. Little appeared to have changed in the century and a half since the legendary missionary explorer became the first known westerner to feast his eyes on the dazzling immensity of water. Fishing villages may have multiplied under the baobabs that dotted the shore, and of late a few tourism resorts had appeared, discretely peering from the forested slopes of the most scenic coves. But the lake was so vast that great swaths of shoreline still appeared mostly empty. And each evening I could still see pinpoint of lights blinking on its surface as fishermen hung lights to attract the fish to their boats as they had for centuries. And in the past decade, the Lake of Stars had also become increasingly recognized as a beach vacation paradise for its warm, crystal clear waters and the broad gamut of water sports offered.
South Malawi boasted more national parks and wildlife reserves than the remainder of the country. I especially enjoyed the Lilwonde National Park, considered Malawi's premier game park, for its mix of boating and open top all wheel drive vehicle safari experience, including evening drives using a powerful spotlight to view nocturnal animals. However, my favorite park was the Majete Game Reserve for its heartwarming success story (as well as excellent game viewing). After its near demise in the late 1990s, the reserve was taken over in 2003 by African Parks, an international nonprofit organization dedicated to the rehabilitation and long term management of national parks in partnership with governments and local communities. After undergoing significant infrastructure development and massive translocation of wildlife (over 2,500 animals from 13 different species), Majete was home to a visibly thriving population of elephant, black rhino, leopard, lion, buffalo, sable antelope, zebra, Lichtenstein's hartebeest and eland.
Date Of Visit
October 2013
Reviewers Article and photographs by Josette King
Would You Visit Again? Yes