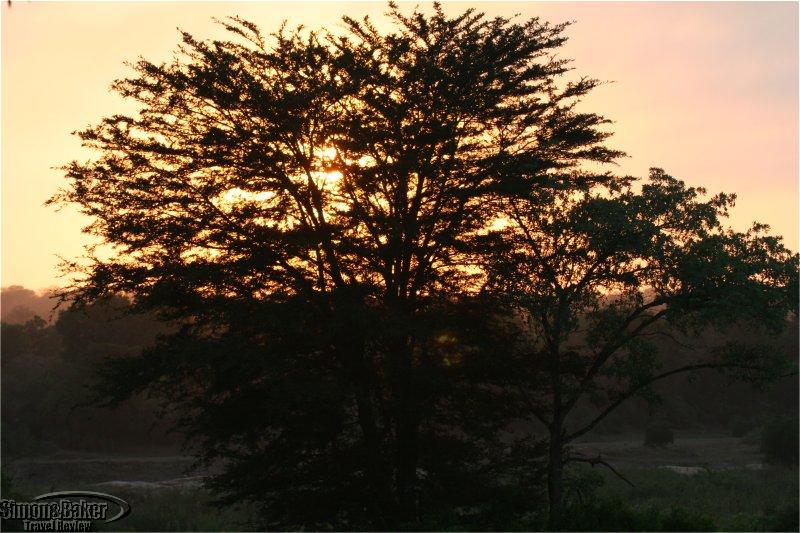 Mala Mala Main Camp offered excellent value for money and was certainly worth a return visit.
Overall Impression
In the early 1900s, several attempts were made to substitute Mala Mala's wildlife with cattle farming. A losing battle with lions and a constant struggle with wildlife, diseases and drought proved that it was not a viable option. Established in 1929 by Wac Campbell as a preservation area and legacy for his children, by the 1950s it had become a game viewing property. In 1964, the Rattray family purchased the property and upgraded the accommodations to a 1950s style luxury standard. Now part of a conservation gene pool of 5.5 million acres of South African lowveldt, it shares 19 kilometers (12 miles) of border with the Kruger National Park in one of the prime game viewing areas of the world.
With 12,000 hectares of private game viewing land adjacent to the Kruger National Park, the Mala Mala Reserve was the largest reserve within the Sabi Sand Reserve. The size and location of the reserve were important factors in ensuring guests had Big Five game viewing opportunities.
We liked the Mala Mala Main Camp's ecotourism orientation, spacious suites with a connecting private lounge and twin bathrooms, Internet access, tasty food, pleasant staff and good game viewing. It's a good thing the attempts to convert the area into cattle farming failed and the wildlife prevailed. Thanks to those failures and Wac Campell's foresight we can enjoy the wonders of game viewing and wildlife photography for years to come. Mala Mala Main Camp offered excellent value for money and was certainly worth a return visit.
Class Of Accommodation
Luxury game viewing lodge
General Manager Tom Bloy
Handicapped Access The property had a room equipped for wheelchairs. It also had special straps for the Land Rover. Guests had tested the system and offered positive feedback.
Internet Connectivity There was high speed Internet access in the library or Monkey Room via a courtesy computer.
Length Of Stay Two nights
Location In the Mala Mala Reserve within the Sabi Sand Reserve
Owned And Managed Michael and Norma Rattray. Michael Rattray, who was also the managing director of the MalaMala Game Reserve, has twice been the recipient of the Ossie Doyer Trophy for The Conservationist of the Year. He has also been the only person in South Africa to have received the State President's Award for eco-tourism. He was the longest serving curator of the National Parks Board of South Africa; he was endorsed for the position by three presidents of South Africa, including President Nelson Mandela.
Size The camp had 27 guest rooms and 115 staff including 17 rangers in a 12,000 hectare private reserve.
Year Established-Renovated The first property was established in 1929. The most recent upgrades to our rooms took place in 2003.
Lobby And Common Areas The camp was designed in a classic Africa style with photos of past guests, animal prints, animal skins and trophy heads.
Bathroom One of our favorite features were the twin bathrooms in each room; one with a shower, sink, and toilet; another with a bathtub instead of a shower. They had khaki color themes and tile floors. Sink counters were of light brown marble accented by wood framed 3 x 4 foot mirrors. There were wicker stools in each bathroom and towel warmers. The bathtub had a handheld showerhead, handicapped bars and extra space for toiletries. The shower was glass enclosed and had shelves. Near it there was a wicker stand with shelves and a laundry hamper.
Room
Our two adjoining river-facing rooms (18 and 19) shared a private lounge situated between them. Housed in round buildings, each room was about 60 square meters (600 square feet) in size and about two city blocks walk from the reception area and lodge lounge.
Past the entrance door of the room there was a foyer with a built in full size cabinet including a mini refrigerator with bottled water and a fruit bowl with pears. In the cabinet there were glasses, dinnerware and an ice cooler.
The entrance foyer had doors leading to the room and lounge. The rooms had beige walls, high ceilings of thatch and wood and were decorated in earth tones. Wicker and wood were frequently integrated into the room's Africa design; this included limited edition numbered and signed prints and color animal prints. Each room had a view of a small private porch and the bush beyond. Two single beds joined together against a common cloth headboard. Wood and glass night tables with lamps were on either side of the bed. An oversize African wood framed tapestry hung above the bed. Terrazzo tile and khaki carpeting covered the floor. One corner had a walk-in closet with ample hanging and shelf space, a luggage rack, and an electronic safe. A hanging mirror hung on the wall next to the entrance to the closet. There was a glass covered table and leather armchair in the other corner facing the mirror and wall. Next to it there were two wicker chairs and a lamp.
Sliding glass doors led to an open porch with two lounge chairs and an umbrella. There was a remote controlled air conditioner to keep the room cool. A fan hung on a chain from the ceiling above the bed. Near it, two lanterns hung from the tips of animal horns lending the room an pioneer Africa look. A thick curtain in earth tones kept the sunlight out in the mornings and afforded privacy at night.
The classic Africa themed 80 square meter lounge was sandwiched between the two rooms. It was furnished with a sofa, three wicker armchairs (one with ottoman), several wicker tables, and wood and brass tables. There were also big lamps with wicker shades, a mini refrigerator, small desk with folding leather armchair, and a wood shelf. There were color prints and watercolors on the walls. Sliding glass doors led to a terrazzo deck with a bush view beyond the lounge.
Food
Dinner was served in the
boma
, an outdoor circular dining area set around a fireplace. During our stay, we had French Onion Soup, Potato Cakes with Sour Cream and Caviar (and liberal amounts of pepper), Grilled Ostrich Fillet with Green Peppercorn Sauce, Chicken Pie (a favorite), ice cream with caramel sauce, and cold lemon soufflé.
After the morning game drive we enjoyed a buffet breakfast. Choices included four kinds of cereal, various yogurts, six fruit juices, cheese, ham, salmon, muffins, toast, and croissants. It was possible to request made to order eggs and sides dishes. We had eggs over easy, grilled mushrooms, tomato, sausage, yummy hash browns and crispy bacon.
Amenities
There were Essence of Africa rooibos bottles of shampoo, conditioner, shower gel, and body lotion. There was also mosquito repellent, insecticide, soap, shower cap, an electronic safe and two types of cotton bathrobes (thick and thin cotton) for guest use during their stay.
Facilities There was a small bar, large sitting area, dining room, boma , pool deck, library and computer room called Monkey Room, fitness center and curio shop.
Pool A few steps down from the open deck and Monkey Room there was a pool area with lounge chairs, and a fitness room facing the bush. It was open until 5 p.m.
Game Viewing
There were game viewing drives twice daily in a topless Land Rover 4×4 for a maximum of six guests per vehicle. Animal sightings were usually limited to three vehicles. Morning departures while we were there were at 6 a.m. with a return at 9:30 a.m. Afternoon departures were about 4 p.m. with a return at about 7:30 p.m. Our guide was Giles Kelmanson and our tracker was Muxee, who could easily spot buffalo, elephant and smaller animals in the thick bush. Thanks to the well maintained roads our drives were fairly comfortable. They became bumpier when we went off road.
We arrived too late from the airport our first day at the lodge to make the afternoon game drive. Although the staff offered to drive us so we could join one of the game viewing vehicles that had departed earlier, we decided to settle in and have a snack since we hadn't eaten anything all day. The staff quickly prepared tasty chicken wraps which we thoroughly enjoyed.
During our one game drive the following morning we saw: Klispringer, steenbok, impala, Cape buffalo, kudu, nyala, bushbuck, elephant, zebra, cheetah, hippo, spotted hyena, Nile monitor and white rhino.
Birds: whitefronted bee-eater, blackeyed bulbul, jacobin cuckoo, Cape turtle dove, forktailed drongo, tawny eagle, Wahlber's eagle, African hawk eagle, martial eagle, brown snake eagle, bateleur, blue waxbill, Shelley's francolin, helmeted guineafowl, hamerkop, grey heron, redbilled whoohoopoe, giant kingfisher, grey lourie, blackheaded oriole, brownheaded parrot, blacksmith plover, lilacbreasted roller, longtailed shrike, puffback shrike, orangebreasted bush shrike, glossy starling, whitebellied sunbird and Egyptian geese. We also saw Cape, lappetfaced and whiteheaded vultures.
Activities Options available were game viewing, walks, working out in the fitness area, sun bathing and bathing in the lodge pool.
Curio Shop
The well stocked shop was open from 9 a.m. to 5 p.m. There was gold and silver jewelry, branded clothing, and safari products.
Other Electric outlets were conveniently located around the rooms. Outdoor temperatures ranged between 64 F in the early morning and 95 F during the day.
Massages were available in 30, 60, and 90 sessions from 9 a.m. until 5 p.m.
It was possible for guests to walk about the property unescorted during the day and early evening. After dinner we were escorted to our rooms by one of the staff.
In 1962, the MalaMala Game Reserve was the first privately owned game reserve in South Africa with eco-tourism as an alternative to hunting as a sustainable land use practice.
The Rattray Group practices a policy of empowerment of the local communities. The company has promoted deserving individuals from the local communities into positions in reservations, housekeeping, laundry and reception as well as management positions in the food and beverage, workshop, environmental departments. The Group also engages the communities to provide other services including construction, brick making, environmental management, road maintenance, entertainment groups, and curios.
Recyclables were sent to a nearby recycling plant. Other refuse was incinerated on-site.
Cleanliness
Excellent
Date Of Last Visit November 2006
Reviewers Article and photographs by Elena del Valle
Service There was twice daily room service, morning cleaning and evening turn down service. The staff we interacted with were helpful and friendly.
Would You Stay Again? Yes
Contact Information
Address:
PO Box Malamala 1353
Skukuza
South Africa
Phone:
Fax:
Email:
Reservations office:
PO Box 55514
Northlands
Johannesburg, South Africa
2116
Phone:
Fax:
Website:
Email:
USA representative:
Tim Farrell & Associates
P O Box 7300,
Wilton, CT 06897-7300
USA
Phone:
Fax:
Email:
U.K. representative:
Nigel Crofton
Outposts Falkedon,
Spreyton, Crediton,
Devon, EX17 5EF
UK
Phone:
Fax:
Email:
Italian representative:
Fabiana Cannizero
Corat
Via R. Morandi,
3/E, 20090 Buccinasco
Milan, Italy
Phone:
Email: