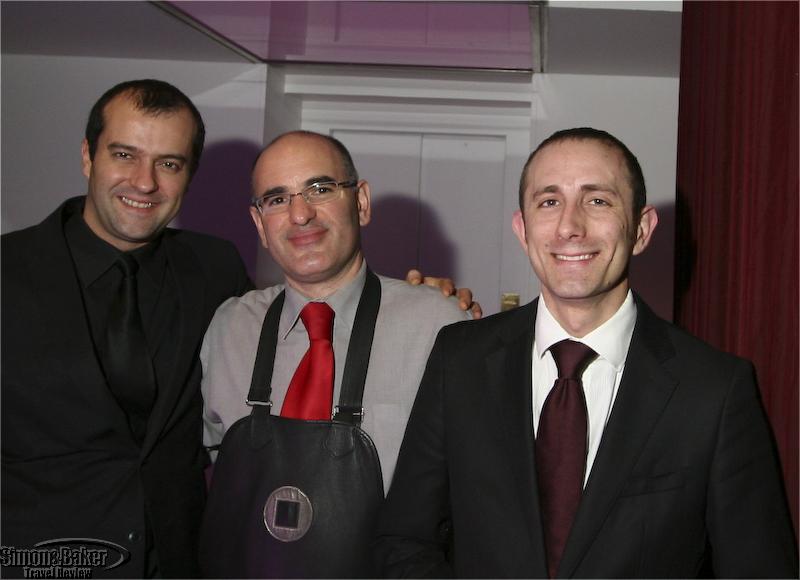 While we much enjoyed the restaurant and would return gladly the next time we would ensure we had transportation when booking our reservations.
This restaurant appears to have closed.
Overall Impression We knew from a previous visit the view at Maison Blanche would be pretty. We did not know it would be even lovelier in the evening (we had been there for lunch) or that it would be raining that night transforming the rain drops into millions of shimmering lights, like priceless gemstones, as they dropped in front of the huge glass wall of the restaurant.
It was without a doubt a romantic setting. There were couples on either side of us and the young man at the next table closest to ours looked like he was proposing.
The meal too was a pleasant surprise. Sylvain Ruffenach and the wine specialists at the restaurant prepared a tasting menu with wine pairing worthy of the stunning romantic view. The service matched their efforts resulting in a special evening which should have ended flawlessly.
As we prepared to depart and requested a taxi we discovered we would have to venture out in the rain at midnight to find our own taxi as the restaurant staff indicated they were unable to assist us. They promptly provided our coats and ushered us toward the elevator to find our way home as best as we could with nary an after thought.
While we much enjoyed the restaurant and would return gladly the next time we would ensure we had transportation when booking our reservations.
About The Chef De Cuisine
A native of Alsace Sylvain Ruffenach became interested in cooking at a very young age. He spent time observing his relatives who were restaurant owners before deciding to pursue his interest in the culinary world. Prior to working at Maison Blanche he worked at Daniel, Daniel Bouloud's New York restaurant where he had been for two years.
Before that he was demi-chef de partie at the restaurant La Bonne Auberge in Antibes in 1990; in 1991 he worked at the Palais de l'Impératrice at hotel in Biarritz in 1991. After that experience, the young chef de partie trained with Jean-Yves Leraguer at Fouquet's Barrière hotel where he was sous chef for four years.
He believes in that precision cooking, the quality of the product, a purified presentation, and the choice of the seasoning to unfold the flavor.
About The Restaurant Manager After graduating from the Lausanne School in Hotel Management, he worked as development manager, Restaurant and Hotel Department, at the Chamber of Commerce and Industry. Later he joined the team at Raymond Thuillier's L'Auberge de Provence in London before spending five years at the Hôtel Château Chartrons in Bordeaux.
He then followed Alain Ducasse's footsteps as operations manager at the Hôtel du Parc, where he remained for five years. He participated in the establishment of the famous chef's 59 Raymond Poincaré restaurant, the opening of Spoon restaurants in London and Mauritius, as well as the organization of gala events in Hong Kong and Tokyo.
Chef De Cuisine Sylvain Ruffenach
Handicapped Access There was an elevator and same level access to the restroom.
Head Sommelier David Charbonnier
Location Within the Golden Triangle, an upscale area of Paris.
Opened-Renovated The restaurant was opened in 1990; in the summer of 2010 the wooden floor was renovated, the terrace was enlarged and the restaurant was painted.
Owned And Managed Benjamin Demarigny
Pastry Chef Paul Donore
Restaurant Manager Bruno Franck
Size The restaurant could accommodate 180 guests in 440 square meters of space and employed 50 staff.
Type Of Restaurant Traditional French cuisine
DÉCor-Ambiance The style of the restaurant was modern. The ambiance was designed to be glamourous and romantic and emphasize its best asset, a view of the Seine, the Dome of Invalides and the Eiffel Tower (only from certain tables and angles).
Cellars Wine And Alcoholic Beverage Selection
The restaurant had 360 references of wine
Special Menus The Lunch Menu, priced at 55 euros (45 euros for Maison Blanche Club members), included a starter, a main dish, dessert and coffee; a second Lunch Menu included a starter, a main dish, and coffee for 40 euros (35 euros for Maison Blanche Club members). At dinner there was a five course tasting menu for 110 euros.
Meal
We had a multi-course tasting menu and wine pairing. To accompany our aperitif we had Sesame Feuilleté and Mushroom Cakes. Regular and seafood butter were served to accompany small bread slices.
We first had Oysters in three ways natural, in shallot vinegar aspic and fried in goat's cheese served with Amour de Deutz 2002. They were followed by a warm water finger bowl in case finger cleansing was necessary. Next we were served Savoy-style raviolis velvety Jerusalem artichokes soup, pan-sautéed wild mushrooms and truffles served with a Coteaux du Gionnois 2007 E. Balland with a lovely nose and an understated mineral flavor. Pan-sautéed duck foie gras brioche with fruits from Baerewecke, truffle juice followed. At that time we were offered regular and cereal baguettes. We were then brought a dish of Langoustines rotis with lentils and humus served with Brise Marine Coteaux du Languedoc; and after it Scallops raw with Thaï coriander, Granny Smith apple jelly and a sweet sesame stick served with Chablis W. Fevres 2008.
We then had a hearty John Dory beans broth perfumed with miso and candied Daikon radish served with Savigny les Baeaumes "Domaine Pavelot" 2008. It was followed by Veal sweetbreads swiss chards ragout with snails, fried and foam of sweet potatoes served with Vohay Santenots Premier Cru 2006 "Roussignol." Pig "cul noire" from Bigorre braised wedge of white cabbages, truffle juice and wild cranberries served with Brulieres de Beychevelle 2006 Haut-Medoc.
For dessert we had a Chestnut with vermicelli and mouse cream followed by Pear poached in chestnuts honey caramel ice cream, small sponge biscuit cake with finely ground almonds served with a Carmes de Rieussec 2004 from Sauternes.
Date Of Review
December 2010
Reviewers Article by Elena del Valle
Photos by Gary Cox
Service The staff were attentive during the meal. We were taken aback to discover at the end of the evening that they were unable to secure a taxi or any transport for us to return to our accommodations. Although early in the evening we had mentioned to one of the management staff that we would need a taxi when we requested one we were told to walk out (at midnight) in the rain and try to find our own as they were unable to help us.
Would You Dine Eat There Again-Recommend It? Yes
Contact Information
Address:

15 avenue Montaigne
75008 Paris, France

Phone:
Fax: