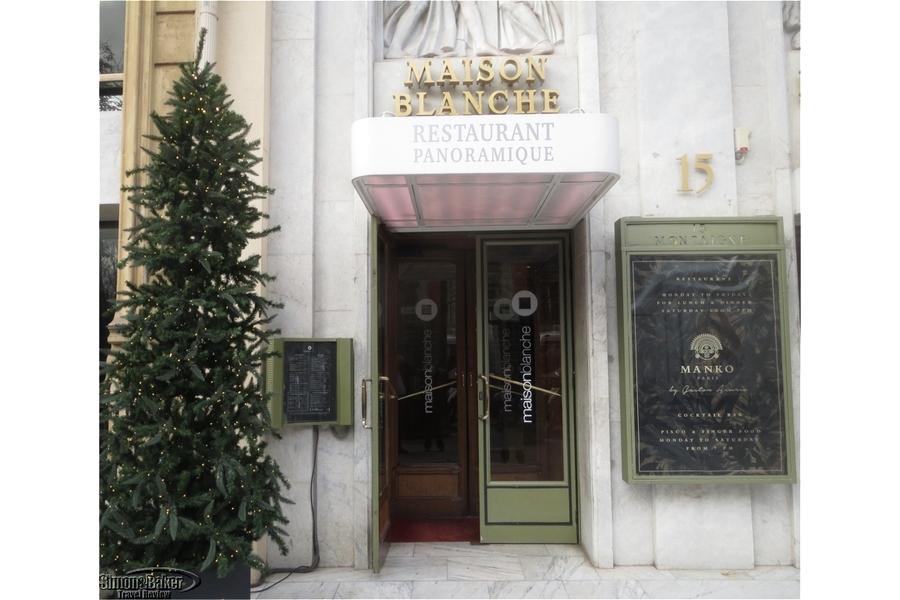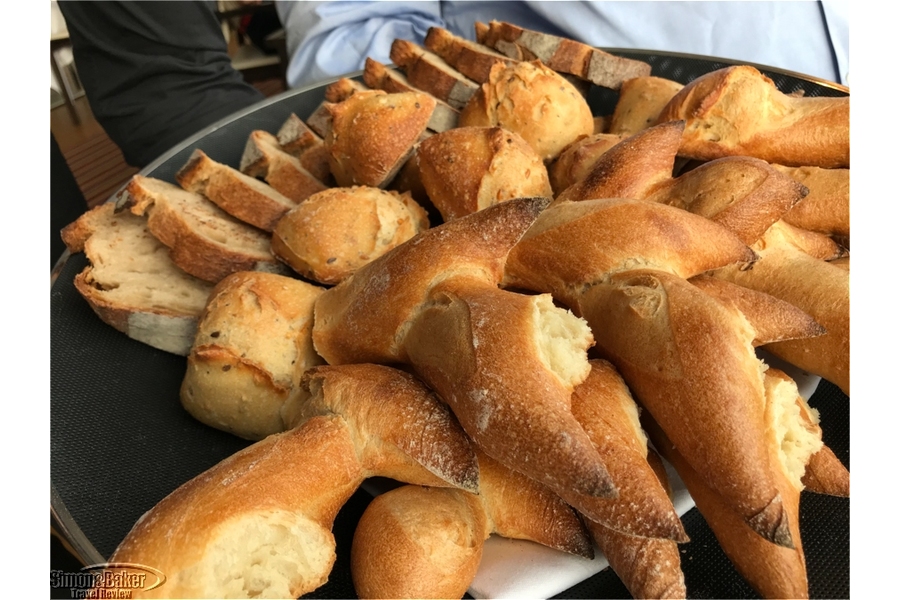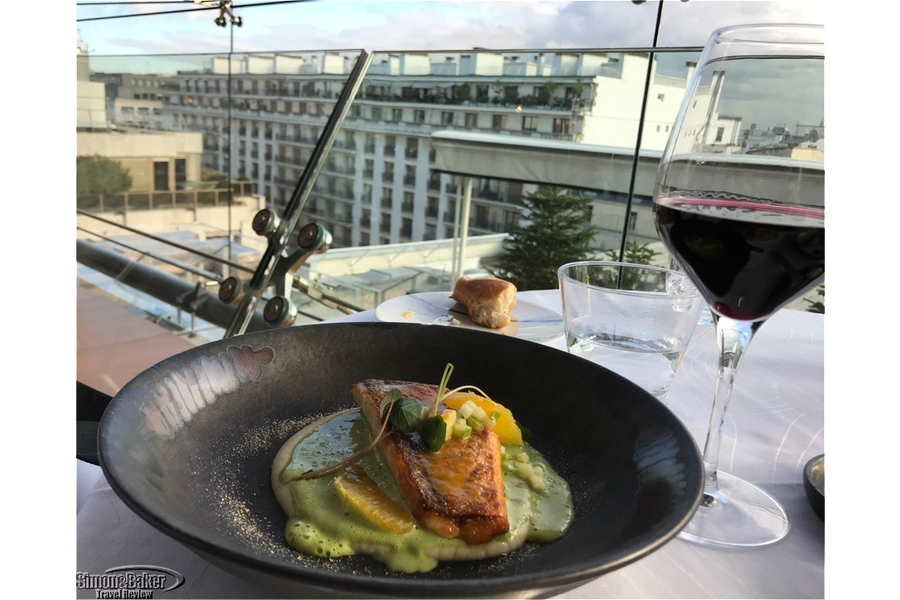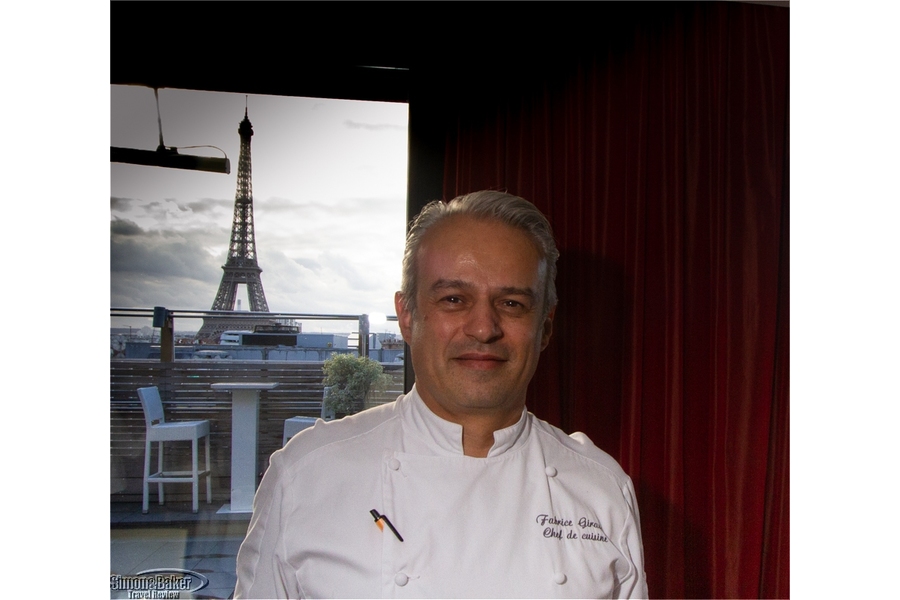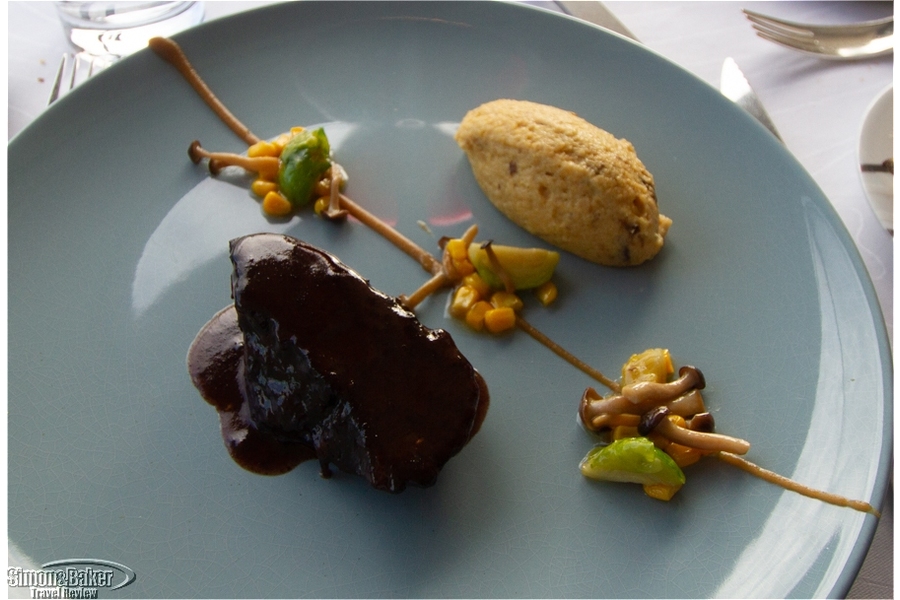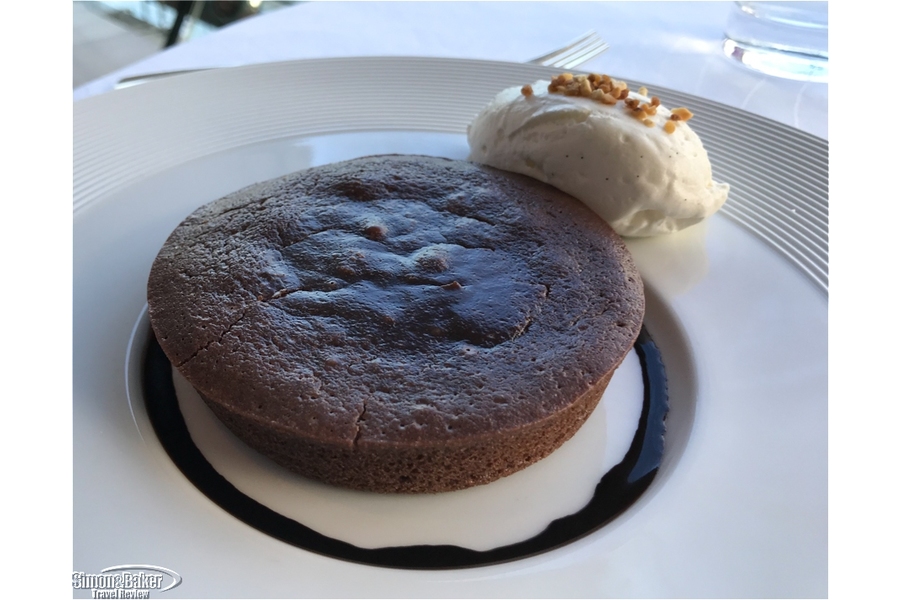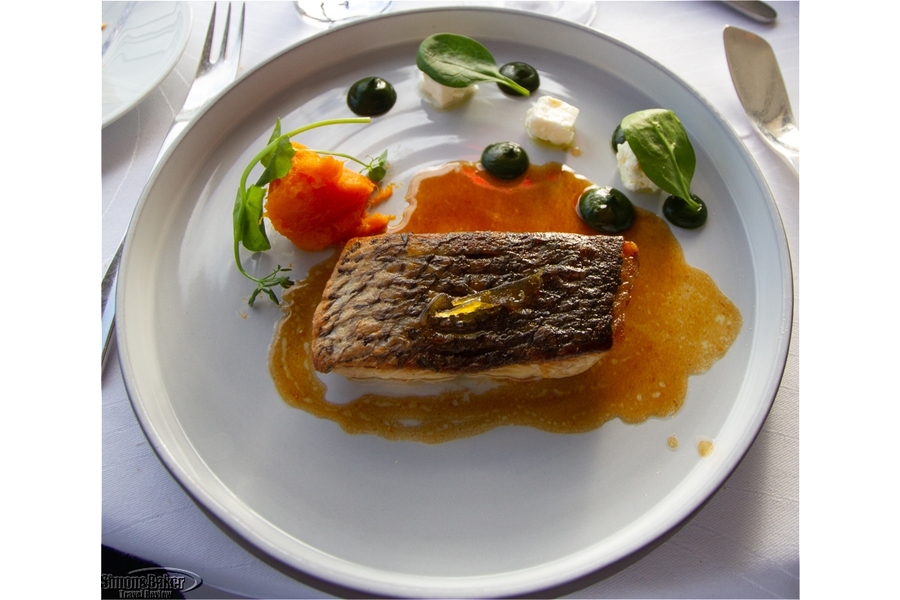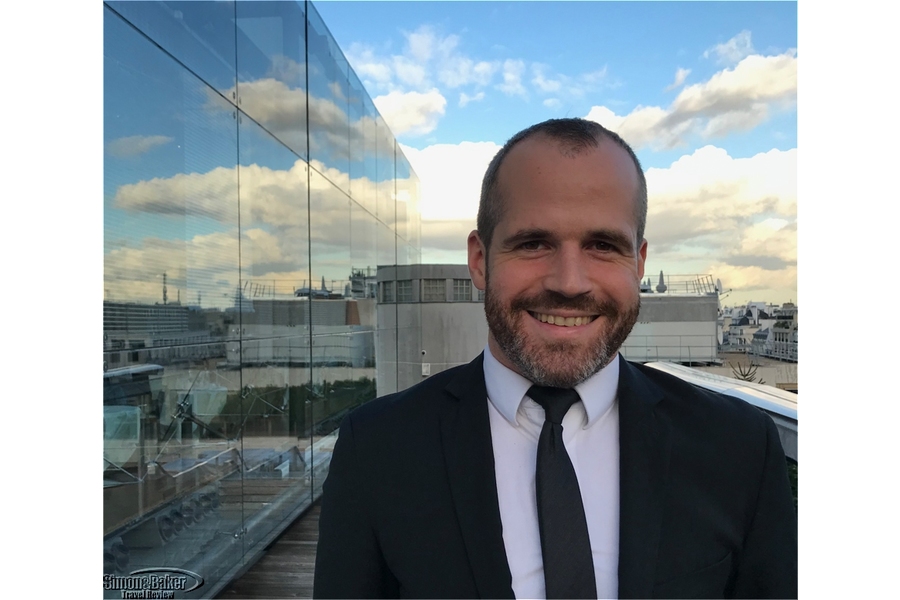 Our meal was worth repeating thanks to warm and attentive service, a pretty setting, and a tasty and well served meal.
This restaurant appears to have closed.
Overall Impression
Our most recent visit to Maison Blanche Paris was on a chilly fall day during the weeks of Yellow Vest demonstrations that rocked the western neighborhoods of the city, including the Golden Triangle where the restaurant is located. Perhaps because of that it was far from full that day. We had a pleasant well prepared lunch.
Midday sunlight filtered through the huge glass walls inside, adding sparkle to the dining room. My lunch partner faced the river while I faced a residential building across the street. We liked peering across the street at the residential building, intrigued by the labor intensive efforts of workmen lifting furnishings with a crane, and to the right at the Seine River. When we stepped outside briefly we were able to see, as we squinted against the bright sun, the Eiffel Tower. Around us a business crowd kept the volume moderate even at the mealtime peak. Staff members, many of them addressing us in English, were friendly and efficient. From the duck foie gras with salt grains atop to the delicious lemon dessert lunch was balanced, artfully presented and satisfying.
Our meal was worth repeating thanks to warm and attentive service, a pretty setting, including a side view of the Seine River from our table, and not least, a tasty and well served meal. Maison Blanche will be on our neighborhood shortlist for an informal yet upscale ambiance.
About the Restaurant Manager
After graduating from the Lausanne School in Hotel Management, he worked as development manager, Restaurant and Hotel Department, at the Chamber of Commerce and Industry. Later he joined the team at Raymond Thuillier's L'Auberge de Provence in London before spending five years at the Hôtel Château Chartrons in Bordeaux.
He then followed Alain Ducasse's footsteps as operations manager at the Hôtel du Parc, where he remained for five years. He participated in the establishment of the famous chef's 59 Raymond Poincaré restaurant in Paris, France, the opening of Spoon restaurants in London and Mauritius, as well as the organization of gala events in Hong Kong and Tokyo.
Chef de Cuisine Fabrice Giraud, a native of La Ciotat, began his career at Chantecler Negresco in Nice, France, Great Cascade in Paris, France and Hotel de Paris in Monaco. In 1999, he was appointed chef de cuisine for the first time at the restaurant Bread and Wine in Brussels, Belgium, which became a Michelin-starred restaurant. In 2001, he became head chef at the Grand Barrail in Saint-Emilion, France before taking the lead in the kitchens of the Perigord and the Ermenonville.
In 2009, Giraud worked at Pudong Shangri-La in Shanghai and at the Shangri-La Hotel Bosphorus Istanbul, Turkey. He also worked at Tiara Yaktsa and at the opening of Tiara Miramar Beach Hotel & Spa in Cannes, France. In March 2015, Giraud joined the Maison Blanche restaurant as chef.
Handicapped Access Yes, according to a spokesperson wheelchair bound guests were welcome. There was an elevator.
Head Sommelier David Desplanches and Kevin Quinsenac
Languages Spoken In addition to French staff were able to welcome guests in English. Nearly all the staff that looked after us spoke English.
Location In the well-known Golden Triangle.
Opened-Renovated The restaurant opened in 1990. The most recent update was in 2011 when the Terrace Montaigne was added.
Owned Benjamin Demarigny and others a spokesperson declined to identify for undisclosed reasons
Pastry Chef James Choplin
Restaurant Manager Bruno Franck
Size The restaurant had 50 employees and 410 square meters of indoor space as well as two terraces with additional capacity in warm weather. It could accommodate up to 250 dinner guests.
Type of Restaurant Fine dining
Decor The restaurant, at the top of the historic Théâtre des Champs-Élysées building, was decorated by Imaad Rahmouni in a contemporary style, emphasizing its best asset, a partial view of the Seine, the Dome of Les Invalides and the Eiffel Tower. A view of the Eiffel Tower was possible from a few tables and angles only. The tables were covered with white tablecloths and dinnerware. The only decorative items were metal pieces with the colors of the French flag. At our table there was a vase with an orchid in a pebble medium. There was a pepper grinder and Himalayan salt.
Cellars Wine and Alcoholic Beverage Selection
There were 380 wine references.
Special Menus The restaurant offered a two course Lunch Menu for 49 euros and a three course Lunch Menu for 59 euros. For dinner there were three set menu options: Menu Gourmet for 72 euros, five course Menu Degustation (Tasting Menu) for 95 euros, and six course Menu Degustation for 125 euros.
For groups of more than 11 people a three course menu cost 135 euros; a four course menu cost 157 euros and a Tasting Menu was 183 euros.
Meal
We had a menu selected for us by the chef, who served each of us a different dish. We began with cheese puff amouse buche and bubbly. We had three choices of bread: baguette, cereal and country.
Our appetizers: Duck foie gras, young leafs, toasted hazelnuts and Cumberland sauce (Foie gras de canard en lobe, salade de jeunes pousses, noisettes toastees et sauce Cumberland) and Perfect organic egg, salad fennel shaving's, sun dried tomatoes, garden peas sprouts (Oeuf bio parfait a l'avocat, mimolette ancienne et Ghoa Cress).
Mains: Pan-fried meagre, jus with brown butter and preserved lemon (Maigre en peau croustillante, jus de volaille au beurre noisette et citron confit); Red Gunard seared, turnip cabbage fine mousse with apple and orange and garlic broth (Rouget grondin saisi, mousseline de chou-rave pomme orange et bouillon a l'ail); Free-range fowl leg, millefeuille layering of potatoes with comet cheese, spinach and citrus fruit (Cuisse de pintade fermiere, millefeuille de pommes de terre au comte, epinards et agrumes); Ox cheek braised in red wine, cep mushrooms, creamy polenta and shallots preserve (Joue de boeuf braisee au vin rouge, polenta cremeuse aux cepes et confit d'echalots). We especially liked the tiny mushrooms and tiny Brussels sprouts of the dish, which packed a flavor punch.
Cheese course: Before dessert we had a four cheese course with goat cheese, Saint Nectaire, Camembert, and Comte cheeses and a small salad garnished with dried figs.
Desserts: Lemon meringue and olive oil shortbread (Citron meringue et sable a l'huile d'olive) and "Maison Blanche" cake with dark chocolate (Fondant "Maison Blanche" au chocolat noir). The lemon dessert was a favorite.
A sommelier selected the following to accompany our meal: Champagne Lallier R014, 2015 Vieux Solitaire Grande Reserve AOP Maury Sec; and 2012 Zede de Labegorce Margaux.
Other There was WiFi, valet and cloakroom service. The restaurant received the Distinction L'Assiette Michelin in the 2016 Michelin Guide.
Date of Review
November 2018
Number of Visits One
Reviewers
Article by Elena del Valle
Photos by Gary Cox
Service From arrival to departure the service was warm and attentive. One staff member was exceedingly shy. Tiago Martins, Alain-Philippe Present and Romain Guilherme were co-managers.
Would You Dine Eat There Again-Recommend It? Yes
Contact Information
Address:

Maison Blanche Paris
15 avenue Montaigne
75008 Paris, France

Phone:
Website:
Email: