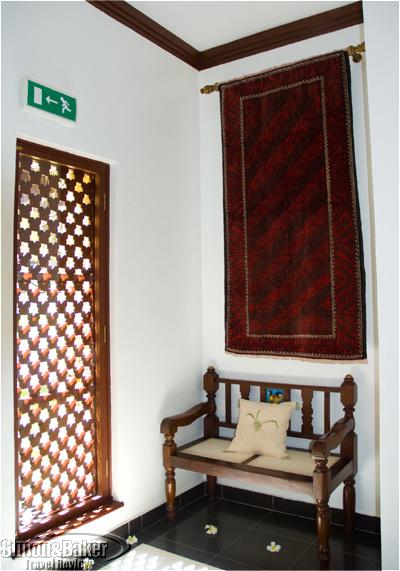 I regretted that I had not planned ahead to allow more time in my schedule to enjoy the superb facilities of the Maisha Spa, including the spectacular yoga platform suspended over its own reflecting pool that beckoned each time I walked by on my way to treatments.
Overall Impression
The pundit who declared that "happiness is a journey, not a destination" probably was not thinking of a twenty-four hour trip across two continents in airplanes booked to capacity; and clearly had never experienced the Maisha Spa upon arrival. That is precisely what I did on a recent visit to Kenya: no sooner had I settled into the Mombasa Serena Beach Hotel that I headed for its spa.
Located in a quiet corner of the lush gardens of the hotel, within gleaming whitewashed walls that excluded all cares of the world outside, the Maisha Spa welcomed me into a universe of tranquil luxury. The mere act of stepping onto the white marble-tiled floor of its reception foyer seemed to lift the tension of the trip from this weary traveler. Here, I discussed my choice of treatments before being escorted to the female wing of the facility. Although mine was an impulse visit, the reception staff kindly managed to schedule an immediate 30-minute massage for me. Shortly thereafter, clad in a plush white cotton robe and smart leather sandals, I was following an attendant along a hallway outlined with frangipani blossoms to one of four treatment suites located around the central fountain of an internal courtyard. Diffused natural light bathed the entire area. Interior and exterior spaces seamlessly merged to create a relaxing environment.
The spacious treatment room was equally welcoming, with its oversized state-of-the-art massage bed and exotic fretwork sliding doors that opened onto a beautifully landscaped private courtyard with outdoor shower. My therapist Carolyn Munchai was a steel-fingered magician who delivered a treatment that had all the benefits of a deep-tissue massage without the usual discomfort. It left me fully rejuvenated, and sufficiently clear-headed to think of booking two additional treatments on the last day of my stay. I regretted that I had not planned ahead to allow more time in my schedule to enjoy the superb facilities of the Maisha Spa, including the spectacular yoga platform suspended over its own reflecting pool that beckoned each time I walked by on my way to treatments.
Handicapped Access
No
Location On the grounds of the Serena Beach Resort and Spa, on Shanzu Beach, 12 miles (20 kilometers) north from the centre of Mombasa, Kenya.
Managed Joy Luttson assisted by on-site manager Lucy Kuibita
Number Of Staff Maisha Spa employed a management team of two, six massage and beauty therapists and a housekeeping staff of five.
Owned Tourism Promotion Services Eastern Africa, Ltd (TPS). The Aga Khan Fund for Economic Development (AKFED) was the majority shareholder.
Size In addition to the spacious reception foyer, the spa featured male and female dressing suites each with its own sauna, stream room and outdoor patio with plunge whirlpool, a yoga/meditation platform, four single and one couple treatment rooms, each with its own private outdoors patio and shower.
Special Training The spa therapists were graduates of qualified international bodies i.e. International Therapy Examination Council/City and Guild. Beauty therapists were certified by Ionithermie, Elemis and Creative Nails.
Treatment Rooms The treatment rooms were equally opulent with a large massage bed in the center of the white marbled floor. The two side walls were covered in pale honey-colored stone polished to a mellow sheen. A large mirror framed in intricate fretwork was centered on one wall, a three-tiered wooden towel rack filled with thick bath towels was on the opposite one. The heavily carved entrance doors were flanked by two counter-height built-in wooden storage cabinets topped by white walls of molded plaster squares. On the outer wall, fretwork sliding doors opened onto a private patio filled with plants in bloom. It held an outdoor shower and a comfortable lounge chair. It was delightful place to linger after a treatment, over a glass of chilled herbal tea.
Year Open May 2007
Common Areas The décor of the Maisha spa was a stunning blend of opulent materials, generous spaces and contemporary simplicity. In the expansive reception foyer and most of the common areas, the white marble floors were enhanced by black marble accents outlining the outer walls and doorways. On the white-plastered walls, windows and doorways were surrounded by the typical plaster panels molded in geometric designs, similar to those found in ancient Swahili palaces. Ceilings were the traditional Swahili blend of white coral limestone separated by dark red-stained mangrove pole. Splashes of color added warmth to this cool and elegant framework: the burgundy oriental rug in front of carved dark wooden armchairs flanking a window seat with thick ecru cushions; the arrangement of crimson and sage green tropical flowers on an end table to compliment the sage green toss pillows on a wooden settee tucked in an alcove. The bold design on the cushions (the outline of a single frangipani blossom that was the trademark of the spa) took its cue from the wall-size contemporary painting of giant yellow and black frangipani blossoms that hung behind the reception desk. On the wall facing the entrance, the carved double doors hinted at the ascetic luxury that awaited in the inner sanctum. Once inside, the fretwork that partitioned the hallways from the interior gardens revealed a yoga and meditation pavilion: a platform large enough for six sage green yoga mats with bright yellow pillows, suspended over a reflective pool and shaded by a steep carved wooden roof.
Amenities In addition to the white cotton bathrobes and omnipresent oversized bath towels, the amenities included leather tongs with the Maisha's trademark frangipani bloom ornament, disposable panties, shower caps and Taylor of London shampoo, rinse, bath gel and body cream.
Lockers And Bathrooms
The walls of the women's changing room were lined with locked wooden hanging closets. In each closet, a drawer held an assortment of personal hygiene products. It was also a convenient place to store valuables during treatments. In addition to the usual vanities with built-in sinks and sitting benches, showers and lavatories, the Maisha Spa changing suite featured a large patio with an exterior whirlpool shaded by a white canvas awning, and surrounded by four thickly padded lounge chairs. It was an especially enjoyable stop there after emerging from the dry heat of the sauna or the aromatic clouds of the steam room adjoining the changing area.
Other Private instruction for yoga and Pilates was available by prior arrangement
The Maisha Spa sourced its leather tongs from a local community organization that supported the disabled . These and a limited number of jewelry items created by the same group could be purchased at the reception desk. Used towels and robes were donated to a local shelter.
Cleanliness
Excellent
Date Of Review October 2008
Number Of Treatments Three
Reviewers Article and photographs by Josette King
Treatments Experienced In addition to my day-of-arrival Deep Tissue De-stressing Massage, I enjoyed a thoroughly relaxing Swedish Massage and the Elemis Exotic Cream Moisture Dew Facial. The treatment included a deep cleansing and nourishing facial massage followed by the application of a moisturizing mask that left a noticeable dewy glow on my skin and gave it a lasting moisture boost. Facial treatment products offered at the spa were by Elemis, a leading British spa and skincare brand for the past twenty years.
Would You Return? Yes
Contact Information
Address:
Serena Beach Hotel and Spa
166R, Shanzu Beach
P.O. Box 90352-80100
Mombasa 41 Kenya
Phone:
+ 254 41-548-5721/2/3/4
+ 254 42 2000
Fax:
+ 254 41-548-5453
+ 254 41-548-1036
Website:
Email: