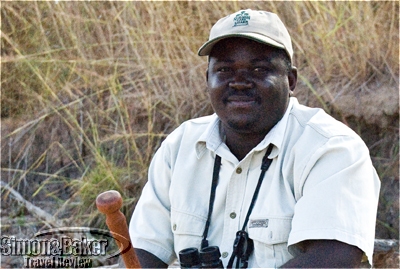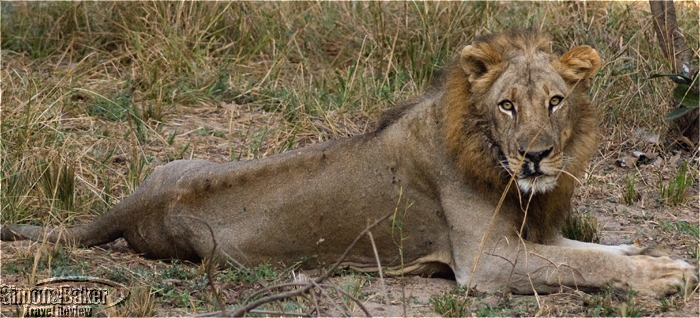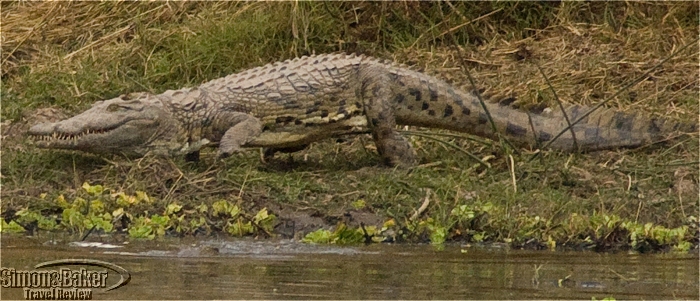 With its emphasis on walking and learning in the heart of the African wilderness, Luwi provided visitors a rare opportunity to experience one of the last traditional bush camps as envisioned by the late great conservationist and guide Norman Carr.
Overall Impression
My visit to Luwi was an exciting safari back in time! This remote bush camp located deep in the wilderness of the South Luangwa National Park consisted of four reed and thatch huts with polished mud floor and a small bar area nestled under a canopy of venerable Natal mahoganies. Luwi was a seasonal camp open only during the dry months of June through October. There were virtually no roads in this far-flung area of the park; activities were mainly on foot, lead by long-time Luwi guide Sam Nkhoma, accompanied by an armed scout. At this property, the emphasis was on identifying and following fresh tracks, as well as bird and plant identification.
It was a special thrill on one of our morning walks to track a lion across the dry sands of the nearby Lubi River. Even though we didn't catch up with it at that time, we did view the solitary male later that day. Shortly after that a large bull elephant caught up with us on our sunset walk. We stood entranced as he wandered across the clearing, stopping to snack on the leaves of mopane trees, unconcerned by the frantic staccato clicks of our cameras. We then concluded our walk in the dry river bed. In a space surrounded by paraffin lanterns, the staff had prepared a camp fire complete with camp chairs, an old-fashioned portable bar and freshly baked hors d'oeuvres. We enjoyed our sundowners while learning to single out and identify the various sounds of the bush. The next night we ended our walk with a sundowner at a hippo hide high on the bank of the permanent lagoon within five minutes from the camp. Just below us, in a pod thirty strong, hippos were arguing over wallowing rights under the watchful eyes of a daunting line of yawning crocodiles. The discussion that night was on hippo behavior.
For all its closeness with a landscape unchanged for millennia and its rough-hewed old-fashioned bush camp feel, Luwi did not compromise on modern comforts. Under a walk-in mosquito net, the high-count cotton cover of the cloud-like duvet on my king-size bed was freshly pressed. Turn-down service included a hot water bottle thoughtfully slipped under the covers in anticipation of a chilly night (I visited in early July, the coolest time of year in this part of the southern hemisphere). With its emphasis on walking and learning in the heart of the African wilderness, Luwi provided visitors a rare opportunity to experience one of the last traditional bush camps as envisioned by the late great conservationist and guide Norman Carr.
Class Of Accommodation
Rustic wilderness bush camp
Communications The camp used two way radio communications. Guests could also use their personal satellite phones.
General Manager Nick Aslin
Handicapped Access Handicapped guests could be accommodated by prior arrangement on a case by case basis.
Length Of Stay Two nights
Luwi camp manager Trish Stevenson
Owners The Potts Family and Nick Aslin. Adrian and Christina Carr remained active participants in the operation of Norman Carr Safaris at the time of my visit.
Power Lighting was provided by paraffin lanterns. Other than a solar panel that provided electricity to recharge camera batteries, there was no electricity at the camp.
Size The camp could accommodate eight guests in its four chalets. The property covered approximately one and a half acres and employed a staff of eight including two game viewing staff.
Transportation Mfuwe could be reached by air from Lusaka and Livingstone. Road transfers to and from the airport were arranged by Norman Carr Safaris.
Year Open-Renovated Originally opened in 1991, the camp is entirely dismantled each November and rebuilt each spring. Reconstruction takes approximately six weeks.
Common Areas A thick thatch roof wedged between two mahogany tree trunks shaded the small open-sided bar and four sturdy wooden bar stools. The stools were usually ignored as guest and staff preferred to gather in the eight teak armchairs with dark green cushions that were arranged in a semi-circle around the camp fire, facing the grassy plain beyond the camp.
Bathroom
The bathroom was a 200 foot (19 square meters) open air enclosure adjacent to the bedroom. Seven-foot high grass walls provided complete privacy. The flooring and shower backdrop were made of reed matting. A reed shelf held a stack of washcloths, hand towels and oversized bath towels. Hot water was available. In addition to the shower, bathroom fixtures included a sink and mirror and a flush toilet.
Room My chalet, Number Four, was a 350 square foot (33 square meters) bedroom built exclusively of reed and thatch, with a polished mud floor covered with woven palm mats. In addition to a canopied king-size bed flanked by two wooden end-tables, the furniture included two wooden chairs, built-in reed storage shelves and luggage racks. The bed canopy was outlined by a patchwork border of local cottons; coordinated toss pillows enhanced the natural cotton bed cover. Artfully draped mosquito netting completed the décor and provided insect protection at night. The most striking decorative elements of the room were the trunk and lower branches of a large mahogany tree that occupied the back quarter of the room.
Food The food was delicious, wholesome and remarkably diverse for such a remote location. All supplies were brought fresh from Kapani, the main lodge of Norman Carr Safaris, located in the Game Management Area, near the entrance of the park. Chef Jackson Zulu was an especially talented baker who produced daily the most tempting fresh breads, tea-time snacks and sundowner appetizers in his native mud brick oven. Meals were served at a common table in an open area with a sweeping view of a grassy plain teeming with wildlife; lunch was in the shade and dinner under the stars. Breakfast and evening socializing were laid-back affairs around the camp fire.
Amenities Luwi amenities and services included daily game walks and night drives, all meals and drinks, including mid-morning and sundowner snacks and beverages, and daily laundry service. My chalet was supplied with toiletries (bath soap and gel, shampoo), insect repellant and bottled water.
Game Viewing During my stay at Luwi I saw: elephant, hippo, lion, genet, civet, banded mongoose, bushy-tailed mongoose, Thornicroft's giraffe, warthog, spotted hyena, vervet monkey, bush baby, impala, bushbuck, puku, Nile crocodile, and helmeted terrapin turtle. Birds included: marabou stork, African jacana, yellow-billed stork, white-fronted plover, yellow-billed oxpecker, and gray heron
Activities Luwi offered morning and sunset walks, and early evening drives in open-top all-wheel drive vehicles using powerful flashlights to view nocturnal animals. Companionable lingering around the camp fire and watching game wandering through the undulating high grass while exchanging safari anecdotes were favorite pastimes at camp.
Other Due to close proximity to wild game, children had to be at least 12 years old to visit.
Cleanliness
Excellent
Date Of Last Visit June 2007
ReviewersArticle and photographs by Josette King
Service Excellent. All the staff members I interacted with were friendly, thoughtful and exceptionally attentive to requests from the guests. I indicated on my first evening at camp that I needed to recharge the spare battery for my camera the next day. Trish Stevenson, the camp manager, appeared at my chalet early the next morning. As there was a good possibility that the sky would be overcast, thereby curtailing the efficiency of the solar panel, she proposed to entrust my battery and charger to a driver going back to the main camp. She assured me my battery would come back fully charged with a returning driver later that afternoon, and it did!
Would You Stay Again? Yes
Contact Information
Address:
Norman Carr Safaris
PO Box 100
Mfuwe, Zambia
Phone:
+260 62 46015
+260 62 46025
Website:
Email: