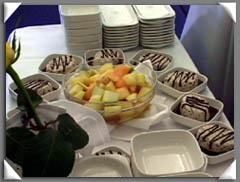 We only wish there were more departure cities.
Overall Impression
For those of us who do not have access to a private jet, traveling on a flight exclusively for business class passengers is the next best thing. We flew Lufthansa's new all business class service from Chicago to Düsseldorf. As a bonus, our flight had few passengers. Boarding in Chicago was a breeze; there were no long lines, actually no lines at all.
The flight was quieter, cleaner and had "fresher" air than any 727 size flight we have been on. Agreeable, efficient and responsive staff looked after us. Our Swiss PrivatAir manned flight was a pleasure. The meals were standard airline business class fare, the aircraft was spacious, the seats comfortable and the service excellent. We only wish there were more departure cities.
Aircraft
Airbus A319
Class Of Accommodation : All business flight from Chicago to Düsseldorf
Length Of Flight 8 hours and 40 minutes
Owned-Managed Swiss charter company PrivatAir booked through Lufthansa
Seats And Configuration Width 21" (53 cm); pitch (distance between seats) 58" (147cm); recline 70° (160°); seats were set in pairs (two on each side of the aisle).
Size 48 seats
Year Opened-Renovated : June 2004
Flight
From our arrival in Chicago on a connecting flight to our arrival in Düsseldorf, the whole process was seamless. We had a layover of several hours in Chicago so we went for lunch near the airport. When we returned we waited the remaining time at the Lufthansa lounge nearest our departure gate. Boarding was a dream. There was no line. We just went to the gate and boarded immediately. The seats we had been assigned were malfunctioning so they relocated us.
Our seats were comfortable. They offered plenty of space to lean back. We settled in with our noise reduction headphones; listed to some music, watched a movie and managed to snooze before arriving in Germany . Deplaning was a pleasure. Everyone gathered their belongings quietly and politely and exited the plane. There was no rush, no pushing, and no line.
DÉCor Blue leather seats, navy blue First Class carpet
Bathrooms 3 (1 front, 2 rear)
Meals Standard business class meals
Amenities
: Headrest covers, blankets, pillows, magazine and In-flight shopping brochure, Business Class Amenity Kit including socks, hand lotion, toot brush and tooth paste.
Entertainment Personal Sony watchman for each passenger to view movies at his/her discretion; LH First Class film selection. The 6 most popular LH-channels were offered on cassettes (playable on the Watchman). PC power was available at each seat.
Other
From Germany we traveled to South Africa . We connected from Düsseldorf to Frankfurt and from there to Johannesburg , South Africa . Our return to the U.S. was via Frankfurt to Miami . All four flights were on business class. Our seats on the nose of the plane were wonderful. Service was excellent, the planes and restrooms were clean.
A direct one-way flight from the U.S. to South Africa would have been 16 hours or longer. Flying via Europe broke up the trip into two halves: One half from the U.S. to Germany ; the other half from Germany to South Africa and vice versa on the return trip. The business only flight from the U.S. to Germany , additional comfort overall and a chance to rest in between the two long (approximately 8-9 hour flights each way) flights was worth the extra travel time, and daylong layover in Germany on the outbound flight.
Route Chicago to Düsseldorf (from there on to South Africa see Other)
Cleanliness
Good
Date Of Review April-June 2004
Ease Of Reserving A Seat Six nonstop flights a week allowed options and good availability
Service Four flight attendants provided polite, efficient and accommodating service.
Would You Fly With Them Again? Yes
Contact Information
Address:
1640 Hempstead Turnpike
East Meadow , NY 11554
Phone:
USA 800-645-3880
Germany +49 (0) 180-583-8426.
: