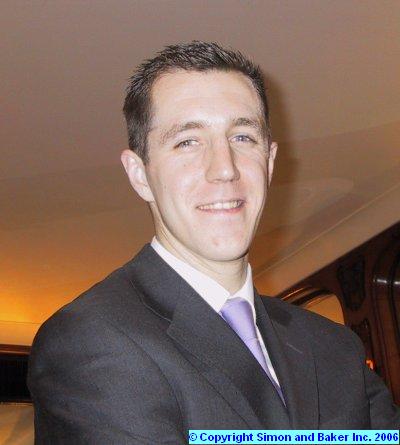 We always look forward sharing and introducing friends to Lucas Carton dining and to returning there ourselves as often as we can.
The restaurant was closed and reopened as Senderens in 2005, see our other review
here
.
Overall Impression
After years of dining at Lucas Carton, it remains one of our favorite restaurants in Paris and for that matter anywhere. Lucas Carton has found the formula to accommodate diner's varying wants and needs and consistently serve delectable meals under the close supervision of its owner chef who after many years at the top still seems to be passionate about he does best, offering guests extraordinary meals.
The food is always delicious on or off the set menu, the staff team is remarkable, the ambiance is bright and intimate at the same time and the overall experience is always special and memorable. We always look forward sharing and introducing friends to Lucas Carton dining and to returning there ourselves as often as we can.
Chef
Frédéric Robert
Executive Chef&Rsquo;S Training : Born in 1939 in South Western France, Senderens moved to Paris at 21 following an apprenticeship at the Ambassador Hotel in London. After holding positions as commis garde -manger and chef rotisseur at La Tour d'Argent, Alain Senderens moved on to work at Lucas Carton. While working as a saucier, for two years, he studied the techniques of classic cuisine under Soustelle, Lucas Carton 's renowned chef. He worked at Berkeley and the Hilton Orly. In 1968, he opened his own restaurant, " l'Archestrate," named in honor of antiquity's famous gastronomist, in Paris. At this restaurant, he earned recognition as a chef. In 1985, he bought Lucas Carton.
General manager: Loïc Morvan
Handicapped Access second floor restrooms must be reached via a spiral staircase
Location On the famous Place de la Madeleine
Owner-Executive Chef Alain Senderens
Pastry ChefChesarveet Benoit
Size 80 seats (one main dining-room and three private rooms upstairs of 4 to 14 seats)
Sommelier Philippe Marques
Type Of Food French gastronomic
Year Opened-Renovated Opened in 1890; renovated in 2002
DÉCor upon arriving the first thing we noticed was the Art Nouveau style with blond wood paneling throughout. When the restaurant opened, it was decorated in the famous Majorelle Art Nouveau style. Citrus tree wood from Ceylon, sycamore and bronze dominated the new sober décor which diametrically opposed the more flamboyant style of Maxim's or the "Bouillons" of that era. The blond panelling which was hand sculpted with vegetable motifs in Majorelle's workshop surrounded the decorative plaques. The style of Planel, an artist and master of the vegetal ornamental style of Jugendstil, is also evident at Lucas Carton in the bronze wall lamps, which depict the faces of women emerging from plant stems and surrounded by three spun glass irises.
Food
Our last meal there included an old favorite of s teamed
foie gras
wrapped in a cabbage leaf with salt and pepper appetizer, delicate tempura fried gambas, delicious p ie filled with game,
foie
gras
and juniper berries, accompanied by salad leaves flavored with black Frenck Périgord truffle oil, and fresh tasting rouget, light fish. One of our favorite desserts is the melt-in-your-mouth creamy "SAMANA" chocolate preparation with vintage cocoa beans from Santo Domingo
Special Menus-Pricing seasonal set of tasting menus for 291 € /475 € and a business lunch 76 € (without the wine)
Wine And Spirits Details Lucas Carton has a vast selection in a variety of price ranges. Its wine cellar included 30,000 bottles of wine with 1,600 wine references
Specialties " Apicius " duck roasted with honey and spices (2 people, 50 mn cooking) described as"a 2000 year old dish from Ancient Rome," served with a glass of Banyuls 1985 – Cave de l'Etoile for the supreme served with a glass of Banyuls Solera "Hors d'âge."A. Parcé for the leg in salad. Also, "Mille- feuille " with Tahiti vanilla cream s erved with a glass of Muscat de Rivesaltes 2001 – Domaine Cazes
Other In 1925 the restaurant became known by the name of Carton. Carton, the restauranteur who had become renown at the Café Anglais, bought the restaurant recognized at that time as "Lucas" and attached his own name to it. Carton redesigned the entrance to include a revolving door, which he framed with an art deco grid topped by half-moon canopy designed to diffuse an indirect light. On the first floor, he added seven small rooms accessible by a door from a passageway of the Madeleine. Many politicians met in that area of the restaurant. Chef Marc Soustel established the culinary reputation of Lucas Carton and eventually came to own it in 1945. His daughter inherited the restaurant in 1982. In 1987, the Lucas Carton building was designated a historic building by the city of Paris. The top floor of the restaurant houses a member's only area with an uptown New York atmosphere and private dining rooms, known as Le Cercle, where 2000 privileged members lunch and dine at Lucas Carton.
Most Recent Visit-Date Of Review
December 2004
Reviewers Article by Elena del Valle
Photos by Gary Cox
Service Every time we dine at Lucas Carton we feel like special guests. The staff have always taken care of our every need. Special requests, like being relocated away from two smoking neighbors, take away left over or an extra serving of something we especially liked, have always been granted and never been frowned upon. Someone has always been on hand to translate the ingredients in our dishes, answer our questions and patiently take our order even when we wanted to know everything about its preparation and pedigree. From the welcome at the entrance to the wine steward's recommendations to the bread server, during our visits the staff have always had a professional appearance and demeanor. Our impression was that they were proud of their work and genuinely wanted their guests to enjoy their meal.
Would You Dine There Again? Yes
Contact Information
Address:
9, Place de la Madeleine,
75008, Paris, France
Metro:
Telephone:
Fax:
Email:
Website: