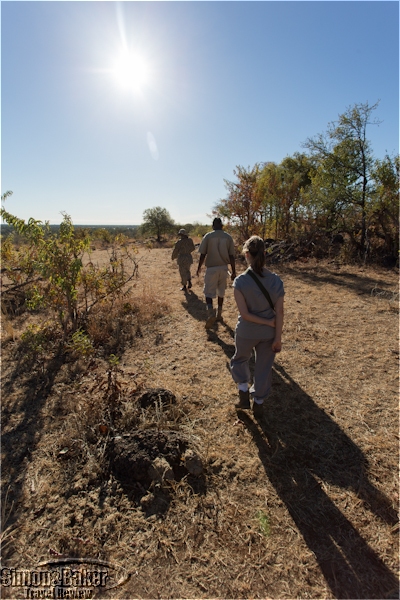 We thoroughly enjoyed the exclusive use of the spacious house, the meticulous service of the staff assigned solely to us, and numerous opportunities to view four of the Big Five game animals (minus the rhinoceros).
Overall Impression
My husband and I were delighted with our stay at the Luangwa Safari House, a private four-bedroom bush-style home with dedicated staff near one of Zambia's best known national parks. Situated in the bush on private land the property had an estimated value of nearly one million dollars. The house was a 15-minute drive to the main entrance of the South Luangwa National Park and a five-minute drive to an alternative entrance via a pontoon crossing. The close proximity to the South Luangwa National Park facilitated safari activities within it. Staying at the House provided us plenty of opportunities to see hundreds of animals, in the national park and from the comfort of the House. Our head safari guide Jacob Shawa shared his wealth of knowledge, clear explanations of the animals we encountered, and a genuine enthusiasm for the bush. He went above and beyond the call of duty to heighten our chances of seeing animals during our bush excursions, making him our favorite guide during our 12-day stay in Zambia.
Covering a generous floor space of 300 square meters and 12 meters in height, the design of the two-story house complemented its natural setting in a unique and luxurious way. Tastefully built with local materials, the house featured whitewashed walls, a massive thatched roof with rounded corners, and leadwood trees that served as the main frame. My favorite feature of the house was its open back wall that offered outstanding unobstructed views from all the rooms. The common areas were open and comfortable with plenty of places to relax and enjoy the natural surroundings.
Because the house was strategically built next to a large watering hole, we enjoyed many game viewing opportunities from the comfort of its rooms. The theater of nature enthralled us as herds of elephants, giraffes, baboons and impalas often passed by the property. On the day of our arrival, an elephant walked right up to the open front door, curiously studying the strange creatures (us) on the other side. At nighttime, we heard elephants munching on tree branches not 15 feet from our bedroom, while birds awoke us with song at sunrise. It gave us the sense of being immersed in the natural cycles of the bush (though admittedly with more cakes and sundowners). The outstanding service complemented the quiet setting and made our visit extra special.
A staff of eight was dedicated to looking after my husband and me, and they did so with care and attention. At any given hour, someone was attending to us. Sometimes it was Christobel Phiri, the house hostess, asking if our room was to our liking and when we wanted our next meal, or Jacob inquiring about our preferences for the following day. Their decisions were based on our needs and interests, including how long the safari walks and drives lasted. We were almost never alone and the staff was a class act of impeccable manners, big smiles and easygoing conversations. We appreciated that the entire staff was Zambian and seemed to genuinely enjoy their work.
We were sad to leave the Luangwa Safari House but grateful for so many memories to last a lifetime. With such unique architecture and accommodations, creature comforts, game viewing and outstanding service, the Luangwa Safari House was everything we envisioned a luxury safari experience to be and more. We thoroughly enjoyed the exclusive use of the spacious house, the meticulous service of the staff assigned solely to us, and numerous opportunities to view four of the Big Five game animals (minus the rhinoceros).
Children
Anyone over seven years of age was welcome.
Class Of Accommodation Luxury private safari house
Connectivity Upon request, Internet access was available at the Robin Pope main office about a kilometer away from the House.
Handicapped Access Guests in wheelchairs could stay in one of the two bedrooms on the lower floor, and any additional requirements could be addressed as best as possible on an as-needs basis.
Length Of Stay Three nights
Location The Luangwa Safari House was just outside the South Luangwa National Park. The main entrance of the park could be reached by car in 15 minutes, or a five-minute drive to an alternative entrance via a pontoon crossing. The house was about 40 minutes from the Mfuwe Airport.
Manager Jacob Shawa
Owned And Managed Robin Pope Safaris
Pets Allowed No
Size The House spanned 300 square meters and was on 300 hectares of private land. With four private bedrooms and bathrooms, it could accommodate up to eight guests. There were eight staff members working at the property during our stay.
Transportation Daily flights were available from Lusaka. Our flight was approximately one hour, while flights from Lilongwe, Malawi were about one hour. Robin Pope Safaris provided direct transportation to and from the airport. We were picked up in a covered Toyota Land Cruiser and drove about 30 minutes on a tarmac road, followed by 15 minutes on a dirt road. En route to the House we saw baboons, elephants and impalas.
Year Open-Renovated The House opened in 2005 and is renovated for maintenance on an annual basis. The last major renovation was in March of 2013, when they redid the kitchen and replaced all of the floors.
Common Areas
My husband and I found the Luangwa Safari House, designed by Neil Rocher, a world-renowned architect who specializes in eco-friendly high-end safari and beach accommodations, to be the epitome of a luxury safari house. The infrastructure was built with natural resources from the surrounding area including 25 vertical supports made of leadwood trees, (none of which was cut down, they had already died from natural causes), a thatched roof and an impressive red mahogany front door towering three meters. The entrance was one of many details that made the house a unique and elegant haven in the African bush.
The common area, an open-spaced structure with a thatched high ceiling and white-washed walls, included a kitchen, bar, dining area and living room. A long marble dining table for eight people was in the entryway. A sizable iron chandelier hung above the dining table. Just behind it were three plush couches positioned in a u-shape and facing the back end of the House. The house was decorated in neutral colors that complimented the wooden door frames, house beams and coffee tables. The overall effect was classic safari elegance. On either side of the massive front door were two wooden staircases leading to bedrooms. A well-stocked bar was in the kitchen immediately to the side of the entryway. Plenty of books on the wooden coffee table and bookshelves were available.
The most striking aspect of the common areas was the open back end, which offered outstanding views of the expansive watering hole visited by elephants, baboons, giraffes, impalas and other animals. At nighttime, the staff closed up the house to keep animals out by covering the open space with a drop-down canvas wall. Just beyond the sitting area was a round plunge pool that could accommodate eight guests with ease. A long wooden deck roughly 20 feet long jutted out towards the watering hole. Near the edge farthest from the house sat a weathered leather plush couch, a perfect spot to watch animals amble on by and appreciate the quiet of the surrounding area.
Bathroom
Our 15-square meter bathroom was separated from the sleeping area by a wood door. There were two sinks, a large mirror and a glass-less window covered with mesh. The salient feature of the bathroom was the shower set-up. Instead of a separate designated area, there were two showerheads opposite one another. When they were in use the entire bathroom transformed into a single spacious shower. In the middle of the shower area there was a leadwood tree stump that served as a table and held soap, shampoos and shower gel. We had hot and cold water throughout our entire stay, though one of the showerheads was more consistent with the hot water than the other.
The bathroom's brown and neutral colors aligned with the house's natural setting. The large mirror that hung above the double sinks was big enough to span the entire marble countertop. Like the rest of the house, the floor was made of cemcrete, a cement-based material with oxides that gave the earth tone floor a polished finish. The bathroom's minimal furnishings meant there was plenty of room to move around and added to its bush charm.
Room Picking a bedroom was no small feat, as each room was wonderful in its own unique way. The Copper Room was inviting because of the oversized copper bathtub. The Glass Room had two beds and was decorated in shades of blue, which created a soothing ambience. Being on the second floor with a suspended wooden veranda that looked out onto the seasonal watering hole, this room had a fantastic vantage point in terms of game viewing. The Metal Room offered peripheral views that were not as accessible in the main area.
In the end we chose the 50-square meter Sand Room on the first floor. We couldn't resist the king-sized bed that sat in the middle of the room and faced the natural scenery behind the house. Like the other rooms, the entire back wall was open during the day, and thanks to the circular shape of the room, the open area offered fabulous landscape views from numerous angles. Shortly after unpacking, we watched baboons on the grassy lawn immediately outside our bedroom.
The décor was simple yet tasteful, with off-white walls, wooden accents and a beige bed cover with a rectangular pattern that complimented the style of the room. The bed was most comfortable, so much so that we often fell into a deep sleep within minutes of lying down at night. An off-white upholstered chair was in the corner and faced out onto the landscape. Just outside of the bedroom were two wooden director-style chairs with cloth seating, ideal for relaxing while enjoying the scenery. I liked that the room had minimal furniture because it complemented the natural surroundings.
A wooden ceiling fan was directly above the bed, along with a standing fan in the corner. Our bed was fully covered with a mosquito net and had Egyptian cotton linens. There was a small wooden ottoman at the foot of the bed. The wall was aligned with a handful of wooden shelves to store personal items. An attractive brightly colored painting took up a good portion of the wall closest to the bathroom. While the staff welcomed us to try out other rooms, we opted to stay put.
Meals
The food, geared toward a western palate, was consistently plentiful and tasty. Dishes were made from scratch and on site in the chef's kitchen next to the House. The House had a dedicated Zambian chef who had learned to cook on the job with various chefs. He participated in annual in-house chef training programs, including some conducted occasionally by consultants for specific courses.
Each morning a large pot of yummy porridge awaited us, along with fresh fruit, juice, coffee, tea, and a variety of jams, peanut butter, honey, and marmite to spread on freshly baked warm bread. During the late morning, we had freshly baked mini-cakes, tea and coffee on safari drives and walks. This was the only safari lodge we stayed at that included a tea bearer on the safari walk so we could enjoy morning teas and cakes while on the walk.
On the day of our arrival, we had an unforgettable lunch served on a dock that jutted out towards the watering hole. A massive ebony tree shaded our dining table. A delicious buffet of quiche, chicken, pasta with pesto, salad and warm fresh bread awaited us. Emanuel Mumba, our waiter, and Edward Karia, our room attendant, served us with smiles and attentive care. While the food was delicious, what made this lunch unforgettable was the wildlife that surrounded us. Baboons jumped from branch to branch in the tree above us. A family of elephants meandered not 20 feet from the deck and splashed around in a small pond. A giraffe eyed us carefully as he walked past.
Prior to dinner, we were served appetizers such as mini-corn cakes with chutney and potato flat mini-pancakes with mascarpone cheese and chives. For dinner, we enjoyed a candlelit three-course meal with a choice of South African Sauvignon Blanc, Chenin Blanc, Cabernet Sauvignon, or mixed drinks from the bar. Coffee or tea were available during dessert.
Amenities
Game viewing activities, local village tours, and meals and beverages were included in the nightly rate. Creature comforts we appreciated included a well-stocked bar, refreshing washcloths handed to us by the staff anytime we returned from an activity, blankets to keep us warm during drives, delicious appetizers and sundowners, and a head guide and tracker or spotter on every game drive and walk.
In the bathroom, there were 700 milliliter bottles of insect repellent lotion, shower gel and shampoo. The brand of toiletries was Skin. They were produced in a farm outside of Lusaka. There were two bathrobes made of a cotton and calico blend, two large bath towels, and two wash cloths. Additional amenities included: complimentary daily laundry service, flashlight, and game-viewing booklet to mark the animals we saw during bush activities (not all of the safari houses we visited in Zambia offered these booklets).
The full-size refrigerator in the kitchen had two types of South African white wines, champagne, water, juice, and a variety of domestic and international beers. The bar was stocked with spirits, South African red wine and a variety of teas. We could help ourselves anytime to the goodies. On game drives there was a mini bean-bag that served as an effective impromptu camera tripod. We were served tea, coffee and cakes for a mid-morning snack and sundowners on evening drives. On our departure we received a complimentary Robin Pope Safaris branded water canteen as a souvenir.
Pool A circular plunge pool three meters wide and one and a half meters deep was just outside the living room area overlooking the watering hole. There were a number of wooden chairs with cotton cushions surrounding the tiled pool deck, as well as two oversized pillows.
Activities
It was possible to go on day and night game drives and walking safaris in the South Luangwa National Park or on the private land where the house was situated. We also had the option of meals served in the bush within the land adjacent to the house. Activities were customized to our interests and requests. We were also welcome to visit the local market, partake in cultural and village tours in neighboring rural areas, and visit Tribal Textiles, a company of local artists selling hand-painted textiles.
We took advantage of the day and night game drives in the national park, as well as a walking safari (see below). We also visited a local village school following which we were treated to a typical Zambian meal of chicken, boiled pumpkin leaves and n'shima, a maize-based staple of the Zambian diet. The visit ended with a festive performance of live music and a series of traditional dances by some of the villagers.
For safari drives, we were transported in a Toyota open Land Cruiser. Even if the Luangwa Safari House were at full capacity, the game drive policy was no more than four guests per car. The car easily handled all sorts of terrain, including, dirt roads, sandy riverbeds and pontoon river crossings. It was comfortable enough for my husband, who at 6 feet tall, had plenty of space between his knees and the seat in front of him.
Game viewing: Jacob was a native of Zambia and had worked as a guide for over fifteen years. Each year Robin Pope Safaris provided in-house refresher guide courses for him. During the day game drive and safari walk, we were also accompanied by Kefis, a scouter with five years of experience. Each day was a new adventure. Our longest and most memorable drive was a 12-hour journey that started with a 5:30 a.m. wakeup call affectionately known as a "knock-knock." We left the House at 6 a.m. and returned at 6 p.m. Because the morning temperatures were chilly we wrapped ourselves up in blankets that were folded neatly on our seats.
On the day of our arrival, we went on an evening game drive in the South Luangwa National Park for an hour and half. Jacob and John, our spotter, sat in the front of the open land cruiser utilized exclusively for House guests. On full alert for nocturnal animals, Jacob noticed, within minutes of entering the national park, a herd of impalas tensely staring in the same direction. He took this as a sign that a predator was nearby. Sure enough, after driving in the direction that the impalas had stared, we spotted a female leopard about fifteen feet from the car leisurely guarding her territory. Throughout the drive, Jacob jovially chatted with us and offered interesting tidbits of information about our surroundings.
Jacob stole the show in terms of outstanding service thanks to his authentic enthusiasm, vast knowledge about the bush, and easy-to-understand explanations of the animals we encountered. He also had some unexpected tricks up his sleeve such as expertise in photography after years of guiding guests who were professional photographers. Much to our liking, he provided excellent photography advice specific to the context of the national park and didn't think twice about stopping the car during game drives when he noticed a particularly good shot with ideal lighting. Concerned about maximizing our time during our four-day stay, Jacob took us on a 12-hour day drive through the national park to "cover as much country as possible." Typical drives were four to six hours. We were rewarded with wonderful views of the park's diverse landscape and saw hundreds of animals. Two particularly memorable moments were observing lions mating about 15 feet away from our land cruiser and a leopard enjoying its impala kill in a tree. Jacob always carefully positioned the car to give us the best view possible without disturbing the animals.
Because it was a private safari tour we stopped anytime we saw something of interest. What was so impressive about the landscape was how much it changed from one area of the park to another. One moment we were watching hippos lounging in lush green pools surrounded by trees and the next moment we were observing elephants and zebras feeding from trees in dried grassy terrain. We needn't be concerned about going hungry, as Jacob had packed plenty of food and drink for us. We took a mid-morning hot beverage and mini cakes break along a riverbed. For lunch, Jacob arranged a picnic buffet of tasty chicken, fish, pasta and cheese and tomato sandwiches. Jacob had made the excellent suggestion of bringing lunch with us so we could maximize our time in the national park. After eating to our hearts' content, Jacob laid down a blanket with two massive pillows under a tree so my husband and I could take an hour nap.
The highlights of the drive, not surprisingly, were the animals. While we saw hundreds, an unforgettable highlight was coming across two sleeping lions that, as Jacob predicted, started mating 15 minutes after we found them. Another special sight was a leopard in a tree eating its impala kill. To top off an already wonderful day, we had sundowners at an idyllic spot along the river as we watched the splendid African sun slip into the horizon, treating us to a vibrant sunset.
On the morning of our departure, we went on a two-hour safari walk in the national park. The purpose, Jacob explained, was to immerse ourselves in the surroundings and study the micro-details of the bush that were impossible to experience from a car. We started walking around 8 a.m. Every few minutes Jacob would stop to explain the importance of a tree, animal prints, animal dung or a massive termite mound. As always, his descriptions were clear and fascinating. We took a break on a hillside about an hour and a half later to enjoy morning tea, coffee and cakes. We were accompanied by Kefis, the scout, and Axon, the tea bearer.
We sighted: African elephants, African buffalo, lions, leopards, greater kudus, common waterbucks, impalas, pukus, bushbucks, hippopotamuses, Crawshay's zebras, thornicroft's giraffes, a four-toed elephant shrew, tree squirrels, warthogs, yellow baboons and vervet monkeys.
Birds included: Bateleurs, African fish eagles, Martial eagles, brown snake eagles, hooded vultures, lappet-faced vultures, white-backed vultures, African darters, cattle egrets, great white egrets, little egrets, Egyptian geese, hamerkops, black-headed herons, goliath herons, grey herons, squacco herons, African-sacred ibis, hadeda ibis, openbill storks, African spoonbills, marabou storks, saddle-billed storks, wooly-necked storks, yellow-billed storks, red-billed oxpeckers, and Meve's longtailed starlings.
Other
The House ran on 220 volt electricity from a main power grid and had three-pin square wall socket British style plugs. Tap water was from a borehole and filtered so it was safe to drink. Bottled water was also provided.
The property was Overall Winner and Best Poverty Reduction Award winner of the 2011 Virgin Holidays Responsible Tourism Awards.
Since 1989, Robin Pope Safaris had supported the education of children from the local Nsefu village. Thanks to donations from guests, the company had been able to build classrooms and sponsored the school fees of hundreds of children. The social project, managed by Project Luangwa, an umbrella organization, was run in partnership with local villagers and designed to also support the needs of the village community.
We visited the Kawaza Basic School and were impressed by the staff's dedication to high quality education. Despite the numerous challenges that many of the students faced, (the headmaster estimated that 200 of the students were orphans), the school had bragging rights to noticeably higher pass rates compared to neighboring schools. The headmaster also described a number of students who had graduated, thanks to the sponsorships, and were successfully employed as accountants and other professionals in Lusaka. We were treated to the students' choir rehearsal, during which they sang, beautifully, a traditional call and response song while marching in rhythm in a circle. Visiting the school offered us an enriching opportunity to get a taste of everyday life in Kawaza Village.
We appreciated the company's responsible tourism practices. Examples were that house employees were Zambian; in building the house, the owners used wood from fallen trees instead of chopping down live ones; guests had the option of staying in Kawaza Village in one of the traditional huts, which generated income for the community; and in addition to sponsoring children at the school we visited, Robin Pope Safaris initiated a project called the Luwanga Project, which aims to support 20 schools in the area that lack resources due to geographic isolation. Because the initial school that Robin Safari supported had performed well compared to neighboring schools, they decided to expand the project to the entire area. To cut down on waste, leftover food not consumed by guests was placed in an employee community pantry. Employees could help themselves and share it with their families. Leftover motor oil used to repair the property's safari vehicles was available to the local community. That was a particularly welcome benefit because oil was expensive and hard to come by in that rural area.
Cleanliness
Excellent
Date Of Visit June 2013
Reviewers Article by Laura Scheiber
Photos by Matthew James Harris
Service The eight staff members at the House during our stay were: house hostess, chef, room attendant, grounds man, kitchen assistant, two watchmen, waiter, and head guide. Our room was serviced twice a day. The service was outstanding and became a measuring stick by which we gauged high quality safari service for the rest of our stay in Zambia.
Would You Stay There Again? Yes
Contact Information
Address:
Robin Pope Safaris
P.O.Box 80, Mfuwe
Zambia
Phone:
Website:
Email: