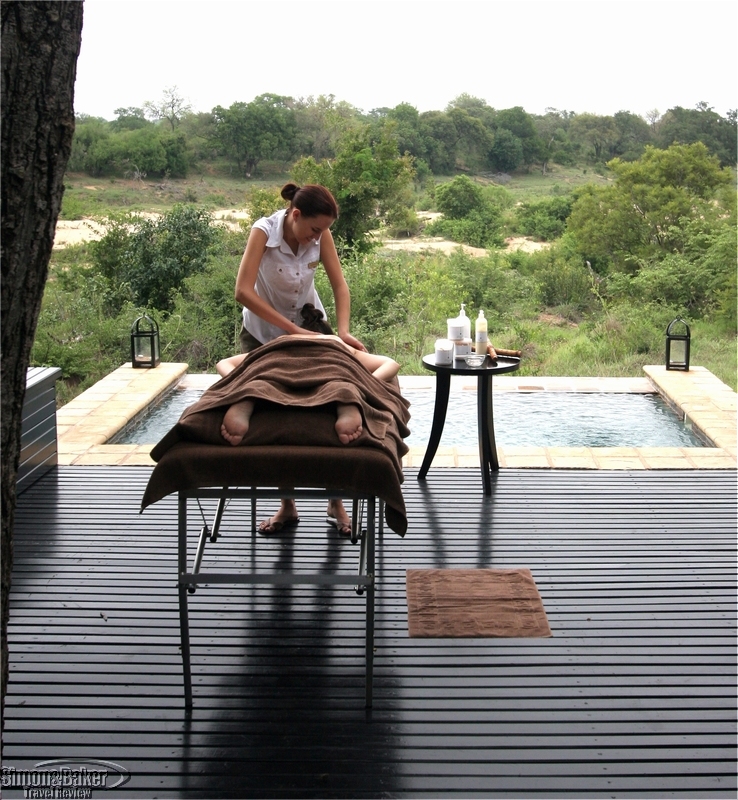 We will reserve spa treatment time when we return to this attractive South African bush reserve.
Overall Impression
Guests at the Lion Sands Reserve had lots of ways to spend their time. In addition to dawn and dusk game viewing, it was also possible to work out at the property's fitness center, visit the curio shop and enjoy a spa treatment. The spa was especially popular when we visited Ivory Lodge in the summer of 2007. Four staff members divided their time between the Reserve's three luxury properties: Ivory Lodge, Lion Sand's top level facility; 1933, the newly opened rental villa; and the River Lodge, where the Lalamuka Spa was housed.
Ivory Lodge guests could have treatments at the Lalamuka Spa or in suite. Although the spa facilities were nice we opted to have our couples treatments in the privacy of our Ivory Lodge suite. It was a delight to have the excellent massage, mini facial and scrub services in the comfort of our suite while enjoying a remarkable bush vista from our deck and listening to distant animal sounds. On the open deck we could almost feel the surrounding bush while the African sun caressed our skin and the gentle motions of our therapists removed thoughts of cities and work, at least for a short while.
Once the pleasant and efficient spa staff departed, we lounged on our deck chairs and the comfortable air conditioned rooms until it was time for our afternoon game viewing adventure. Having Lalamuka Spa and the option of in suite treatments during our stay at Ivory Lodge was a welcome additional benefit to the property's many fine features. We will reserve spa treatment time when we return to this attractive South African bush reserve.
Handicapped Access
All facilities were in a single one story building.
Location At the River Lodge in the Lion Sands Reserve.
Number Of Staff Four therapists
Owned-Managed More Family (Nicholas, Robert and Guy More)
Size Four therapists provided treatments in guest suites and in the spa's four treatment rooms. The spa occupied 64 square meters of space. The adjacent fitness area took up another 70 square meters.
Spa Manager Ulrica Fernandes, at the property since 2005, was in charge of the spa.
Special Training Spa staff had attended training programs at one of the following facilities: Camelot International, Total Concept or the University of Pretoria. In addition, they received in-house training from product manufacturers Thalgo and Wisdom of Africa to update the therapists on new treatments and products.
Treatment Rooms There were four treatment rooms at the spa: an outside Sala about 4 by 4 meters in size for outdoor couples massages; a smaller single private treatment room (3 by 3 meters); a Vichy Shower room (3 by 3 meters); and a couples massage room (5 by 6 meters).
Year Opened-Renovated The spa, opened in 2001, and underwent regular maintenance in the years since it was established. The most recent addition was a couples room built in July 2007.
Common Areas Although we had all our treatments at our Ivory Lodge suite, we strolled to the spa to see it in person. The indoor treatment rooms were to the left and rear of the building beyond a small reception area. There was also an open area next to the pool and in front of the river were couples could request treatments.
Facilities In addition to the spa itself, guests had access to their respective lodge facilities such as swimming pool, fitness center and restaurant.
Lockers And Bathrooms Since all the spa guests were staying at one of the Lion Sand properties lockers were not necessary. There was a bathroom with shower in the spa where guests could change and clean up after treatments.
Date Of Review
November 2007
Number Of Treatments Three
ReviewersArticle by Elena del Valle
Photographs by Gary Cox
Treatments Experienced Therapists Annmarie Heenap and Precious Gxumayo performed our in suite treatments. About five minutes before our treatment time, the therapists arrived with the massage tables and treatment products. Following brief greetings, they set the two massage tables set side by side facing the plunge pool and Sabie River on the open deck. It was also possible to have the treatments inside the air conditioned rooms.
We started with the Couples Inkabe Massage which we both enjoyed. Once the massage was complete, the therapists used rain sticks to make gentle sounds that roused us up. I also had a 30-minute back and neck exfoliation and mini facial. For the mini facial, my therapist chose the Wisdom of Africa product line: facial cleanser, Crushed Grape Facial Polish, Grape Toner, Hydrating Facial Mask and applied a Day Cream with an SPF (sun protection factor) of 15 to protect my face from the unforgiving African sun.
Would You Return? Yes
Contact Information
Address:
Lion Sands
Private Game Reserve
P.O.Box 30 White River 1240
Phone:
Fax:
Website:
Email: