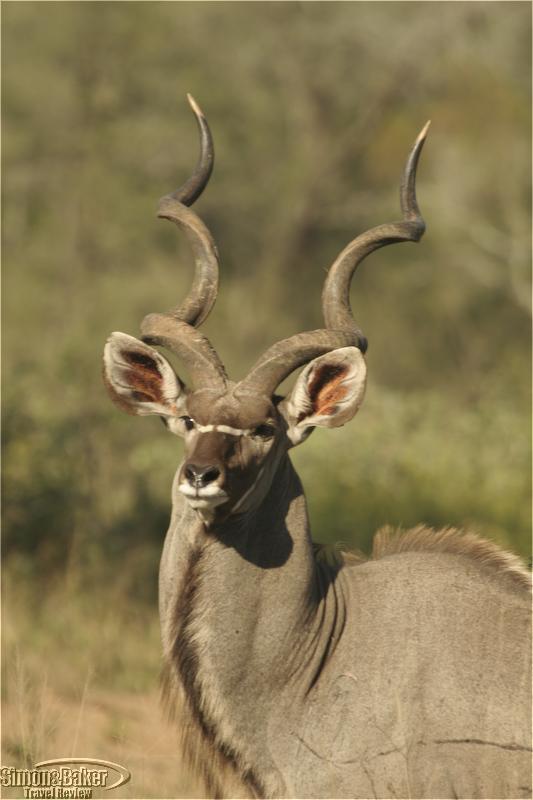 A small jewel of the South African bush, 1933 quickly scaled to the top of our list of much loved game viewing properties.
Overall Impression
We arrived at 1933 late one afternoon weary from our long trip from the United States and felt instantly welcome. After check in procedures at River Lodge, a sister property, we left our rental car in staff hands and were transferred to the house in a 4 x 4 game viewing vehicle. Before we knew it the 15-minute drive was behind us and we were disembarking.
After refresher towels and introductions, July Nyalangu, the villa's attentive manager, and staff greeted us warmly and showed us around the main areas of the villa. Our four night stay at 1933 was marvelous. In addition to exclusive use of the property and all its facilities a dedicated staff team looked after us with enthusiasm. Additional characteristics that made 1933 special were the luxurious home away from home environment within a Big Five reserve, striking riverside setting, many amenities and winsome facilities including an on site swimming pool, fitness room, computer corner and wine cellar, and made to order home style meals.
A private game viewing vehicle and veteran staff were an unexpected pleasure that enhanced our visit manifold. There was also an intangible serenity and natural beauty that made us want to return even before we had departed.
Our time at 1933 was superb. Thanks to our Andre Morgan, our affable and experienced ranger, game viewing was a genuine pleasure whether or not the animals chose to show themselves. Chef Sannie Mbeva's meals were always delicious and served in copious quantities at varied settings. Time in between meals and game viewing evaporated with other worldly speed. Slaves only to the clock, we spent our time as we pleased. We worked out in the villa's fitness room, went for a swim in the pool, read, napped in a favorite chair, surfed the Internet, had a massage on the river facing deck, gazed at the myriad birds and monkeys in neighboring fig trees, sat by the roaring fire or just relaxed.
During our game viewing drives we enjoyed an extended viewing, about 20 minutes, with two male lions; saw six lion cubs and two lionesses greeting; spotted leopards twice in one game evening; and for the first time, saw leopards mating.
Favorite moments were too many to count. One memorable night we relished our private evening cocktails, sitting on bush facing canvas chairs by the bright flickering flames of an outdoor fire; this was followed by a romantic and tasty grilled dinner for two in a boma filled with lanterns and soft candle light while we were serenaded by roaring lions in the moonless night. On another night we spent happy hour nursing a bottle of perfectly chilled South African bubbly and warming our feet by the fireplace before settling down to a surprise multiple course gourmet dinner. A small jewel of the South African bush, 1933 quickly scaled to the top of our list of much loved game viewing properties.
Class Of Accommodation
A luxury rental home
General Manager July Nyalangu
Handicapped Access Yes, on a case by case basis and subject to the traveler having a personal assistant and necessary hydraulic equipment.
Internet Connectivity There was a Hewlett Packard computer with a 15 inch screen in the library with a 3G mobile phone enabled Internet connection (speed estimated at 57,000).
Length Of Stay Four nights
Location In the Lion Sands Reserve within the Sabi Sand Reserve and west of the Kruger National Park.
Owned-Managed More Family (Nicholas, Robert, Guy More, John and Louise More)
Size The 1933 rental home occupies 2,500 meters or 2.5 hectares. Within the property, made up of one main building and three stand alone buildings, there were four suites: Earth, Sand, Tree, and Water, for up to eight adults. There was a second room in the main building that could accommodate up to eight children in bunk beds as well as a single room with its own bathroom for a nanny located between the children's room and the master suite. Although the regular staff compliment for 1933 is eight, we met four staff members who looked after the two of us during our stay. Lion Sands Reserve is a 4,000 hectare property shared with River Lodge, the lodge where we checked in, and Ivory Lodge, a six suite luxury lodge owned by the same family.
Year Opened-Renovated The property was originally purchased as the Kingstown in 1933. Name in celebration of the date of its founding 1933 opened in November 2007.
Lobby And Common Areas
1933 had a home away from home style with contemporary African designs. The property was filled with homely, natural fibers, earthy colors and family antiques including an 80 year old Stevenson Hamilton display plate. Paula Hatting, a South African decorator and designer, worked closely with the owners to fine tune the property's look and feel, visiting quarterly to update as necessary. Salient features included bush and river views from almost any vantage point on the property, open spaces, and abundant sunlight. It was luxuriously comfortable yet simple, a place to spend time. An elevated wood walkway led guests from the main building to the three neighboring stand alone suites.
An inner dinning room was furnished with a wood table and armless chairs set between a stone fireplace and the building's outer kitchen. The kitchen had white wood cabinets, a refrigerator, Siemens oven, stove with five gas burners, a butterfly espresso machine and lots of Corian counters. In the main area, the floors were of concrete and the ceiling was thatched. Beyond the outer kitchen there was a much larger staff kitchen with a walk in refrigerator. Glass and wood walls created a partition from the bush just outside the kitchen and inner dining area.
On the other side of the fireplace there was a cozy inner living area with cloth furniture. It was populated by two sofas, a long bench and two matching armchairs with footrests. Against the wall there was a bar credenza on one side. Near it there was an iPod dock with Bose speaker set up. Glass and wood windows allowed guests to soak in the view of the pool deck, bush and river beyond it. Past the living area there was an outer pine deck with wicker porch furniture set, one of our favorite spots on the property. In the library, there was a 94 centimeter television and DVD player. There were ceiling fans in all the rooms and individual air conditioner/heating units in the suites. 1933 had magnificent river views from almost any area of the house including the master bedroom, terrace, indoor and outdoor dining rooms and pool deck.
Bathroom
The master bathroom, horizontal in shape, was behind and to the side of the room. To one side there was a walk in area with a built in double closet and an electronic safe. Against the opposite wall there was a bench where we placed our luggage. The main area of the bathroom had twin sinks set against the back wall followed by a water closet. Facing the sinks there was an island style palazzo bathtub made of composite material. In the corner there was a large shower with a glass divider. Thanks to floor to ceiling glass walls it was possible to enjoy the bush view from almost every corner of the bathroom.
In addition to the master bathroom, there was a guest bathroom next to the library near the entrance hallway, convenient for guest and visitor use. Each of the other rooms had a designated bathroom and the stand alone suites had en suite bathrooms with bathtubs, as well as separate indoor and outdoor showers. The plumbing fixtures were Hans Grosse.
Master Suite Earth, our 120 square foot main suite area, had nearly all the comforts of home. It housed our master bedroom with en suite bathroom, a children's room with eight bunk beds, a single room, a library, pool deck, indoor and outdoor dining areas, outdoor deck, and two kitchens.
A four poster king bed framed by night tables occupied the center of the master bedroom. Sliding glass doors led to a covered private deck (one of our favorite spots) where we found two comfortable wicker chairs. At night, the staff brought down mosquito netting around the bed and night tables, making it easy to reach the phone, a glass of water and items on the night table without having to exit the netting area. Sitting up in bed in the morning the first thing we saw was the splendor of the bush. To one side there was coffee and tea service and under the counter we found a mini bar. An extra large pivoting wood door opened to the elevated walkway that led to the next suite and beyond it to a river facing deck.
A hallway led from the master bedroom to the rest of the main building sleeping area, bathrooms, library and pool deck and beyond that to the kitchen, and dining and living areas.
Meals And Wines
Breakfast, a combination of cold buffet and hot made-to-order dishes, was served around 9 a.m. on our return from game viewing. One morning the staff surprised with a bush breakfast at the Inyati Hide. We enjoyed a light lunch at the time of our choice, usually 1:30 p.m., followed by tea at 4 p.m. and dinner at about 8 p.m. just after our game viewing drive. If we got the munchies in between meals, there was a mini refrigerator with beverages in our suite and a full size refrigerator in the outer kitchen stocked with beverages, snacks, a fruit bowl and selection of dried fruit, nuts, and chocolate.
Sannie Mbeva cooked all our meals. She was part of the Lion Sands culinary team which was lead by executive chef, Janine Hobbs, who had been with the company for eight years. She was assisted by two senior sous chefs, three pastry chefs and a staff of 42.
There was a fine wine list including French champagnes, fortified drinks, premium South African wines and whiskies, a selection of Johnny Walker labels, and rum. Wildebeest, impala, kudu, oxtail, chicken, eland, ostrich, crocodile, were served during our visit.
The 1933 wine list featured white wines, white blends, chardonnay, method cap classique (South African bubbly), and champagne. In the white wines: seven sauvignon blanc (six inclusive), five chenin blanc (three inclusive), and three Semillon and viognier (two inclusive). There were two white blends (one inclusive); five chardonnays (three inclusive); five method cap classique (three inclusive), and champagnes ( moet chandon, laurent Perrier cuvee rose brut, Veuve Cliquot gold label NV, Dom Perignon 1996 and Louis Roederer Cristal 1993 (non inclusive).
Amenities
There was rooibos shampoo, conditioner, foam bath and body lotion in full size glass bottles. There were also scented bath salts, a shower cap, white candles, two white linen bathrobes and two sets of slippers. All meals and most beverages were included except for premium wines bottles and champagnes. There were complimentary water, fruit, snacks, several wine bottles and alcoholic drinks. Ivory Lodge was the only bush lodge where we found chocolates in the minibar. There was a computer with Internet access for guest use, board games, books and satellite TV in the library. There were special touches like sparkling wine on our arrival and sparkling water, bush notes and a sweet on our night tables as part of the nightly turn down service. There were also wireless phones and rechargeable Maglite flashlights.
Facilities There was a boma for outdoor dining, an indoor dining room for eight, and an outdoor deck dining area for eight. There was also a wine cellar well stocked with fine South African wines, a river facing pool deck, fitness room with sauna, and library with a TV and DVD player and computer with Internet access for guest use. There were also two kitchens, a small one for guest use and a large inner kitchen with a walk in refrigerator for the villa staff.
Pool The Sabie River facing swimming pool deck had four Dedon leaf fixed design wicker lounge chairs, three umbrellas, a wicker set of love seat, couch and two armchairs. From the pool I enjoyed lovely view of the river and fig trees. Thanks to the property's east facing design the pool area was sunny during the morning. In the afternoon, the pool area would be in partial or full shade. The pool was 10 x 4 meters and 7 meters deep.
Spa Although 1933 guests had access to the Lalamuka Spa at the nearby River Lodge, we opted for a massage at 1933. Other options included facials and wax treatments. At our request, one morning following breakfast Ann Marie, one of the therapists, set up a massage table on the deck next to the river. There was a gentle breeze and the sounds of nature to sooth me during the massage. This allowed me to enjoy the sights and sounds of the bush during the treatment in the privacy and comfort of the villa.
Game Viewing
1933 offered early morning (wake up at 5:30 a.m. and departure at 6 a.m.) and afternoon bush drives. Lion Sands Reserve guides were SKS Special Skills certified. SKS, described as the highest qualification for guides in South Africa, covers different aspects such as Dangerous Animals and Birding. Half of the reserve's guides had SKS DA or Special Skills with Dangerous Animals. Our team members were Andre Morgan, our ranger and Levi, our tracker. Andre had seven years of game viewing experience. He started as a hunter's guide at the age of 13 and by 18 was a game viewing guide. Andre and Levi were both level two trackers.
In case the group at 1933 was large, there were 14 rangers at Lion Sands, allowing guests the option of requesting a second vehicle. 1933 recommended children five and under not go on game viewing drives.
The nightly rate at 1933 included a private game viewing vehicle with a ranger and tracker. Only two game viewing Land Rovers were permitted per sighting to avoid stressing the animals.
We saw: lion, leopards (mating), baboon, vervet monkey, less bush baby, hippo, white rhino, giraffe, buffalo, scrub hare, waterbuck, wildebeest, kudu, nyala, bushbuck, warthog, and impala. We also saw two adolescent Nile crocodiles, four serrated terrapins together, and a monitor lizard.
Birds we saw: black stork, crested barbet, blackeyed bulbul, black crake, Jacobin cuckoo, Cape turtle dove, forktailed drongo, Wahlberg's eagle, Egyptian goose, helmeted guineafowl, grey and goliath herons, African hoopoe, redbilled, grey, and yellowbilled hornbills, woodland and pied kingfishers, grey loerie, threebanded and blacksmith plovers, lilacbreasted roller, Cape glossy starling, saddlebilled stork, emerald spotted wood dove, little spotted woodpecker, brubru, and wiretailed swallow.
Activities There were dawn and dusk private game viewing drives (about three hours long) with a ranger and tracker team assigned for the duration of our stay. It was also possible to go on bush walks, play board games, spend time in the small library (lots of Africa books), watch the satellite TV or DVD, work out at the gym, enjoy time in the sauna, have a spa treatment, and go shopping in the Ivory Lodge or River Lodge. We could also check emails with the computer with an Internet connection in the 1933 library.
Curio Shop
There were curio shops at the Lion Sands River Lodge and Ivory Lodge. The Ivory Lodge shop had many African artifacts for sale; beaded, gold and silver jewelry; branded clothing for men, women and children; books; stuffed animals; and handcrafted pewter and wood items. A noteworthy item was a 35,000 rand watercolor by wildlife artist Sue Dickinson. Her prints were also for sale. There were artifacts from Bernard Remacle's Animal Art Unlimited including leadwood carvings from Monday Thabethe who specializes in rhinos. Similarly River Lodge offered branded clothing, books and souvenirs for sale.
Other Among the property's many distinctions was fronting the Sabie River for which the Sabi Sand Reserve was named. It offered eco-friendly game viewing following strict policies to protect the land. The Lion Sands Reserve on which the property was located, employed a full-time ecologist to manage and oversee the care of the land.
The 1933 and Lion Sands Reserve owners were proud of their stewardship of the land. To ensure the land and its game inhabitants thrive guides and guests were required to abide by many rules such as: There was no off road driving for any reason other than confirmed "Big 7" (lion, elephant, leopard, rhino, buffalo, wild dog or cheetah) sightings; there was no off road driving for 24 hours after more than 10 millimeters of rainfall; the minimum viewing distance was 10 meters to any animal unless approached by the animal; no driving down river banks; driving in dry river beds was only permitted in designated areas; no removal of firewood; no fires were allowed without prior permission; no driving on "Sodic" (acid soil) or sensitive soil areas; and a maximum of three vehicles per sighting (some leopards warranted a "single vehicle" sighting status).
Cleanliness
Excellent
Date Of Last Visit May 2008
Reviewers Article by Elena del Valle
Photographs by Gary Cox
Service Four staff members looked after us during our stay: Sannie Mbeva, our chef; July Nyalangu, the property manager and Joyce, his wife, a house keeper; and Luckson, an engineer who doubled as waiter, valet and pool cleaner (he cleaned the pool deck and the pool every morning). Chef Sannie delighted us at every sitting with scrumptious meals; July shared advice on wines and always had a kind word and a can do attitude; although we seldom saw Joyce we knew of her presence because the house was impeccably clean and tidy; and Luckson who unobtrusively cleared plates and helped with anything we needed. On our return from game viewing there was always a friendly face to greet us with scented and moist warm or cool towels and sometimes beverages.
Would You Stay Again? Yes
Contact Information
Address:
Lion Sands
Private Game Reserve
P.O.Box 30 White River 1240
Phone:
Fax:
Website:
Email: