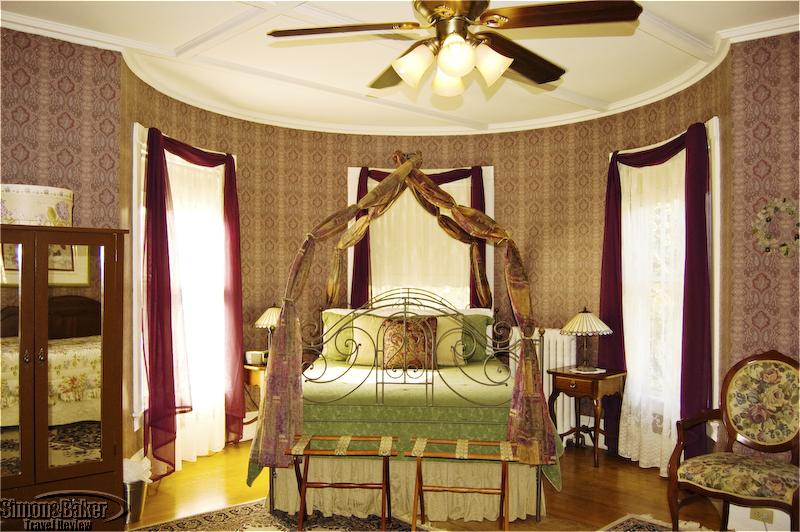 With its thoughtful balance of Victorian romance, modern conveniences and timeless hospitality, the LimeRock Inn was a delightful hideaway from where to enjoy the many activities of this charming small mid-coast Maine seaport.
Overall Impression
In the middle of its lush English garden, this regal Queen Anne country home retained all the authentic charm of its Victorian origins. The green-shingled exterior was enhanced by buttercup yellow trim with purple accents to match the lavish flowerbeds. The deep wrap-around porch, complete with rattan furniture and porch swing, the elaborate rooflines and whimsical turret all contributed to make the LimeRock Inn a picture-perfect grand 19 th century New England "cottage."
Built in 1890 for U.S. Congressman Charles E. Littlefield, the house remained a private home for over a century before being reborn in 1996 as the first historic bed and breakfast in Rockland. Its original character, architectural features and romantic charm beautifully survived the conversion. In the entrance foyer, the massive staircase, with its ornate golden oak railing and elaborately carved newel post, was showcased by a period wallpaper of golden flowers on burgundy background and coordinated oriental rugs to welcome today's guests home to Victorian opulence. On either side of the entrance the formal parlor and more casual drawing room enticed them to settle in. Deeper into the house, the once butler's pantry had been brought into the 21 st century with a gourmet coffee maker and computer equipment for the convenience of business travelers. The sunny dinning room had been gently updated with glass-topped 19 th century style rattan tables and armchairs that complimented the antique sideboard for a tastefully eclectic look. I enjoyed lingering there over scrumptious breakfasts and conversation with my gregarious hosts and creative cooks, Frank Isganitis and P.J. Walter , who were ever attentive and friendly. They couldn't do enough to ensure I would unconditionally enjoy every moment of my visit.
While the LimeRock Inn abounded in invitations to linger, my personal favorite lingering place was the picture-perfect gazebo, half hidden within the extravagant flowerbeds of the back garden. When I finally resolved to extract myself from the garden, the inn was ideally situated to explore the town. Its peaceful residential side-street location was within strolling distance of the internationally renowned Farnsworth Museum, and a few steps farther to the many art galleries, smart boutiques and outstanding restaurants that lined Rockland's vibrant Main Street. With its thoughtful balance of Victorian romance, modern conveniences and timeless hospitality, the LimeRock Inn was a delightful hideaway from where to enjoy the many activities of this charming small mid-coast Maine seaport.
Class Of Accommodation
Luxury country bed and breakfast
Connectivity Complimentary wireless Internet connectivity was operational throughout the inn.
Handicapped Access No
Length Of Stay Two nights
Location The LimeRock Inn was located in the heart of the downtown historic district of Rockland, Maine.
Owned-Managed Frank Isganitis and P.J. Walter
Size The two story 6,500 square foot (605 square meter) Victorian home housed common areas and eight guest rooms. It employed a staff of two.
Year Open-Renovated The property opened in 1994. The current innkeepers acquired it in 2005. The house was fully rewired in 2005. A new slate and copper roof was installed in 2007. The public areas were completely redecorated in 2005-2006.
Lobby And Common Areas
In addition to its striking staircase, the foyer featured a wall-size mirror that was original to the house. An oak roll-top desk served as guest reception desk. To the left of the entrance, the formal parlor was decorated in Queen Anne style with green and silver wall covering to match the dark green wall-to-wall carpeting and contrasting white woodwork and lace-covered windows. The upholstered sofa, armchair and footstool were arranged around a long, dark cherry coffee table with cabriole legs that matched two occasional period chairs with wooden armrests. All upholstered pieces were covered in various coordinated silver and mauve fabrics. Silk-shaded brass lamps, a 19 th century-style oil painting in a gilded frame and a Victorian birdcage on a cherry wood stand completed the décor.
To the right of the foyer, the large drawing room was large withfeatured several distinct areas of activity. Its casual comfort made it a favorite for me. Nearest the double-width entrance, two large leather armchairs with matching footrests faced the fireplace. They were separated by a round pedestal end table holding a large reading lamp. The wall dividing the drawing room from the foyer held a large bookcase with books, magazines and various boxed and board games. Along the wall near the fireplace, a large square oak table with two bamboo desk chairs held a variety of writing material. The far end of the room was the base of the circular turret. It was furnished with an overstuffed pine green sofa and chair and a large square coffee table. They faced a large armoire that held a flat screen television, DVD player and a collection of DVDs. The room's hardwood flooring was covered with beige and burgundy room-size oriental rugs; wall covering was a tan-background wallpaper that provided an effective background for a variety of framed period prints with a coastal theme. Tapestry pillows in shades to ochre and red were casually tossed around the seating arrangements to complete the feel in of timeless casual comfort.
The deep wrap-around front porch with its several groupings of dark green wicker sofas and chaises covered with thick blue and white striped canvas was especially inviting. With its profusion of pastel pillows, its long garden swing and hanging baskets overflowing with summer blooms, it was a lovely place to curl up with a book and enjoy the smells and sounds of summer. The garden mood also prevailed in the dining room. Although it had retained its original crystal chandelier and dark wooden wainscoting, as well as a large sideboard that held a collection of candle sticks, its rattan dining furniture and wallpaper of deep rose floral motifs on a beige background and framed period poster gave it an airy garden-room feel.
Bathroom
French doors opened from the bedroom into the100 square foot (nine square meter) bathroom with a claw-foot bathtub centered in the middle of the room. The dark green marble-floored bathroom also featured a large separate shower with a Battenberg embroidered shower curtain for an extra touch of romance. The pedestal washbasin was topped with a large oval mirror in an ornate gilt-frame. A tall white wicker corner shelf near the commode held bathroom amenities. Pale peach wallpaper provided an effective backdrop for a large framed pastel sailing print.
Room My 225 square foot (21 square meter) room, the Turret Room, was located on the second floor; my own private space in the romantic turret! A queen-size bed sat at the center of it, surrounded by three tall windows dressed in lace curtains and large purple chiffon ornamental scarves. Coordinated flowered print chiffon scarves draped the bed's metal canopy. Two cabriole-legs bedside tables held silk- shaded reading lamps. The wooden furnishings were French country pieces in cherry wood. In addition to the side tables, there was a small mirrored-front wardrobe and a bureau topped with a tilting oval mirror. A sleigh daybed functioned as a couch and could double as an additional bed. A Louis XV medallion chair covered in needlepoint completed the seating. Floor treatment was pale beige oriental rugs over polished hardwood.
Restaurant Complimentary breakfast was a served each morning between 8:30 and 9:30 A.M. in the dining room. It included a selection of black and herbal teas, a special blend of coffee from locally owned Rock City Roasters and assorted juices. The breakfast menu included a fruit course, homemade breads, regional fruit jams and daily breakfast entree creations.
Amenities
The original butler's pantry was now the guest pantry with an under-counter refrigerator stocked with complimentary bottled water and soft drinks. There was a-state-of-the-art coffeemaker with a variety of individual brewing capsules, caffeinated and herbal teas, glasses, cups and saucers, flatware and a variety of nuts and granola snacks. The other half of the pantry offered a complimentary business center complete with a desktop computer with Internet connection, a laser printer, color inkjet printer, scanner and fax machine.
Bathroom amenities included terry-cloth robes and generously-sized bath towels in sage green thick Egyptian cotton; hair dryer; a jar of cotton balls; organic soap, shampoo, conditioner, bath gel and body moisturizer.
Others The LimeRock Inn was certified by the state of Maine as an environmental leader in the hospitality industry.
Cleanliness
Excellent
Date Of Review September 2008
Reviewers Article and photos by Josette King
Service Excellent! Both Frank and P.J. were thoughtful hosts, extremely attentive to my requests and proactive in providing information, directions and suggestions about the area and its resources. The room was serviced each morning
Would You Stay There Again? Yes
Contact Information
Address:
96 Limerock Street
Rockland, Maine, 04841
U.S.A.
Phone:
+ 1 800-546-3762 and
+ 1 207-594-2257
Fax:
Website:
Email: