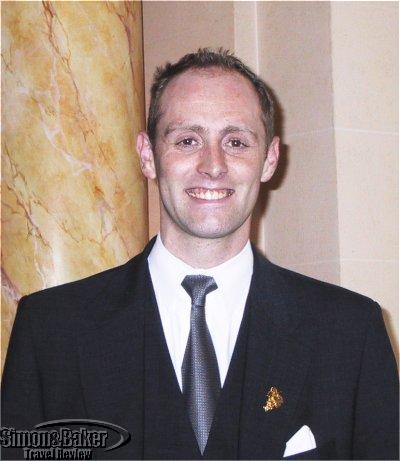 We discovered an epicurean gem in Versailles , Les Trois Marches .
We have been informed that this restaurant is now closed.
Overall Impression
: While in Paris , we decided to pay a visit to famous town of Versailles . During our excursion, we enjoyed a gourmet lunch at Les Trois Marches , which was the high point of our day. Chef Vié, who had lived and worked in Versailles for 30 years when we visited Les Trois Marches , had the rare ability to surprise and delight while maintaining a mostly classic menu.
Surrounded by timid winter light we enjoyed a wonderful meal. Our tasting menu allowed us an opportunity to sample a number of this gifted chefs notable specialties. The knowledgeable and helpful head sommelier Laurent Beaudouin paired little known quality wines seamlessly with the tasting menu.
The beautiful garden view setting, elegant dining room and attentive service made our meal complete. We had an opportunity to visit the garden facing kitchen and meet chef Vié, who was self effacing and amiable. We discovered an epicurean gem in Versailles , Les Trois Marches .
About The Executive Chef
In the 1960's, chef Vié worked at Chez Lapérouse, Lucas Carton and the Plaza Athenée. By 1965 he had been promoted at the Crillon tower in London . Next he became the main chef at La Frégate and later worked at Wagon-Lit. In 1970, he established Les Trois Marches . He was an officer of Le Mérite Agricole. He has received the Maitre Cuisinier de France, the Davidoff Academy , Les Clés d'Or and La Table D'Argent awards.
Assistant Chef And Pastry Chef Laurent Sajac
Established The restaurant opened first in Versailles in 1970. It moved into the Trianon Palace in July 1991 (after the hotel 's full renovation).
Executive Chef Gerard Vié
Handicapped Access yes
Head Sommelier Laurent Beaudouin
Location in the lobby of the Trianon Palace hotel in the town of Versailles near Paris
Managed Vincent Guillotin
Owner Trianon Palace
Size the restaurant was able to seat 40 in about 150 square meters (approx 1,500 square feet) of space
Type Of Restaurant Classic French
DÉCor-Ambiance Orangerie 17è siècle style
Cellars Wine And Alcoholic Beverage Selection
A lengthy and well balanced wine list offered French and foreign wines for a broad range of prices; there were plenty of affordable options including half bottles. Champagne lovers had an ample selection of old standbys and lesser known houses. Wine connoisseurs could opt for celebrated vintage wines for four digit prices or finds for a song (relatively speaking). There were 800 references,
vins de proprietes
. The restaurant received the "Best Champagne Card" from the Trophee Gosset Celebris in 2003.
Special Menus A well balanced business lunch menu (only Monday-Friday) was available for 58 euros; there was a tasting menu, which included starter, main course and dessert for 160 euros. There was also a secondary tasting menu we found a particularly good value. It offered diners two starters, one fish dish, one meat dish, a cheese course and dessert for 180 Euros. To take advantage of this menu, guests had to arrive at 1:30 pm or 9:30 pm and everyone at the table had to choose the same option. Finally there was historical sampling of the chef's creations from 1972 to 1988. This menu had to be requested two working days in advance for a minimum of four people.
Specialties Homard Breton aux Carottes (lobster from Brittany with carrots) , Mousse d'huitres (oyster foam) and Ravioli de céleri en cappuccino (ravioli of celery in cappuccino)
Meal
Our aperitif was aged ham (
prosciutto
) artistically presented covering a red apple and a
mille feuille
tomato tart crowned with tiny scallop chunks. We accompanied these with chilled rose champagne (non-vintage Jacquesson rosé) from a small producer. A bilingual menu described the dishes in French and English. Our tasting menu was a treat. It began with fluffy oyster foam with a red wine reduction and herb accent. Next we had celery root ravioli stuffed with duck liver, mushroom and a white truffle butter sauce, which also included thin slices of fragrant white truffles. After that, an innovative roasted Norway lobster with stewed pigs' feet and shell fish sauce arrived. It was followed by scrumptious Blue Lobster made with carrot juice and lobster juice. The crescendo of flavors reached its height with a hearty braised beef in a red wine sauce, Rossini style with a pan fried duck liver and truffle. Three cheese carts appeared next. In spite of all we had eaten, we thoroughly enjoyed our cantal, eppoise and rockfort selections made with the server's advice. Desserts completed the voyage of flavors we had embarked upon two hours earlier: braised pear in black currant, black currant, violet ice cream macaroon.
Sommelier Beaudouin selected a mild 2001 Saint- Véran " Poncetys" Domaine Jacques Saumaize by the glass to accompany the first part of our menu. We completed the tasting with a fragrant and dry 2000 Cazal de Rocques Minervois Domaine Jean-Luc.Thunevin.
Date Of Review
December 2004
Reviewers Article by Elena del Valle
Photos by Gary Cox
Service All the service staff we encountered were polite, discreet and accommodating. Never once during the meal did we want for anything before it was served or offered. They were able to easily translate the dish descriptions, answer our questions and make recommendations.
Would You Dine There Again-Recommend It? Yes
Contact Information
Address:
1, Boulevard de la Reine
78000 Versailles
Phone:
Fax:
Website:
Email: