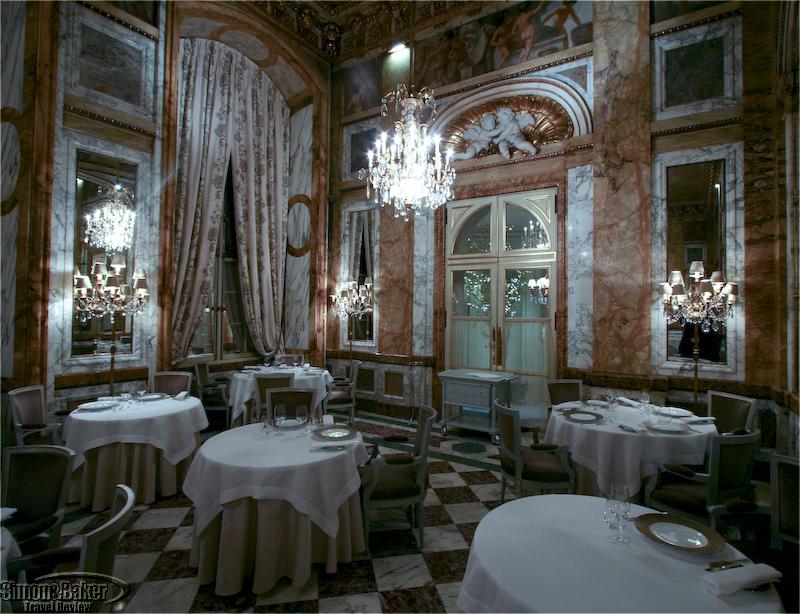 We look forward to returning to Les Ambassadeurs in the future to sample more of the chef's cuisine.
Overall Impression
For years we have visited this well situated restaurant in one of the city's most prestigious neighborhoods and been rewarded with outstanding meals. On our most recent visit to Paris we returned to rediscover the well known restaurant which had a new chef and a new manager.
As in past visits we much enjoyed the beautiful Louis XV style dining room. Although the building facade was under renovation and the windows facing the famed Place de la Concorde were covered the dining room is so lovely we scarcely noticed the absence of the view even though we were seated at a window side table. This was in part because the table was set to maximum advantage to face the dining room.
Lunch was a midwinter treat. The six course Tasting Menu with wine pairing was well prepared and elegantly served. The many details of the meal service such as fine dinnerware, glassware, silverware, and linen as well as the attentive serving staff added a refined touch to the meal. When we completed our salty courses we had a brief interlude during which we had an opportunity to meet Christopher Hache, the new executive chef. While he spared few words beyond a polite greeting as he was on his way out when we caught him the meal he prepared was eloquent and confident. His dishes, which emphasized the essence of his ingredients and French products, were outstanding.
We were then invited, as were our neighbors in the dining room, to relocate to the adjacent Winter Garden salon for dessert. We lingered in the cozy Winter Garden for a while enjoying our two desserts and coffee before calling the meal a success. We look forward to returning to Les Ambassadeurs in the future to sample more of the chef's cuisine.
Executive Chef
Christopher Hache
Handicapped Access There were four steps at the entrance. Restrooms were down the hall from the restaurant toward the back of the hotel.
Head Sommelier David Biraud first trained to be a chef. Along the way he discovered a passionate interest in viticulture. He specializes in great classic French wines from Bordeaux and Burgundy. In 2007, his assistant, Antoine Pétrus won the Ruinart Trophy for Best Young Wine Steward in France.
The wine expert has been the Les Ambassadeurs restaurant since 1995. In 2004, he received the Meilleur Ouvrier de France award. In 2010, he placed in third place in the competition for Best Sommelier in the World held in Chile.
Location In the lobby of the Hotel de Crillon on the place de la Concorde
Owned And Managed Starwood Capital Group
Pastry Chef Jérôme Chaucesse previously worked with Gérard Boyer in Reims, Marc Meneau i n Saint-Père-sous-Vézelay and Michel Guérard in Eugénie-les-Bains, where he stayed for five years.
Restaurant Manager Pierre Jung, the restaurant's new manager, began his career at the Connaught Hotel. He worked at Le Grand Véfour restaurant before heading to Senderens for nine and a half years, where he moved up from the position of chef de rang to maître d'hôtel. At that time, he began to work alongside Christopher Hache, with whom he forged a close friendship.
Size The 110 square meter restaurant could accommodate 55 people. Thirty staff were employed there.
Sous Chef Amandine Chaignot began her career at Prunier, working with François Adamsky. She accompanied Adamsky to the Bocuse d'or international cooking competition in 2001 as his kitchen assistant. She spent four years at Le Plaza Athénée, followed by the Ritz Hotel in London, the Bristol from 2004 to 2006 where she worked with Christopher Hache, and, most recently, she worked at Le Meurice.
Type Of Restaurant French Gourmet
About The Executive Chef Originally from Yvelines, Christopher Hache grew up by the ovens of his grandmother who cooked for a small family-run guesthouse, and later with his father who ran the Le Paris Dieppe restaurant in suburbs of Paris. He began his career working for Eric Briffard at the Elysées du Vernet, where he learned the basics of fine cooking. He later joined Lucas Carton, a well known restaurant on the Place de la Madeleine in Paris, where he worked as a section manager and, over time, became the third sous-chef, under Frédéric Robert and Alain Senderens, the executive chef. When Lucas Carton was redesigned and opened under a new name (Senderens) he returned to work at the Alain Senderens restaurant. From there he went to the restaurant at Le Bristol and later to La Grande Cascade before being selected to lead the kitchens at the Hotel de Crillon and Les Ambassadeurs.
DÉCor-Ambiance
Perhaps because the restaurant was established in the former Hotel de Crillon ballroom the room seemed to have a festive and elegant ambiance.
Interior architect Sybille de Margerie, in a joint venture with the École des Beaux-Arts, under the direction of Monuments Historiques played a major role in the revamping of the dining room décor several years back. The goal was to make the XVIII Century ballroom light and lend it refined simplicity and warm elegance. Armchairs and tables were upholstered in light colors to reflect off the varying shades of the marble in the handsome room. The dining room had Baccarat crystal chandeliers dangling from a high ceiling painted to look like a daytime sky with clouds.
The meal service included Bernardaud dinnerware, Christophle silverware, and crisp white linen napkins.
Cellars Wine And Alcoholic Beverage Selection
Les Ambassadeurs had one thousand labels on offer. The wine menu had been redone. In it wines were listed by color with reds on one side and whites on the other. Prices for the bubblies, for example, ranged from 110 euros for a non vintage Champagne to 4,900 euros for a 1995 Krug. Reds from Burgundy, Bordeaux, Rhone, Provence, Languedoc, and Val de Loire, for example, ranged from 65 euros to 3,000 euros for an 1893 Sauternes. There were also wines from Argentina, Australia, Chile, Italy, Portugal, and Switzerland. There were wines by the glass and by the half bottle.
Meal We began with a glass of non vintage Billecart Salmon Rosé. We were offered three types of bread from the bread basket, cereal, baguette and a soft croissant type of bread. The butter knife was designed to stand upright, a nice touch.
We sampled a six course Tasting Menu with wine pairing: French imperial caviar with cucumber aspic and blinis which had a molecular gastronomy touch; perfectly prepared and light Roasted langoustine with crispy fennel and yuzu (in lieu of Sauteed scallops, butternut and dried beef); delicious Pot-roasted duck liver served with wild mushrooms and a touch of ginger (a favorite); and a wonderful Rack of baby lamb from the Pyrenees Mountains wrapped in crispy angel-hair noodles with quinoa, thyme and eggplant confit.
We had a white and a red wine selected by the head sommelier: Château Poujeaux 2001 Moulis en Médoc from Bordeaux; and from Burgundy a Chassagne Montrachet 1er cru "Boudriotte" 2000 Domaine Ramonet.
Before dessert we were offered frozen tangerine "candies." For dessert in the Winter Garden we had: Rice "à l'impératrice" with raspberry jelly and star anise ice cream; Le finger chocolait banana ice cream, crispy hazelnut meringue. The chocolate dessert was light with a blend of flavors and textures that grew on me. There was a layered candy tray filled with mini lemon, raspberry and green apple macaron pastries which most disappeared. The sommelier staff proposed a fragrant Hungarian Tokaji dessert wine which we indulged in with pleasure.
Special Menus There was a three course Lunch Menu for 68 euros per person excluding beverages; and a six course Tasting Menu at lunch and dinner for 140 Euros per person excluding beverages.
Date Of Review
2004
2008
2010
Date Opened-Most Recent Renovation The restaurant opened in 1970 and it was most recently redecorated April 2010.
Reviewers Article by Elena del Valle
Photos by Gary Cox
Service Staff members were efficient, helpful, and knowledgeable. The service in the dining room was outstanding. When we relocated the server remembered to match our glasses to their owners. We were pleasantly surprised to encounter Pierre Jung, the new restaurant manager, who we had met years earlier at the well known Lucas Carton restaurant where he had worked. As in the past he was affable and attentive.
Would You Dine There Again-Recommend It? Yes
Contact Information
Address:
Hotel de Crillon
10, place de la Concorde
75008, Paris
Phone:
Fax:
Website:
Email: