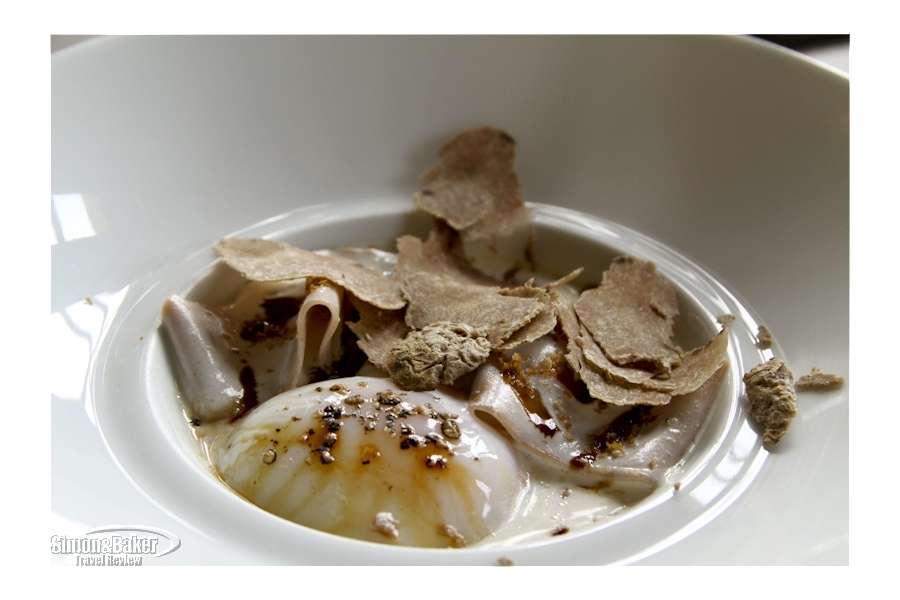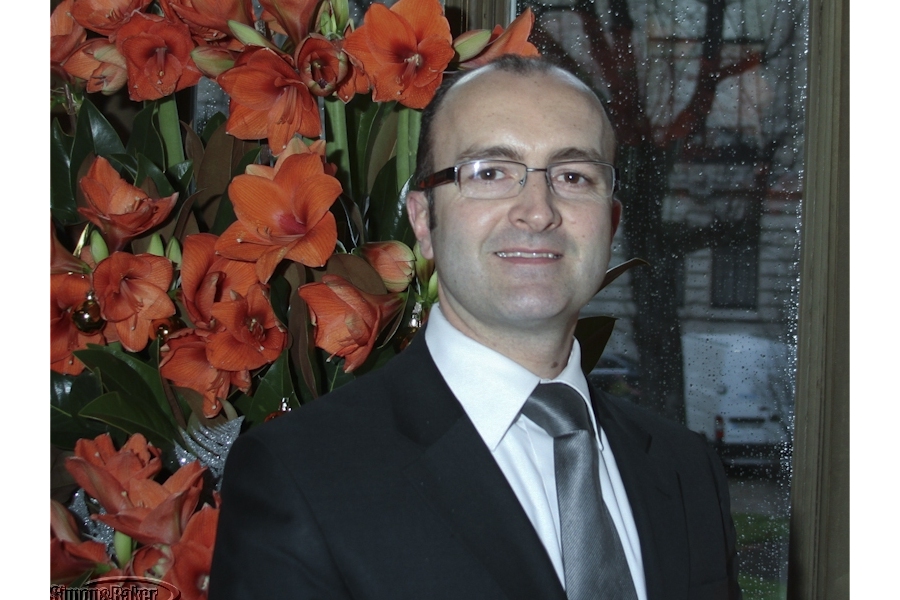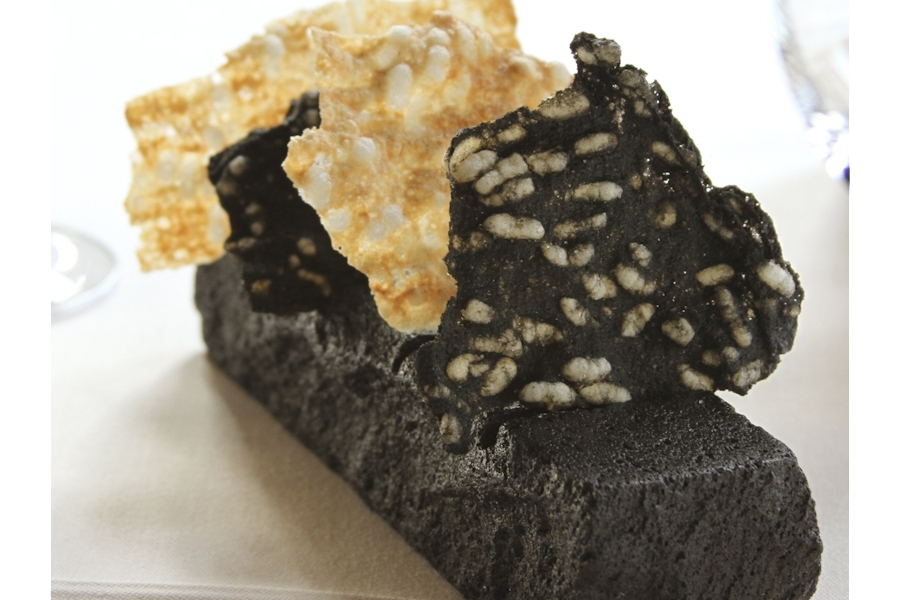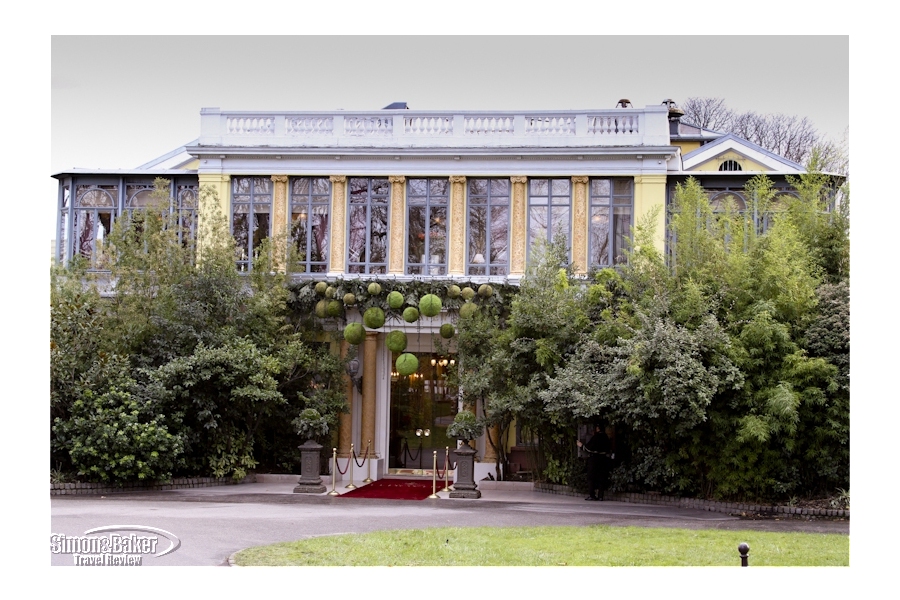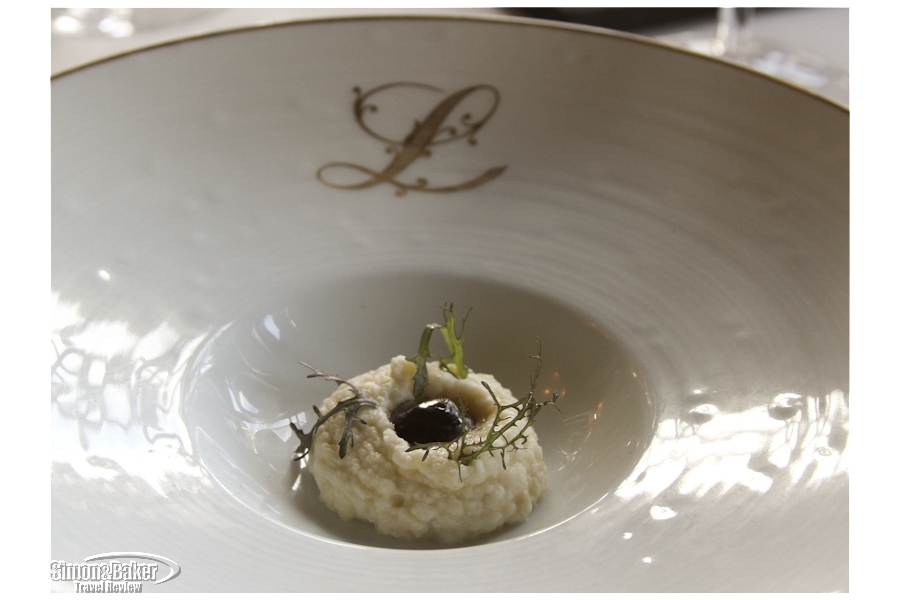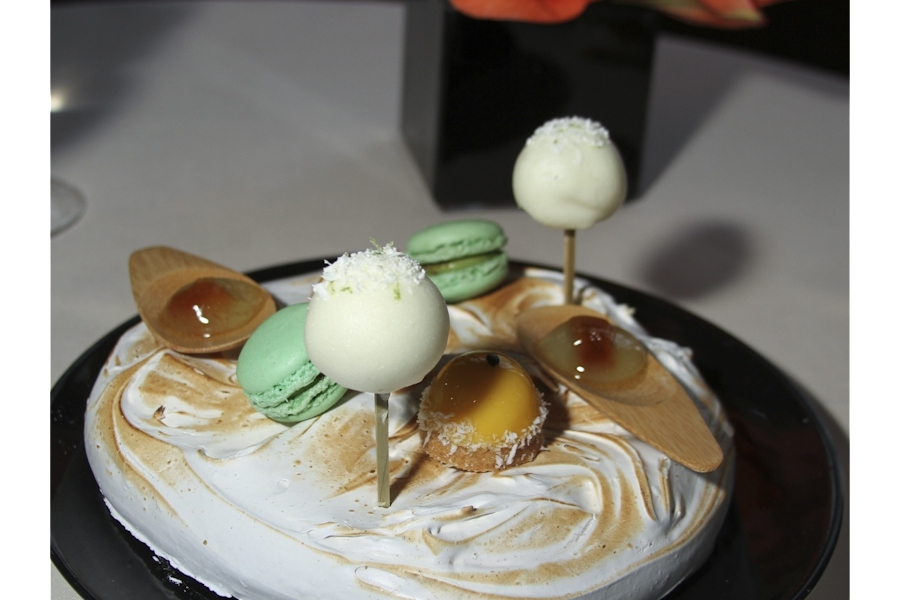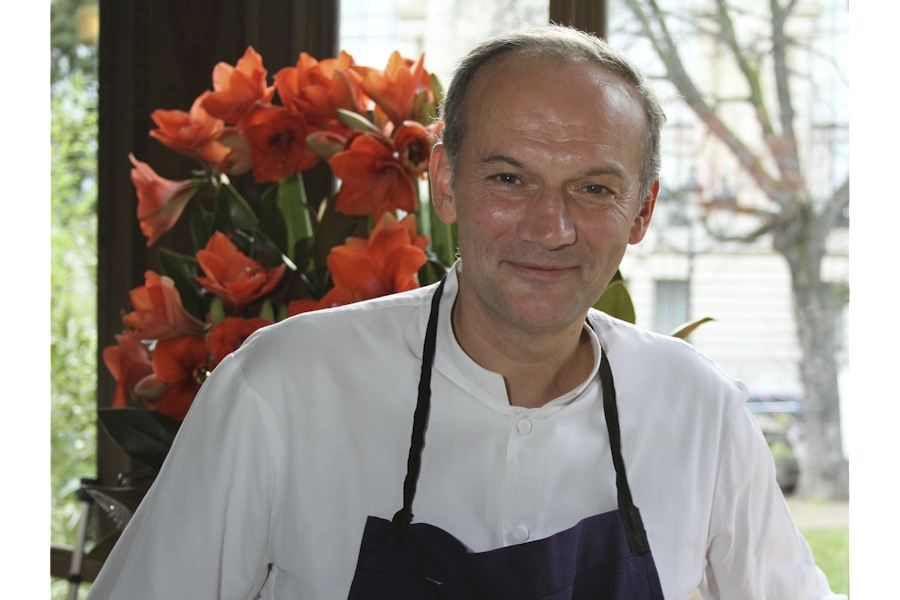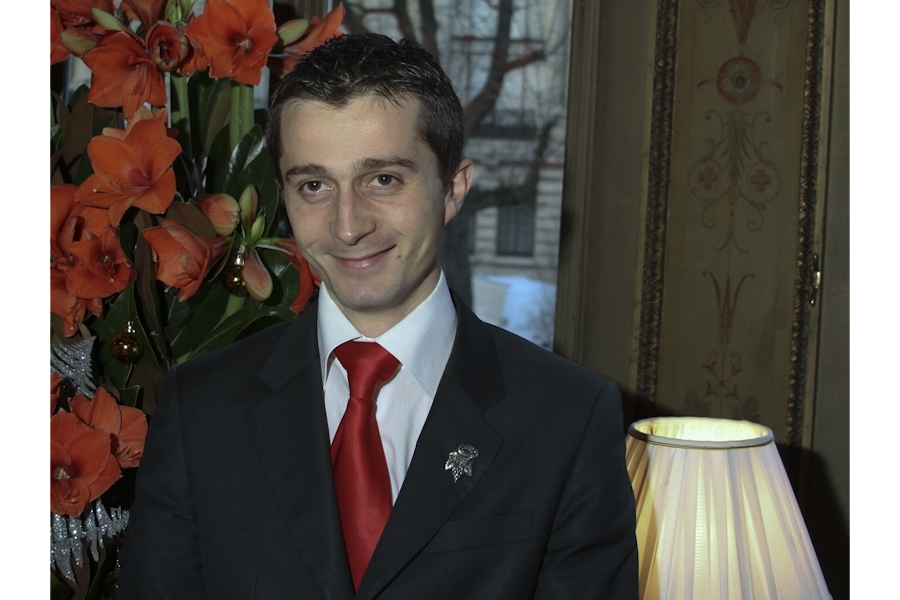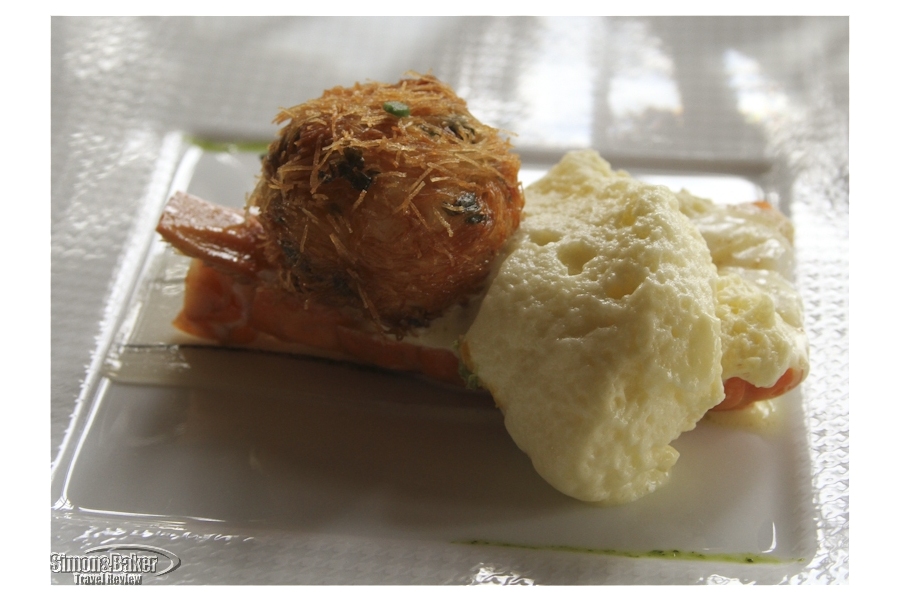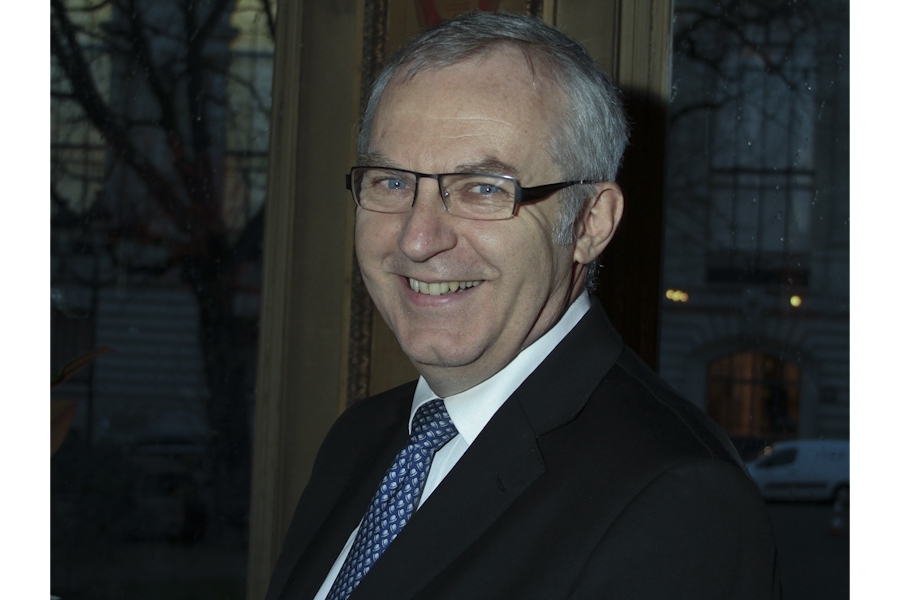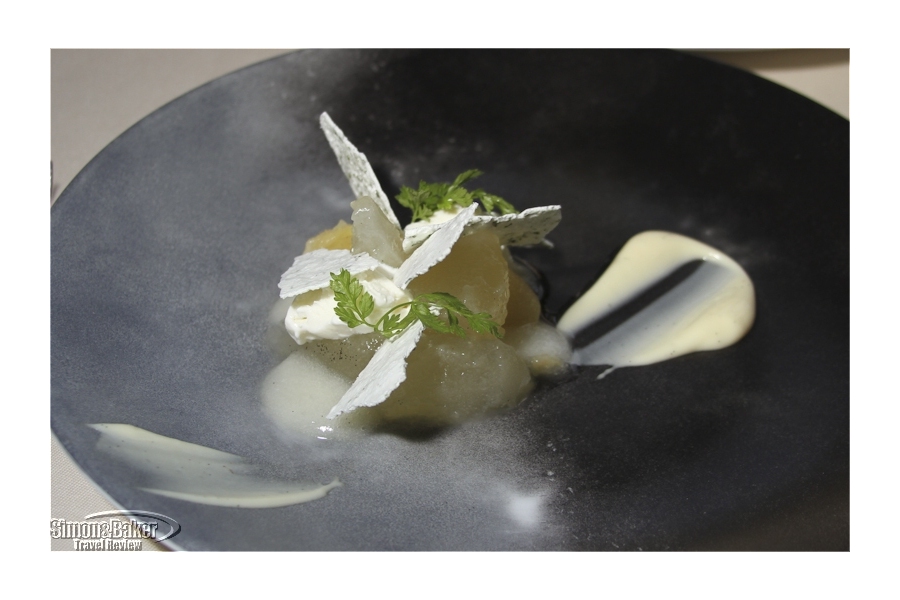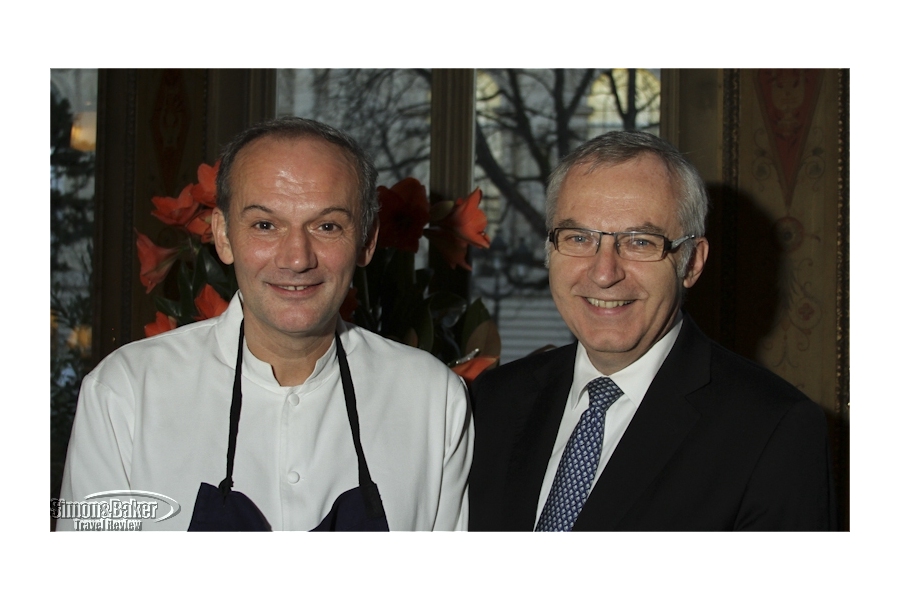 Congratulations to the chef and his team for a stellar fine dining experience with gourmet dining bells and understated whistles.
Overall Impression
Over time this restaurant in a wonderful location a step off of the ultra famous Champs Elysees has made loyal fans out of us. A beautiful dining room with an elegant meal service, quiet interior, and attentive and detail oriented service matched the superlative meals prepared by Chef Christian Le Squer. Over the years his Brittany influenced culinary style has remained light, innovative, refined, flavorful and satisfying.
Every time we have dined there we have had an enjoyable experience. We return because of the restaurant's reliable, expertly prepared, pretty and well served meals. On our most recent visit, lunch was outstanding from beginning to end. Every dish was worthy of a sigh of pleasure and overall the occasion was memorable, even compared to previous meals we have had there.
The chef appeared, when we saw him briefly at the end of the meal, in optimum fitness and spirt and his dishes reflected it. From the vintage champagne and bite size morsels at the beginning to the pre-dessert and dessert, ours was a crowd pleaser menu that would draw us back in the future. Congratulations to the chef and his team for a stellar fine dining experience with gourmet dining bells and understated whistles.
About The Executive Chef
A native of Brittany, Chef Le Squer discovered his passion for cooking at the tender age of 14. Prior to working at Ledoyen, he worked at Taillevent, Lucas Carton, L'Espadon, and Opera at Le Grand Hôtel.
Chef Romain Mauduit
Executive Chef Christian Le Squer
Handicapped Access The only access to the second floor dining room we saw was up a staircase.
Head Sommelier Vincent Javaux
Location On a side street perpendicular to the Champs Elysees across the street from the Petit Palais.
Managed Groupe Epicure
Opened-Renovated Established in 1792 by Pierre Ledoyen, the restaurant's most recent renovation was of the Offenbach meeting room on the ground floor and three small meeting rooms on the first floor, Les Cariatides.
Owned The city of Paris owns the building and leased it to Groupe Epicure
Pastry Chef Nicolas Gras
Restaurant Manager Patrick Simiand who had worked with the chef for 20 years including 10 years at the current location. We suspect his welcoming and discreet style and close collaboration with the chef and his staff are part of the restaurant's formula for success.
Size The restaurant dining room could accommodate 45 guests in 120 square meters of space (approximately 1,200 square feet). The building had 1,000 square meters of indoor space including 10 meeting rooms with capacity ranging between 15 and 300. Forty staff members worked at the restaurant.
Type Of Restaurant Classic French cuisine with contemporary touches
DÉCor-Ambiance The venue appeared festive and not just because we were there during the end of year holidays. The elegant Napoleon III historical monument style, oversize windows, light filled rooms, views of the surroundings, including from certain areas of the dining room a view of the Champs Elysees and the adjacent Petit Palais, and spacious interior combined to elevate the setting. Myriad items enhanced the impression such as pretty orange flowers on our table, designer silverware by Pierre Neurgey, embroidered napkins, Bernardaud dinnerware and glassware. Oversize paintings on the walls contrasted with the greenery and historic setting outdoors. Tables set at a discreet distance created an intimate ambiance and fostered private conversations. We were able to place small handheld items at table side stools.
Cellars Wine And Alcoholic Beverage Selection
The restaurant was home to 25,000 bottles and 2,000 labels of wine. The French wine oriented menu was impressive. Prices tended toward the high range although there were ample options. For example, the most affordable champagne listed cost 85 euros and the priciest cost 1,200 euros. The wine list was prepared by Dumas Clements, Julien Touitou, and Vedani Robin.
Special Menus There was a three course fixed price lunch menu for 105 euros. The restaurant offered a three-course set price menu for 250 euros and 350 euros with wine.
Meal
The restaurant had a new champagne cart with five varieties of the chilled bubbly on offer. The young man who rolled the trolley to our table recommended the 2003 Dom Pérignon. We followed his suggestion. To keep entertained while the meal proper arrived the chef sent several pre-appetizers: ginger bubble, parmesan (cheese) puff, squid, and pizza puff with mushroom. Cereal, olive oil and baguette breads were on offer from a bread basket and there was salted butter on the table.
Lunch with wine pairings consisted of: Purée de celeri rave, vinaigrette cacaottée en mise en Bouche (celery mash with cocoa vinegar); Givré d'Oursins de roche au gout iodé/végétal (frozen foam of sea urchin with pureed guacamole and cauliflower foam made with seaweed and sparkling water, one of our favorite sea urchin dishes of the many we have tasted); Truffe Blanche Ravioles a la farine de Chataigne oeuf mollet (a wide ribbon tagliatelle pasta made with chestnut flour, a soft fried egg, ricotta parmesan cream sauce, baby spinach garnish and perfumed white truffle shavings; our server explained the white truffles only last four days because they lose two grams of their weight per day); Grosses Langoustines Bretonnes Croustillanes, Emulsion d'agrumes a l'Huile d'Olives (royal langoustines from Brittany with an orange, grapefruit and lemon foam which dissolved atop the hot seafood, one of three house specialties and for good reason) that were perfectly cooked and melted in our mouths; fantastic Bar Caviar au lait ribot de mon enfance (sea bass cooked in ribot milk, a fermented milk from Brittany, served with Chinese caviar and chervil root); Spaghetti, Jambon "Tartuffi di Alba" (a divinely meaty spaghetti rectangle constructed of pasta, ham and white truffle sauce); and Fromages de notre Maitre Fromager (a cheese selection from the restaurant's cheese cart). We had Epoisse and Roquefort cheeses. We appreciated the server's willingness to describe the cheeses and make recommendations. Special breads were on offer to accompany our cheese course. A raisin and fig bread for the Roquefort and a nut bread for the Epoisse.
Pre-dessert was Croquant de Pamplemousse cuit et cru (a crunchy cooked and raw bittersweet grapefruit rectangle). There were two dessert dishes, Poire Comice et cerfeuil tubéreux, relevée de yaourt grec glacé (pear with iced Greek yogurt fragments and vanilla cream with well liked chervil merengue); and Caramel a la fleur de sel, Givré de Citron . Sweet post dessert bites, including macarons, were pinned onto a large merengue base with pineapple center. The final item to arrive was a fluffy, lightly salty very flaky pastry from Brittany.
The following wines were paired to accompany our meal: 2009 Puligny-Montrachet Domaine Louis Carillon, 2008 Pessac-Leognan Chateau Les Carmes de Haut-Brion, 1995 Pineau des Charentes Chateau de Beaulon, 2005 Porto LBV Quinta de Noval, and 1978 Barsac Chateau Coutet.
Date Of Most Recent Review
December 2012
Reviewers Article by Elena del Valle
Photos by Gary Cox
Service Patrick Simiand led a team of attentive staff that ensured our meal progressed at an ideal pace. From refilling glasses to replacing napkins we never wanted for anything. Baudoin Arnauld, our English speaking server from Alsace, stood out for his pleasant demeanor.
Would You Dine There Again-Recommend It? Yes
Contact Information
Pavillon Ledoyen
1, avenue Dutuit
Carré des Champs Elysees
75008, Paris
Phone:
Fax:
Website: