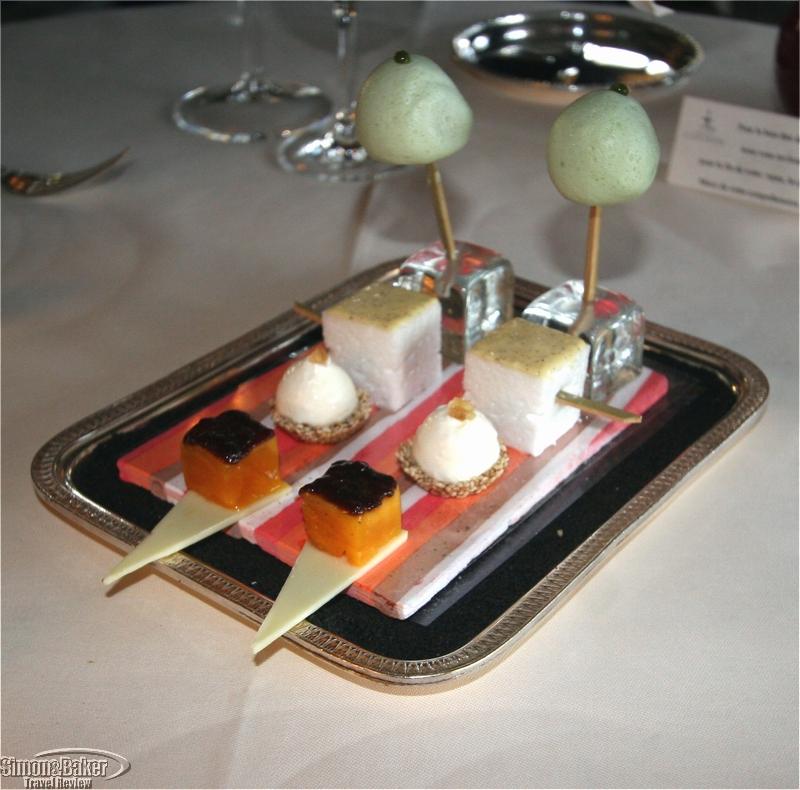 The historic sunlit dining room with a view of the Champs Elysees, polite chef who greeted guests at their tables at the end of the meal, convenient location, and well prepared gourmet meals once again made our visit to Ledoyen worth repeating.
Our most recent review can be found
here.
Overall Impression
Just steps from the Petit Palais and the Champs Elysees Ledoyen was a world away from the everyday. After we surrendered our winter coats with the reception staff we were escorted up one flight of stairs to the restaurant's spacious dining room. A few moments later we were comfortably seated at a corner table and gazing at the Champs through one of the many windows of the handsome salon.
After browsing through the menu, we placed our trust in Chef Christian Le Squer and the sommelier to match the meal with surprise wine selections. Chef Le Squer's tasting menu that day included bold flavors and contrasts like sea urchin and avocado as well as eel and beetroot. At the same time, there were delicate dishes like gnocchi with white truffles and turbot with truffles.
The historic sunlit dining room with a view of the Champs Elysees, polite chef who greeted guests at their tables at the end of the meal, convenient location, and well prepared gourmet meals once again made our visit to Ledoyen worth repeating.
About The Executive Chef
A native of Britanny, Chef Le Squer discovered his passion for cooking at the tender age of 14. Prior to working at Ledoyen, he worked at Taillevent, Lucas Carton, L'Espadon, the restaurant at The Ritz, and Opera at Le Grand Hôtel.
Chef Philippe Bodier
Executive Chef Christian Le Squer
Handicapped Access Guests that are not ambulatory may have a difficult time. The dining room is on the second floor and the only access is through a staircase.
Head Sommelier Géraud Tournier
Location Off the Champs Elysees across the street from the Petit Palais
Managed Groupe Epicure
Opened-Renovated Established in 1792 by Pierre Ledoyen, the most recent renovation was of the Offenbach meeting room on the ground floor and three small meeting rooms on the first floor, Les Cariatides.
Owned The city of Paris owns the building and leased it to Groupe Epicure
Pastry Chef Nicolas Gras
Restaurant Manager Patrick Simiand
Size The restaurant dining room could accommodate 45 guests in 120 square meters of space (approximately 1,200 square feet). The building had 1,000 square meters of indoor space including 10 meeting rooms with capacity ranging between 15 and 300. Forty staff members worked at the restaurant.
Type Of Restaurant Classic French cuisine with contemporary touches
DÉCor-Ambiance The décor of the restaurant was historical monument style. Huge paintings hung on the walls while large windows filled the classically decorated dining room with winter light and provided an alluring view of the nearby Champs Elysees area. Tables were set at a discreet distance allowing us a perfectly private conversation. We sat on armless striped chairs at a table for two. Striking hibiscus flowers were the centerpiece of our table.
Cellars Wine And Alcoholic Beverage Selection
We were offered an impressive wine list. Prices, not for the timid or budget conscious, were on the high range although there were plenty of options.
Special Menus There was a three course fixed price lunch menu for 88 euros. In the evening the restaurant offered a set price menu for 199 euros (289 euros with wine).
Meal
With a chilled glass of champagne in hand we perused the menu and decided to try the fall tasting menu. Our
amuse
bouche
bites arrived shortly after our arrival. They came in a variety of flavors:
langoustine
, an almost liquid mozzarella cheese, samosas, beetroot as well as cheese and olive chips. We had a choice of four types of bread: cereal, baguette, shrimp and bacon bits.
Our first course, Saveurs " terre et rivière," was a sea urchin and avocado dish. It was followed by gnocchi with white Alba truffles. It was the lightest least like gnocchi dish I've had the pleasure to sample, Truffe blanche d'Alba, gnocchis légères, eau de Parmesan. Then there was beetroot and eel. We also tried two of Chef Le Squer's specialties: Blanc de turbot de ligne juste braise, pommes rates Truffées , a delicious turbot with a black truffle emulsion; and a French favorite sweetbreads, Ris de veau en brochette de bois de citronnelle rissole, jus d'herbes . Although sweetbreads are something I usually run away from these were delicate and perfectly flavored; the best I've tasted. My companion that day, who loves sweetbreads in any shape or form, concurred with my assessment.
For dessert we sampled three items: Levure glacée, rape de chocolat blanc et d'amande , a meringue, white chocolate and almond dish; Millefeuille tout chocolat, lait de pistache glace , a pastry filled with chocolate and an iced pistachio side; and a house specialty of Croquant de pamplemousse cuit et cru au citron vert , a cooked and raw grapefruit and lime sweet palate cleanser. There were also absolutely moist and perfect cannelés as well.
Wines, selected by the wine steward to match the chef's tasting selection, were: Cotes du Roussillon "Terres Nouvelles" 2006 Préceptorie de Centernach; Condrieu "La Laye" 2006 Domaine Gerin; Meursault "La Riots" 2005 Domaine Ballot-Millot; Gevrey Chambertain 2004 Domaine Boisset; and Pressurage de Novembre 2003 Domaine Charlin.
Other
We noticed the little touches that elevate a special place to one worth remembering. One of these was the handbag stool for women diners. The classic designed cutlery made of silver and the beautiful gold and beige dinnerware with an "L" (for Ledoyen we imagined) also caught our eyes.
In addition to the main dining room, there were a number of meeting rooms for special events and meeting: Les Cariatides, Le Cercle, Offenbach, Cocteau and Les Litteraires. The last one was named for the former regulars who frequented it: George Sand, Guy de Maupaassant, Gustave Flaubert and Anatole France.
Date Of Most Recent Review
December 2007
Reviewers Article by Elena del Valle
Photos by Gary Cox
Service Staff were efficient and serious about their work. They made sure everything was placed just right on the table, including the positioning of the plates with the "L" on the top facing each diner.
Would You Dine There Again-Recommend It? Yes
Contact Information
Address:
Pavillon Ledoyen
1, avenue Dutuit
Carré des Champs Elysees
75008, Paris
Phone:
Fax:
Website: