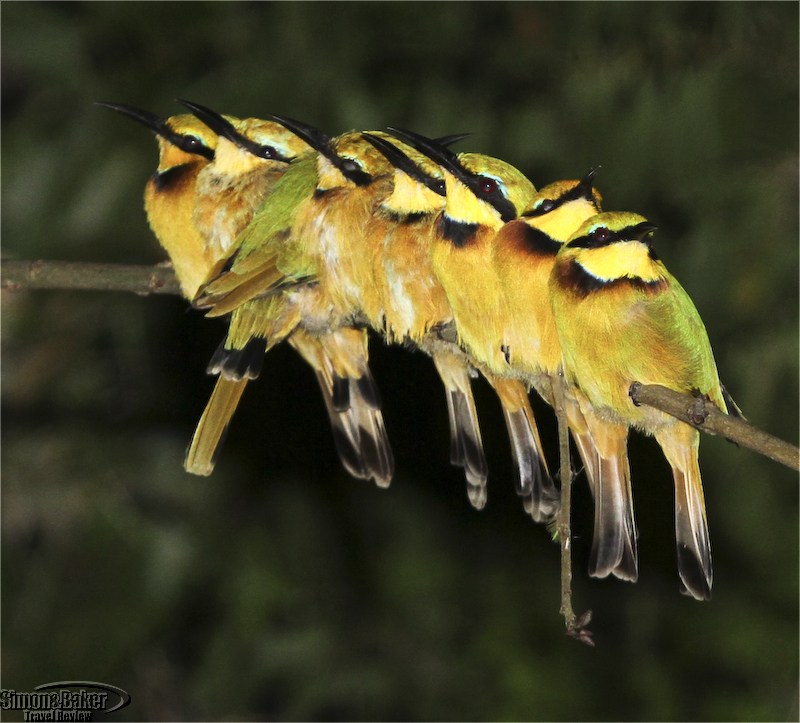 Our stay was outstanding and we will strive to return at the next opportunity.
Overall Impression
Named for two leadwood trees that frame the arrival area of the property, the &Beyond Leadwood Lodge was a quiet Big Five safari haven when we arrived. We were delighted to be the sole guests at the four room lodge for the first night. Kelli, the lodge manager, and Martha, our butler, greeted us warmly as we disembarked from our vehicle. Martha offered us lemongrass scented refresher towels and sparkling iced lemonade. After sharing information about the property and providing us with the obligatory indemnity form Kelli walked us to our river facing rooms with private plunge pools just steps away from the main building.
A few minutes later I was comfortably seated in the main deck of the lodge looking out onto the Sand River. It felt briefly as if I had the lodge to myself. While I connected to the internet a troupe of vervet monkeys came by the area. They swung from a large jackalberry tree that was adjacent to the deck and ran playfully around the deck, roof and railings with the ease of the natural acrobats that they are, providing me close up views for a few minutes. A short while later a group of nyala (antelopes) strolled by the river bed and male bushbucks engaged in mild confrontations on the far rocks just in front of the river, providing me an impromptu private spectacle. Soon it was time for lunch. My travel partner and I enjoyed a yummy cold meal on the upper deck under the shade of the jackalberry tree facing the river bed. That became our favorite dining location.
The following days passed by much too quickly. We divided our time between early morning and late afternoon game drives, meals and sleep. In between I managed to check on emails twice, enjoy time in my spacious and luxurious Suite, take a dip in my private pool and enjoy the company, from a distance, of some of the animals that made their way across the dry river bed.
Game viewing times were fun and exciting. Mac, our guide, was knowledgeable and adjusted easily to guest preferences and bush conditions. During our visit we saw four of the Big Five as well as many birds, other game and bush attractions including the best butterfly sightings we have had on safari.
Leadwood quickly became a favorite lodge for us thanks to its intimate ambiance, savory meals, pretty view of the Sand River, service oriented and friendly staff, handsome and spacious rooms with private pools and rewarding game viewing. Our stay was outstanding and we will strive to return at the next opportunity.
Children
Only families that booked the entire property for private use were welcome to bring their children. With advance notice services for children such as babysitting as well as baking and bush activities were available.
Class Of Accommodation Luxury safari lodge
Connectivity There was WiFi connectivity via a satellite in the main building of the lodge. During our stay I was able to check emails with relative ease using my iPad.
General Manager Kelli Ryder
Handicapped Access The property had a ramp in the main area which staff believed a wheelchair bound person could use. The pathways to the rooms were paved and level, making access to the rooms easy. The 125 square meter rooms were spacious, making movement with a wheelchair possible.
Length Of Stay Two nights
Location Within the Leadwood Reserve in the western Sabi Sand Reserve at the intersection of the Mabraak and Sand rivers in South Africa.
Managed &Beyond starting in 2006
Owned Stephen Saad
Pets Allowed No
Size Seventeen people worked at the 1,150 hectare reserve with four spacious rooms and traversing access to 10,000 hectares.
Year Opened-Renovated The property dated from the late 1990s. The current owner purchased the property in 2003. At that time he completely razed the existing buildings and built luxury suites.
Lobby And Common Areas
The decorative style of the lodge was Modern Contemporary Africa Chic. The main area was partially open (it had a roof) housing sitting and dining space, public restrooms and a
boma
. A short brick paved pathway led us from the parking area to the partially open main area of the lodge. Soaring thatched roofs, stone walls and rectangular shapes provided the backdrop while river and bush views were the main attraction. Three of the property's four rooms were to the right of the main building and the remaining room was to the left. Half a dozen wood steps down from the entrance to the main building there was a large sitting area, partly under thatch and partly open to the sky, with a view of the river in the foreground and the bush in the background. The sitting area was populated with comfortable furniture; to the right there were two beige and one brown sofas with cushions. Next to them there were two green plaid armchairs next to a stone wall and a fireplace. On the other side of the terrace, partly open, there was a set of wicker furniture with green and brown leaf design cushions set around a rectangular coffee table and facing the bush; it was my favorite area in the early afternoon before the punishing sun hit that part of the deck. A ceiling fan and multilevel metal lamps hung from a high ceiling. African decorative pieces were strewn about the room. A doorless hallway led to a second room with an infinity edge narrow pool where we once enjoyed breakfast. Near the entrance to the room there were two cabinets filled with items for purchase.
Two sets of short stairs and a ramp led back up from the wood deck to a dining area with a rectangular table and ten cushioned armchairs in front of a small fireplace. Past the dining area there were two common area bathrooms. From the entrance a second set of six wood steps led to an open hallway with railing on one side, hugging the stone wall and a bookshelf in the middle. At the end of the hallway there was an elevated wood deck surrounding a large jackalberry tree and facing the river and bush beyond it. This was our favorite dining place.
Bathroom A doorless bathroom occupied the rear corner of the suite. I liked that from every area of the bathroom there was a bush view of some kind. Even in the water closet there was a small window. The center of the bathroom was taken up by a tin enveloped bathtub. Across from the bathtub against the stone wall there was a beige bench. Against the wall a built-in wood cabinet was home to twin square sinks below a rectangular mirror and two bush facing walls. A platter on top of the cabinet held bottled water for oral hygiene (the tap water was not potable), a glass, body lotion, soap suds and a vanity mirror. There were pool towels and floor mats beneath the cabinet. Behind a partial glass door, there was a shower facing the pool deck. Next to the bathtub and in the shower the floor was of pebbled stones (not the most comfortable to stand on). Bath towels hung on a wood rack next to the shower. Heavy sliding glass doors led onto the pool deck and outdoor shower where there was a metal soap holder. It was necessary to carry the glass bottles of shampoo, body scrub and conditioner onto the deck. I placed them on the back of the lounge chair while I showered then carried them back into the bathroom.
Rooms
We stayed in Suite 2 and Suite 3, each one a stand alone bush facing 125 square meter (with terrace) building with a wood facade and a thatched roof. Suite 2 was right next to the main building and Suite 3 was next to Suite 2. Although the two were similar to each other there were slight differences between them. Suite 2 was ideal for quick access to the main building and to the parking area where the game viewing vehicle picked us up. Suite 3, while a little further from the main area, was very quiet and private. I was happy to walk the extra steps in exchange for added privacy and quiet although the property was very quiet during our stay; even when a new couple arrived on our second day. The spacious rooms were furnished comfortably and full of amenities to make the stay pleasant. If I had had to spend the day in my Suite for any reason I would have been perfectly happy to do so. Both rooms were divided into three distinct indoor areas, a living space near the entrance, a sleeping area and a bathroom. My favorite features were the private pool; and floor to ceiling glass windows and sliding glass doors in all areas including the bathroom that provided ample deck and bush views.
To reach our rooms we followed the brick pathway. Inside it smelled of furniture polish. A wood door at the entrance led to a sitting area with a built-in wood desk and armless chair, book case and table top that occupied the left side of the room. A minibar was on the right side and a box filled with informational brochures took up space on the tabletop below the bookshelves.
In the back of the room there was a small round table, wicker sofa and footstool that faced the bush. A rectangular wood table leaned against the sofa and held African artwork as well as a handwritten welcome note and a small bowl of marshmallows. The marshmallows in Suite 2 were victims of an unidentified visitor who nibbled on them and stashed them between pillows on the sofa, a gentle reminder that while everything was comfortable and luxurious we were in the African bush. We laughed about it and refrained from eating the leftover marshmallows.
To the right was the bedroom where a king bed against a leather and wood framed headboard leaned against a partial wall. On the bed there were synthetic pillows and a blanket. Five gold and green pillows were set against the bed pillows and a throw was at the foot of the bed. There was a round wood table on one side and a square night table with drawers and a phone on the other. Wall lamps framed the bed. Above the bed there were three dark brown and beige bowls hanging on the wall. On either side of the bed there was a rectangular rug. Behind the bed there was an open dressing space with a rectangular table and across from it a large built-in concrete luggage area. To the right and in the corner, double wood doors opened onto a closet with hanging space, shelves and an electronic safe.
The décor focused on bush views, natural colors and African accents. Highlights included glass doors and large windows, blonde wood floors in the sitting room, stone walls, thatched roof, polished concrete floors with wood accents, and pebble stone accents. There were two shell bowls at the table at the entrance; and square metal decorative items on the wall similar to the lamp shades in the main building. Thick floor to ceiling beige curtains covered glass and wood windows and sliding glass doors which had to be kept closed and locked at all times to keep out aggressive monkeys and baboons. There were sliding glass doors in the sitting room, bedroom (two) and bathroom.
A wood deck wrapped around part of the room, offering views of the bush and the Sand River. A wood table and two armchairs with cushions occupied a corner of the deck in front of the bed. Around the corner there was a rectangular swimming pool and two lounge chairs (the cushions remained inside the room until needed to keep them away from the monkeys and baboons) as well as an outdoor shower area.
Air conditioning and fans made it possible to control the room temperature. The room was quiet, especially when I switched off the air conditioner, allowing me to hear the birdsong and bush sounds.
Meals
At Leadwood wake up was at 5 a.m. A few minutes later hot beverages with rusks (a South African crunchy pastry) were brought to our rooms. Departure for the morning game drive was at 5:30 a.m. When we were alone we had flexibility on the activity times (game drives and meals); we stuck by the usual schedule for the sake of convenience and familiarity. By the time we returned from the morning drive, around 8:30 a.m. or 9 a.m., we were ready for breakfast. We had lunch at around 1:30 p.m. and "tea" at 4 p.m. It was too hot for hot beverages so we opted for iced drinks and the day's sweet on offer. The afternoon game drive followed tea at about 4:30 p.m. and dinner followed the afternoon game drive.
Our first day for lunch we had beef kebabs, corn and black bean salad, lettuce, eggplant salad, zucchini and mozzarella salad. There was pineapple for dessert. At tea there was a lovely frosted lemon cake.
Lunch the next day was a medley of cold salads and cold roast barbecue ribs. For tea there were almond muffins, lemonade, iced coffee and tea. During the drive we had beverages and popcorn, dry sausage and corn nuts. For dinner, the chef came out to share the menu: two options for starters, prawns or corn soup (we had the corn soup which was rather spicy though nice); and for mains the options were pork cutlets or beef curry. We chose the beef curry which was good with basmati rice and papadam bread and baby corn. Dessert was a chocolate brownie and vanilla ice cream. On our return from the evening drive there was an unexpected stop at a "fudge tree" lit by several gas lanterns. In the fork of the tree there was a platter with two glasses of Amarula liqueur and two small gift boxes with fudge inside (the staff had heard from the staff at the previous lodge that I like fudge). It was a lovely surprise.
On our return from the game drive in the morning Kelli was waiting for us with two glasses of delicious mixed fruit smoothie. Breakfast was served by the pool. There was a platter with bowls of whole fruit, sliced fruit (papaya, gooseberries, watermelon, pineapple and mango), a decorative pineapple with fruit kabobs, natural yogurt, and several types of cereal. There were slices of salami on a cutting board and a large slice of cheddar cheese. On the table, there were two pitchers of juice, tomatoes and rock salt on a cutting board, vanilla muffins in a basket and hot toast. It was also possible to order eggs and sides. We had an omelet with mushrooms and bacon.
For dinner Sunday night we had potato and leek soup (there was also Caesar salad) ostrich with juniper sauce (or stuffed chicken breast with olive, sun dried tomatoes and feta cheese). For dessert we had yummy poached pear and cream cheese.
Amenities
There were cotton bathrobes, Africa Touch toiletries (soap, shampoo, conditioner, body gel, bath oil, body scrub, soap suds), shower caps, tissues, a vanity set and a hair dryer. There was complimentary laundry and complimentary beverages in a minibar including bottled water as well as house wines.
Facilities There was a dining area, a main sitting area, an upper deck dinning area, and a decorative pool in the main building that looked similar in size to our private pools. There was also a boma (African style outdoor dining enclosure).
Massages On request a masseuse was available for aromatherapy, back and neck and Swedish massages. The massage services were provided by Massage Corporation Africa (MCA ), owned by Jessica Linley who trained her staff. The masseuse was fully booked when I attempted to schedule a massage.
Game Viewing
"Mac" Andre McDonald, our ranger, and Colbert Lingwati, our tracker, were in charge of our game viewing. En route to the famed Big Five Mac found plenty of time for photography and opportunities to show us many other wildlife treasures, making our drives especially diverse and rewarding.
We drove around in a comfortable Toyota Land Cruiser with an audible radio for about six hours each day, once in the morning and once in the afternoon, in search of bush experiences including animal or bird sightings. The vehicle had a metal frame over the rear seats where a canvas top could be added in case of inclement weather. We came to dislike the metal frame because at times it interfered with game viewing and photography (and it was quite easy to bump against it when climbing on board); we never had a top on it. Although at Leadwood the maximum number of guests per vehicle was eight there were only four of us during our visit. Guests wanting a private vehicle needed to request it in advance.
There were booklets in our suite such as Game Plan (28 pages) and Winging It Introduction to Birding (33 pages) with information about the area of the Sabi Sand Reserve we were in, the flora, fauna; and check lists that made it easy to keep track of the animals and birds we saw (or heard) during our twice daily game viewing drives.
Trees and shrubs our guide pointed out: Red thorn, scented thorn, leadwood, green monkey orange.
Animals we saw during our stay: Vervet monkeys, tree squirrel, leopard, lion, dwarf mongoose, buffalo, bushbuck, giraffe, hippopotamus, impala, nyala, rhinocerus, warthog, wildebeest, zebra, marsh terrapin, leopard tortoise, Nile crocodile, tree agama, and flap-necked chameleon. Exceptionally, we also saw and Mac identified a number of butterflies: dark veined, monarch, yellow pansy, foxy charaxes, pearl as well as a few insects like the golden orb spider, bark spider, and giant twig wilter.
Birds we saw or heard: hamerkop, African white-backed vulture, hooded vulture, Wahlberg's eagle, brown snake-eagle, Swainson's francolin, Natal spurfowl, blacksmith lapwing, crowned lapwing, greenshank, wood sandpiper, African green pigeon, emerald-spotted dove, purple-crested turaco, grey go-away-bird, Burchell's coucal, Verreaux's eagle owl, red-faced mousebird, woodland kingfisher, Eurasian bee-eater, southern carmine bee-eater, little bee-eater, Eurasian roller, lilac-breasted roller, red-billed hornbill, southern yellow-billed hornbill, crested barbet, Bennett's woodpecker, African pied wagtail, white-browed scrub-robin, spotted flycatcher, southern black flycatcher, chin-spot batis, rattling cisticola, southern black tit, magpie shrike, lesser grey shrike, grey-headed bushshrike, fork-ailed drongo, greater blue-eared starling, Burchell's starling, wattled starling, red-billed oxpecker, blue waxbill, and bronze manikin.
Art At Leadwood Mac, our ranger, drew beautiful detailed sketches, in black and white, of some of the animals in the reserve. Kerri, the assistant manager, drew sketches and painted watercolors of different types. Gift, who worked in the kitchen, made simple necklaces with recycled materials. All three showed (and sold) their artwork to guests on request.
Conservation
According to the property manager, Leadwood and its sister property Exeter are actively involved in the communities surrounding the Sabi Sands. One of the programs invites interested guests to support a local child's wildlife education buy purchasing a Wildchild Bracelet. The monies from the bracelet are used to bring a child from the local community to experience a day in the Sabi Sands Reserve; during that day the children who participate are taken out on a game drive and taught interesting facts about the wildlife, and have lunch at the lodge before departing. Leadwood also takes interested guests into the area villages to learn about the different community projects the lodges are involved with, meet children and teachers and see the progress of existing projects such as building classrooms, cloakrooms and a kitchen for a preschool, computer center and library development, providing ablution capability for several schools, providing tertiary education funding, establishing water tanks, planting vegetable gardens, and supplying the means to access water for hundreds of people in the Huntington community.
The lodges were involved in local community projects to recycle food, recycle glass, plastic and cardboard, feed animals, install solar heaters in staff areas, recycle water in stages, and measure resource consumption. The &Beyond Foundation worked with local organizations to support local villages via labor, tools and materials; and to provide conservation lessons for the children.
Other Because the property was completely open (without fences), in the evening we had to be escorted to our rooms and back to dinner by the security staff. The source of water at the lodge was a borehole. I sent laundry out one afternoon and it returned laundered the following afternoon.
Cleanliness
Excellent
Date Of Review March 2011
Reviewers Article by Elena del Valle
Photographs by Gary Cox
Service In addition to our ranger and tracker the staff members we met were Kelli, Kerry, Robert, Martha and Gift. They, especially Kelli and Kerry, were guest centered and welcoming.
Would You Stay There Again? Yes
Contact Information
Address:
Sabi Sand Game Reserve
Private Bag X27
Benmore, 2010
South Africa
Phone:
Website:
http://www.andbeyondafrica.com/luxury_safari/south_africa/sabi_sand_game_reserve/and_beyond_leadwood
Email: