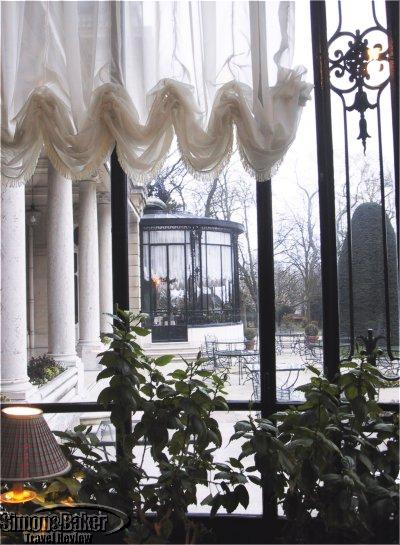 We look forward to future journeys of discovery in the culinary company of the restaurant's enthusiastic chef and his talented team.
Overall Impression
We rode the train from Paris to Reims on a cold winter Monday, found a taxi easily and dashed from the train station on a speedy cab to Les Crayeres to make up for the 20 minute delay in the train schedule. This delay caused us to arrive later than we had planned at the restaurant (1:45 p.m.). In spite of our late entrance, the staff were awaiting our arrival and welcomed us warmly.
Inside the former castle, two staff members looked after us, taking our coats and walking us over to a charming glass enclosed terrace salon, a favorite place for pre and post meal drinks. Although it was overcast and gray outside, we could imagine how beautiful the salon must be in warm weather when the gardens are green and the flowers in bloom. There we enjoyed an aperitif and pre-appetizers, perused the menus and had an opportunity to chat with Les Crayeres' young chef, Didier Elena, who helped us with our meal selections. From there we walked a short distance to an agreeable wood paneled dining room, where we shared the salon with the handful of diners that remained.
Lunch was a pleasant affair with each course building on the previous one in a subtle crescendo of flavors. We started with samplings of jumbo shrimp and duck foie gras featuring various flavor combinations; moving on to delicately prepared fish and hearty meat dishes. From appetizers to dessert, the staff were attentive and service oriented. At our request, assistant wine steward Bruno Severs paired the meal with well rounded wines. The cheese tray provided us with a few regional choices and some seasonal options like a creamy and delicious eppoise. The meal was so pleasant we forgot to look at our watches. Before we knew it, the time was near for our departure back to Paris. With the help of the restaurant staff we arrived in time to catch our return train.
Just as the first time we went to the Champagne estate, our visit to Les Crayeres was worth the two hour (each way) train ride from Paris. We look forward to future journeys of discovery in the culinary company of the restaurant's enthusiastic chef and his talented team.
Chef De Cuisine
Frédéric Guilland
Established The restaurant was established in 1983 although the castle was built in 1904
Executive Chef Didier Elena
Getting There Our options visiting from Paris were limited. Train schedules offered early or late morning choices. We opted for a train because we didn't want to drive back to Paris after a large meal with wine or champagne. Between ticket purchases and travel time to and from the train stations in both cities, our excursion and lunch consumed the better part of our day (from 10:15 a.m. to 7: 30 p.m. door to door).
Handicapped Access Yes
Head Sommelier Philippe Jamesse, Bruno Severs looked after us the day we visited Les Crayeres
Location in central Reims, Champagne. Abour 135 kms east of Paris
Managing Director The young Fabrice Mercier wishes Les Crayeres guests find "A place where time stops, la detente " during their visit there. A graduate of the hotel and catering college of Saint Nazaire, he started his career at the Relais et Chateaux Le Prieuré next to Saumur.
Owned Xavier Gardinier
Pastry chef Sébastien Leproux
Restaurant Manager Pascale Lavallee
Size There was space for 80 guests
Type Of Restaurant French
About The Executive Chef
Didier Elena arrived at Les Crayeres in January 2005 after four years heading the restaurant at the Essex House, Alain Ducasse' restaurant in New York City. Prior to joining the New York restaurant, Chef Elena worked with Alain Ducasse beginning in 1988 at "Louis XV" in Monaco. He then worked in several establishments and opened his own restaurant. He assisted Alain Ducasse in the writing of several books including
Flavors
of France
,
Artisan
,
Tradition Evolution
(Minerva, 1998);
La Bonne Cuisine de Françoise Bernard et Alain Ducasse
, (Hachette, 1999),
L'Atelier
d'Alain Ducasse
(Hachette, 1998),
Le Grand Livre de Cuisine
, Alain Ducasse edition, 2000.
His cooking philosophy emphasizes the products from which the meal is born. He describes his cuisine as rectangular which thrives on bold flavours and unorthodox combinations instead of the traditional circular style based on the stacking principle. He aims to juxtapose two ingredients in each dish, the main ingredient and the garnish with each having the same importance and creating a tension of flavors. Sometimes he includes a "link element" to breech the distance between the ingredient contrasts.
DÉCor-Ambiance Classical based on interior designer Pierre Yves Rochon, who has been the designer since the restaurant opened. There were fabrics by Frey, Rubelli, Canovs, and Lelievre. There were exciting plans for a major renovation of the dining salons and kitchen.
Cellars Wine And Alcoholic Beverage Selection
The castle's cellars were home to some 55,000 bottles of wine including a great selection of champagne and wines from Bordeaux, Burgundy and Rhone.
Meal Light amouse bouche pre-appetizer morsels, some with a liquid center, accompanied our accompanied by chamagne Philipponnat "Reserve Rosé," aperitifs. Appetizers were themed around jumbo shrimp or duck liver: Foie Gras de canard/champignons blancs/truffe noire/vin d'orange and Langoustine Royale en chaud et froid, nage coraille, noix, pistache, amande with a glass of champagne Philipponnat "Clos des Goisses" 1992. We especially liked the black truffle duck liver morsels and the tender pasta wrapped shrimp.
Next we had fish: Sole de petit bateau au beurre citron, poireaux, truffes "sauce oeuf coque" and Turbo de Bretagne a blanc, rehaussé de poivres, pommes a pomme aux échalotes . Each of these was light and well prepared and tasted especially well in the company of the fragrant Chassagne Montrachet 1 er Cru Morgeots Michel Colin Deleger et Fils 1999. The next course was Piece de Veau soubise, garniture d'une financier, blettes fondantes and Dos de Chevreuil, frotté de genièvre, salsifis, potiron, endive sauce poivrade. A glass of Frank Phélan Saint Estephe 1999 went well with the meats and cheeses. We cleansed our palates with a cheese course then moved on to desserts: Mandarine en superposition, riz au lait a l'impératrice et riz soufflé accompanied by a Jurançon Noblesse du Temps 2001 Domaine Cauhapé and Cocktail de goût choco/marron, moelleux croustillan Banyuls Gran Cru Domaine de Baillaury 1997.
This was accompanied by chamagne Philipponnat "Reserve Rosé," champagne Philipponnat "Clos des Goisses" 1992,
Special Menus La Fameuse Truffe en Croute; business lunch menu (Monday-Friday only) for 65 euros excluding wine; and tasting menu for about 210 euros per person including wine and service.
Other
When we were there, the restaurant purchased butter from St. Malo and cheese from three suppliers: a local supplier, a goat cheese vendor, and a third supplier for special cheeses.
Les Crayeres, located on a seven hectare estate housing 27 guest rooms, was listed as "Best Dining Experience" in the 2004 Zagat guide.
Date Of Review
December 2005
Reviewers Article and photographs by Elena del Valle
Service The servers were polite, willing to help and efficient in every detail.
Would You Dine There Again-Recommend It? Yes
Contact Information
Address:
64, Boulevard Vasnier
51100 Reims, Champagne
Phone:
Fax:
Website:
Email: