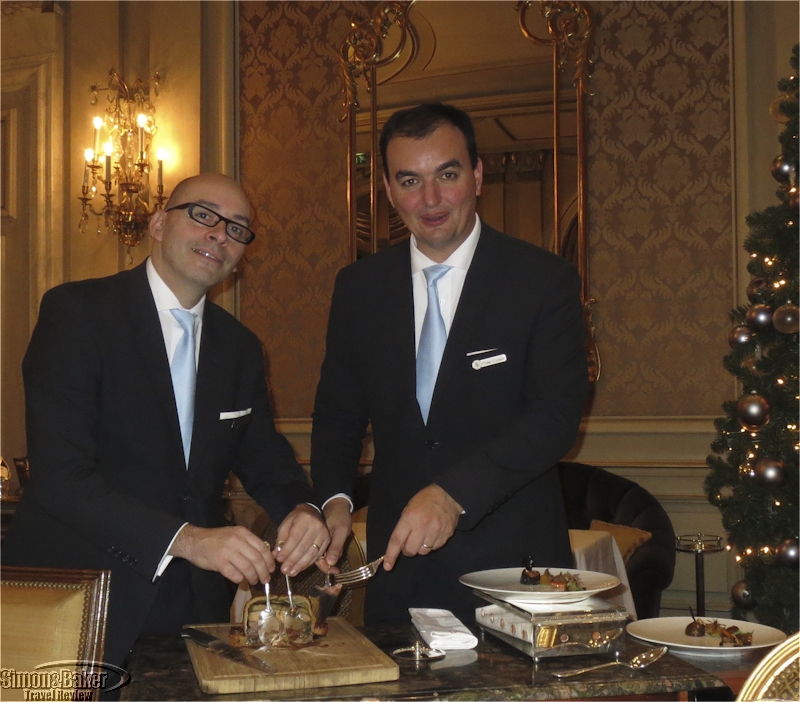 The subtle festive ambiance, exacting warm service and most satisfying meal reminded us why we have been fans of the chef and the restaurant for many years.
Overall Impression
Lunch at this iconic Paris restaurant was, in spite of a near full dining room, excellent. A beautiful setting within an elegant winter light filled salon, attentive staff, and delicious dishes, cooked and presented to their best advantage, combined to leave us glowing with pleasure.
Our sampling of classic seafood favorites of langoustines, lobster and scallops, duck foie gras and a seasonal game pie specialty afforded us a broad range of flavors that remained exciting and vibrant without crossing the "interesting" line. As in the past (even prior to his arrival at Le Cinq), Eric Briffard, the executive chef, delighted us with his fresh tasting and light seafood selections. The subtle festive ambiance, exacting warm service and most satisfying meal reminded us why we have been fans of the chef and the restaurant for many years.
About The Executive Chef
Eric Briffard, originally from Burgundy, began his culinary career with an apprenticeship in 1976 at
Relais Saint-Fiacre
. Five years later, as part of the Compagnonnage he had an opportunity to work with Joël Renty at Hotel Concorde Lafayette, Marc Meneau at
L'Esperance
in
Saint Pere sur Vezelay and Philippe Groult at
Manoir de Paris
.
In 1996, Chef Briffard headed La Regence at the Plaza Athenee Hotel in Paris. In 2002, he went to Les Elysees du Vernet for several years before arriving at Le Cinq. Earlier in his career he was executive chef of the Royal Park Hotel in Tokyo. He was also executive chef at Jamin restaurant in Paris. In 1994, he received the presidential medal for Meilleur Ouvrier (Best Craftsman of France).
About The Manager A native of Brittany, Eric Beaumard was introduced to cooking in 1978 at the age of fourteen. Initially he pursued cuisine as his primary aspiration. Later, the self-taught man changed directions toward a career in wine.
Beginning in 1984, he worked as a sommelier in several restaurants and participated in wine related competitions. In 1987, he joined the two Michelin starred restaurant La Poularde in Montrond-les-Bains in the Loire Valley, France. In 1994, he was named Best Sommelier in Europe at the Ruinart Championships.
At the age of 37, Eric Beaumard moved from the Loire Valley to Paris to join the Four Seasons Hotel George V team. First commissioned as consultant to create the wine cellar, he was then appointed manager of the restaurant.
Chef De Cuisine Alain Davy
Executive Chef Eric Briffard
Handicapped Access The restaurant was on the ground floor. To access the restrooms it was necessary to pass a small staircase.
Head Sommelier Thierry Hamon
Location In the lobby level of the Four Seasons Hotel George V in the eighth arrondissement.
Managed Four Seasons
Manager Eric Beaumard
Opened-Renovated The restaurant opened in 1999, the year of a major restoration of the hotel.
Owned Prince Alwaleed Bin Talal Bin Abdulaziz Al Saud of Saudi Arabia
Pastry Chef Lucien Gautier
Size The 183 square meter restaurant had a staff of 47 and capacity for 50 guests.
Type Of Restaurant Classical French Cuisine
DÉCor-Ambiance
Muted winter sunlight filtered through oversize windows facing the hotel's inner courtyard and a large Christmas tree. The dining room was in a beautiful classic gray and gold large salon decorated by French Architect Pierre Yves Rochon to simulate a French castle. The restaurant was decorated with silver and white holiday accents and distinctive floral designs. The walls displayed neoclassic French artwork while at the table Cristophle silverware and Riedel crystal sat atop crisp pale linen. It was an elegant, yet inviting, setting perfect to celebrate a special occasion.
We sat at a table for two (not a favorite) immediately adjacent to the flower arrangement at the entrance. A crisp tablecloth covered our table which housed a wide glass vase with two white roses floating in water. Comfortable (and pretty) armchairs with a small low table for hand items allowed us to enjoy our meal without giving any thought to the time. Our napkins were replaced with smaller linen napkins at dessert time.
Cellars Wine And Alcoholic Beverage Selection
Faced with a challenging task of delicate seafood flavors, foie gras and a game dish Mikael Grous selected a 2007 Trotanoy Pomerol. The restaurant had a 50,000 bottle cellar with 2,500 labels.
Special Menus There was a five course Gourmet Tasting Menu for 250 euros offered for dinner and 155 for lunch (the whole table was required to order it) and a Daily Market Suggestions three course menu for 95 euros.
Meal
Our selection from the aperitif options and the champagne cart, a glass of Krug, was served perfectly chilled in time to accompany fried black olives and thin cheese crackers. There was sliced bread with Sicilian olive oil. Also on offer from the bread basket there was baguette, tomato, cereal and country selections. The staff brought unsalted, seaweed and salted butter to our table. There was also salt and pepper at the table. While we waited for our order, the staff brought us bite size morsels of shrimp with mango and citrus, chicken bouillon and clam (a favorite) and shrimp tempura with herbs.
First, I had Trap caught langoustines with citronella, yuzu lemon "chaud-froid," with tangy mango snow; and Duck foie gras from the Landes region roasted with flower honey pollen, Louise-Bonne pear and sweet and sour kabu turnip petals for my lunch partner. Both were excellent. We had a small portion of chicken broth with lemongrass, a well appreciated light break before the next course.
Lobster from Chausey and Brehat Islands cooked just right on salt and seaweeds, natural juice, steamed fennel ravioli, orange and Kalamata olives prepared table side, was next for me; and Pearly sea scallops with white truffles, scallop bards carbonara style, pumpkin, crunchy cabbage with ginger for my lunch partner. At the staff person's enthusiastic recommendation we shared a portion of a seasonal game pie: Pithiviers of young partridge, wild duck and grouse with chestnut honey, seasonal fruits, mushrooms, carrots, natural juice with Armagnac and foie gras. The pastry covered dish was prepared table side, sliced into two halves of which we were each served a quarter and the rest was removed. Though not for the faint of heart the rich seasonal specialty dish was worth sampling.
Pre-dessert consisted of a licorice gelee, pineapple sorbet and rose champagne. Dessert was Minute made frozen mango with shiso leaf, coconut foam, persimmon sorbet with dates for my partner, and caramelized apple tart, Tarte fine aux pommes caramélisée a la cannelle cassia, cidre de glace givre for me. Desserts were served with Black Forrest water in blue glasses.
By the time the appealing candy cart passed our way we had little hunger left to spare. There were strawberry or coconut marshmallows, apple beignets, regular and chocolate nougat, madeleine, bitter orange dipped in dark chocolate, wonderful caramels, and marrons glacé (candied chestnuts) from Turin, Italy. There was espresso from Costa Rico or Puerto Rico available.
Other As soon as we entered the hotel from the rainy street a staff person approached us. When we explained we were there for lunch she escorted us to the restaurant. Moments later another staff person arrived to greet us and place our winter coats and dripping umbrellas in a nearby coat closet before someone else escorted us to our table near the entrance.
Date Of Review
December 2012
Number Of Visits Many times over the years, once on this trip
Reviewers Article by Elena del Valle
Photos by Gary Cox
Service Staff members were attentive and the service throughout the meal was exacting and attentive although a couple of times our servers were distracted while at our table, talking with their colleagues across tables. The staff seemed stretched thinner than in past years. We liked that they were helpful when we asked questions and volunteered recommendations.
Would You Dine Eat There Again-Recommend It? Yes
Contact Information
Address:
31, avenue George V
Paris, France 75008
Metro: George V
Telephone:
+33 (0)1 49 52 70 00
+33 (0)1 49 52 71 54
Fax :
Website :
Email :