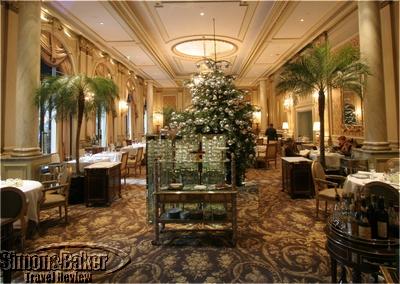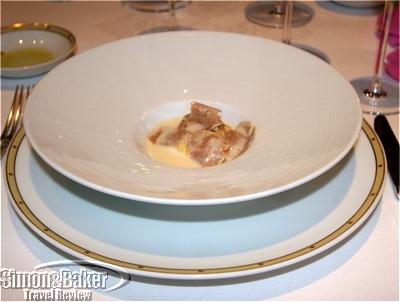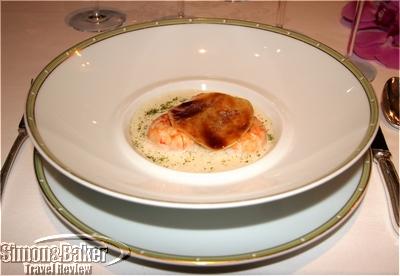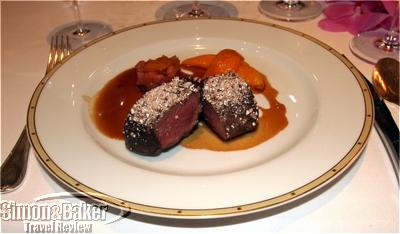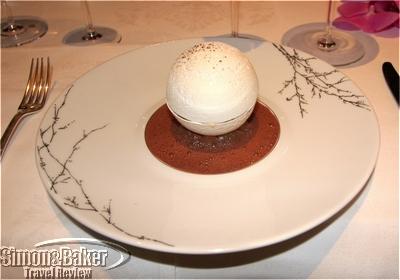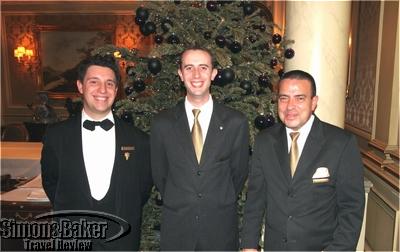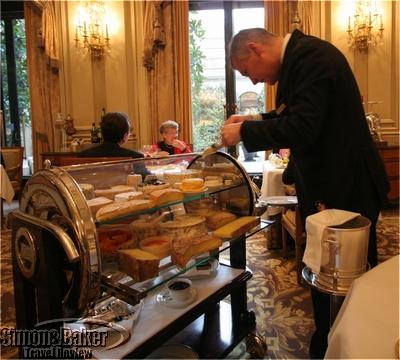 We look forward to rediscovering this talented chef's dishes once he has settled in comfortably at Le Cinq.
Our most recent review of this restaurant is
here
Overall Impression
We thoroughly enjoyed our most recent meal at Le Cinq in December 2007. Every one of the chef's creations that day was outstanding and the service was efficient, warm, and accommodating, the way we remembered it from our first visit to the famous Parisian restaurant.
The dishes were delectable, well presented and expertly served. Lunch that day was a showcase of the chef's culinary talent. We were also pleased to discover that the service was much improved from our previous visit. From the welcome on arrival at the restaurant reception to our departure after copious quantities of food, our visit was just right.
In July 2008 Chef Eric Briffard, formerly at Les Elysees du Vernet (a favorite) and before that at the Plaza Athenée, will take over the venerable kitchens of Le Cinq as Chef des Cuisines . We look forward to rediscovering this talented chef's dishes once he has settled in comfortably at Le Cinq.
About The Executive Chef
Prior to joining Le Cinq for its December 1999 opening, Philippe Legendre worked at the well-known restaurant Taillevent. He was the 1996 winner of the prestigious
Meilleur Ouvrier de France
award, which honors France's finest artisans. Originally from the Vendée region, in north-western France, he apprenticed at the
Embruns
from 1974 and has held positions in some of Paris's finest restaurants, including Lucas Carton (now Senderens) and the Ritz.
About The Head Sommelier Thierry Hamon, 30, is a graduate of the Lycée Hôtelier of Dinard, France. He began his career in 1995 with Eric Beaumard as a Commis at La Poularde a restaurant in Montrond-les-Bains, France. He worked there for two years before heading to Oxford where he joined the team of the French restaurant Le Manoir aux Quatre Saisons. Later he returned to La Poularde where he worked for another two years before joining the crew of the George V Paris in December 1999, when the hotel reopened. Sommelier at the sides of Eric Beaumard, he became assistant to the restaurant's former wine steward, Enrico Bernardo, in April 2000.
Chef De Cuisine Lionel Durand
Executive Chef Philippe Legendre was the chef when we visited the restaurant (Eric Briffard is due to arrive in the summer of 2008)
Handicapped Access Yes
Head Sommelier Thierry Hamon. The day we visited Arnaud Kunz paired the wines with the chef's tasting menu. We enjoyed his selections especially.
Location In the lobby of the prestigious George V hotel in the ultra chic eighth arrondissement
Managed Four Seasons
Owned Prince Alwaleed Bin Talal Bin Abdulaziz Al Saud of Saudi Arabia
Pastry Chef Fabrice Leclerc
Restaurant Director And Manager Eric Beaumard who was voted 2003 Sommelier of the year by his peers in the French magazine Le Chef .
Size The 183 square meter restaurant with a staff of 39 has capacity for 70 guests.
Type Of Restaurant French gourmet haute cuisine
DÉCor-Ambiance The dining room was set in a beautiful classic gray and gold large salon decorated by French Architect Pierre-Yves Rochon to simulate a French castle. The dining room faced the hotels inner courtyard. During our end of year visit, it was peppered with black calla lilies from Holland.
Cellars Wine And Alcoholic Beverage Selection
The selection was excellent with a vast number of options from diverse countries and in a variety of price ranges. Through the Four Seasons Hotel Wine Cellar the staff have access to 50,000 bottles of wine. We liked the two-page discovery section of the wine list with selections from Loire, Rhone, Alsace, Bordeaux, Languedoc Roussillon as well as Austria and Hungary. As champagne aficionados we particularly appreciated the many champagne choices. It was possible to order by the glass; and for an over the top occasion there was a 1973 Krug for 5,000 euros a bottle. There were half bottle options in whites and reds; wines from Argentina, Australia, Chile, Germany, Italy, Japan, Lebanon, New Zealand, Portugal, Spain, South Africa, Switzerland, and United States; and five types of still water and eight varieties of sparkling water. We also spotted an 1896 Chateau d'Yquem (1,200 euros) and a 1983 Romanee Conti (1,900 euros). Although we didn't see them on the wine list, there was an 1834 Madeira for 36,000 euros and 1945 Chateau Mouton Rothchild.
The cellars 50,000 bottles were 14 meters below the ground in a former stone quarry used in part to build the Arc de Triomphe. Eric Beaumard is credited with building the cellar inventory when the restaurant reopened after a closure in the 1990s. The hotel also owned two secondary cellars, one housing 100 champagne varieties and a third in the outskirts of the city where 10,000 bottles are aging comfortably. To keep the cellars current, the staff add 20 new selections a week.
Special Menus A lunch menu for 75 euros, a five course light tasting menu for 135 euros and an eight course gourmet menu for 210 euros. Menu prices excluded beverages.
Meal
We began with a champagne aperitif, Pommery Champagne Louise Rosé 1999 suggested by our sommelier Arnaud Kunz. We had a choice of herby 2006 Tuscan olive oil and St. Malo butter. We munched on a simple pre-appetizer of bellota serrano ham with brioche while we perused the menu and wine list. In the end, we placed our trust in the chef and sommelier for our entire meal. Our only request was no raw oysters. The result was a brilliant tasting menu with well matched wines.
The first course was Galettes de sarrasin du tourteau a la royale d'avocat , an avocado and crab dish that came with a rolled pancake filled with sole mousse; followed by Creme de cresson de source au Caviar Sevruga de la mer Caspienne, a light and wonderful Caspian caviar enhanced by a Manzanilla wine; Tarialini a la fonduta e a la truffe d'Alba , a perfectly prepared creamy pasta dish with rich Alba truffles served with a beautiful barolo. Next, there were Britanny prawns, Fricassée de langoustines bretonnes lasagne au vieux parmesan . Followed by an exceptional sweet and sour game dish with mango and chocolate – a favorite, Carré de chevreuil roti, dragées au chocolat, mangue a l'aigre douce .
A selection of cheese (epoise, munster, chevre and comte) helped us transition to the lovely dessert Surprise a la poire et au réglisse ; post dessert delicacies and hot beverages, thyme and Blue Mountain Jamaican coffee.
The sommelier selected Chablis Grand cru Vaudesirs 2005 B. Droin for our seafood course. Then he served us a Manzanilla Hidalgo; Giovanni Barolo 2003; G. Rosso Saumur "l'Insolite" 2006 T. Germain; Chateau d'Aiguilhe 2004 Cotes de Castillon; Chateau Chalon 1996 M. Pichet; and Rivessaltes "Tuile" 1990 Domaine Cazes.
Other The china, linen and silver were custom made. Dress Smart casual attire was recommended for lunch and formal or business for dinner. Cigarettes and cigar smoking were permitted in a designated area of the grand dining room. One of the many features we liked at Le Cinq was the respectable distance between tables. This allowed us to have a private conversation and a feeling of space even though everyone dined in the same large salon. It also meant we never once noticed a cigarette or cigar odor. Le Cinq was first awarded the Michelin's highly coveted three macaron (star) rating in 2004. At the time of our last visit the restaurant's Michelin rating was down to two macarons.
Date Of Last Visit
December 2007
Reviewers Article by Elena del Valle
Photos by Gary Cox
Service The service was outstanding and warm. Staff members volunteered assistance and were sensitive to guest moods, interaction styles and preferences. We were pleased to rediscover the restaurant's hallmark excellent service.
Would You Dine There Again-Recommend It? Yes
Contact Information
Address:
31, avenue George V
Paris, France 75008
Metro: George V
Telephone:
+33 (0)1 49 52 70 00
+33 (0)1 49 52 71 54
Fax :
Email :
Website :