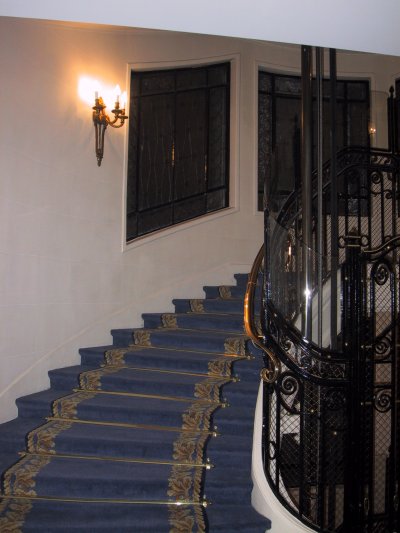 Two uniformed doormen helped us out of our taxi and inside the warm building.
Overall Impression
: Entering Le Bristol through the main revolving door on a cold winter day was like catching a ray of sunshine in the snow. Two uniformed doormen helped us out of our taxi and inside the warm building.
We were welcomed by someone from the reception who informed us our room was ready. That was good news since most hotels will only offer check-in until the mid afternoon. The spacious and inviting lobby was accented with 18th century tapestries and original rugs. From there we saw the gastronomic restaurant and bar. Further to the right, we climbed aboard a nostalgic elevator to reach our fifth floor junior suite, where we left our luggage before going to lunch at the Hotel's gourmet restaurant.
Le Bristol, built on a former private home and expanded over the years, was elegant, charming and practical. It offered excellent advantages for leisure and business travelers alike, including a great location in the highly desirable Eighth Arrondisement , understated chic decor, a welcoming ambiance, a large garden, friendly and service oriented staff, a gourmet restaurant (and bar), an affiliated Anne Semonin beauty center, high speed Internet access, use of a Smart Car for guests, a delightful indoor pool, and a small fitness center. We loved Le Bristol.
Connectivity
High speed Internet was available for 8 euros an hour, 18 euros per 24-hour period or 36 euros for 48 hours. A staff member called within minutes of us requesting details regarding our Internet connection and came to our room to ensure we were able to connect. We were. However, the connection was incompatible with our VPN, virtual private network. As a result we had to find an alternate Internet connection outside the hotel.
General Manager : Pierre Ferchaud
Handicapped Access according to the hotel management, m ost of the rooms are wheelchair accessible
Head Concierge Carlos Téles , who supervised a team of almost 30
Length Of Stay One night
Location On the fashionable rue du Faubourg Saint Honoré near the Elysée Palace and a step away from the famous Champs Elysées and the Place de la Concorde
Owned Oetker Hotels Group (Dr. August Oetker )
Size 164 rooms including 73 suites
Year Opened-Renovated opened in 1924 and renovated in 2004, including the swimming pool
Lobby And Common Areas
Though built in 1924, Le Bristol was designed as an 18
th
century style palace with period furniture. It included a collection of Gobelin and Lille tapestries, old master paintings (many acquired from an auction of reserve works staged by the Louvre Museum before World War Two. An elegant yet inviting building, it was full of light and beautiful accents throughout.
The lobby featured white marble floors and pink marble pillars, Ile -de-France stone, ten Baccarat crystal chandeliers set in stone on the various levels of the lobby, and big flower arrangements. Two large Gobelin tapestries depicting rural scenes were hung in the lounges near the Louis XVI sofas and chairs upholstered with rare fabrics. The Hotel's 1200 square-meter gardens, designed in 1975, were the largest of any Parisian hotel.
Bathroom There was an enclosed area with a water closet and bidet. There was also a shower stall, bath tub and adjacent heated towel rack, his and hers sinks, small glass table, blow dryer and scale. Beige marble tiles throughout made the bathroom appear more spacious and bright.
Room
Our 40 square meter (400 square foot) junior suite faced the front of the building and the famous rue du Faubourg Saint Honoré . It was homey, elegant and bright. Our business needs were taken care of with an Internet ready glass covered desk, chair, speakerphone, and lamp in the corner in front of the window.
The adjacent small sitting area featured a medium blue fabric love seat with a marble and wood table and stylish lamp on each side and a small glass covered wooden table in the middle. There was an Akai Guestlink television with a Netbox (which we were unable to use) on top of a glass covered table and a comfortable chair. Beside the (satellite) TV there was a glass covered marble top wood dresser with a vase of white roses. Across from it there was a glass covered wood vanity table and chair.
To the side and next to the wall there was a king bed with a small marble and wood night table on each side with a lamp. Our favorite feature was the spring themed bird and flower motif fabric of the curtains (extra thick and heavy to keep out the sunlight in the mornings), bedspread, and tabletop cover. The wall color was light yellow with white highlights. The minibar was in the entrance area across from the coat closet. There was a doorbell on the entrance door. There was a slight smoke scent remnant. There were two Baccarat crystal chandeliers in the room and an electronic safe in the closet. The carpeting was khaki colored. We especially liked the master light switch, which controlled most of the lights.
Food And Restaurants We dined at the hotel's gourmet restaurant, Le Bristol. The 24-hour room service menu looked appealing. We ordered the lobster bisque and it arrived within minutes, steaming hot with fresh baked crunchy French bread and butter. The dinnerware, of beautiful Limoges porcelain, had a Le Bristol's monogrammed "B" on each plate. The soup arrived in a silver bowl, which kept it piping hot for about 20 minutes. We served ourselves with a silver ladle and reveled in the nostalgia of beautiful silver cutlery and porcelain dishes in the comfort of our room.
Amenities
French Hermés (Orange Verte , a favorite) and Anne Semonin toiletries, three sets (two adult and a child's) of cloth slippers and thick terrycloth Le Bristol monogrammed bathrobes.
Business Services Le Bristol offered a broad range of secretarial services including word processing, translations, office equipment rental, photocopies, fax (upon request fax machines were available for use in guest rooms), Minitel , Internet connectivity.
Facilities Le Bristol gastronomic restaurant, bar, fitness center, business center, meeting rooms, ample underground parking, indoor swimming pool, sauna, massage room and hair salon.
Fitness Center And Spa There were six machines in the small fitness center. An Anne Sémonin beauty center offered services to guests in the privacy of their rooms, in a treatment room by the pool or at the center's facilities, adjacent to the Hotel. To reach the beauty center, guests had to walk outside the front of the building and enter through a separate door.
Pool An inviting indoor heated pool designed by naval architect Casar Pinnau , designer of the Aristotle Onassis yachts, to look like a boat was located on the sixth floor adjacent to an outdoor deck (for summer use), the fitness center and coed sauna. A wall mural depicted the coast on France 's Cote d'Azur including Le Bristol's sister property, the Hotel du Cap d'Antibes Eden Roc and its waterside pool. There was a rooftop view of the neighboring buildings.
Conference Facilities
Five reception rooms totaling 1,000 square meters (10,764 square feet) could host from 20 to 300. Four were modular rooms overlooking the gardens.
Other Le Bristol had a staff of 400 including employees with 20 years of seniority. This allowed for great attention to detail and a refreshing customer oriented attitude. With eight floors of underground space, the Hotel had ample parking for 200 vehicles. Le Bristol was a member of "Leading Hotels of the World" network. It was a venue for Saturday fashion events.
Le Bristol launched a line of souvenir products in 2004 including Carnet de Voyage (notepaper gift boxes, notepaper), Surprise Gourmande (boxed gourmet treats), Jardin Parfumé (scented products) and Promenade Chic (bags and accessories).
Our favorite feature was complimentary (10 euros per three hours) access to the hotel's Smart Cars (in the Le Bristol's distinctive green) for guests wishing to run errands, attend meeting, go shopping, etc. while in the City of Lights.
Cleanliness
Excellent
Date Of Review December 2004
Would You Stay There Again? Yes
Contact Information
Address:

112 rue du Faubourg Saint-Honoré,
75008, Paris, France

Telephone:
Fax:
Email:
Website: