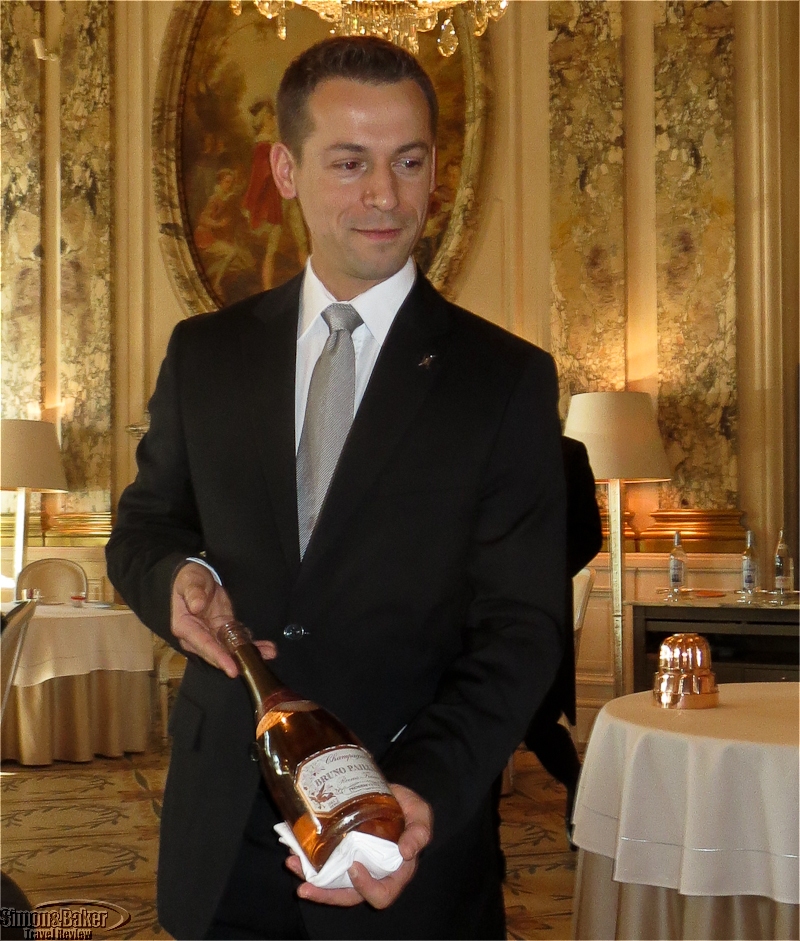 We look forward to future visits to Restaurant le Meurice.
Overall Impression
For years I have liked the elegant dining room of Restaurant le Meurice in the eponymous hotel facing one of the city's best known tourist streets. In 2013, famed chef Alain Ducasse was invited to oversee the food service at the hotel and restaurant. On our most recent trip to Paris, we had lunch there and were left with the impression that the restaurant has much promise.
Since our last visit we noticed subtle changes. For example, access to the restaurant was via the entrance foyer of the hotel rather than from the lobby lounge where it had been before. A new embroidered panel graced a section near the restaurant door, and Baccarat crystal art was in evidence in the dining room.
The tableware was noteworthy to match the elaborate setting. Staff were attentive. We were particularly pleased with the friendly and helpful demeanor of the wine specialists. The wines they paired with our menu enhanced the meal. We liked, in particular, the game and chicken dishes and the chef's sauces.
Thanks to its central location, beautiful dining room, guest centered service, amenable wine counsel and gourmet fare the restaurant was a good venue for a celebration. We look forward to future visits to Restaurant le Meurice.
About The Chef De Cuisine
A Normandy native Chef Saintagne learned the basics of his profession alongside Guillaume Louet, at the Auberge du Vieux Logis in Conteville. In 1998, he joined Philippe Groult at the Restaurant Amphycles in Paris. He completed his military service at the Palais de l'Elysee in 1999 before joining the Alain Ducasse company, first at 59 Poincare and then at the Hotel Plaza Athenee. In 2002, he became chef de cuisine at the Paris restaurant. In September 2013, he was appointed executive chef at Restaurant le Meurice Alain Ducasse.
About The Executive Chef Over more than 30 years Alain Ducasse has developed a unique expertise in the art of living. He considers himself a chef and creator who strives to offer true cuisine, as well as an entrepreneur who seeks to implement a modern economic model, the transmission of knowledge and an open vision of the world of high cuisine and hospitality. He heads 20 restaurants worldwide, three boutique inns and a hotel franchise. His vision of his work places the sharing of passion and the transmission of knowledge at the heart of his business which includes publishing activities, consulting and training courses for professional chefs and passionate amateurs.
About The Restaurant Manager As soon as he had completed his training, he decided to devote his career to Palace Hotels. After an internship at the Royal Club at Evian, he became an apprentice chef and then chef de rang at the Connaught Hotel, a five star venue in London. He returned to France to work with Joel Robuchon at avenue Raymond Poincare as an apprentice waiter, then as demichef de rang and finally as chef de rang. When Alain Ducasse took over the management of the establishment in the summer of 1996 he made him an offer to join his team. Later, he became maitre d'hotel at restaurant Alain Ducasse au Plaza Athenee. In December 2007, he was named restaurant manager at the Jules Verne, from where he then moved to the Ritz, before becoming restaurant manager at Restaurant le Meurice in 2012.
Chef De Cuisine Christophe Saintagne
Executive Chef Alain Ducasse Handicapped Access The restaurant had ground floor level access near the hotel entrance. Restrooms were in the rear of the ground floor of the hotel.
Head Sommelier Gerard Margeon
Location On the ground floor of the Hotel Le Meurice in the heart of Paris, France.
Owned And Managed Dorchester Collection which is owned by the Brunei Investment Agency.
Pastry Chef Cedric Grolet was born and raised in Firminy, close to Saint-Etienne. After earning his degree in Pastry, Chocolates & Ice creams from Puy-en-Velay, he was awarded a vocational diploma at the Ecole Nationale Superieure de la Patisserie at Yssingeaux. He received Best Apprentice in Auvergne, third place in the Best Apprentice in France, National Trophy in Icing, and first prize at the Festival National des Croquembouches in 2005. While working at Fauchon, he was spotted by chefs Christophe Adam and Benoit Couvrand, who he accompanied to Beijing to train their new teams. On his return to Paris, he accepted a position in Research & Development at Fauchon, where he remained for five years. He joined Le Meurice as a sous chef in 2011, before rising rapidly to the position of chef patissier.
Restaurant Manager Frederic Rouen
Size The 150 square meter restaurant could accommodate 55 guests. The restaurant employed 32 people (including apprentices) for the service and 28 people in the kitchen.
Type Of Restaurant Fine dining cuisine, which Alain Ducasse describes as "raw" and is designed to place produce in the spotlight and champion the passion of the producers.
Opened-Renovated
The restaurant opened in 1835. In September 2013, Alain Ducasse was invited to take charge of the hotel's food and beverage department including the Restaurant le Meurice Alain Ducasse.
In 2007, Franka Holtmann, the hotel general manager, hired Philippe Starck to redecorate the hotel. He focused on an ''invisible transformation'' with emphasis on color and light, a new interpretation of furniture, a play on transparency and movement. In the restaurant, he introduced blocks of cut and polished Baccarat crystal in the center of the dining room; a refrigerated wine cellar to exhibit the 616 of most precious bottles of the restaurant; an exceptional dresser made in glass and mirror polished stainless steel for the dishes, glasses and cutlery for the restaurant; Baccarat wall lights; sumptuous curtains created by Charles Jouffre made in the XIX century tradition from satin embroidered with silver thread; and XIX century style crystal chandelier and ivory silk shades.
In September 2013, with Alain Ducasse's arrival the decoration was adjusted slightly to fit with the chef's philosophy.
DÉCor-Ambiance
Inspired by the Salon de la Paix at the Chateau de Versailles, the dining room, adjacent to the Tuileries, is light filled and striking. It features tile floors, large windows, antique mirrors, crystal chandeliers, bronzes, marbles and frescoes reminiscent of the elegance of the Grand Siecle.
A pastry mould of sparkling antique copper was the centerpiece of our table. Each table had its own, and they were all different. The Volute Dish and dessert service by Pierre Tachon were produced by porcelain maker JL Coquet. There was MD Crystal glassware, plates by Bernardaud, crystal cups by Saint-Louis, water glasses with designs by Carlo Moretti, and marble butter dishes designed by Tachon and handmade by Mustapha Messaoudi, stonecutter for historic monuments. Some plates and goblets were the work Pieter Stockmans, a Belgian designer and ceramist.
Cellars Wine And Alcoholic Beverage Selection
The emphasis was strongly on French wines although there was a limited selection of international wines from Australia, Austria, Chile, Germany, Hungary, Italy, South Africa, Switzerland, and United States. There were 14 wines by the glass ranging in price between 24 euros and 44 euros each. The wine menu listed 11 post meal wines. There was a wide variety of French wines in the hundreds of euros range. On the high end of the scale there was: 1996 Krug for 3,600 euros, a 1982 Chateau Latour for 17,000 euros, and 2005 Petrus for 10,000 euros.
Meal We both had Bruno Paillard Rose champagne and enjoyed Legumes croque au sel, a savory pre appetizer of steamed vegetables served with a sorrel dipping sauce that brought out their natural flavor. There was salted and unsalted butter from Normandy, and three types of bread on offer: baguette, brown and country style bread.
My lunch partner selected Foie gras (of duck); Sole, coquillages(sole and shellfish); Chevreuil, sauce poivrade(game meat with pepper sauce; a favorite); Fromages (cheese plate); and Poire(a pear dessert). The wine specialist paired his menu as follows: Tokaji(a favorite) Vendages Tardives Sarga Muskotaly Chateau Sarospatak 2009; Puligny-Montrachet Clos du Vieux Village Maroslavac Leger 2012; Francs Cotes de Bordeaux Chateau le Puy 2010; and Cotes de Provence Cuvee Clarendon Domaine Gavoy 2011.
I ordered Pate chaud de perdreau au chou (warm pate of young partridge with cabbage); Homard (lobster); Volaille Albufera, tartufi di Alba (Albufera poultry with white Alba truffles), a female chicken that had not ever laid eggs, the server explained; Fromages ; and Vacherin exotique . The wine specialist paired my menu with wines as follows: Chambolle-Musigny Clos Du Village A. Guyon 2008; Meursault Meix Charvaux Lucien Muzard 2012; Chateauneuf du Pape Clos des Papes 2004; and Cotes du Rhone Villages Rasteau Domaine de Beaurenard 2009. At the conclusion of the meal, we both had Loupiac Domaine du Noble 2005; and Moscato d'Asti la Spinetta 2012.
We particularly liked the game and chicken dishes and the chef's sauces. The Chevreuil was flavor filled without a gamey taste at the same that the black pepper brought out the natural venison taste without being too spicy or hot. My chicken with white truffle shaved at the table was delicate and well matched with the wine. For the cheese course, the server selected cheeses for each of us after enquiring about our general preferences. He did not invite our opinion on individual cheeses. One of my cheeses was remarkable. A fruit and nut bread and a salad with a light dressing accompanied the cheeses.
For dessert, the staff brought a pear tart topped with a large slice of pear with a dollop of cream atop. My Vacherin, served with ice cream and a thick syrup, was too sweet for my taste. Chocolate from the Alain Ducasse factory in Paris was unavailable that day nor was there any chocolate served with our mignardises .
I especially liked the cart with fresh herbs for the post lunch infusion. On offer were fresh lemongrass, thyme, rosemary, mint, basil and four kinds of honey: thyme, orange blossom, chestnut and leatherwood from Tasmania.
Special Menus Two special menus were on offer: A Collection Menu of three courses, cheese and desert, for 380 euros; and Lunch Menu of two courses, cheese and desert, for 130 euros. Beverages were not included in either menu.
Other
In 2013, Aurelien, one of the restaurant's pastry chefs de partie, won the first prize of the Original Croquembouche Assembly at the Croquembouche National Festival. That same year, the kitchen was recognized at Les Etoiles de Mougins (an international gastronomy festival), and
Bertrand Noeureuil won the final of the Young Chef Competition. In 2012, Damien Azemar won the gold medal of the Olympiades des Metiers 2012 Sommellerie.
Date Of Review
2011
December 2013
Reviewers Article by Elena del Valle
Photos by Gary Cox
Service From greeting to departure the staff members were attentive and professional. Despite a near full dining room, a staff member remembered my request for an extra stool for my handbag (we had used the exiting stool for another bag). A server discreetly covered a sauce stain we made on the tablecloth with a clean napkin. The staff brought fresh napkins for the cheese and dessert courses. The dessert napkins were embroidered.
Would You Dine There Again-Recommend It? Yes
Contact Information
Address:
Hotel Le Meurice
228 rue de Rivoli
Paris, 75001
France
Phone:
Website:
Email: