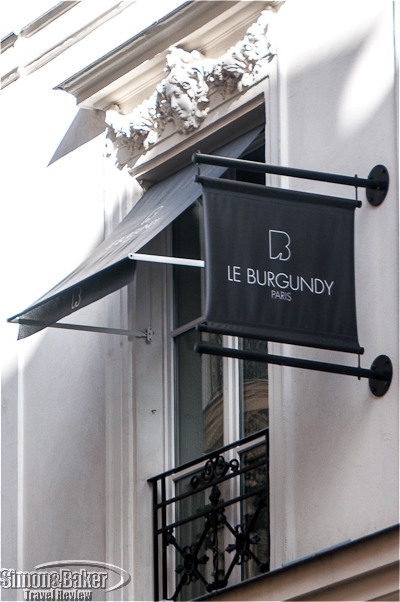 With its unique in the heart of everything location, attentive service and better than home accommodations, Le Burgundy made the top of my list of Paris properties to revisit at the first opportunity.
Overall Impression
In a city that is home to 50 Five Star hotels, many of them so firmly entrenched in their luxury status that they have long become legends, the relatively new Le Burgundy (opened in 2010) stood out for its privileged location first of all, on a relatively quiet street just a few steps away from Place Vendome, Rue Royale and Rue Saint-Honore, in the enclave of prestigious Right Bank addresses that are the pulse of Paris fashion. Then there was its already established reputation for personalized service, the kind only an intimate boutique hotel can provide. This was confirmed the instant I reached the property, by the doorman's attentive welcome and the instantaneous check in process. I barely had time for a passing glance at the glassed in winter garden that is the heart of the public spaces or the art gallery like reception area with its bright mural sculpture behind a long white leather and marble reception desk before I was graciously escorted to my suite.
My second floor suite was everything I could ever wish in a Paris pied a terre: a spacious cocoon of understated luxury with a cozy living room and a serene bedroom. French doors opened onto a private terrace surrounded with large tubs of lush greenery. Fantasies of moving in permanently flashed through my head, especially once I discovered the elegant spa tucked a short elevator's ride down to the basement. Its irresistible lap sized swimming pool of clear blue water warm as a tropical island retreat, complemented by a hammam (Moroccan steam room) scented with hints of eucalyptus and citrus, immediately became my favorite place to start the day. And a good way to atone for the scrumptious breakfast that awaited me in the elegant dining room of Le Baudelaire restaurant one floor above.
When I finally managed to extract myself from the Le Burgundy's pampering embrace and make it through the gauntlet of shopping temptations that awaited outside its doors (Chanel, Hermes and Cartier among many others), Place de la Concorde, the hub of some of the most iconic landmarks of Paris, was only minutes away. To my left, the Champs Elysees beckoned, and to my right, the arcades of the Rue de Rivoli, Jardin des Tuilleries, and some of Paris' most visited museums, the Louvre, the Jeu de Paume, and across the Seine the Musee d'Orsay. With its unique in the heart of everything location, attentive service and better than home accommodations, Le Burgundy made the top of my list of Paris properties to revisit at the first opportunity.
Children
Le Burgundy welcomed children of all ages. Special welcome packages for children included bathrobes and slippers in assorted sizes and age appropriate toys and games. Childcare services could be arranged upon reservation. Special children dishes could be ordered at the restaurant and from room service.
Class Of Accommodation Five Star boutique hotel
Connectivity There was complimentary reliable high speed WiFi in my suite and throughout the property.
General Manager Emmanuel Sauvage
Handicapped Access The property catered to physically challenged guests including three especially adapted bedrooms with audio and light detector systems, as well as bathrooms with roll in showers. Complimentary wheelchairs and shower wheelchairs were available upon request and customized care could be arranged upon reservation. There were Braille symbols in the elevators and a pool lift was available in the spa.
Head Concierge Sebastian Hayez
Length Of Stay Two nights
Location On the Rue Duphot, at the corner of Rue Saint-Honore and a few steps away from Rue Royale, between Place de la Madeleine and Place de la Concorde.
Owned Privately owned by CHG Participations family fund, Hubert Guillard was chief executive officer.
Size The seven story property had 59 rooms including eight suites and a restaurant that could seat up to 60 guests. It employed a staff of 110 including 50 restaurant and bar personnel.
Year Opened-Renovated The hotel was originally built in 1850. Following a change in ownership, it closed in 2008 for a complete two and a half year renovation directed by noted French interior architect Vincent Bastie. It reopened in July 2010.
Lobby And Common Areas
Behind the beautifully restored classic nineteenth century façade of pale Paris limestone, a small central foyer led to the bar on the left and the reception area on the right. It was the central winter garden straight ahead that immediately caught my eye. There a curvaceous pale gray and white Carrara marble composition by contemporary French artist Guy de Rougemont dominated the space, reaching to the soaring roof of the 19 century style glass and metal veranda and reflecting in the mirrored walls. Next to it, a black-lacquered grand piano provided a counterpoint. Slipper chairs upholstered in brown and teal velvet were arranged around black coffee tables. A series of marble pedestals of varied heights held a display of blown glass bowls and flower arrangements.
At teatime assortments of teacakes and macaroons were displayed on the lower pedestals. The winter garden was an inviting space to enjoy snacks throughout the day or simply relax, or in the late afternoon, to linger or meet local friends over tea or cocktails while enjoying live piano music. The gray and white marble floor of the winter garden, also designed by Guy de Rougemont, recalled the central statue. This floor treatment continued into the reception area. There the long, streamlined reception desk was covered in white leather, outlined by a black marble lip at a convenient height to rest a handbag or briefcase during the check in process. The walls were of natural limestone with a recessed partition behind the desk providing the backdrop for a wall size modern sculpture in primary colors, its curved shapes a nod to the marble work in the winter garden.
Bathroom The spacious white and beige bathroom with black marble accents offered the amenities of a personal spa. The double sinks were set in a long black marble vanity topped with twin wall size mirrors lit by tall white frosted glass sconces. A tilting magnifying makeup mirror also hung between the two wall mirrors. On the opposite wall, plush white terrycloth bathrobes hung on both sides of a floor to ceiling heated towel rack. The deep, high end whirlpool bathtub with its two rows of powerful jets was supremely relaxing. However, my personal preference was for the large walk in corner shower with rain showerhead and six invigorating moveable body jets. Both bathtub and shower also had hand held shower hoses. Recessed ceiling spotlights provided additional lighting.
Room
My 50 square meter (538 square foot) suite, Opera, was located on the second floor of a two-story pavilion that had been created within the interior courtyard of the property during the recent renovation. It was it was an intimate retreat that included a small entrance foyer leading to a cozy living room with classic style upholstered furnishings in subdued shades of brown, a circular black metal and glass coffee table, a striking custom designed contemporary glass and steel desk and comfortable desk chair covered in silver gray velvet. With a separate lavatory off the entrance foyer, a walk in coat closet and extra wide pocket doors that could close off the adjoining bedroom, the living room could easily double as a meeting space for business travelers.
The bedroom had a king size bed with an upholstered brown and cream striped velvet headboard. There were large nested glass and steel bedside tables on both sides, as well as wall fitted personal high intensity reading lights. A silver gray velvet slipper chair completed the decor. At the far end of the bedroom, wide French doors opened onto a private terrace surrounded by tubs of tall shrubs. With its two wrought iron bistro tables topped with white marble and three armchairs with thick white canvas cushions, it was an idyllic retreat for a break from the fashionable high voltage neighborhood beyond the hotel's walls. On the opposite side of the bedroom, a hallway lined with storage closets led to the bathroom and separate water closet.
Throughout the suite, the floors were covered in silky cocoa brown Jules Flipo carpets, and the wide eggshell colored moldings enhanced the warm taupe shade of the walls. The windows were covered with transparent striped shades and heavy cream draperies with brown velvet trim. At night, buttercup yellow silk darkening drapes were drawn across the windows. The floor, desk and bedside lamps had contemporary English crystal bases with silk shades. In both rooms, there were pedestal mounted oversized flat panel television screens, and bright lithographs by Guy de Rougemont which added color to the space.
Food And Restaurant
The hotel was home to a bar and restaurant by the same name. To the left of the entrance foyer, the bar Le Baudelaire was named after the famous 19th century modernist poet (whose personal belongings were auctioned off there after his death). Contemporary Italian artist Marco del Re had created a ceiling fresco that was a modern interpretation of the poet's most famous work, Les Fleurs du Mal (The Flowers of Evil). Deep blue walls, a long free-form bar with Art Deco inspired gold leaf work by Veronique Charpy and cacao brown and teal blue velvet armchairs around black lacquered cocktail tables completed the decor. In addition to classic bar drinks, Le Baudelaire housed a collection of vintage champagnes (over 50 labels) and cognacs (40 labels). The bar was separated from the restaurant dining room by the winter garden.
The dining room was laid out around a quiet central patio that gave the light filled space a serene atmosphere. It was decorated in a low key monochromatic palette of beiges and brown with comfortable velvet upholstered armchairs around white linen clad tables. A breakfast buffet as well as a prepared to order breakfast menu were served there every morning from 7 A.M. to 11 A.M. For lunch and dinner, Le Baudelaire, under the direction of Chef Pierre Rigothier, had been recognized since 2011with one Michelin star.
Amenities
Room amenities included an individual sound system and iPod docking station, a small collection of art coffee table books, electronic safe, United Kingdom and United States adapter plugs, a small welcome assortment of petit fours with a bottle of Pol Roger Extra Cuvee de Reserve Champagne (N.B. Pol Roger is remembered for having been Sir Winston Churchill's Champagne of choice) and a bottle of Evian water replenished daily. There was also a fully stocked mini bar at an additional charge.
Bathroom amenities included bathrobes and slippers, facial tissues, cotton pads and swabs, shower caps, emery board, oral hygiene and shaving kits, hair dryer and bathroom scales, sewing kits, shoe polish and a shoe horn. Toiletries included large tubes of house brand shower and bath gel, shampoo, conditioner, body lotion and hand cream and facial soap.
Facilities There was a restaurant and bar, le Baudelaire, with adjoining winter garden, a business center, swimming pool and spa.
Fitness Center And Spa In addition to the swimming pool, the spa included changing rooms, a sauna, steam room, and a small fitness center with exercise equipment. There were two private treatment rooms where a variety of facial and body treatments and massages could be scheduled with on site therapists using some of France's most prestigious spa products: Carita, Russie Blanche and Les Bains de Marrakech. The fitness center was open from 7 A.M. to 11 P.M., with wellbeing staff available from 10 A.M. to 9 P.M.
Pool The pool was located on the second basement level of the hotel and easily accessible by elevator directly from the guest room floors. It was an integral part of the spa and fitness center. It was 15 meters (50 foot) long by 3.5 meters (12 feet) wide and 1.5 meters (5 foot) deep, fitted with powerful whirlpool jets that could be activated on demand. There was a tall arching waterfall at the far end of the pool. A terrace of white limestone lined with eight lounge chairs with thick white canvas cushions ran the length of the pool. On the opposite side, wall size gold and white stained glass panels and thin gold mosaic trim enhanced the sapphire blue lighting of the pool and gave the space a discrete Art Deco mood.
Cleanliness
Excellent
Date Of Review October 2013
Reviewers Article and photographs by Josette King
Service Excellent. Every member of the staff with whom I came in contact during my stay was genuinely friendly and thoughtfully proactive. My suite was serviced twice daily.
Would You Stay There Again? Yes
Contact Information
Address:
6-8 rue Duphot
75001 Paris
France
Phone:
Fax:
Website:
Email: