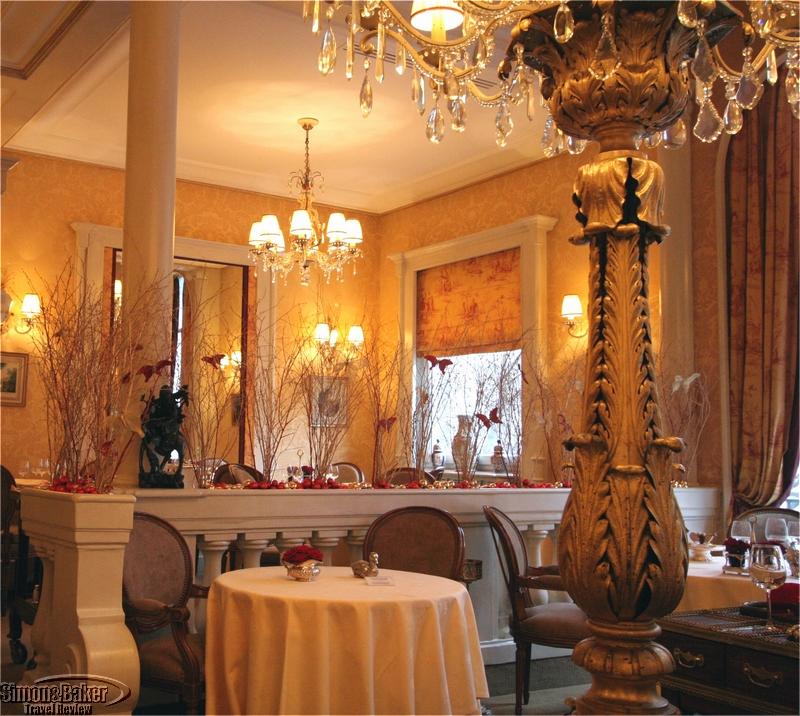 We look forward to returning to Lasserre to sample more of Chef Jean-Louis Nomicos creations.
Overall Impression
A precursor of many of today's French cuisine luminaries, Lasserre was established by entrepreneur Rene Lasserre in 1947 in a derelict warehouse. Today it is situated in the moneyed and desirable 8 arrondissement. A simple sign on the front of the building confirmed we had arrived. Inside, attentive staff members appeared as soon as we passed the threshold of the automatic doors. They took our coats and whisked us to the upstairs dining room.
Set on two levels, the dining area felt intimate and was full of wintry sunlight. We had booked weeks in advance and were fortunate to have a table immediately below the retractable ceiling. It opened briefly three times during our meal allowing us to gaze at the overcast and romantic Paris sky. When the ceiling opened, the chill winter air refreshed the room, clearing out the cigarette smoke from our neighbors' tables. We enjoyed every opening.
The Lunch Menu was delectable and satisfying. Each course was cooked to perfection and served artfully. It was a particularly good value for the price. Fine dinnerware, glassware, tableware and an elegant décor lent the meal a festive air while a bevy of wait staff looked after us. Nary a morsel remained on our plates by the end of each course. The chef's light and flavorful sauces made us want to wipe off the excess with bread.
Delicious food, attentive service, and a good-looking dining room with a retractable ceiling made the experience worth repeating. We look forward to returning to Lasserre to sample more of Chef Jean-Louis Nomicos creations.
About The Executive Chef
Described as a traditional chef in search of modern French cuisine elements, he made his culinary debut in 1983 at l'Oursinade in his native Marseille. From 1985 to 1986 he worked as
chef de partie
at Juana, Alain Ducasse's restaurant in Juan les Pins. From 1990 to 1995 he was
sous
chef
and
chef de partie
at the famous l'Hôtel de Paris in Monaco. From 1995 to 2001 he was
chef de cuisine
at the Pavillon de la Grande La Cascade in Paris. In 2001, he became the executive chef at Lasserre.
Executive Chef Jean-Louis Nomicos
Handicapped Access No
Head Sommelier Antoine Petrus
Location On the well known Franklin Roosevelt Avenue in the ritzy eighth arrondissement across the street from the Palais de la Découverte.
Opened-Renovated The restaurant was established in 1947 and the most recent renovation was in 2002.
Owned For reasons they would not explain, the restaurant management declined to identify the restaurant owner, even after repeated requests. They insisted the chef was not the owner.
Restaurant Manager Guillaume Crampon
Size The restaurant occupied 100 square meters of space. It had capacity for 80 in the main room and 48 in the private room. There were 50 staff members.
Type Of Restaurant Luxury gastronomic
DÉCor-Ambiance It was decorated in Belle Epoque style with shades of deep yellow and burgundy highlights. A retractable skylight ceiling opened once or twice an hour during our visit was noteworthy.
Cellars Wine And Alcoholic Beverage Selection
Few selections of affordable wines. There were 800 French wines, collectible bottled, and many old 1er grand cru classé selections.
Meal We chose the Lunch Menu and ordered a bottle of rose Laurent Perrier champagne to accompany our aperitifs. The pre-appetizers arrived while the champagne was still chilling. There were tasty avocado and mushroom triangles on toothpicks, goat cheese tarts, and foie gras with pain de épice .
For appetizers we had Langoustine Broth with Foie Gras Bits and Fine Potato Raviolis with Black Truffles. They were equally elegant and scrumptious. For our main course we had Lamb with Stuffed Tomato. The lamb circles were barely seasoned and perfectly cooked (medium rare and rare) bringing out the flavor of the lamb without any fatty after taste.
Cheeses, with nut bread and three kinds of jam (cranberry, pear and red berry), helped us transition from the lamb to a marvelous fluffy chestnut soufflé with dark chocolate mousse dessert. Although the cheese course was not included in the lunch menu it was worth it.
Our coffee course was accompanied by a mignardise platter of tuiles pastries, chocolate covered mint sorbet sticks, pear mousse stuffed pastries, chocolate and caramel.
Special Menus Three course Lunch Menu for 75 euros and a seven course Seasonal Tasting Menu for 185 euros.
Other
The ladies in the dining room received a tiny Lasserre porcelain keepsake.
Reservations required The dining room was not full the day we were there.
Date Of Review
December 2006
Reviewers Article by Elena del Valle
Photos by Gary Cox
Service Staff were serious, attentive, efficient and polite. Ladies were escorted down the elevator and back from the ground floor lady's room.
Would You Dine There Again-Recommend It? Yes
Contact Information
Address:
17 Avenue Franklin Roosevelt
75008 Paris
France
Phone:
Website: