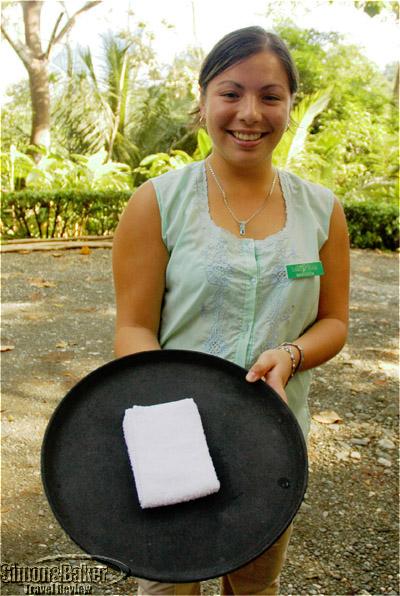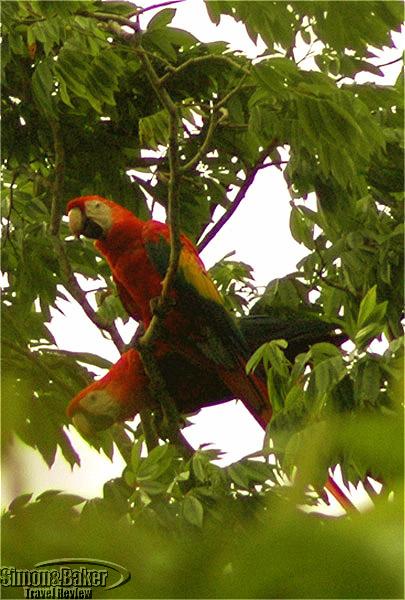 It was intensely satisfying for me to know that by staying at Lapa Rios, I was not only contributing to the preservation of one of the most biodiverse primary forest environments on the planet, but also to providing stable income and growth opportunities for the families of the 57 employees of the resort.
Overall Impression
The Lapa Rios Ecolodge has garnered so many awards and accolades in recent years that I approached it with high expectations; these were promptly exceeded! No words or trophies could have prepared me for the breathtaking reality of Lapa Rios. The site was spectacular. Perched high on the tip of Costa Rica's remote Osa Peninsula, the resort discretely blended into a private nature preserve that spread over 1,000 pristine acres of one of the last remaining lowland tropical forests in Central America. The main lodge, built at the top of a 350-foot ridge, housed the reception area, restaurant and bar. From there, 16 private bungalows were strung through the lush tropical vegetation along a sloping 500-yard long path of steps and bridges that connect three ridges. Like the main lodge, all the bungalows were built exclusively of local materials, topped by high pitched roofs thickly thatched with
Suiita
palm and casually decorated with comfortable bamboo furniture. Each bungalow featured a private deck and patio, complete with outdoor shower, and a sumptuous view of the forest canopy rippling down to the gentle waters of the Golfo Dulce. Fifteen miles across the gulf, the rolling hills of the mainland fade in the distant haze.
My Lapa Rios experience was further enhanced by the obvious dedication of the staff to ensuring that I enjoyed every moment of my visit. The instant my small commuter plane landed in Puerto Jimenez, I was welcomed by friendly staff members. They immediately retrieved my luggage and whisked me off to an awaiting open four-wheel drive truck with padded benches and a stand up roof held up by sturdy roll bars, for the forty-five minute drive on the rocky dirt road to the resort. Before the truck even came to a stop under the lodge's thatched awning, two staff members materialized with a welcoming chilled towel to wipe away the dust of the trip, and a tall glass of a tropical fruit juice blend that tasted like pure ambrosia. This same thoughtful attention to my comfort was unfailing throughout my visit.
But Lapa Rios was more than a haven of understated luxury and flawless service in an idyllic setting. It was also the heart of a major nature preservation and community development program that has become an international model of the responsible use of ecotourism. It was intensely satisfying for me to know that by staying at Lapa Rios, I was not only contributing to the preservation of one of the most biodiverse primary forest environments on the planet, but also to providing stable income and growth opportunities for the families of the 57 employees of the resort.
Class Of Accommodation
Luxury wilderness lodge
General Management Lapa Rios has been managed since 1999 by Cayuga Sustainable Hospitality, a leading organization in the management and development of luxury ecotourism facilities in Latin America.
Handicapped Access No
Length Of Stay Three nights
Location Lapa Rios was located at the southern-most point the Osa Peninsula, where the Golfo Dulce meets the Pacific Ocean, 250 miles southwest of San Jose, Costa Rica's capital city and main international airport. The small town and landing strip of Puerto Jimenez were approximately 12 miles away from the resort.
On-Site Manager Jorge Arrieta
Owners John and Karen Lewis, two former Peace Corps volunteers from Minneapolis, Minnesota were the owners. They abandoned their professional careers (John was a lawyer and Karen a music teacher) in 1990 to dedicate all their resources and efforts to permanently protect from logging, poaching and uncontrolled development more than 1,000 acres of mainly primary forest with a unique biodiversity value. The Lapa Rios Ecolodge was built in 1993 to support the maintenance of the private reserve and provide sustainable economic development to the local community.
Size The ecolodge sat on a five-acre site tucked away within the 1,000-acre private nature preserve. Its 16 guest bungalows were scattered down a 500-yard path from the main lodge. The facility employed a full time staff of 57, all Costa Rican nationals, 52 of them from the local community.
Transportation From international destinations, Juan Santamaria International Airport in San Jose was the most common point of entry into the country. From there, two local airlines, NatureAir and Santa, offer convenient daily scheduled flights to Puerto Jimenez. My transfer to the resort was pre-arranged with Lapa Rios at the time of reservation. It was also possible to drive from San Jose. However, due to the difficult terrain and precarious road conditions, the trip usually takes between eight to ten hours. Once at Lapa Rios, transportation was available through the resort for any excursion beyond walking distance.
Year Open-Renovated Lapa Rios originally opened with 6 bungalows in 1993, and was gradually expended to its actual capacity of 16 bungalows. The latest major renovation occurred in 2004.
Lobby And Common Areas The main lodge housed the reception area, restaurant and bar. At the center of it, a hardwood circular stairway soared 50 feet up to a thatched-roofed observation gallery. Furnished with green-cushioned armchairs, this privileged vantage point offered a limitless view of the forest canopy and the ocean vistas beyond. It quickly became a favorite spot of mine for live "armchair bird-watching," as chestnut-mandibled toucans and scarlet macaws were regular visitors in the tree-tops.
Bathroom
The bathroom occupied approximately a quarter of the bungalow, running the length of the room along the exterior wall. A dividing wall separated it from the sleeping and seating area. Two washbasins were set on a slab of cristobal wood matching the bedroom floor. The bathroom floor was tiled. The inside shower featured a screened bay window and tiled window seat, and its own wonderful view of the forest and the gulf. An additional garden shower was tucked in a corner of the patio, surrounded by flowering plants.
Room My bungalow, number 6, was a leisurely five-minute walk from the main lodge. The airy 460-square-foot bedroom and bathroom suite was isolated from the path by stucco'ed walls. The internal walls, open on three sides onto the private deck and the forest, were screened to let in the cooling breezes and sweeping views. The two queen-sized beds were swathed in mosquito netting and separated by a bedside table. Furnishings included a writing desk and chair, and a seating area with two armchairs padded with brightly striped cushions and a corner end table, all made of local bamboo. Storage shelving completed the décor. The floor was of dark, highly polished cristobal wood. There was ample indirect lighting around the room, and two overhead fans to ensure comfortable air circulation, although the latter were not necessary during my stay. The private deck and patio included an outdoor shower, three lounge chairs, a rocking chair and a large white cotton hammock.
Restaurant All meals were served in the Briza Azul restaurant. It was the main focal point of the main lodge, with its soaring four-story high peaked roof and circular staircase to the observation deck. The wall separating the dining room from the reception area held a small display of antique local ceremonial masks . A tree-shaded deck on one side of the dinning room was a popular alternative dinning location during the day for those who preferred a view with their meal. The menu varied daily but always offered choices of meat, fish and vegetarian dishes. The servings were so generous that I quickly learned to take advantage of the "half portion" ordering option. The cuisine was an imaginative blend of international favorites with a local twist, every dish perfectly prepared and beautifully presented. The lime cucumber soup, a chilled clear broth flavored with cucumber and lime, a discrete allusion of chili and a garnish of baby shrimps, was my luncheon favorite. I was especially impressed by the consistently high quality of the food and service after I learned that Brizal Azul didn't have a chef. The kitchen was staffed by local men who have made the courageous transition from traditional roles (cooking is still very much a woman's task in Central America) to become educated in food preparation, and master skills, ingredients and tastes that go far beyond their cultural references.
Amenities
Pump bottles of bio-degradable products for body and hair care were located by the sinks and in the shower area. A personal safe was built into the wall. Early morning coffee, tea or hot cocoa was delivered in thermoses at 6 am on a shelf outside the front door of the bungalow. This service was per request at the reception desk the previous evening. A refillable water bottle was provided for each guest upon arrival. Although the tap water was safe to drink, there were bottled water stations in the public areas for guests who preferred to refill their bottles there. There were two golf umbrellas in the room, with more umbrellas available in large stands in the main lodge. Walking sticks and jungle boots could be borrowed at the "Tours Hut" for guests to use on hikes.
Beach It was a fifteen minute steep walk down to the gulf. The sandy public beach was deserted and offered no facilities or amenities, but it was pleasant for walking or bathing in the surf, or watching pelicans dive for their lunch.
Facilities The swimming pool was located just down the path from the main lodge. The "Tours Hut" was nearby; it was the departure point for all tours and hikes. A yoga deck and massage room were in their own hut, another minute's walk down the hill, discretely concealed in the dense foliage.
Pool The large, approximately 40 by 25 foot pool varied in depth from three to seven feet. It was an inviting place to swim, and it offered such a spectacular view of the Golfo Dulce that I was sometimes content to soak in it while admiring the panorama below. The pool was chlorine free, using only natural salts to keep it clean. Over a dozen metal lounge chairs circled the pool, several of them in a shaded area under a large thatched roof. Ample supplies of towels were stored in a bamboo cabinet.
Mammals Sighted
howler monkey, spider monkey, coati mundi, three-toed sloth. Birds: brown pelican, great blue heron, cattle egret, green-black heron, bare-throated tiger-heron, black vulture, turkey vulture, common black hawk, roadside hawk, yellow-headed caracara, orange-chinned parakeet, red-loded parrot, scarlet macaw, smooth-billed ani, beryl-crowned hummingbird, chestnut-mandibled toucan, red-crowned woodpecker, lineated woodpecker, black-throated trogon, tawny-winged woodcreeper, black-crowned tityra, great kiskadee, social flycatcher, gray-capped flycatcher, streaked flycatcher, tropical kingbird, gray-breasted martin, blue-gray tanager.
Wildlife Viewing The area was teaming with wildlife. A simple stroll from my bungalow to the main lodge could mean an encounter with a three-toed sloth languidly stretching through the branches of a nearby cecropia tree, her baby clinging to her flank; or a large coati mundi unhurriedly crossing the path ahead. Birds were ever present. On an easy two-hour guided walk, I was able to sight over two dozen varieties.
Other
A variety of excursions were available by prior reservation. They ranged from short morning and evening bird watching strolls to more physically demanding daylong or overnight rain forest hikes. There were small group tours (usually four to six participants) led by attentive, well informed guides. A number of surfing, fishing and other ocean-related activities could also be arranged through the resort. I most enjoyed my visit to the Carbonera School, a local community primary school that opened in 1993 as a result of the commitment the founders of Lapa Rios to foster primary education among local children. At the time of my visit, twelve pupils were enrolled, boys and girls ranging in age from seven to fifteen, all visibly hungry for learning. Their dynamic young teacher confirmed the attendance rate was 100 percent in spite of the fact that some of the pupils must walk up to one hour each way to get to school. In addition to basic education such a reading and writing, the curriculum aimed to include English, whenever a qualified teacher was available, and issues pertaining to the sustainability of the local environment.
The Sustainability Tour, a behind-the-scenes visit of the property, gave me a detailed insight of, and renewed appreciation for the uncompromising efforts that have earned Lapa Rios the prestigious "Five Leaves Sustainability Certification Award" (the highest recognition awarded by the Costa Rican Ministry of Tourism). This fascinating visit covered everything from bio-degradable building materials to laundry practices, and sorting of all kitchen leftovers (from the lodge and staff kitchens) to be either composted or sent to the pigpen. Approximately a dozen pigs were raised with these leftovers. The excrements produced by the pigs were hosed down into a hermetic tank where bacteria developed to produce methane gas, which was then piped to the staff kitchen where it fueled the gas stove used to prepare the 2,200 meals per month consumed by the employees. This process was implemented at the recommendation of one of the local employees, who had observed it in his village.
Both tours were free of charge and could be scheduled at the reception desk.
Therapeutic massage and Hatha Yoga lessons were available by appointment.
Recognition And Awards In addition to its Five Leaves Sustainability Certification from the Costa Rican Ministry of Tourism, received in 2003, Lapa Rios was a 2005 recipient of the U.S. State Department Corporate Excellence Award, a recognition awarded to U.S. companies operating overseas for their "exemplary employment practices, responsible environmental stewardship and practices, and contribution to the overall growth and development of the local economy." Lapa Rios was also recognized as one of the five best ecolodges in the world by Conde Nast (Green Award 2005), and voted one of the ten best hotels and resorts in Mexico and Latin America by Conde Nast readers (Readers Choice Award 2005).
Cleanliness
Excellent
Date Of Review May 2006
ReviewersArticle and photographs by Josette King
Service Excellent. All guest-facing functions were handled by a team of local young men and women who were unfailingly prompt, cheerful and attentive to my comfort and requests. They understood and spoke English with varying proficiency, but all were visibly eager to learn.
Would You Stay There Again? Yes
Contact Information
Address:
Playa Carbonera
Osa Peninsula, Costa Rica
USA Mail Drop
PO Box 0252160 – SJO 706
Miami, FL 33102-5216
Phone:
+ 506 735-5130
or + 506 735-5281
Fax:
Website:
Email: