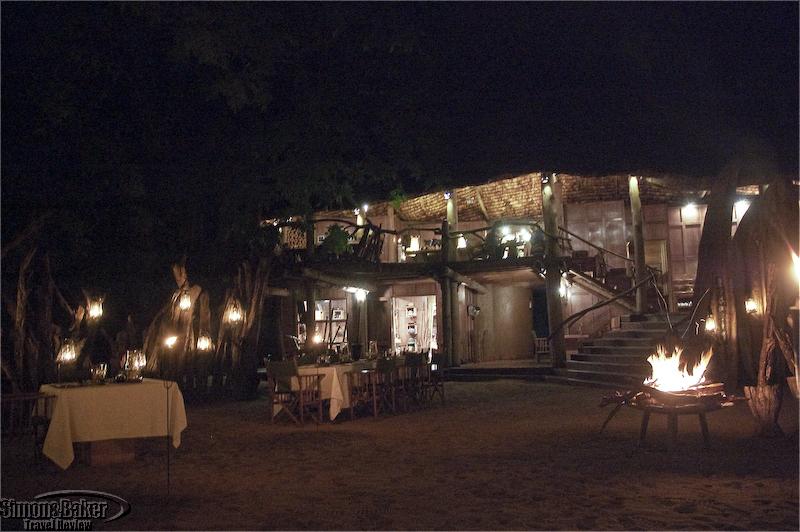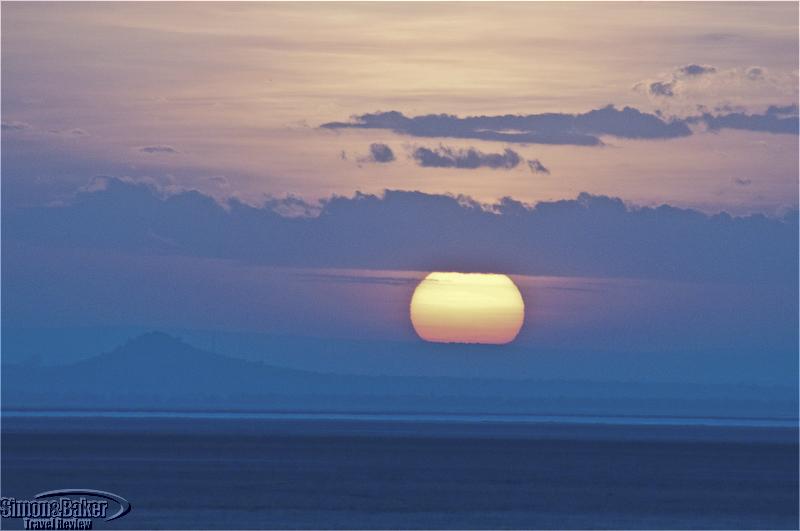 This thoughtful service coupled with intimate luxury accommodations and exceptionally easy access to game made the Tree Lodge a great place for one last glorious experience of Africa while relaxing before the long journey home.
Overall Impression
Lake Manyara Tree Lodge was the ideal finale to a lengthy safari trip that had taken me to the farthest reaches of Tanzania. By now, I felt travel-weary and a bit jaded. After all, other than the welcome opportunity to relax in the secluded luxury of the Tree Lodge, what could this tiny park offer that I hadn't already enjoyed several times over in some of the most famous safari destinations in the country? I couldn't have been more mistaken. The lodge, the only one within the boundaries of the park, was a gem.
A small, intimate luxury property of understated contemporary design, it integrated so seamlessly within its exuberant forest surroundings that it did feel like tree-house living, albeit with an infinity edge pool shimmering in a clearing a few steps away. The main lodge was completely open onto a circular boma (fenced enclosure) with a central fireplace. During the day, the occasional elephant came to peer over the rough wooden fence, without missing a chomp at the foliage beyond. At night, the enclosure was dotted with a dozen oil lanterns. Tables were formally clad in white linen and set for romantic fireside dinners under the stars. From the shaded path, guest accommodations were unassuming shingled retreats under thatch perched on high wooden platforms within the boughs of giant mahoganies. Once inside however, my spacious room revealed itself a stylish minimalist haven of modern conveniences, fully opened to a sprawling deck for optimum indoor-outdoor living.
The park delighted me for its striking scenery and the abundance of its varied wildlife. Lake Manyara is unique in that although its size can fluctuate somewhat with the seasons, approximately two-thirds of this 330 square kilometer (127 square mile) national park is covered by a shallow soda lake. Within the narrow strip of land between the Rift Valley escarpment and the water, the environment goes in the space of a few kilometers from marshes and open savannah grassland with rocky outcrops to acacia and mahogany woodlands; so that it supports an astonishing range of game and birdlife. Since the only entrance is at the north end of the park and the Tree Lodge is located in its southern reaches, I rarely saw other vehicles during my stay.
On the first day of my visit, I opted for an early morning start to catch the dawn over the lakeshore (a mere 10 minute drive from the lodge). I was treated to one of the most spectacular sunrises I have seen anywhere in Africa. I had then planned on a laid-back morning of birding at the edge of the lake, home to huge flocks of flamingoes and other waterfowl. But at Lake Manyara, it was impossible not to see game. Even as we stopped for a bush breakfast, hippos trotted out of the forest toward their favorite mud hole and large herds of buffalos and zebras paraded by our vehicle. And we spotted a leopard dozing high in a tree on our way back to the lodge.
Although the Tree Lodge was quite busy at the time of my visit, the staff was attentive and friendly. I enjoyed personalized service throughout my stay, especially from my butler and my guide. This thoughtful service coupled with intimate luxury accommodations and exceptionally easy access to game made the Tree Lodge a great place for one last glorious experience of Africa while relaxing before the long journey home.
Camp Manager
Scott Tineji
Children Children over the age of seven could be accommodated by prior arrangement.
Class Of Accommodation Luxury safari camp
Communications My GSM 900/1800 compatible international cellular phone service was fully operational at the lodge and throughout the park.
Connectivity There was a reliable WiFi connection in the lounge and dining room throughout the day and evening. Speed was moderate.
Handicapped Access One tree house had an access ramp and was wheelchair friendly.
Length Of Stay Three nights
Location In Lake Manyara National Park in northern Tanzania. The entrance to the park is 127 kilometers (80 miles) west of Arusha.
Owned And Managed &Beyond Africa, previously known as Conservation Corporation Africa (CC Africa), with headquarters in Johannesburg, South Africa, owned and managed the property. At the time of this writing, &Beyond itself is owned by two major shareholders, Capricorn (the Enthoven family, originally from South Africa) and the Getty Family Trust.
Size The property consisted of 10 tree houses scattered around a 3.25 hectare (eight acre) site. It could accommodate a maximum of 20 guests. It employed a staff of 45 including six guides. There were five game viewing vehicles.
Year Open-Renovated The property was built in 2002. It is extensively refurbished every April.
Lobby And Common Areas The main lodge was a split-level structure with hardwood floors under woven palm ceilings. The rear wall was wood-paneled, while the front of the structure was open to a large boma with a built-in brick oven and barbecue. A few steps up, a vast open kitchen and dining area occupied the right side of the lodge. Cooking ingredients, implements and small appliances were stored against the back wall. A long curved preparation counter with a built-in six-burner gas cook top faced the dining area where square bleached wood tables were surrounded with molded plywood and chrome chairs. To the left of the dining area, a short flight of stairs led up to the lounge, bar and open deck. Contemporary sofas upholstered in taupe cotton and wooden armchairs with matching seat cushions were arranged around coffee tables made of distressed African benches and stools. Bright green toss pillows added touches of color. Behind the sofas, credenzas made of thick polished wood planks over tree trunk bases held circular parchment table lights. The bar was built into a long nook in the rear of the room. Throughout the dining and lounge areas, the rear wall was lined with groupings of life-size ethnic carvings and tall, whitewashed wooden candlesticks with pillar candles. At the front of the lounge, on the deck overlooking the boma, two pairs of wooden armchairs with green canvas cushions faced each other across a large square coffee table. A small gift boutique was located at ground level beneath the lounge.
Bathroom
The bathroom was a continuation of the room style with a deep freestanding bathtub set on wood blocks in front of screened panels opening to the veranda. A bamboo ladder holding bath towels leaned against the divider that separated the bedroom from the bath. On the rear wall, a long wooden countertop held two white porcelain washbowls, each with a narrow window behind it. A rectangular mirror hung between the two windows. Next to the vanity, a screened door led to an outdoor shower. There was a fully enclosed water closet with a flush toilet at the rear of the bathroom.
Room My 73 square meter (785 square foot) room, Number Five, was built on a large platform under thatch, raised high within the lush forest canopy. The side entrance and the full length of the room were outlined by a wide L-shaped veranda with natural branch railings that seemed to melt into the trees beyond. The walls separating the interior accommodations from the veranda were made of screened panels with rolled up natural canvas shades. Under the peaked, woven palm ceiling, the interior décor was a harmonious blend of rustic simplicity and contemporary elegance. The far side and rear walls of the room were covered with wood paneling and the floor was distressed hardwood polished to a soft gloss. At the entrance, a loveseat covered in taupe cotton and a rectangular bleached wood pedestal coffee table holding soapstone boxes sat on a natural woven straw area rug. In the corner, a large weathered clay urn with a circular glass top held basic bar tools. Next to the sofa, a series over oversized chains with straw-covered links formed a visual divider between the sitting and sleeping areas. A king size platform bed stood in the center of the room. Its wide, credenza-style headboard held two reading lights with tall pewter bases and natural linen lampshades. There was a ceiling fan above the bed and mosquito netting hanging from a wooden frame. In the far wall of the sleeping area, a built-in storage unit and a writing desk with a molded plywood and chrome chair were separated by a wide walkway leading to the bathroom. A framed mirror hung behind the desk; bright green silk toss pillows punctuated the sofa and bed.
Meals The food was delicious and well prepared, with a strong pan African influence. Breakfast choices included a generous buffet of fresh and dried fruits, yogurt, cereals and freshly baked breads, and a full English breakfast menu cooked to order. Lunch was served at individual tables, each set with assorted meat dishes and salads, followed by a light dessert. Dinner was served in the boma and made the most of the brick oven and barbecue with irresistible just-out-of-the-oven flat breads, and grilled meats and fresh vegetables. Special dietary requirements could be accommodated by previous arrangements. Vegetables and fruits were purchased from selected local growers who followed chemical-free farming practices.
Amenities
Room amenities included bottled water for drinking and oral hygiene, a cooler stocked with an assortment of soft drinks and beer, an ice bucket filled with ice, stone boxes with nuts and dry fruits, assorted stationery, large electronic safe, flash light, votive candles, golf umbrellas, rubber boots, walking sticks, room and body insect repellent spray, a "gym in a basket" including yoga mat, jump rope, Pilates elastic rope and sets of one and two pound free weights. Bathroom amenities included terrycloth bathrobes, slippers, hair dryer, shower cap, loofah sponge, hand-milled facial soap, pump bottles of hair wash and conditioner, body wash, scrub and moisturizer.
Meals, soft drinks and house alcoholic beverages were included, as were daily laundry service and daytime game viewing activities. Optional nighttime game drives were available for an additional charge, as were top brand alcoholic beverages such as vintage wines, French champagnes and luxury whiskies.
Facilities There was a dining room, lounge, bar, gift boutique and swimming pool
Gift Shop A small gift boutique carried a limited assortment of chic camp-branded safari wear, as well a few local craft items, mainly wood-carvings, antique trinkets and jewelry.
Pool The free-form pool was long enough to comfortably swim laps. It was set in a deck surrounded by seven lounge chairs with taupe cushions, and shaded by matching market umbrellas. Beach towels were folded at the head of each chair.
Activities
In addition to twice daily game drives, Lake Manyara Tree Lodge was one of the rare places in Tanzania where guests could enjoy night game drives.
Game viewing The park offered excellent viewing conditions both in the quantity and variety of birds and game along the lake and in the forest. I enjoyed several sightings of the rarely seen blue monkeys (my first ever).
Game I sighted included: olive baboon, buffalo, bushbuck, Kirk's dik dik, elephant, giraffe, impala, spotted hyena, black-backed jackal, klipspringer, leopard, lion, banded mongoose, blue monkey, vervet monkey, warthog, waterbuck, wildebeest and zebra.
Birds included: cinnamon-chested bee eater, little bee eater, Augur buzzard, emerald-spotted wood dove, fork-tailed drongo, bare-faced go-away bird, long-tailed fiscal, greater and lesser flamingo, grey flycatcher, African hawk eagle, crowned hornbill, striped kingfisher, grey-headed kingfisher, Pangani longclaw, red-billed oxpecker, blacksmith plover, Isabelline shrike and saddle-billed stork.
Other The camp was powered by diesel generators. Electricity was available from 6 a.m. to midnight. There were convenient outlets in my room that could be used to charge my camera, phone and computer batteries. Although the camp did not have a dedicated spa facility, there was a licensed masseuse on staff who offered massages in the guest tents. &Beyond was voted Africa's Leading Responsible Tourism Company at the 2010 World Travel Awards, and was honored with the prestigious Africa's Leading Responsible Tourism Award. The camp closes for yearly maintenance from the end of March through April.
Cleanliness
Excellent
Date Of Visit February 2011
Reviewers Article and photos by Josette King
Service Every member of the management and staff I met was attentive, enthusiastic and eager to please. My personal butler was quick to remember my personal preferences and made sure they were indulged. My breakfast and luncheon table were always set in my favorite spot, and my sundowner drink materialized as soon as I settled on the deck before dinner. My guide, Malley, was knowledgeable and infinitely patient.
Would You Stay There Again? Yes
Contact Information
Address:
&Beyond Tanzania
Private Bag X 27
Benmore, Johannesburg
2010, South Africa
Phone:
+ 255 27 254 4295
(emergency 24×7)
+ 255 787 551108
Fax:
Website:
http://www.andbeyondafrica.com/luxury_safari/tanzania/lake_manyara_national_park/and_beyond_lake_manyara/accommodation/and_beyond_lake_manyara_tree_lodge
Email: