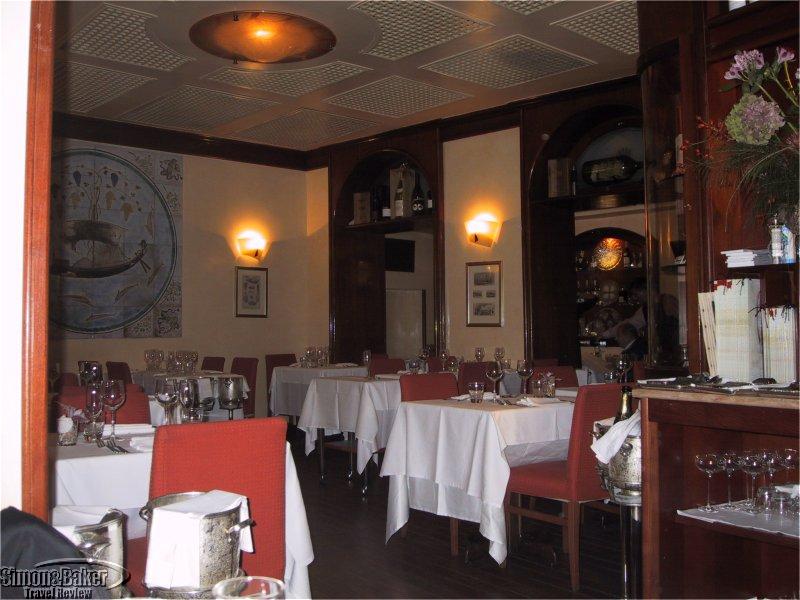 La Rosetta was every bit as good as I remembered and just as friendly.
Overall Impression
Although my hotel had recommended other more trendy restaurants and nearby
trattorias
I hoped to find a spot in a popular restaurant I had visited years earlier. A pleasant young man, Claudio, answered the phone when I called to make last minute reservations for dinner at La Rosetta, one of Rome's better known seafood restaurant. It was in a historic Roman neighborhood, a 20-minute cab ride from my centrally located hotel. When I arrived at the restaurant later that night, it was nearly empty. I thought Claudio had pulled my leg but as the night aged the dining room and terrace filled up to capacity.
Although a restaurant had occupied the same location since 1753, it wasn't until 1966 that a Roman housewife, Romana Coltella, and a Sicilian photographer, Carmelo Riccioli, decided to fulfill seafood lovers dreams there. For 40 years the restaurant has been dedicated to seafood and it shows. Their son, Massimmo and his sister Stefania, took over the restaurant in 1982. He was there the first time I visited La Rosetta (he translated some of the menu items for us) more than 10 years ago and again during my last trip to Rome. Time has a way of making things seem bigger and better sometimes but in this case dinner at La Rosetta was, though much more modern, just as enjoyable.
My multiple course seafood tasting dinner was inventive, well prepared and delicious. The staff were attentive and knowledgeable. I felt like a welcome guest. The ambiance was pleasant and convivial in the family owned and run restaurant. Overall, my last minute gamble paid off. La Rosetta was every bit as good as I remembered and just as friendly.
About The Executive Chef
A would be sailor who worked as a cameraman with famous film icon Federico Fellini, chef Riccioli is passionate about seafood. He learned to cook at home and discovered by trial and error what he liked. So much so he had published a recipe book in Italian, "
A Cena con gli Dei
."
He confesses to "an ongoing desire to discover new tendencies in cooking" and searches for ways to "blend tradition with the evolution of taste." His quest for evolution is a constant: "My life is driven by an unsatisfied satisfaction. I always need for there to be new games, new challenges which will stimulate me to carry on and to take on new projects. Cooking for me is a creation of rhythm and love with a constant renewal of these emotions and the pleasure of pleasing others."
Chef De Cuisine Maurizio Lustrati
Executive Chef Massimo Riccioli
Handicapped Access There were no special features to accommodate disabled diners.
Head Sommelier Alessandro Franchi
Location A stone's throw away from the Pantheon in Rome
Managed Francesca Mondello, Massimo and Stefania Riccioli
Opened-Renovated The restaurant opened originally in 1753 as Grande Ristorante Rosticceria (Great Rotisserie Restaurant) referred to as the "first seafood restaurant in Rome." The newest reincarnation was in 1966.
Owned Massimo Riccioli and the Riccioli family
Pastry Chef Claudio Pannebianco
Size The 80-square meter (800 square feet) restaurant could accommodate up to 50 guests. During temperate weather, an additional 20 seats were available in the garden.
Type Of Restaurant Italian seafood
DÉCor-Ambiance The décor was airy and contemporary with Sicilian tiles, including a sailing themed centerpiece, peppered on beige walls. From my table next to the door I could see beyond the adjacent wood bar into the kitchen. A large and attractive fresh fish display set on ice showcased the options for the day. Two fish tanks with crabs and spiny lobsters adorned a corner while fresh flower arrangements enhanced the restaurant mood. Cutlery was by Groponce. Artistic touches included an Austrian Art Decò lamp and Lalique collection from 1910 as well as works by contemporary painters Mario Schifano, Maurizio Mochetti, and Alberto Pizzicannella.
Cellars Wine And Alcoholic Beverage Selection The most affordable wine I found was a Lazio bottle for 24 euros. For champagne lovers there was Nicolas Feuillante brut, Cuvee Dom Perignon and Cristal Rose. Options on the high end included a Montrachet Grand Cru 2000 Romane Conti for 2,200 euros a bottle. La Rosetta self described its cellars, which included a selection of Caribbean rums, as containing "one of the best collections outside of France" and was home to more than 750 wine labels.
Meal
I requested a tasting menu to sample the chef's cuisine. They brought me a glass of sparkling wine and something to nibble on (grissini and a swordfish and mushroom paste) while the meal was prepared. The first course consisted of six types of seafood. I especially liked the shrimps and the tuna with white truffles. The white snapper course was exquisite.
It began with Aperitivo con Spumante brut "Grilli" La Palazzola from Umbria; Benvenuto con Pesce Spatola, funghi ovali e purea di cicoria: Scampi crudi con sale ocra hawaiano, Gamberi gobetti con salsa di arancia, Ventresca di Tonno con tartufo bianco d'Alba, Fritturina di Moscardini, Carpaccio di Tonno con aceto di fragoline e timo, Tartare di Tonno con capperini bottoncini di Pantelleria.
There was also Capesante croccanti in crosta di patate con crema di sedano followed by Calamaretti con pomodori appesi e ricotta infornata; Paccheri con Dentice e funghi porcini; Fettuccine con frutti di mare e nastri di zucchini; Linguine con Gamberi e tartufo bianco; Filetto di Spigola al limone con Gamberi rossi croccanti ed asparagi.
For dessert there was: Follia di Cioccolato; Millefoglie con crema di mandorle e frutti di bosco.
The wine was Vin Santo "Tenimenti Luigi d'Alessandro" Cortona
Other
La Rosetta has held a star from the picky Michelin guides for many years and has been rated as a top restaurant by a number of travel guidebooks and magazines.
Reservations required Yes
Date Of Review
September 2005
Reviewers Article and photos by Elena del Valle
Service Francesca and her staff were diligent and attentive in spite of an overbusy seating.
Would You Dine There Again-Recommend It? Yes
Contact Information
Address:
Via della Rosetta, 8/9
00186
Roma, Italy
Phone:
+39 06.68.61.002
+39 06.68.30.88.41
Fax:
Website:
Email: