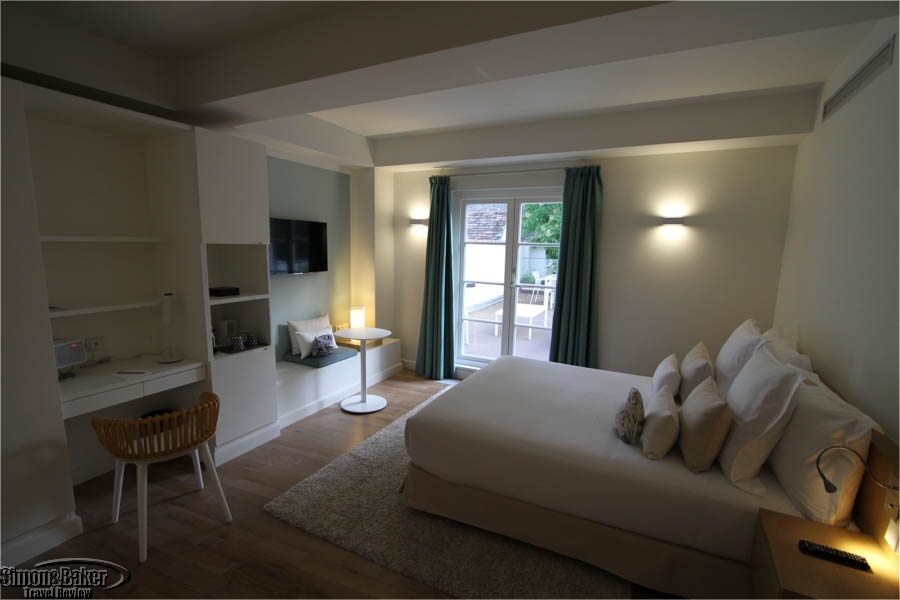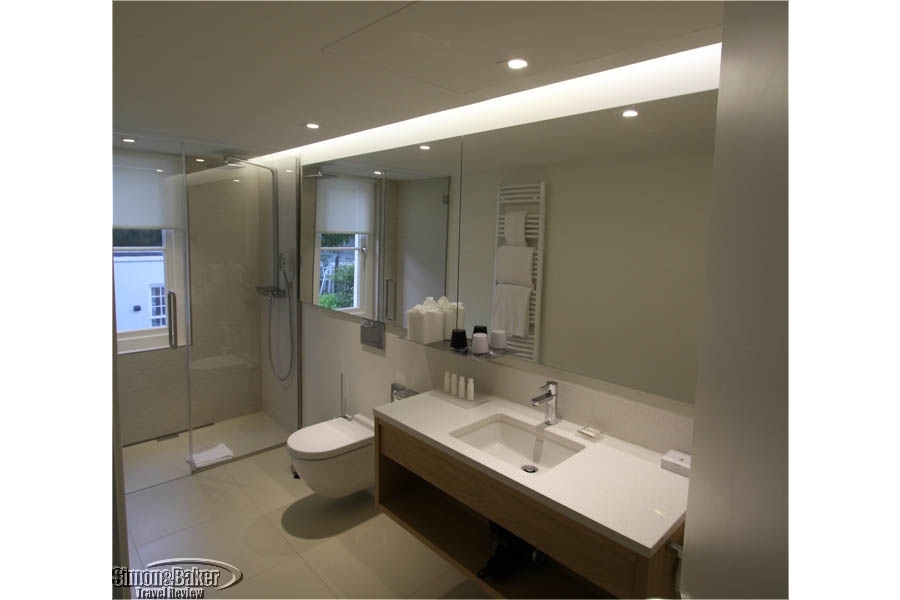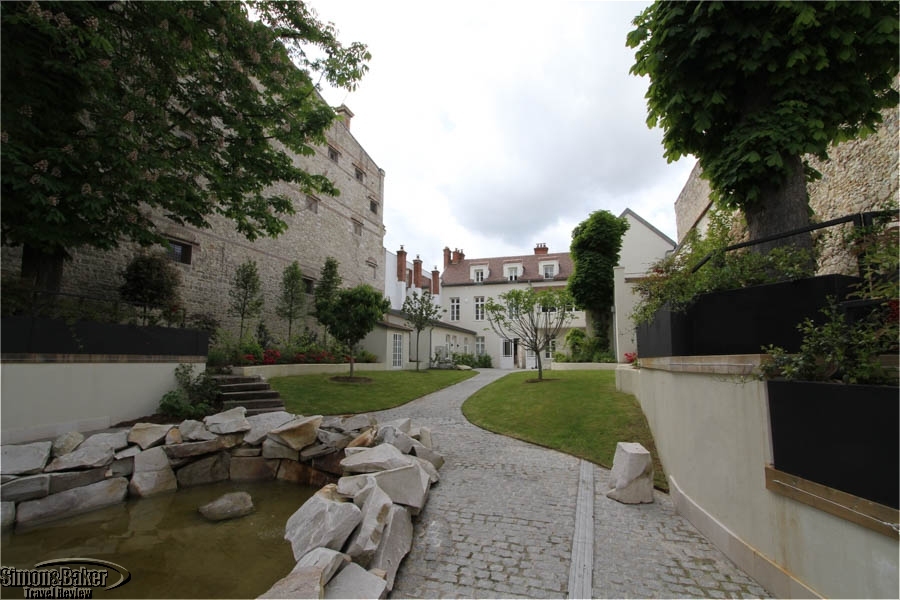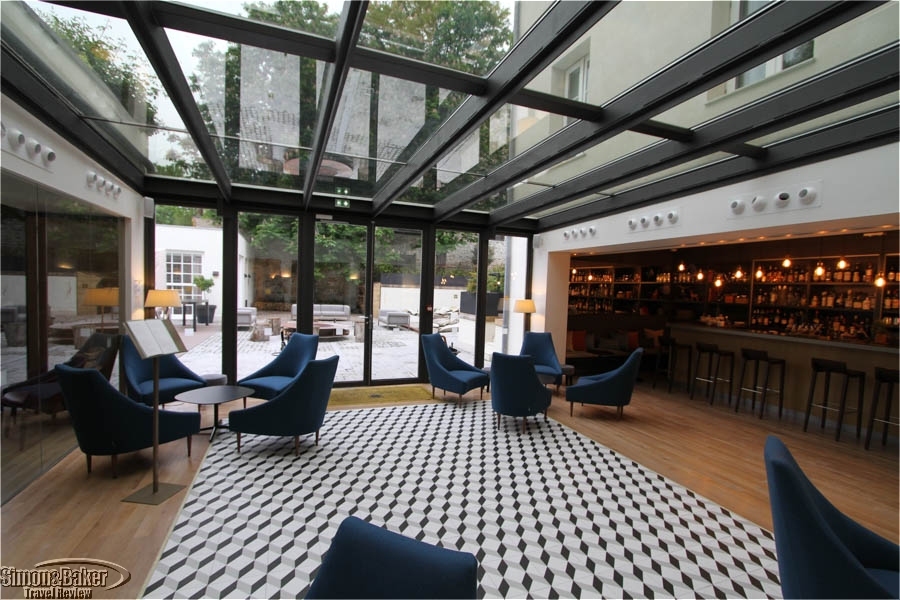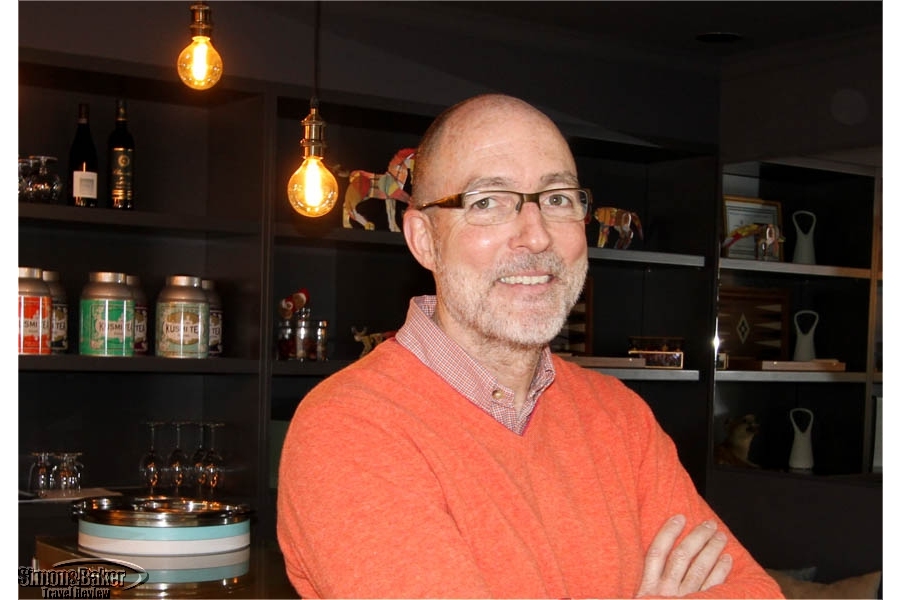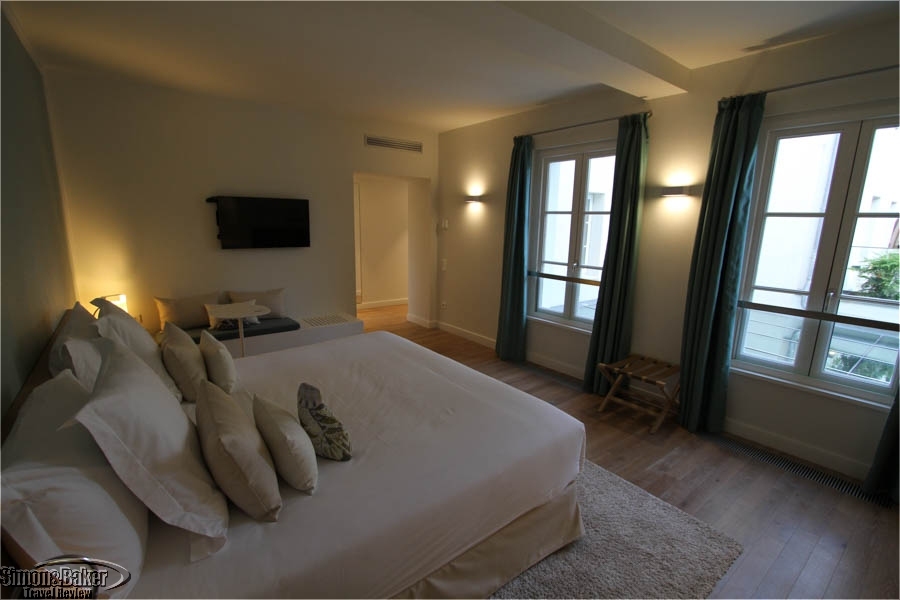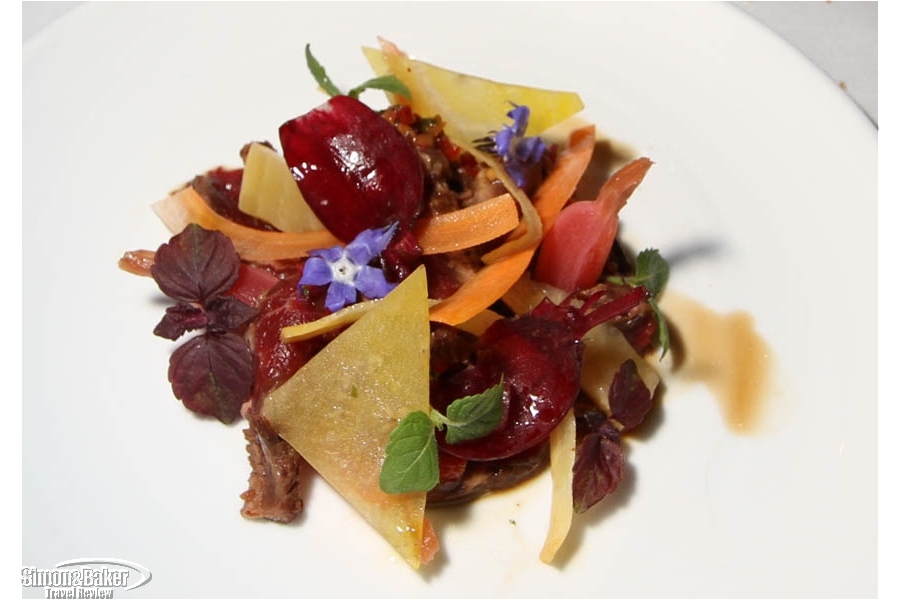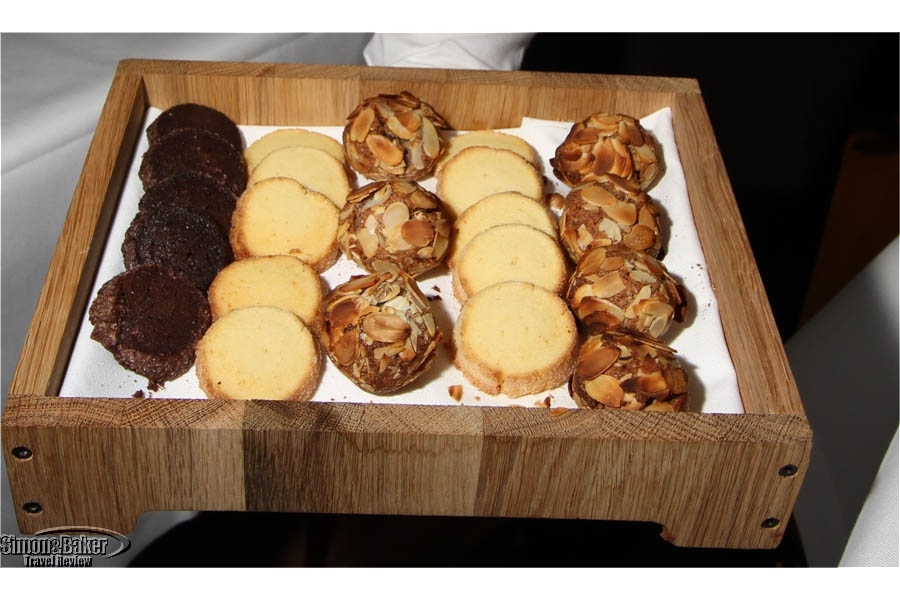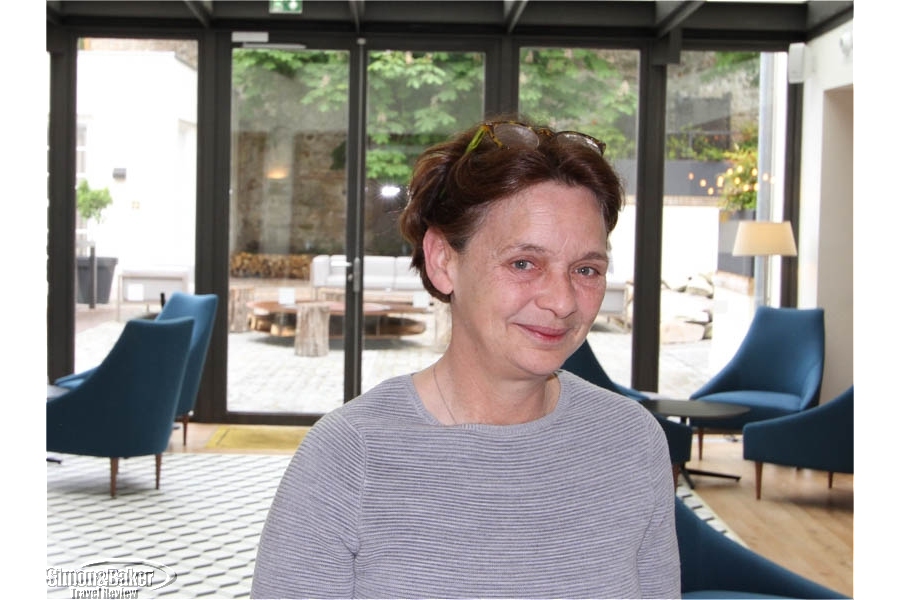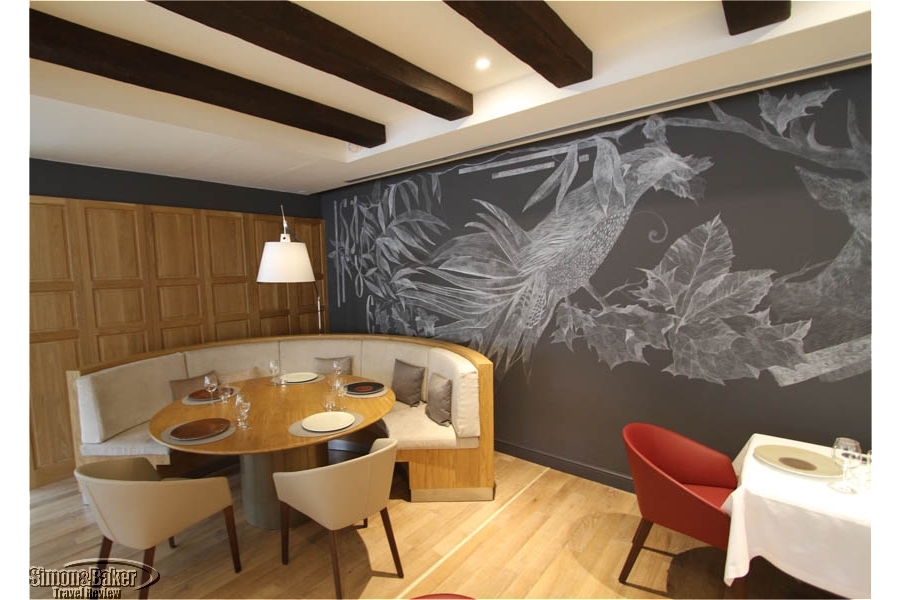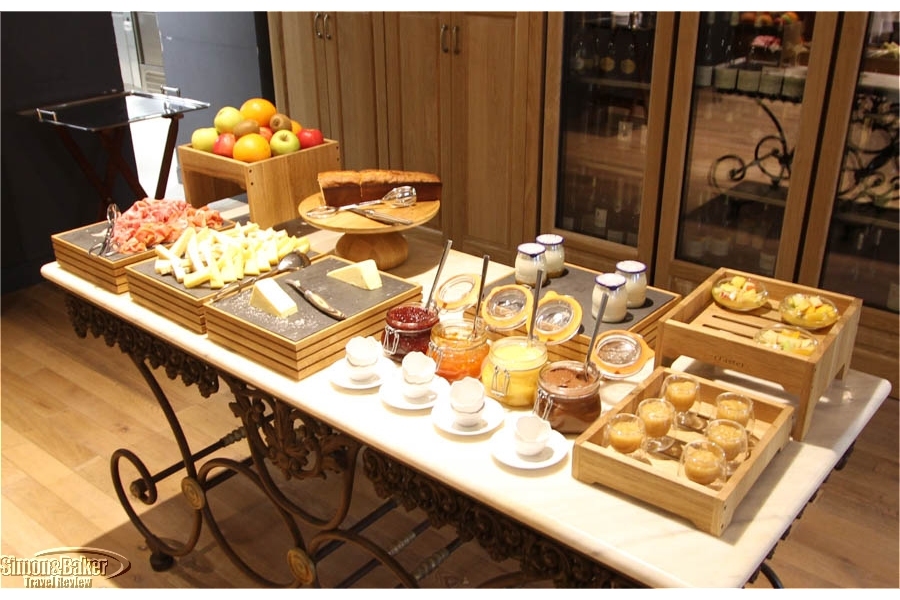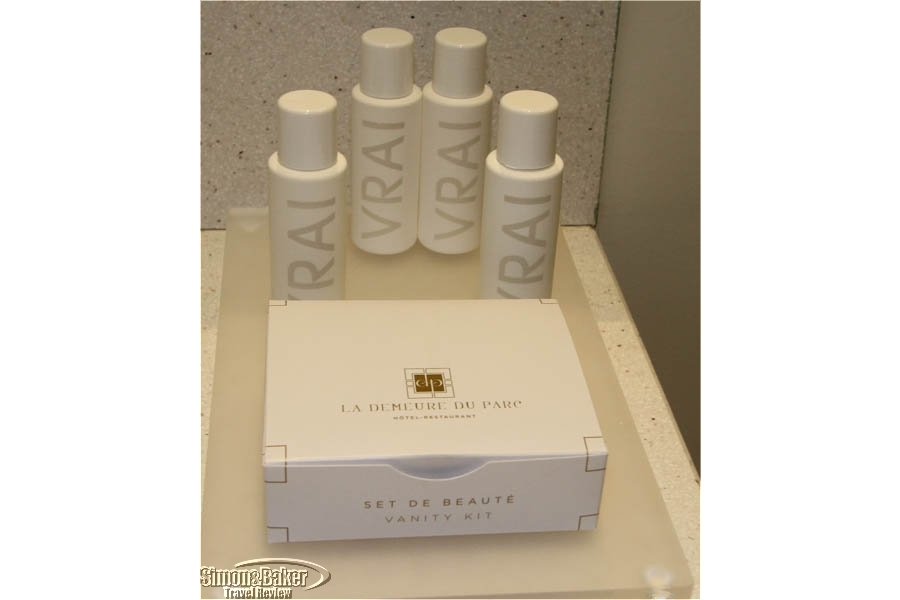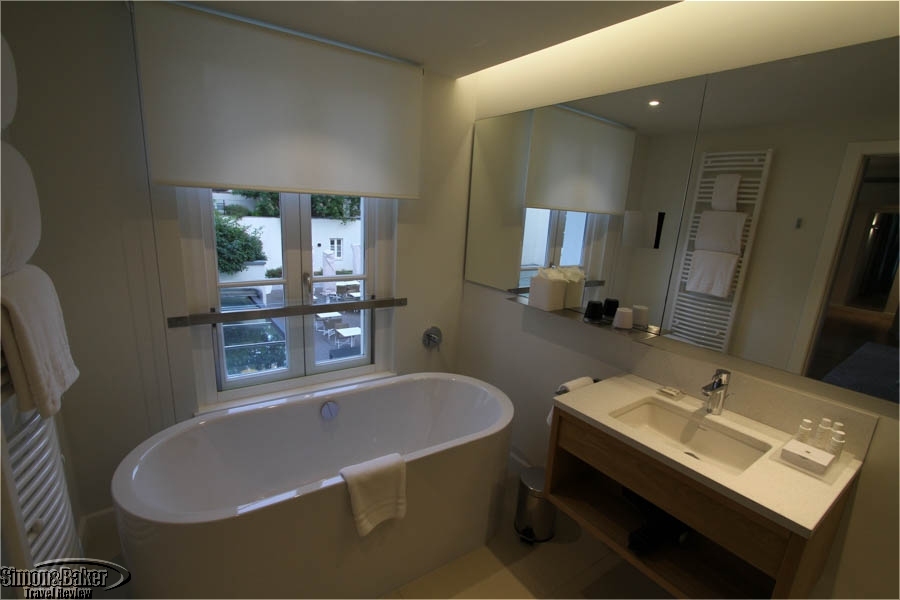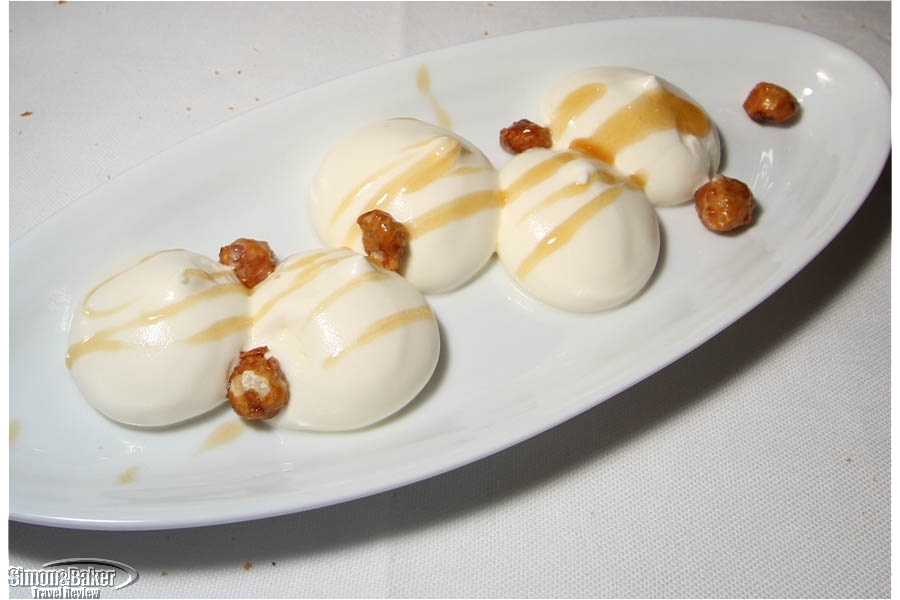 Should we return to the area La Demeure du Parc would be at the top of our list.
Overall Impression
The first thing we liked about La Demeure du Parc, a boutique hotel in the heart of the village of Fontainebleau, France, was its nearness to Fontainebleau, the famed former royal castle. The boutique hotel was within convenient walking distance to the palace as well as the village's bustling central district, which housed restaurants and shops.
We also liked the modern sunlit lobby with a glass roof and equally modern rooms with natural light, artistic touch, amenities, friendly staff and gourmet restaurant. Should we return to the area La Demeure du Parc would be at the top of our list.
Children
Yes
Class of Accommodation Four Star Hotel
Connectivity There was complimentary WiFi in the rooms and common areas.
General Manager Thierry Durand
Handicapped Access No
Length of Stay One night
Location In the historical center of Fontainebleau, in the Seine-et-Marne Department (www.turisme77.co.uk and www.paris-whatelse.com) of France
Managed SAS Hotel du Parc
Owned Nicole Ivassenko
Pets Allowed No
Size The 27-room 2000 square meter property was two stories tall and employed 24 staff.
Year Opened-Renovated The hotel first opened in a renovated historic building October 2015
Lobby and Common Areas The decorative style of the lobby and common areas was meant to be Contemporary and Elegant.
Bathroom My bathroom was spotless. It had a bathtub and a separate shower with a glass door. The toilet was in its own enclosure separated by a glass partition from the shower.
Room We each stayed in 41 square meter Deluxe Double rooms on opposite ends of the first floor, 103 and 107. They had modern décor and luxury amenities. Mine, perhaps because it had a long entry hall felt less spacious than it was. My travel partner's had a furnished rooftop terrace facing the entrance courtyard. The only downside was that the restaurant entrance was immediately below his roof and the pungent kitchen odors rose to his terrace spooling the mood. Also, staff smoked during their breaks in that same space so that residual food and tobacco odors mingled in an unpleasant aroma.
Food and Restaurants
La Table du Parc (6 rue d'Avon, 77300 Fontainebleau, France, +33 1 60 70 20 00, latableduparc.fr) was on the ground floor of the hotel, across from the lobby bar. It could accommodate up to 50 guests and served local gourmet cuisine. Like the hotel, it had opened its doors to the public for the first time October 2015. The interior had a contemporary design featuring wood floors, exposed wood beam on the ceiling, a large glass wall with a view to the hotel's front courtyard and original hand painted chalk artwork by Camille Rouseau on the rear wall (a favorite). The tables were tablecloth covered and the dinner service was pretty.
Carmen Thelen, a German born French chef, and her colleague, Sophie de Bernardi, pastry chef, led a team of 12. The executive chef, Frédéric Vardon, was cofounder and chef of the Le 39V restaurant in Paris, as well as the quartet of Zinc bistros (Gennevilliers, Paris Opéra, Paris International Golf Club, Courchevel 1850). Prior to Chef Thelen's arrival at La Table du Parc, she worked by his side at Le 39V in Paris, and Zinc des Neiges Courchevel 1850. The menu was designed to vary with the seasons, to take advantage of the freshest produce.
During our activity filled stay we had a tasting menu dinner and breakfast. Both were outstanding. Breakfast was a satisfying combination of buffet and a la carte options with deli meats, eggs, breads and pastries, fresh fruit, fresh juice, coffee, tea and hot chocolate.
The dinner dishes were refined, well prepared and presented artfully while the service was attentive and warm. For dinner we began with kalamata olive bites and lovely chilled cocktails. There were two types of bread while we waited for our meal. A palate teaser with individual servings of beet root, fish cream and duck terrine followed. There was Warm white asparagus with sabayon and citrus sauce and Marinated beef with vegetables. Next, my dinner partner had a smoky lamb dish and I had Saint Pierre fish (slightly overcooked, not a favorite). For dessert we had Grand Marnier Souffle with blood orange shavings and blood orange sauce, a memorable dish and a favorite. For post dessert there were almond clusters, diamond lemon bites and chocolate nibbles.
Amenities
There was heating and air conditioning, complimentary WiFi, in room electronic safe, Courtesy Tray stocked with complimentary Nespresso and Kusmi Tea, mini bar, bathrobes and slippers, and hospitality products from Maison Fragonard. Bespoke services such as laundry, shoe repair, and alterations as well as baby cots and extra beds were available on request.
Facilities There was a gourmet restaurant and a bar on the ground floor.
Conference Facilities
There was a 100 square meter meeting room with capacity for up to 80 people.
Other The hotel received the 2016 Biosphère Ecoutourisme, a label from United Nations, through the Chamber of Commerce and Industry of Seine et Marne.
Cleanliness
Excellent
Date of Review May 2016
Reviewers
Article by Elena del Valle
Photos by Gary Cox
Would You Stay There Again? Yes
Contact Information
Address:

La Demeure du Parc
36 rue Paul Séramy
77300 Fontainebleau
France

Phone:
Website:
Email: