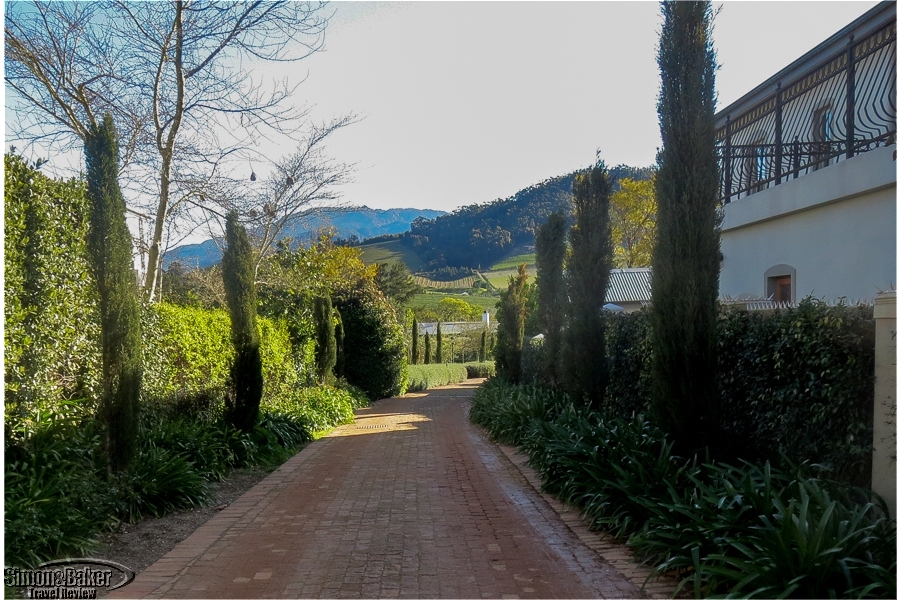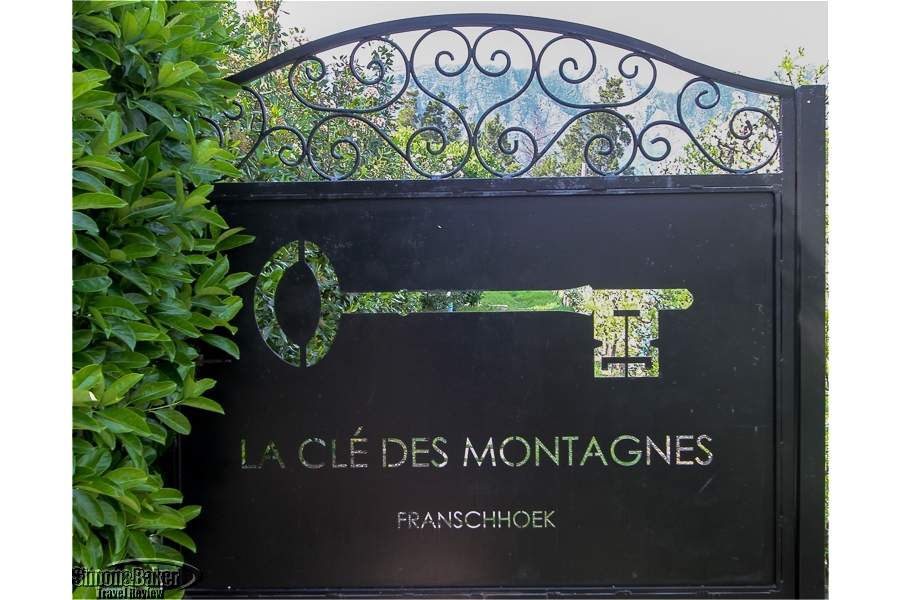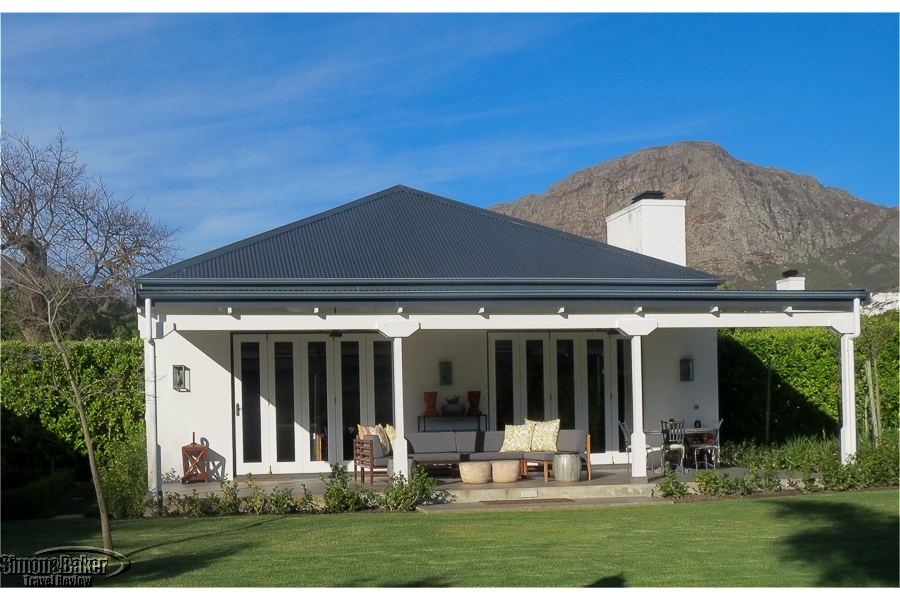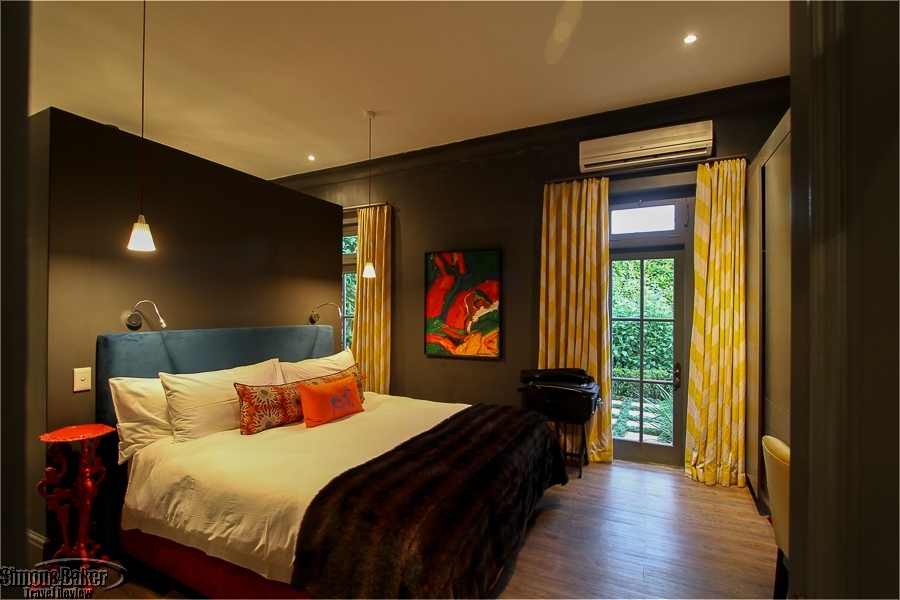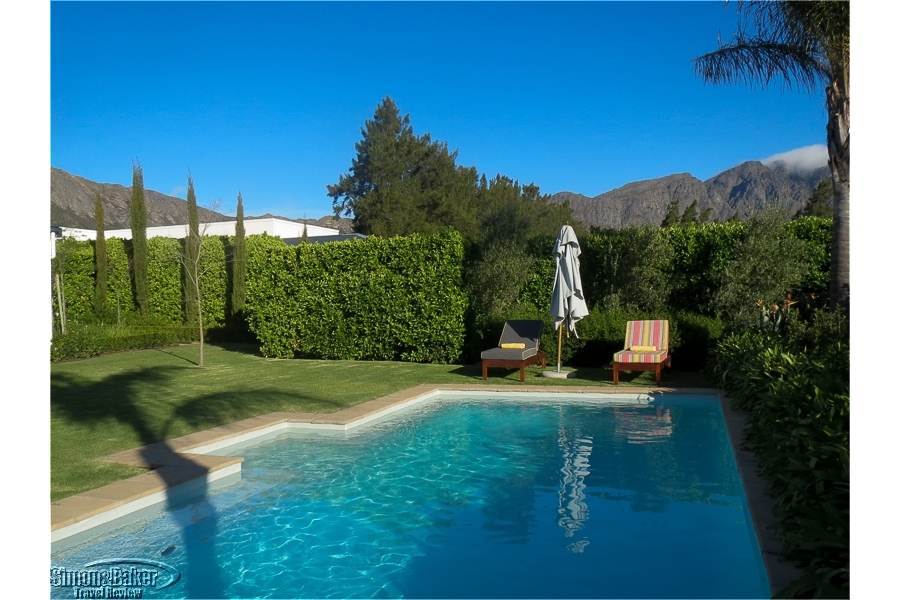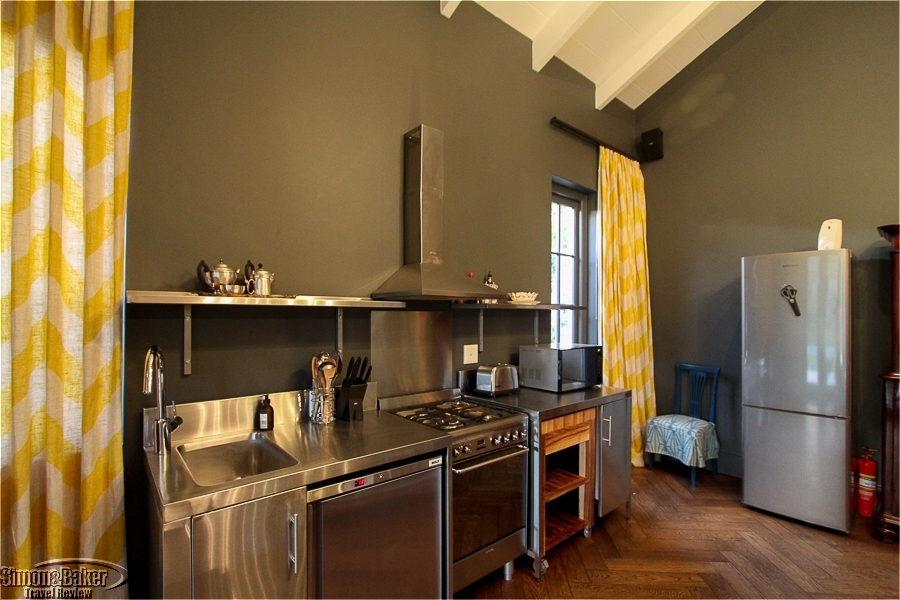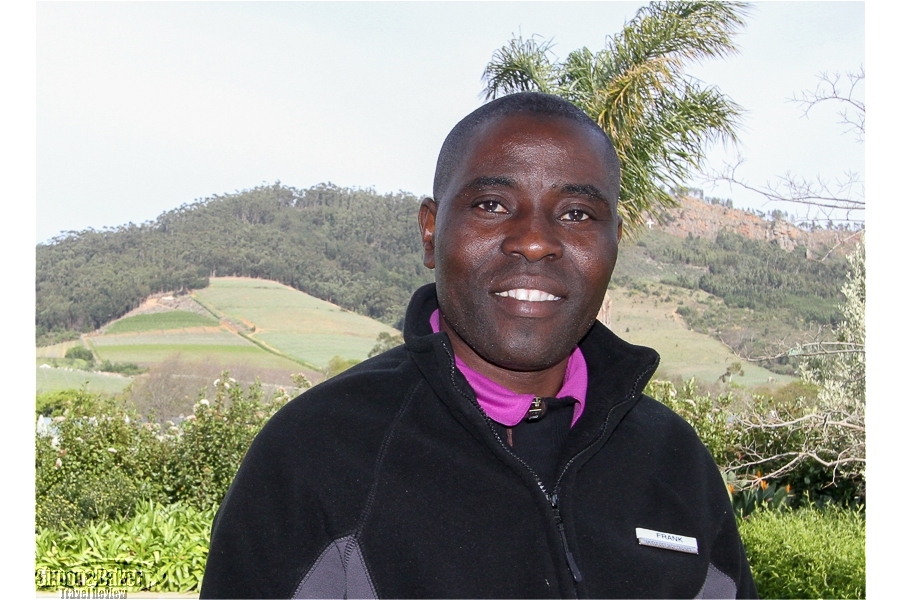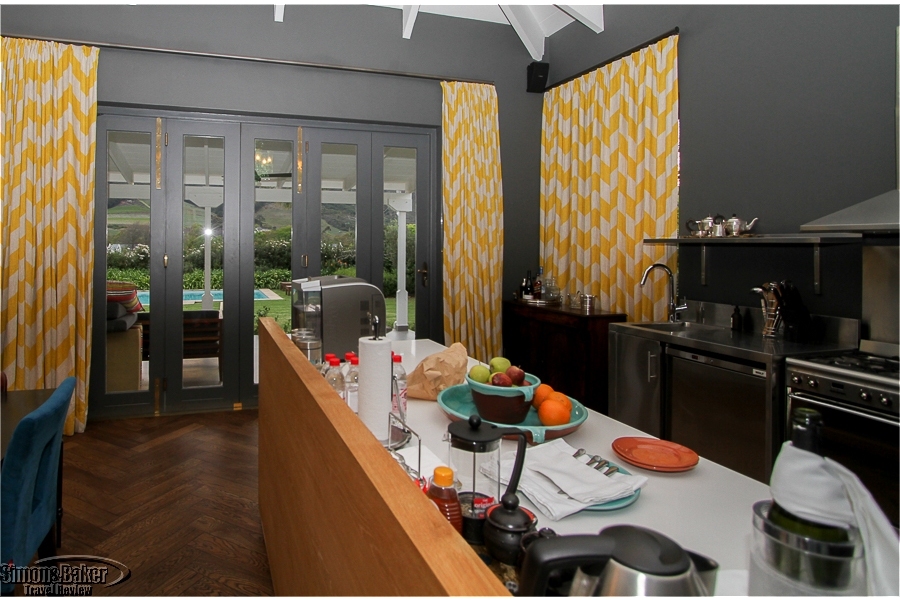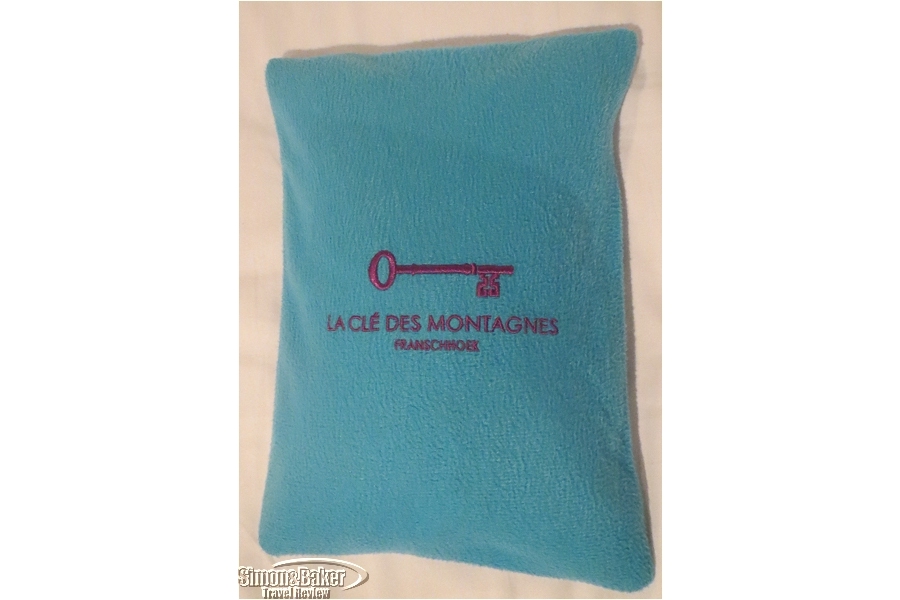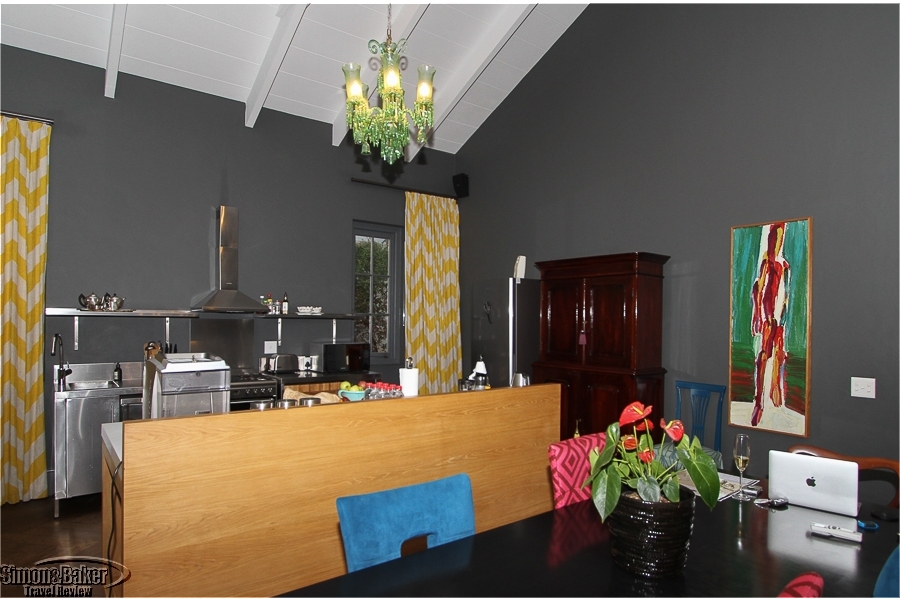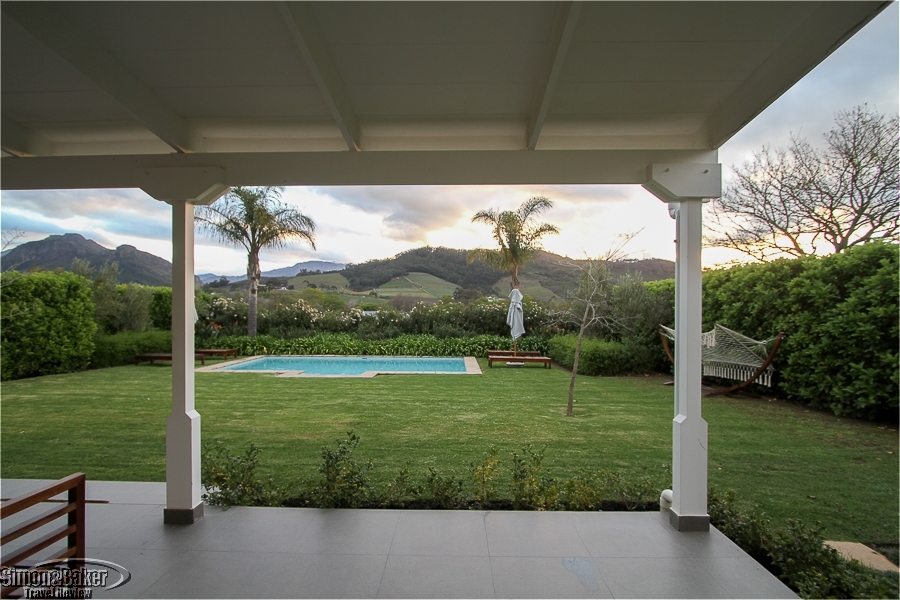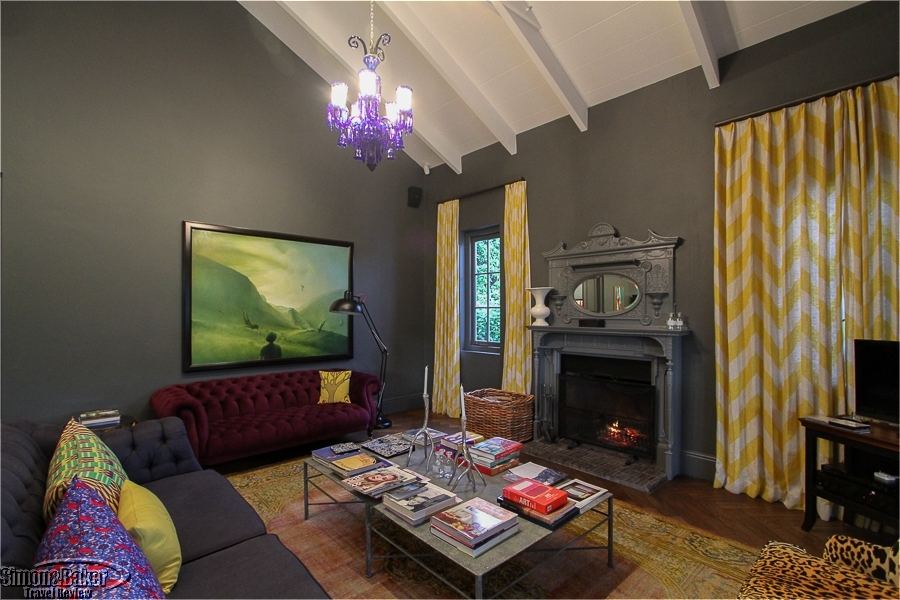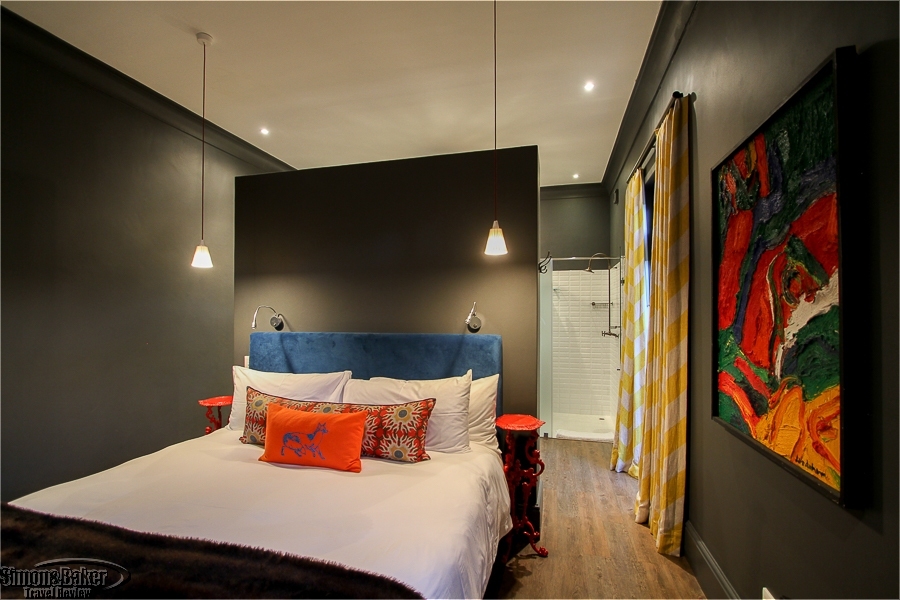 I had a superb stay and would return with pleasure to La Galerie, which is now on my short list of favorite South African properties.
Overall Impression
During a recent visit to Franschhoek, South Africa's most refined food and wine village, I stayed at the beautiful La Galerie, a 183 square meter artsy and elegantly appointed two bedroom house with a private garden and pool and memorable mountain views. La Galerie was one of only four houses within the La Cle des Montagnes estate, a gated plum and vineyard property a few blocks from the village main street.
The house itself was furnished for style and comfort, and included the services of two unobtrusive butlers and other service oriented staff members. The contemporary art and decor, amenities, fireplace, multiple televisions, sound system, and well equipped kitchen made it homey. In the morning, the butlers prepared breakfast in the house kitchen and served it in the dining room. For the remainder of the day, if I felt like cooking I could. I also had the option of requesting that the staff prepare dinner (during my stay they made a delicious grilled South African style braai dinner). And, thanks to the property's central location within the village I could dine out at one of several restaurant's within a short drive or taxi ride away.
I loved the mountain views, especially at dawn and dusk, and the quiet that enveloped La Cle des Montanges. La Galerie was special thanks to its thoughtful combination of luxury features and amenities, outstanding central residential location in the village, relaxed atmosphere, and service orientation. I had a superb stay and would return with pleasure to La Galerie, which is now on my short list of favorite South African properties.
Children
Yes
Class of Accommodation Five Star exclusive use Holiday Villas
Concierge Peggy Klement and Jason Hendricks provided concierge services.
Connectivity There was complimentary high speed WiFi in the house. I was able to connect easily.
General Manager Peggy Klement
Handicapped Access One of the houses, Le Manoir, could accommodate guests in wheelchairs.
Length of Stay Two nights
Location A few blocks from the main street in the village of Franschhoek, South Africa
Owned and Managed Michael Pawlowski
Pets Allowed No
Size Four houses (called Villas) with private gardens and pools were located within a six hectare plum orchard and vineyard estate. The property employed 12 full time staff.
Year Opened-Renovated The property opened in 2012.
Lobby and Common Areas
Once inside the external gate a narrow driveway led past a security enclosure to a small parking area. The property office was on one side and the entrance to La Galerie was across from it. There was another entrance and additional parking via an adjacent street.
From the entrance of La Galerie a long hallway lined with large framed oil paintings and glass framed photos led to double wood doors. Beyond the doors there was a single living, dining and kitchen area. There was a dining room table with three different styles of armless chairs and seating for six. A plant was in the middle of the table. In the living area there was cloth furniture. A burgundy colored settee, a blue gray sofa with colorful patterned cushions, and two faux leopard style armchairs were centered around a rectangular metal table covered from end to end with books two and three high. Two tall candlesticks and some glass jars took up the slack in the middle. There was a fireplace across from the coffee table, which my butlers lit at night. Yellow and white patterned curtains that reached high on the slate gray walls covered the windows and doors. A modern sculpture of three box shaped pieces set at angles on top of each other and crowned with a black horse head stood against the wall in front of the dining table. Glass doors the width of the house led onto a covered porch and fenced in private landscaped yard with a swimming pool.
The house had gray walls, high ceilings, wood floors, recessed lights, rugs and blue and green chandeliers in the living area. Wall mounted air conditioning and heating units and underfloor heating allowed me to adjust the temperature in each room.
The kitchen had full size Samsung and small Wolf refrigerators, sink, island counter, Smeg gas stove and oven, Samsung microwave, Lavazza coffee maker machine, hot water pitcher, and Mellerware Sigma toaster. There were also pots, pans, dinnerware, silverware, and glassware in a wood cabinet. The alcoholic beverages were atop a small wooden cabinet in the corner next to the sink.
Bathroom The bathroom was divided into three main areas: a frosted glass enclosed water closet, a frosted glass enclosed shower, and the area in the middle which housed a clawfoot bath tub next to a wood towel rack and twin sinks sandwiched between the two glass enclosed areas. The floor in the water closet and shower was covered with tiny round white tiles. The walls were tiled with rectangular white tiles which reached up to the height of the glass enclosure; above that the wall reached the ceiling. A narrow and long rectangular window faced a side garden, allowing sunlight in during the day.
Room
From the entrance to the house I followed an art filled hallway to toward the living, dining and kitchen in the back. On either side of the hallway there were two identical 19 square meter bedrooms. I stayed in the bedroom on the left side. Across the hall there was a nearly identical bedroom. The only difference I noticed was in the color of the headboard and night tables and the artwork. Both had closets built into the wall with ample hanging and shelf space. In the middle of the wall, there was a vanity with an armless chair, a lamp, and a small mirror. Above the vanity there was a gray mirror with a flat screen Hisense television mounted on the wall.
A bed for two set against a built in blue cloth headboard and framed by identical small metal red tables occupied the middle of the room. Above the headboard there were night lamps attached to the wall. Additional light was provided by two small lamps hanging from the ceiling over the bed. Behind the bed a partial wall separated the bedroom from the door-less bathroom, which was accessible from either side of the bed.
Food On offer for breakfast there was yogurt, bottled or fresh orange juice, cereal and croissant and an English breakfast (eggs, and grilled bacon, mushrooms and tomato) as well as hot beverages. For dinner John prepared steak and lamb, vegetables, mashed potatoes, homemade gravy, and a salad. For dessert there was homemade sweet cream with lemon zest. While there were many fine restaurants within relatively easy reach it was nice to know that if wanted to dine in and not cook my butlers could prepare dinner.
Amenities
There was original artwork throughout the house. There were feather pillows, duvets, extra microfiber blankets, slippers, microfiber bathrobes and electronic safe. Butler services such as continental breakfast prepared in the house and served in the dining room.
There was a Hisense flatscreen television in the living room and in each of the bedrooms, Pioneer DVD player and sound system with two wall mounted speakers in the living area, and an iPod dock with an adapter for new iPhone models. At turn down there were fresh lavender sprigs, a hot water bottle and small dark and white chocolate bars.
There were complimentary bottles of local Franschhoek white wine, La Chaumiere sparkling Methode Cap Classique wine and house branded pinotage red wine. There were full size bottles of complimentary (for consumption during the stay) Grey Goose Vodka, Bombay Gin, Johnny Walker Black Label whiskey and KWV brandy. The refrigerator was stocked with complimentary bottled water, milk, yogurt, and juices. There were small apples in a bowl.
In the bathroom, there were plastic bottles of Charlotte Rhys toiletries of 100 milliliters of conditioner, shampoo, body wash, and soap and 200 milliliters of body lotion. There were also cotton pads, cotton swabs, cotton balls, fresh flower, and scented bath salts in a glass container.
Pool In the back of the house amid the lush green garden there was an eight meter long by four meter wide pool. It was 1.7 meters deep. There were cushioned lounge chairs and an umbrella poolside.
Other I had trouble finding the property because Cabriere street is divided into two separate sections. There was no sign on the first segment of Cabriere to indicate that the street continued. The property was on an unpaved road with water filled holes and mud. As soon as I saw the exterior of the building I knew I had arrived because the name was written on the gate. I pressed the button on the pad by the gate and as soon as I provided my name and explained I was checking in the gates opened. After speaking with the guard I continued down a narrow road to a small parking area in front of reception. It was not possible to receive calls directly on the phone in La Galerie.
Cleanliness
Excellent
Date of Review September 2015
Reviewers
Photos and Article by Elena del Valle
Service The house was serviced twice daily and the staff were on call in between those times (they provided me a phone number where I could reach them). Frank Chirwa and John Mhone, service oriented and always on time, were my butlers. Jason Hendricks, hospitality manager, greeted me as soon as I parked the car. He was in charge of the property the general manager's absence. Elizabeth and Pearl cleaned and did turn down. Peggy made several excellent suggestions in advance of my arrival for activities in and around the village that enhanced my stay and appreciation for the area manifold. Jason was helpful and knowledgeable about the village, assisting me with service bookings easily and with good humor, even when I requested last minute changes or additions. The staff's guest oriented attitude was one of the reasons I enjoyed my stay at La Galerie as much as I did and would recommend it to friends.
Would You Stay There Again? Yes
Contact Information
Address:

La Cle des Montagnes
13 Daniel Hugo
Franschhoek
South Africa

Phone:
Website:
Email: