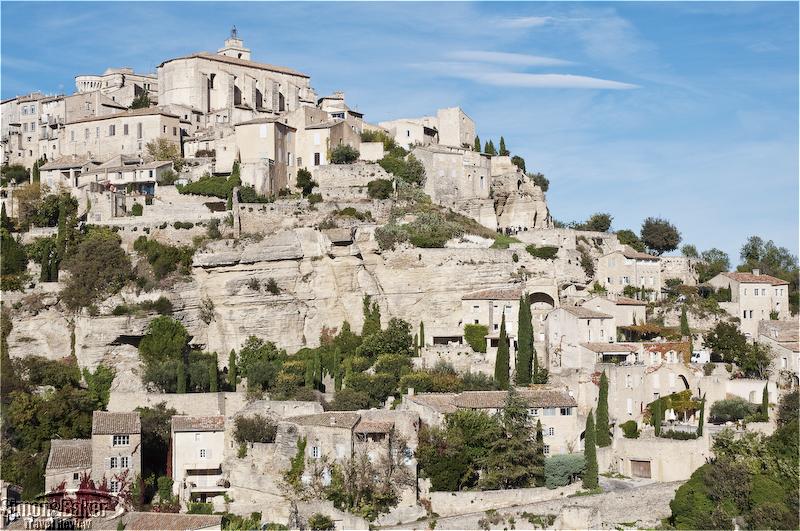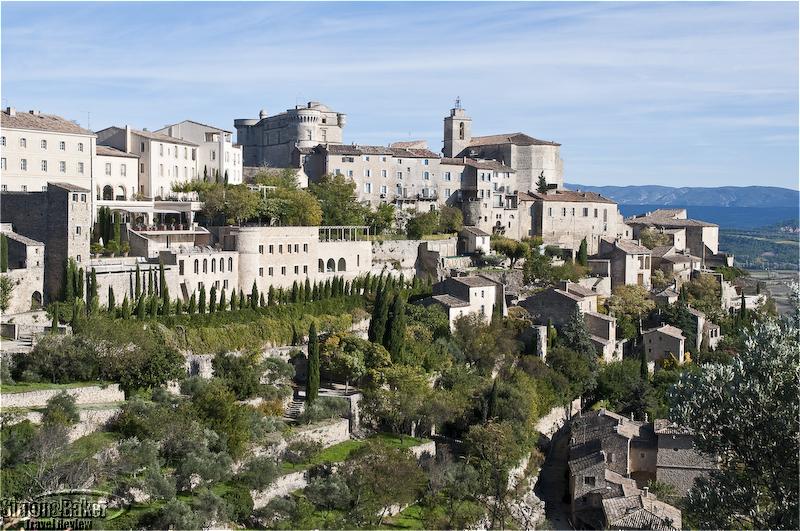 Now their outer walls are glass-fronted arches and long bay windows that open onto covered terraces and hanging gardens overlooking the sun drenched valley.
Overall Impression
Unique location high within the fortifications of one of the most picturesque hilltop villages of the Luberon Valley in France; luxurious accommodations in the understated traditional Provencal style; warm and intimate ambiance; La Bastide de Gordes had it all. Perched on a rocky ledge at the very rim of a steep valley, the property was a minute's walk away from the heart of the village, a fortress originally built a millennium ago. It was expanded over the next few hundred years before extensive reconstruction in the 16
th
century added some Renaissance elements and gave it the appearance it has retained to this day.
The three houses that make up La Bastide de Gordes date back to that Renaissance period, and share a panoramic view of the Alpilles and the Luberon countryside (then a strategic necessity) with the nearby Gordes Castle. The homes experienced varied fortunes throughout the centuries before their current owner restored them three decades ago into a charming manor-like hotel unobtrusively integrated into its historic surroundings. From the narrow medieval street, the pale limestone and roughcast two-story façade characteristic of the area barely hints at the four levels of luxury within, linked together by ancient stone staircases and modern elevators reaching down to what were once deep, vaulted cellars. Now their outer walls are glass-fronted arches and long bay windows that open onto covered terraces and hanging gardens overlooking the sun drenched valley.
Children
The hotel welcomed children of all ages.
Class Of Accommodation Five star boutique hotel
Connectivity There was complimentary WiFi Internet connection in the reception and bar areas. In my room, connectivity was provided by an outside contractor at the rate of 17 euros per day (approximately U.S. $23 at the time of my visit). Connection was reliable, with medium speed.
General Manager Isabelle Dequid
Handicapped Access There were three rooms available to mobility impaired guests.
Length Of Stay Two nights
Location In the Vaucluse department in southeastern France. Gordes was a 45 minute drive east of Avignon and one hour north of Marseille. Paris to Avignon via TGV (short for train à Grande Vitesse , or high-speed train) was under three hours.
Owned-Managed The Mazet family. Founder Jacques Mazet remained active in the management of La Bastide de Gordes.
Pets Allowed No
Size The property included 25 rooms and 15 suites, three separate dining rooms for breakfast, lunch and dinner, and an 8,500 square foot (800 square meter) spa. The hotel employed a staff ranging from 20 to 30, based on the season. The spa maintained a staff of eight.
Year Opened-Renovated The property opened in 1988 after an 18 month reconstruction effort. It has been meticulously maintained and regularly updated ever since.
Lobby And Common Areas
The three Romanesque arches that formed the hotel's front entrance were lined with floor to ceiling plate glass and matching arched glass walls on the opposite side of the reception foyer. The latter opened onto a terrace that overhung the valley. A bar-height burled wood reception desk was to the right. The floor of the foyer was paved with large slabs of creamy local limestone with the walls painted to match. On both sides of the front door, large clay urns held topiary trees. In the center of the room, four contemporary taupe rattan armchairs with natural canvas cushions encircled a round wrought iron and wood coffee table. Two matching armchairs separated by a round wooden side table sat against the glass wall in the far corner of the room. An oil painting of a Provencal landscape hung behind the reception desk.
To the left of the foyer a wide circular stone staircase led to guest rooms above and the dining rooms below. To the left a hallway led to the bar and lounge where the floor and walls matched those of the foyer. Large picture windows were draped in floor length natural cotton. The décor was eclectic, with contemporary sofas upholstered in bold black and white floral prints and barrel chairs covered in black, white and taupe stripes resting on brown woolen throw rugs. The main sitting area was arranged around a large square glass and wrought iron coffee table to face an 18 th century wooden fireplace topped with a tall gold-framed mirror. The polished marble bar top rested on a rustic wooden base with inlaid front panels. It was antiqued in neutral tones that complemented the walls. Three black metal barstools with caned seats were lined in front of it. On the left, a wide doorway led into the lounge where French Empire-style bergères upholstered in beige floral print and an overstuffed rolled-arm sofa covered in cream damask were arranged around a contemporary glass and metal coffee table. They sat on a large red tribal rug. A long bookcase flanked by a pair of white and gold candlestick floor lamps with parchment shades filled the far wall. Between the two picture windows, an antique gold mirror hung over a white writing desk and caned chair. In the bar and lounge large oil paintings of flowers in the 17 th century Dutch style hung on the wall. Vases of fresh flowers were randomly placed around the public areas.
Bathroom
The floor of the 110 square foot (10 square meter) bathroom was covered in handcrafted red clay tile typical of the region. A lighter shade of identical tiles covered the walls and vanity countertop with its set-in white porcelain sink. Other bathroom fixtures included a deep bathtub with a hand-held shower, a walled-in shower stall and a separate water closet. A large wall mirror and telescopic magnifying mirror hung above the sink. A towel rack hung on the wall that separated the bathtub from the shower stall.
Room My 215 square foot (20 square meter) Deluxe Valley Side room, Number 66, was a light-filled retreat decorated in Provencal style, with cream painted walls and furniture. Lavender blue accents included the king size bed headboard and bedside tables. Bedside lamps had metal bases and white parchment shades. The floor was carnelian red wall-to-wall carpeting with gold pin dots. Two broad French windows faced the valley. They had floor length drapes in lavender floral print on a white background and white louvered shutters. A bureau with attached desk and a caned chair stood in the center of the near sidewall, with a large rectangular mirror hanging above. The top of the bureau held a widescreen television set. On the opposite wall, a built-in wardrobe provided storage. Two open-arm wooden armchairs with blue cushions, a small round wooden coffee table and a black metal floor lamp stood between the two windows.
Food And Restaurants
Meals were a self-indulgent affair at La Bastide de Gordes; starting with breakfast served in a sunny heavily vaulted room with a stone fireplace. The generous buffet included a variety of breads,
viennoiseries,
several kinds of pound cakes still warm from the oven, and trays of flavorful local
charcuteries
; eggs of course, prepared on demand; and freshly squeezed juices and fragrant coffees and teas. In the summer, breakfast could also be served in the open air, under the stone arches of an adjoining ancient cloister.
Dinner in the formal La Bastide de Gordes Restaurant, where young Vincent Guergadi, the executive chef, and his team worked wonders in the kitchen, was exquisite. The elegant dining room was a palette of pale neutral tones, its round tables clad in crisp white linen surrounded by cream upholstered chairs. The tall arched French doors were closed at the time of year when I visited; in the summer they would have been open to the covered terrace and dinner served there as well. The room was bathed in the gentle indirect light of opaque glass torchères that cast a muted glow on the crystal and silver table settings. A collection of Provencal impressionist paintings decorated the walls.
The menu consisted of a selection of local products at the peak of their freshness prepared with artistic simplicity. My first course was a pan-seared cutlet of fresh foie gras served with warm gingerbread, and a coulis of quince and caramelized dry fruit. It was followed by a sea bass that tasted like it had just been pulled from the sea. Then came the cheese cart, which I had vowed to resist and did not. It offered a rich selection of some of the most prized cheeses from France and the Mediterranean Basin along with a few lesser known but equally worthy local specialties, ripened to perfection. After such excesses, I decided that dessert should be the poach pear, which sounded innocuous enough on the menu. However, the pear in question had been infused with a spicy concoction of Tonka Fève (seed found in the fruit of Brazilian teak). It arrived with a divine praline cream and pear sorbet. Since I didn't feel capable of finding my way through the 400 label wine list, I let the sommelier chose a local wine for me. His recommendation, The Côtes du Lubéron, Cuvée Artèmes of the Domaine de la Citadelle, a boutique winery in nearby Ménerbes, was superb.
For lunch, The Bistrot de la Veranda proposed a lighter menu that changed daily based on what looked best at the market. Although the offerings looked tempting and I noticed that the Bistrot seemed to be a favorite with local patrons as well as guests, I did not indulge. My conscience thus assuaged, I returned to Le Restaurant for dinner that evening.
Amenities
Toiletries were by Damana, a well-regarded French brand of products based on natural plant extracts for the hospitality industry. In addition to olive oil hand soap and jasmine bath salts, there were individual size bottles of juniper berry shampoo, citrus fruit body wash and orange blossom body cream. Bathroom amenities also included bathrobes, nail and sewing kits, cotton swabs, shower caps, hairdryer and magnifying mirror. There was an electronic safe in the bedroom wardrobe. Garage and valet parking were complimentary.
Facilities There were three separate indoor-outdoor restaurants, two conference rooms, one bar, spa, fitness room and swimming pool.
Pool A long rectangular outdoor swimming pool was set within the lawn in one of the lower hanging gardens. The pool was heated and protected by an insulated cover when I visited in the fall, when temperatures can drop sharply, especially at night. The cover could be quickly removed on demand. The pool was surrounded with wrought iron lounge chairs with thick natural canvas cushions and garden umbrellas.
Fitness Center And Spa
There was a fitness room with modern exercise equipment and a sauna. The stunning 8,700 square foot (800 square meter) Sisley Spa was distributed over three levels, connected by stairs and an elevator. It was a luxuriously minimalist cocoon that included a floor to ceiling white striated limestone waterfall, delicate flower and candle arrangements on oriental credenzas and subdued lighting to create a serene environment. Under the direction of Virginie Lambert, spa manager, the facility included seven treatment rooms with heated massage beds, meditation room,
tisane
room (natural herbal tea bar), steam room, solarium and indoor pool. The large oval steam room entirely covered in handcrafted tiles felt like it had just been transported from an ancient Roman bath. Located on the lower lever of the spa, the 40 foot (12 meter) long indoor pool with whirlpool jets and hydro-massage table was reserved for the exclusive use of spa guests. It was set in a stone floor with tall clay urns lined along one wall and a row of lounge chairs on the opposite wall. At the far end of the room additional lounge chairs faced three glassed-in stone arches and the glorious valley view.
However, the surroundings paled in comparison to the quality of the treatments administered by expert therapists using Sisley products exclusively. This premier brand of high-end French skincare has been one of the pioneers in cosmetology based on botanical active ingredients and essential oils harvested in their natural environment since 1976. For my body massage, therapist Sophia PulaÏ combined a mild Reiki process administered with warm gloves imbibed with lavender essential oil and the Shiatsu method focusing on pressure points to drain from my body the toxin accumulated during recent extensive air travel. Not only was the improvement in my wellbeing noticeable, but my skin remained remarkably smooth for days afterward. As for my facial treatment, Facialist Delphine Savournin used a succession of varied massage processes, each with a different product and aroma: lavender, sage, verbena and orange blossom. I drifted off at that point, but Delphine kept going, erasing years from my face with every step. A visit to the Sisley Spa at La Bastide de Gordes was a rejuvenation treat I can't wait to experience again!
Conference Facilities The property had two conference rooms that could seat a maximum of 40 and 50 respectively.
Cleanliness
Excellent
Date Of Review October 2010
Reviewers Article and photos by Josette King
Service The room was serviced daily. Every member of the staff with whom I came in contact was friendly and efficient.
Would You Stay There Again? Yes
Contact Information
Address:
Le Village
84220 Gordes
France
Phone:
Fax:
Website:
Email: