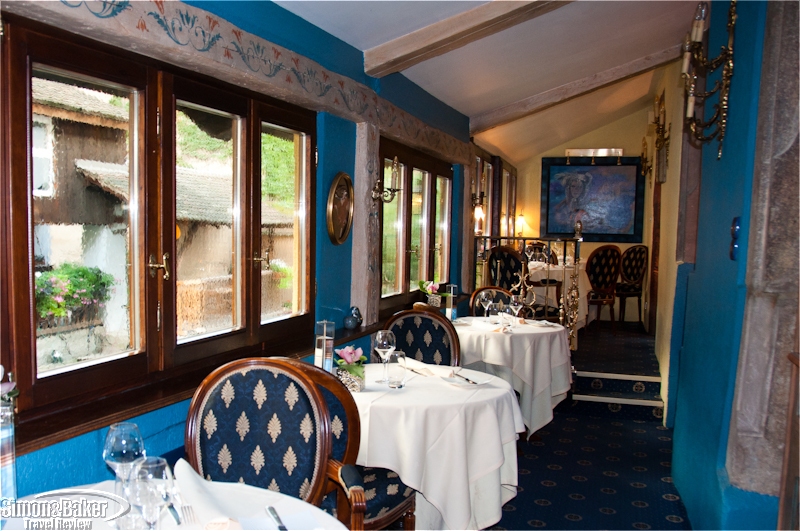 Both nights of my visit, with different menus, L'Echevin delivered an outstanding dining experience, one that I will gladly repeat on future visits to the area.
Overall Impression
It all began some 40 years ago when a talented chef with a vision and an eye for a privileged location rented the first floor of a medieval building with a terrace overlooking the River Lauch in Colmar. Before long people were queuing to enjoy Gilbert Bomo's
jambon à la broche
(ham roasted on a spit) and other Alsatian specialties. Fast-forward to the present. In the intervening years, Chef Bomo acquired the gorgeous ancient building on the riverbank, then the three adjoining ones, and gradually turned them into a multi-starred boutique hotel. But the restaurant retained pride of place, by now occupying the entire rear of the property's first floor. L'Echevin (French for high-ranking medieval magistrate) was born. There, it welcomes guests who now come from far and wide to experience what has evolved into an award-wining menu of imaginative gastronomic offerings based on traditional Alsatian specialties; and to enjoy the romantic candlelit atmosphere of the riverside dining room.
After officiating in the kitchen for almost three decades, Chef Bomo retired in 1999, but not before he had engaged his chosen successor, Thierry Chefdeville, who has run L'Echevin ever since, garnering multiple Michelin and Gault et Millau awards along the way. On my recent visit, one look at the dinner menu promised imaginative variations on local favorites, and an haute cuisine twist to the renowned specialties of the region. It was enough to convince me that even in a town reputed for being home to several bonnes tables (good tables, as the best restaurants are often referred to), I wouldn't consider dining anywhere else on this visit.
Chef Chefdeville and his team did not disappoint me. Every course was superb, from the nightly opening salvo of surprising amuse-bouche to the irresistible desserts. Even the crusty miniature baguette with three mounds of flavored butter (smoked sea salt, lemon and seaweed) arranged on a slate that arrived with the menu each night before the aforementioned amuse-bouche was memorable. Then there was the wine list with its extensive selection of local labels, a number of them available by the glass for an easy opportunity to discover new favorites; and the ever-attentive service of the friendly staff. Both nights of my visit, with different menus, L'Echevin delivered an outstanding dining experience, one that I will gladly repeat on future visits to the area.
About The Executive Chef
A native of Savoie in the French Alps, Thierry Chefdeville worked his way up the eastern corner of France, honing his skills under respected chefs. He established his growing mastery in the kitchen with increasingly more responsible positions, from Annecy and Basel, Switzerland, to Mulhouse where he became executive chef at the Trianon and then the Restaurant Wir. Then in 1998, he was lured to Colmar by Chef Gilbert Bomo, founder of L'Echevin, who was looking for a worthy successor to take over his life's creation. Chef Chefdeville favored products from local sources, organic whenever available, to create a menu that was a winning balance between traditional Alsatian gastronomy and French haute cuisine techniques.
Executive Chef Thierry Chefdeville
Handicapped Access No
Location L'Echevin occupied the rear of the first floor of the Romantik Hotel Le Maréchal. It overlooked the River Lauch in the historic La Petite Venise (Little Venice) neighborhood of Colmar.
MaÎTre D&Rsquo;HÔTel Geneviève Fisher
Opened-Renovated The restaurant opened in 1972. It was renovated after the current owners acquired the property from the founding chef in 2000.
Owned The Bomo family
Size The two dining rooms could comfortably seat up to 40 guests. An additional dining room was available for private parties, as well as a riverside patio during the summer, which could increase dining capacity up to 80 guests. The restaurant employed a staff of 20.
Type Of Restaurant Intimate luxury gourmet dining
DÉCor-Ambiance The dining room consisted of two connecting areas stretched along the rear of the 16th century property. The narrow main dining room with its outer wall of wide picture windows had the feel of a cozy veranda overhanging the river. The ceiling was white plaster with bleached wooden beams. The walls were painted bright Persian blue, while the wall-to-wall carpeting was a darker shade of blue with taupe medallions. Brass wall sconces provided the lighting. Small credenzas against the back wall held pots of white orchids. The dining chairs were upholstered in coordinated dark blue and taupe damask. At night, with its row of round tables draped in crisp white linen and its formal crystal and silver setting gleaming in the candlelight, it offered the ideal environment for an intimate dinner. The second dining space had Chinese red walls, a white ceiling with black beams and tan ceramic tile floor covered with oriental rugs. Lighting was a subdued mix of spotlights nestled in the beams and brass wall sconces. Here the tables were mostly rectangular and could be rearranged to accommodate parties of various sizes. There was a large limestone floor-to-ceiling fireplace in the corner of the room. Its awning was dotted with a display of rustic Alsatian china.
Cellars Wine And Alcoholic Beverage Selection The comprehensive wine list included a wide selection of Alsatian wines as well as other wine-growing regions of France. It included a variety of well-priced wines by the glass and a wine paring option with some of the pre-set gastronomic menus. Although a full range of bar drinks was available, I opted to start my meal on both visits with a flute of Crémant d'Alsace, the crisp sparkling wine of the area.
Meal
On the evening of my arrival, I chose the
Menu d'Anniversaire
(Anniversary Menu), a special menu that interpreted traditional hearty local fare for 21
st
century palates, developed by Chef Chefdeville to mark the 40
th
Anniversary of the restaurant. The
amuse-bouche
that materialized shortly after I sat down was an unusual gazpacho of watermelon, served in a double shot glass and paired with a herbed roulade of lightly smoked salmon. The first course of the Anniversary Menu was a generous slice of deer terrine studded with fresh hazelnuts and slivers of foie gras. It was served with a cloud like mousse of sharp horseradish, and a small side timbale of phyllo dough filled with baby curly chicorée salad. As I had opted for the wine pairing, this scrumptious starter was enhanced by a glass of Macon Aze 2009 (a classic Chardonnay with a with a hint of green apple).
A cassolette (small casserole) of lobster followed: a shelled half lobster served on a stew of mussels, clams, scallops and penne pasta in a light cream sauce fragrant with fresh basil. It was accompanied by a glass of a golden full-bodied white Côtes du Rhône, Domaine de la Guicharde, 2010. A much-needed break came at this point, in the form of a tiny glass of muscat wine granita that I would gladly have called dessert. But it was merely a prelude to the next course, several paper-thin slices of medium rare filet of beef on a tartlet of morels au gratin, accompanied by a deep crimson Alsatian pinot noir with a lovely red berry palate with a hint of vanilla (Ginglinger, 2010). Mercifully, I had had the foresight to pre-order a light dessert: a delicious Mirabelle Pot de Crème paired with a mound of verbena ice cream. It was a meal worthy of an impressive anniversary celebration indeed.
Having also reserved a table for the following night I resolved to show more restrain in the selection of my second dinner. Said restrain lasted only as long as it took me to spy the paté de foie gras at the top of the appetizer offerings. Even my requested half portion was a hefty slab of velvet smooth goose liver paté, served with a pear chutney crumble, and the de rigueur slice of toasted brioche. It was followed by grilled Arctic char on a bed of truffle risotto garnished with a Parmesan tuile . On this occasion, I opted to sip on my flute of Crémant throughout the meal. Kudos to Catherine Wiss, the charming and attentive assistant maître d'hôtel, who was filling in for her boss that evening, for recommending the perfect dessert to end my meal. The Croustillant Praliné was an exquisite mango-raspberry mousse on a disc of crunchy Dacquoise, coated with a thick cream of bitter chocolate, and garnished with gold threads for good measure. A superb finale to this two-night gastronomy extravaganza.
Other
L'Echevin was the recipient of a 2012 Two Toques award (for the third year in a row) from Gault et Millau, and a Three Fourchettes award from Michelin.
Reservations Strongly recommended
Date Of Review
September 2012
Reviewers Article and photographs by Josette King
Service The service was excellent, friendly, attentive and professional.
Would You Dine There Again-Recommend It? Yes
Contact Information
Address:
6 Place des
Six Montagnes Noires
68000, Colmar
France
Phone:
Fax:
Website:
Email: