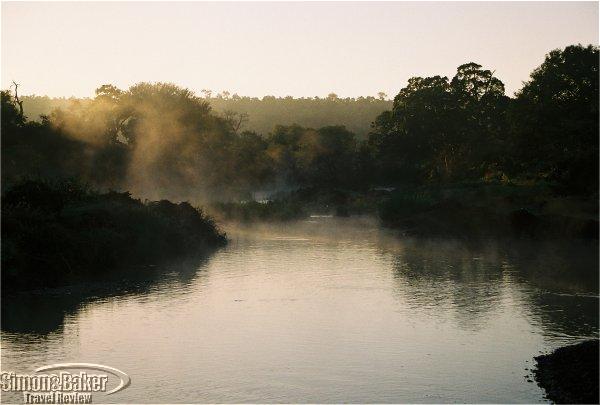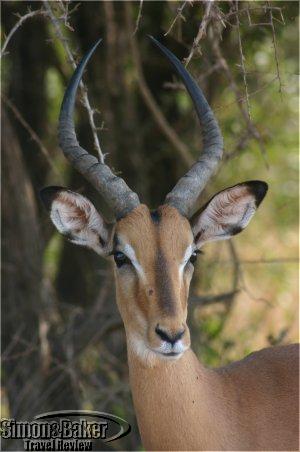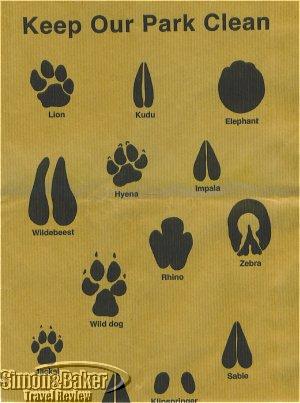 Though no off road viewing was possible, we were able to see many animals from the park's designated asphalt and dirt roads.
Overall Impression A national park the size of many countries with an animal population of approximately 300,000, Kruger was an amazing place to visit. Host to more than one million people every year, Kruger was home to 507 bird, 114 reptile, 336 tree, 49 fish, 34 amphibian and 147 mammal species. A new remarkable fence free feature of the park made it ever more open to animal migration from neighboring Mozambique and Zimbabwe . Though no off road viewing was possible, we were able to see many animals from the park's designated asphalt and dirt roads.
Average Duration Of Visit
Except for overnight guests, park incursions were limited to a day at a time. It would require many visits to explore the more popular areas of the Park.
Currency Rand
Electrical Current 220
Entrances-Gates Phabeni , Crocodile Bridge , Malelane , Numbi , Orpen , Pafuri , Paul Kruger, Phalaborwa , Punda Maria
Established in 1898
Handicapped Access : Access to the park was limited to authorized vehicles and cars. For safety reasons passengers were only allowed to exit their vehicles at authorized rest stops and facilities. Many main camps and some of the alternate camps had accessible accommodation for people in wheelchairs or with other physical impairments. For more information visit, http://www.sanparks.org/groups/disabilities/
Health And Vaccinations Anti-malaria medication was strongly recommended. These prophylactics required advance planning and medical prescriptions available usually through an international travel clinic.
How To Get There There are connections from most major cities in the world to Johannesburg and from there domestic flights to the Kruger area. Visitors may also choose to drive. Nearby airports included: Phalaborwa Airport , Hoedspruit Airport and the new Kruger/ Mpumalanga International Airport (KMIA) located between Nelspruit and White River .
Location In the north and east of South Africa bordering Mozambique and Zimbabwe
Measures Metric system
Open From sunrise to sunset year-round (unauthorized visitors who remained after dark were subject to fines). For an additional fee late arrivals were eligible for a park escort until 9 p.m.
Owned-Managed Republic of South Africa
Size 19,685 square kilometers including 3,000 kilometers of roads, 23 rest camps and several privately operated concessions and lodges
Technology : GSM cellular phones were readily available. High speed Internet connectivity was available at few of the high end hotels we stayed.
When To Visit Kruger is located in a subtropical climate zone. Though traditional game viewing is generally easiest in winter, many people prefer the lush vegetation and abundant bird life predominant in the Park in summer.
Description Established in the early 1890's by Paul Kruger, the President of the Transvaal Republic , an expanded area eventually became the Kruger National Park under the oversight of James Stevenson-Hamilton. One of the 10 largest game reserves in the world Kruger is sandwiched between the area of South Africa to the south and west of the park, Mozambique , and Zimbabwe . Kruger was visited by South Africans and international visitors all hoping to spot the Big Five and other wild animals. Driving through the park was at a slow speed with driver and passengers looking from side to side in the hope of spotting animals. The best game viewing hours were in the early morning and late afternoon.
Facilities
Gasoline, foodstuffs, prepared foods and restaurants were available at some of the camps such as Berg-en- Dal , Crocodile Bridge, Letaba , Lower Sabie , Mopani , Olifants , Orpen , Pretoriuskop , Punda Maria, Satara , Shingwedzi , and Skukuza . All of the park's main rest camps had restaurant facilities run by Nature's Own except Orpen and Crocodile Bridge . Curio shops were run by Tiger's Eye in all but to camps, Punda Maria and Shingwedzi . There were swimming pools, for camp residents only, at the following camps:
Berg-en- Dal
,
Lower Sabie
,
Pretoriuskop
,
Mopani
,
Shingwedzi
and
Skukuza
(2 pools).
Tourism Highlights
Visitors to Kruger are most often in search of the Big Five: Buffalo , elephant, leopard, lion and rhino. Less known but almost as much fun to look for are the Little Five: Buffalo weaver, elephant shrew, leopard tortoise, ant lion and rhino beetle. Among birds there are the Big Six: Ground hornbill, kori bustard, lappet-faced vulture, martial eagle, Pel's fishing owl and saddle bill stork. Finally, for flora lovers there are Five Trees to spot: Baobob , fever tree, knob thorn, marula and mopane . Kruger specific attractions include: Letaba Elephant Museum , Jock of the Bushveld Route , Maserini Ruins, Stevenson Hamilton Memorial Library, and Thulamela .
Tours Through nearby hotels, lodges and in-park concessions
Driving
Entrance to the park was possible by car, 4×4 or tour vehicle. We noted the importance of distances between gates and rest stops, supplies and accommodations. Given the Park's speed limits and restricted road system we had to carefully estimate the amount of time it would take us to reach our destination taking into account the hours of admission and required arrival at our camp or exit by sunset. The recommended game viewing speed was 30 km/h. The speed limits were 50 km/h on asphalt, 40 km/h on gravel and 20 km/h in rest camps. Vehicle fuel was available in the main rest camps. There were some roads near Kruger, we were cautioned to stay away from or to refrain from stopping at.
We found having a map of Kruger and the area surrounding it as well as an iQue handheld GPS (global positioning system) immensely helpful during our self drive visit. Except for the areas nearest the gates, we had no cell phone connectivity and it was impossible to use our Iridium satellite phone without getting out of the car. This meant we had to have everything we needed including maps, the iQue , water, snacks, medication and other necessities before we began our drive. Anything we didn't have would have to wait until we reached a rest stop or camp, which could be several hours away.
Other The Makulele Concession in the north part of the Park, which opened in April 2002, was the first successful land claim in a South African national park. In addition to its famed animal wildlife, Kruger is home to 300 archeological sites.
Rules Visitors had to remain in their vehicles (no motorcycles or open vehicles were allowed) except when in designated rest areas. No pets were allowed inside the Park. Firearms had to be declared and sealed at the entrance gate and retrieved on departure.
Would You Visit This Destination Again? Yes
Contact Information
Address:
SANParks Head Office
SA National Parks
P.O. Box 787
Pretoria 0001
+27 12 426 5000
Private Bag X402
Skukuza 1350
South Africa
+27-013-735-4000
Phone:
Website:
Email: