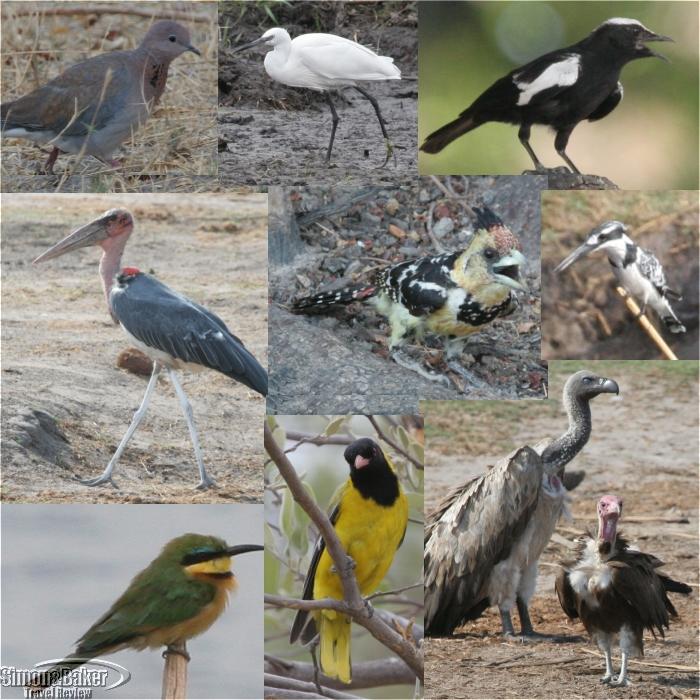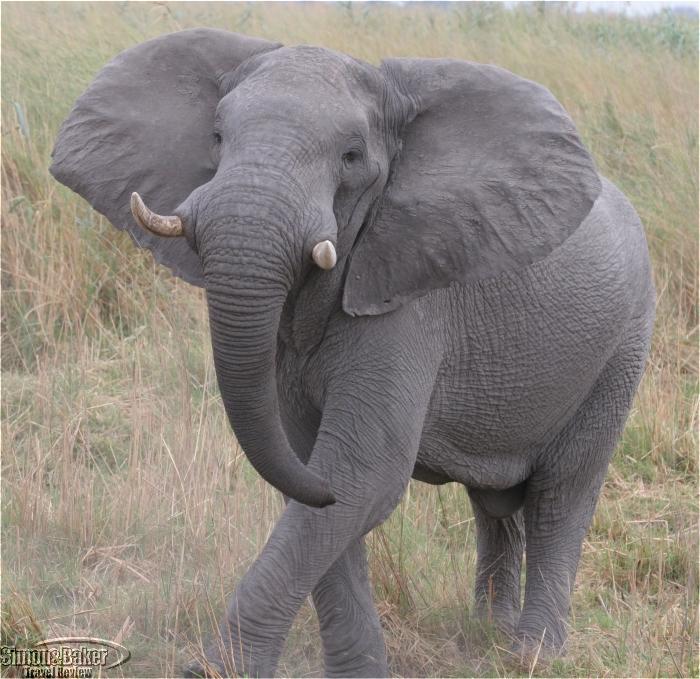 We look forward with anticipation to our next visit to Kings Pool.
Overall Impression
Although every trip and every lodge and camp we have visited in the past had qualities that distinguished it among its peers, some stand out for their sheer excellence. Our stay at Kings Pool, named for a Scandinavian monarch who visited the area before the camp was built, was one of the most rewarding overall visits to a game viewing tented camp in two dozen experiences to date. Fronting an oxbow of the Linyati River, Kings Pool had a rare combination of a superb location, extraordinary game viewing possibilities, a well designed, spacious and comfortable room, superior "home cooked" food and an outstanding, experienced and knowledgeable guide.
It was the little things that stacked up made Kings Pool special. Our room integrated advantageously into the natural elements of the existing landscape. Whoever designed and furnished the interior had bush luxury and guest comfort in mind. Although it was exceedingly hot, it was the kind of dreamy room we longed to spend time in. We dedicated one lazy afternoon to gazing at the river, listening to animal sounds, reading and lounging by our private plunge pool and deck anticipating the thrill of our game viewing drive later that day. Somehow game viewing made us hungrier than usual. There was plenty of good quality food available for breakfast, brunch, afternoon tea and dinner (all meals and local drinks were included in the nightly rate). We always looked forward to Chef Andre Myburg's creations and the camaraderie shared with fellow travelers and Isaac Seredile, our guide for the duration of our stay.
Our favorite times of the day were unquestionably the early morning and late afternoons when Isaac would lead us to discover the Linyati bush and its many animal treasures. Although it was the dry season and the landscape was parched dry, looking like the set of the Blair Witch Project, there were animals to be found. From the beginning the viewings were amazing. Some of the ones that stand out in our memory include: six leopard sightings of five different leopards including one with a cub and two males, two genets, a month-old elephant and a bush baby. Isaac and his colleagues Chantal and Brian cooperated closely and shared finds. This meant we profited from the sightings and knowledge of three guides. The quality of the sightings was outstanding. We especially appreciated Isaac's patience when we asked questions, willingness to stop anytime for any viewing no matter how small or "common" the subject, and his ability to position our vehicle ideally for photographs. We look forward with anticipation to our next visit to Kings Pool.
Class Of Accommodation
Luxury tented camp
General Manager Tapera Sithole and Robert Bern
Handicapped Access Yes. The elevated walkways that connected the rooms to the main building had no steps. There were plastic chairs available for use in the showers and the staff had accommodated wheelchair bound guests in the past.
Length Of Stay Two nights
Location In the Linyati area across the Linyati River from Namibia
Owned And Managed Wilderness Safaris
Size Nine guest tents for up to two guests each and one pilot tent and 48 employees shared a 125,000 hectare reserve with three other active camps (maximum capacity was 52 guests for the entire reserve). Kings Pool Camp was about 380 x 80 meters in size.
Year Established-Renovated The camp was built in 1995 on former hunting land; the most recent renovations were in 2003 when nine rooms, fitness center and curio shop were built. At the beginning of 2005, the camp closed to rebuild the main swimming pool area and add an exercise area added with two treadmills, two stationary bicycles and a rowing machine.
Lobby And Common Areas The camp was designed in a contemporary style with African elements including African themed photos by Richard Daughety, a Wilderness Safaris guide. There were lovely teak floors, cloth and leather furniture from Zimbabwe and South Africa, and wood and papyrus shields from Botswana. An architect was consulted on the design and building process of the rooms and camp in order to incorporate the existing natural elements into the construction. Carol English was the design company liaison.
Bathroom
The bathroom facilities were integrated into the suite. A water closet and sink were to the right side of entrance behind a wooden privacy door. To the left side there was a rectangular shaped bathroom with twin sinks and a large double shower with dual shower heads and a shower curtain. The floor was of putty colored stone ceramic tiles. The bathroom had a view to the adjacent enclosed porch and beyond it the river.
Room Our 700 square foot river-facing suite (5) was spacious, airy and furnished with comfort in mind. At the entrance an impressive Dogon door from West Africa greeted us. Inside, the floors were of hemp like fabric, comfortable to walk on barefoot. Two double mattresses combined made an overlarge king bed with wood four posters and side tables. There was a lamp attached to either side of the bed and a wood flat table was at the foot of the bed. There was a beige sofa, a brown leatherette armchair and stool and three wood tables in the living area. A wood desk with a director's chair stood in the corner and a built-in settee was adjacent to it. Near the entrance there was an armless leatherette chair and footstool. There was also a wood table, director's chair with a mirror above it and a luggage rack. To the other side there was a large full length mirror and next to it a large wood armoire with bone handles offering hanging space, shelves and an electronic safe.
Food Our creative and resourceful South African chef, Andre Myburg, provided well presented and tasty meals. Prior to Kings Pool he had worked in the Channel Islands, London, Scotland (St. Andrews Bay Golf Resort and Spa) and the private Klaserie Nature Reserve. Large meals were served in a combination of buffet and a la carte offerings. Selections during our visit included: pan seared chicken breast marinated with lemon and rosemary served with béchamel and herb infused mashed potato; mushroom and asparagus tart served baked with mozzarella cheese and served with whole grain creamed reduction; trio of mixed leaf salad served with smoked chicken, chick peas and baby corn; roast new potato salad with chopped onion chives; broccoli and blue cheese salad; cheese, cold meat and fresh fruit platters; pan seared ostrich kebabs, marinated with hoi sin sauce, stuffed with yellow patty pans and served with cream baked potato fondant and red win jus; crepes stuffed with coconut milk vegetable casserole served with spinach cream; tomato, cucumber, red onion, olive an feta cheese salad; penne pasta salad served with Monge tout and fried peppers; classic Waldorf salad; poached pear served with potato rosti, apricot and basil compote, fresh asparagus and reduced pear syrup; thyme and lemon marinated king klip (fish) served with béarnaise sauce, pimento infused basmati, garlic green beans and orange flavored baby carrots; crisp cut julienne vegetables marinated in sweet soya and chilly served with lemon scented egg noodles; chocolate mousse served with honey tulle, poached strawberry and raspberry sauce with apple crisp.
Amenities
Included in the nightly rate were the meals, water, local beverages and laundry service. Also included were shampoo, mosquito repellent, body lotion, shower gel, soap, shower cap, cotton balls and swabs, and sewing kit.
Facilities Open air water facing work out room (about 3 x 6 meters in size), plunge pool, dining room, lounge, bar, and curio shop. The fitness area had two fans, a rowing machine, two treadmills, and two bicycles by Technogym
Pool The main pool was 1.8 meters by 1.2 meters and 1.5 meters deep. The river front pool deck was about 6 x 3 meters large with room for four lounge chairs and two umbrellas.
Game Viewing
We went game viewing twice daily in a Land Rover 4×4 with a canvas top and open on the side. The guides were Brian Rode, Chantelle Venter, Copper Malela and Isaac Seredile, our guide who had been with Wilderness Safaris since 1991. We saw: sable antelope, giraffe, impala, lechwe, tsessebe, waterbuck, zebra, buffalo, elephant hippopotamus, dwarf mongoose, warthog, small spotted genet, spotted hyena, leopard, lion, baboon, vervet monkey, scrub hare, spring hare, Smith's bush squirrel, black mamba, Nile crocodile, and Nile monitor.
Birds: little egret, rufous-bellied heron, hamerkop, saddle-billed and marabou storks, Egyptian and spur-winged geese, hooded and white-backed vultures, tawny and martial eagles, bateleur, crested and red-billed francolin, helmeted guinea fowl, African jacana, blacksmith Lapwing and white-crowned Lapwing plovers, African mourning, Cape turtle, laughing and emerald-spotted wood doves, Meyer's parrot, grey go-away bird (lourie), coppery-tailed coucal, southern white-faced, Pel's and Pearl spotted owls, fiery-necked nightjar, striped kingfisher, southern carmine and little bee-eaters, lilac-breasted roller, common scimitarbill, African grey, red-billed, southern ground and southern yellow-billed hornbills, crested barbet, Bennett's woodpecker, fork-tailed drongo, black-headed oriole, Arnot's chat, Burchell's and Cape glossy starlings, yellow-billed and red-billed oxpeckers, and red-headed weaver.
Activities Options available were game viewing, walks, working out in the open fitness area, sun bathing or bathing in our suite terrace or camp pool.
Curio Shop
The well stocked curio shop, conveniently located across from the bar, had items ranging in price from $1 to $11,000. There were souvenirs of many kinds including branded bush clothing, jewelry, silver and decorative items from 10 African countries including Botswana, Cameroon, Ivory Coast, Congo, South Africa, and Zimbabwe. The shop also carried artifacts made by well known tribes like the Tuareg, Kwele and Makonde. Among the selection were works by Zimbabwean artist Patrick Mavros including candelabra for $11,000. Jewelry selections varied from imported silver inlaid items to San made pieces from Botswana. There were also reed, papyrus and palm baskets made by a camp employee's mother and Kubu cloth from the Congo.
The camp, permitted to run on a 15-year lease granted to Wilderness Safaris by the Botswana government, operated using generator energy. This meant power was limited and guests were asked not to use high energy equipment or appliances from their room such as blow dryers. Because we were in such a remote location, there were no phones or television.
Lest we forget for long that we were in the wilderness, one morning we heard noises outside our room as we were getting ready to head to our game drive. Curious to see what was happening, we went out to the enclosed porch and were nearly pelted with baboon dung by a band of baboons that were making their way through the camp and had temporarily stopped at the tree above our tent. By the time we returned from our drive, the staff had cleaned up the dung from the porch.
Wilderness Safaris received the 2005 U.K. Telegraph Travel Award for Ethical Tourism for the company's "outstanding work in sustainable safaris, which invest in local communities and ensure the protection of African wildlife."
Check-In-Check-Out
Excellent
Cleanliness Excellent
Date Of Last Visit November 2005
Reviewers Article by Elena del Valle
Photos by Gary Cox
Service There was twice daily room service: Morning cleaning and evening turn down service. At meal times, the staff would serve us drinks, bring and remove dishes and see to anything we needed.
Would You Stay Again? Yes
Contact Information
Address:
In the United States
Eyes on Africa
Nicky Glover
1743 West Fletcher St
Chicago, IL 60657
Phone:
1-800-457-9575
+1 773-549-0169
Fax:
Websites:
Email: