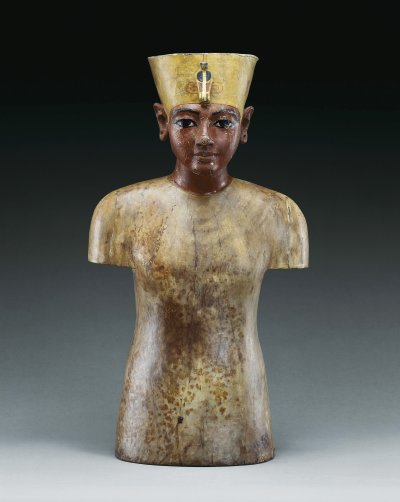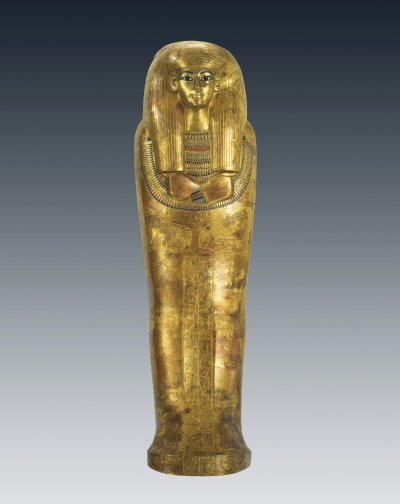 "Tutankhamun and the Golden Age of the Pharaohs" reminded us why ancient Egypt has been the subject of so much speculation and admiration and whet our appetite for further exploration and a possible visit to Egypt in the future.
Overall Impression
For Egyptian antiquities fans like us, who have not traveled to Egypt to see the pyramids and artifacts in person, "Tutankhamun & the Golden Age of the Pharaohs" provided a glimpse of Egypt's fabled history and its famous treasures in an easy to follow, well organized and agreeable setting near our home. King Tut's tomb, discovered in 1922, and the treasurers in it had drawn our attention for years. We have seen numerous Egyptian exhibits in various museums including the British Museum, Louvre, The Metropolitan Museum and most recently this dedicated exhibit and remained fascinated.
We arrived at 8:30 a.m. to find the parking lot filling, tickets sold out until 5 p.m. and a short line to enter. We walked outside the building from the entrance through a roped walkway up stairs and more walkways to the entrance. After waiting five minutes, we were allowed in. We watched a short video welcome by Omar Shariff while standing with 20 or so visitors in front of a large screen. Then we entered the first gallery where we saw some of the oldest items. Inside, visitors crowded around the exhibits and see-through cases, which were presented in chronological order. It took us about two hours of walking, reading and waiting to complete the visit.
Most exhibits had lines of people waiting to see them. The cases could be viewed from all sides. We appreciated this feature, especially when one side of the case was overcrowded because it made it possible to have a side view of the artifact first and later move to the front when there was a lull in the line. The exhibit, though a bit crowded, was well designed and easy to follow with admission scheduling to reduce the viewing wait.
We especially appreciated the audio tour which was helpful and convenient to use. Listening to the explanations expanded our appreciation and understanding of pharaonic times, individual items and the overall exhibit. "Tutankhamun and the Golden Age of the Pharaohs" reminded us why ancient Egypt has been the subject of so much speculation and admiration and whet our appetite for further exploration and a possible visit to Egypt in the future.
Audio Tours
We were glad we opted for the audio tour, which provided recorded explanations and information on some of the items in the exhibit. A playback device, which hung around our necks, came with comfortable headphones. It allowed us to select the items (by their number) and play the information at our convenience. The audio tour was offered in English and Spanish and described 20 of the artifacts in detail.
Average Duration Of Visit We took two hours to cover the entire exhibit during an early morning visit. There were many more visitors in line waiting to enter when we left than when we entered.
Handicapped Access Patrons with disabilities wishing to visit the Museum of Art | Fort Lauderdale were invited to contact 954.525.5500, ext. 220 or 0; e-mail receptionist@moafl.org or visit the Museum's Membership Services desk in the lobby for assistance. The Museum is fully wheelchair-accessible. A limited number of wheelchairs is usually available on a first-come, first-served basis; visitors are also welcome to bring their own.
Location This was a traveling exhibit. We saw it at the Museum of Art in Fort Lauderdale The two final U.S. tour destinations: The Field Museum, Chicago (opens May 26, 2006), The Franklin Institute, Philadelphia (opens February 3, 2007) and The O2, London (November 2007).
Owned And Managed The exhibit was organized by National Geographic, AEG Exhibitions, and Arts and Exhibitions International, with cooperation from the Egyptian Supreme Council of Antiquities Established
Size The exhibition occupied up approximately 22,000 square feet of display space in the Museum.
Description
While visiting "Tutankhamun and the Golden Age of the Pharaohs" we progressed through eleven galleries filled with 130 artifacts from the tombs of King Tut, several of his relatives and 18 Dynasty (1555 B.C. to 1305 B.C.) contemporaries. There were 50 of Tutankhamun's burial objects including his royal diadem, the gold crown discovered encircling the head of his mummified body that he may have worn when he was king, and one of the gold and precious stone inlaid canopic coffinettes that contained his mummified internal organs.
There were more than 70 objects from tombs of other 18 Dynasty royals as well as several non-royal individuals. These stone, faience and wooden pieces from burials before Tut's reign provided us a sense of what the lost burials of other royalty and commoners may have been like. The treasures in the exhibit were between 3,300 and 3,500 years old.
The exhibit was organized with artifacts in the context of the social and political backdrop of the time in which their owners lived and ruled. Each gallery focused on a specific theme, such as "Daily Life in Ancient Egypt," "Traditional Religion," "Death, Burial and the Afterlife," building up to the final galleries where some of King Tut's "lesser treasures" were located. This included a gallery dedicated to the five items in the tour that were found on the Pharaoh's body when Howard Carter entered the tomb in 1922. The room also included the visual effect of superimposed items on a projection of Tut's body to depict where they were positioned when the coffin was opened.
The final gallery of the exhibition featured scans of Tut's mummy that were obtained as part of a landmark, five-year Egyptian research and conservation project, partially funded by National Geographic, to CT-scan the ancient mummies of Egypt. The scans were captured through the use of a portable CT scanner, donated by Siemens AG.
Souvenir Shop Exiting the exhibit required us to walk through the souvenir shop. It was chock full of merchandise including books, videos, DVDs, Tut themed clothing, ties, mouse pads and more. Gift item prices ranged from $1 to thousands for replicas and jewelry.
Other
Although the promotional materials and admission tickets showed photos of Tut's famous mask, we did not see it in the exhibit. We imagine the most valuable items were not allowed outside of Egypt as part of the tour.
Tutankhamun was one of the last kings of Egypt's 18 Dynasty and ruled during a crucial, turmoil-filled period of Egyptian history. The boy king died under mysterious circumstances in 1323 B.C., in the ninth year of his reign, at 18 or 19. Treasures from Tutankhamun's tomb were last displayed in the United States during a seven-city tour from 1976 to 1979 that set travel exhibition attendance records with eight million visitors.
Tickets were sold for a specific time. The exhibit ended its premiere U.S. run in Los Angeles on November 20, 2005, with more than 937,000 visitors. After its stay at the Museum of Art/Fort Lauderdale (Dec. 15, 2005 to April 23, 2006), it will head to The Field Museum, Chicago (May 26, 2006 to Jan. 1, 2007) and The Franklin Institute, Philadelphia (Feb. 3 to Sept. 30, 2007).
Date Of Visit
February 2006
Would You Visit This Attraction Again Or Recommend It To Friends? Yes
Contact Information
Address:
Museum of Art | Fort Lauderdale
One E. Las Olas Blvd.
Fort Lauderdale, FL 33301
Phone:
+1.954.525.5500
1-877-TUT-TKTS
Fax:
Website:
Email:
Address:
The Field Museum
1400 S. Lake Shore Dr.
Chicago, IL 60605-2496
Phone:
312/922-9410
1-877-TUT-TKTS
Website:
Address:
The Franklin Institute
222 N. 20th Street
Philadelphia PA 19103
.
Phone:
Website:
Tour Website: