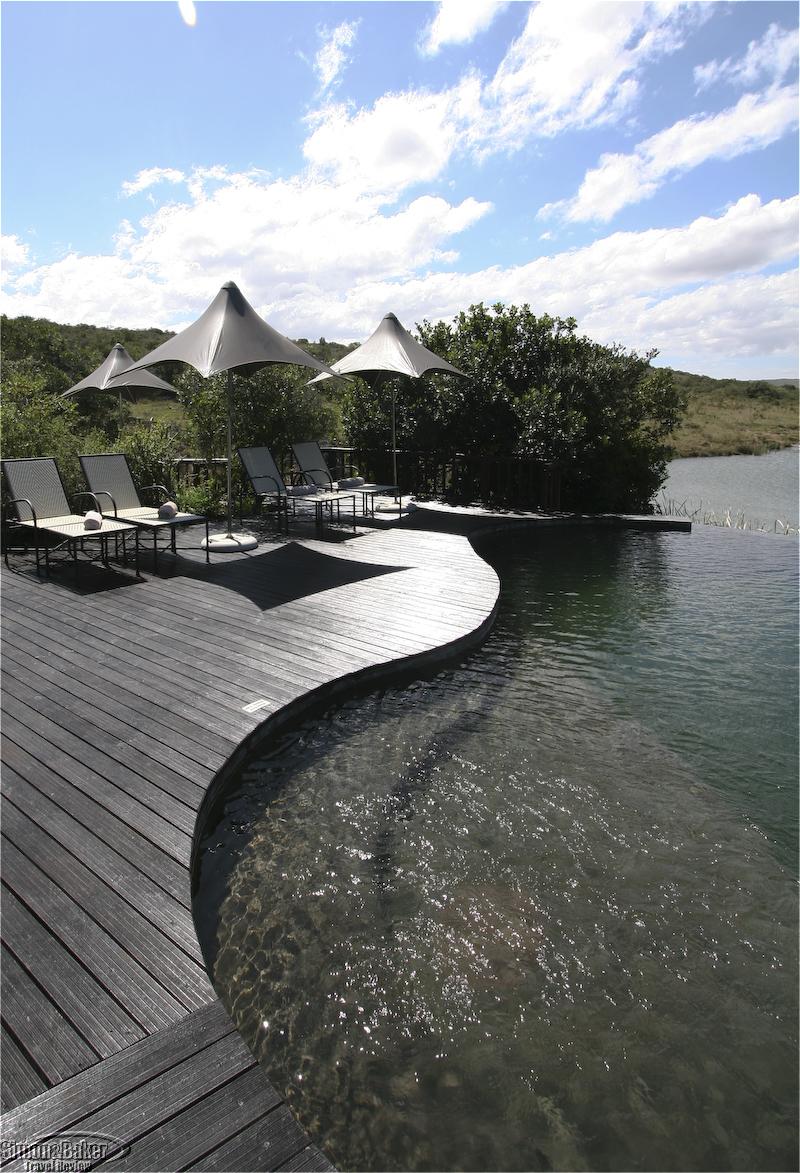 We would recommend Kichaka to local and international travelers on a Garden Route extension or planning to be in the Eastern Cape area and wishing for a malaria free game viewing experience within a small luxury property.
Overall Impression
The drive to Kichaka (Swahili for bush) of several hours from Plettenberg Bay, at the end of our Garden Route trip, was mostly easy highway driving and we were greeted warmly on arrival. Several staff members (Keith, the property manager, Charnel, our host that evening, and Francois, our field ranger and the head ranger at Kichaka) welcomed us as soon as we parked the car within the reserve just a few hundred meters from the N2 Highway.
We left our rental car at the reception building and hopped in the 4 x 4 vehicle with Francois at the wheel for our drive to the lodge, which was only a few minutes away along a gravel road. We liked the watering hole facing luxury lodge for adults and children eight years and older. It had pleasant common areas including two lounges, an indoor dining room, a boma and an Internet room with a computer for guest use as well as ten spacious, comfortable and handsomely designed suites. We looked forward to meal times when we had an opportunity to dine on our own or with other guests and enjoy the lodge's foodie oriented cuisine and South African house wines.
The three year old lodge was on former farmland now converted into a repopulated game reserve and paid for traversing rights (permission to drive through) to a larger 10-year old repopulated reserve shared by four lodges. We would recommend Kichaka to local and international travelers on a Garden Route extension or planning to be in the Eastern Cape area and wishing for a malaria free game viewing experience within a small luxury property.
Children
The lodge welcomed children eight years of age and older.
Class Of Accommodation Luxury five star safari lodge and reserve
Connectivity There was a laptop for guest use (and a second staff computer was offered) and WiFi in the rooms. After we received a Skyrove card with an access code we were able to get online quickly and easily to send and receive emails, albeit slowly. According to the property brochures, theirs was a satellite connection. Guests we were asked to keep the download of large files to a minimum.
General Manager Keith Craig managed the overall reserve and Jason Prince was lodge manager.
Handicapped Access The lodge was not designed specifically with handicap friendly features but had had handicapped guests and the staff were willing to assist as far as possible.
Length Of Stay Three nights
Location The nearest city to the lodge was Grahamstown said to be 20 minutes drive away. Kichaka was 90 kilometers from Port Elizabeth.
Owned Hillside Safaris owned by the Fenner family
Pets Allowed No
Size The lodge, which employed 42 people including four rangers and three trackers, had 10 suites with capacity for 20 guests. It was one of one of four properties within the 7,500 hectare Lalibela Reserve.
Year Opened-Renovated The lodge was established in 2007
Lobby And Common Areas We liked the Kichaka indoor common areas (it was too chilly to remain outdoors for long during our stay) and enjoyed spending time in the lounges, chatting with staff and other guests. The main building of the lodge, boma and swimming pool were right in front of a watering hole and the suites stretched out half on either side of the main building. Access to the rooms was via a wood walkway. Thanks to an electric fence that surrounded the lodge we were able to walk between suites and the lodge main building at all times. The decorative style of the lodge was contemporary with African elements, natural colors and wood. The main entrance, marked by a set of extra large wood doors that were closed at night, led to a main lounge and bar area with a view of an open terrace, pool and watering hole. The boma, where guests sometimes gathered for evening meals in warm weather and star gazing (the lodge had a telescope), was a few steps away from the pool. The gift shop and lodge bathrooms were to the left of the entrance. To the right of the entrance a set of stairs led one level up to a mezzanine library and Internet lounge. Lovely, large fireplaces in the main lounge and dining room were lit in the early evening. To the right of the main lounge there was a spacious dining room with a view of the watering hole; to the left there was a second lounge with a fireplace. There was artwork commissioned by Sally Scott and Kobus van der Walt and the architectural work was by Francois Theron. The interior design by Maurette van Eyssen and Di Morris was "classic with a rustic bush influence."
Bathrooms Three steps up on each side of the bedroom led to a tiled (walls and floors were tiled in a stone color) bathroom area. There was closet space on both sides of the bathroom. A water closet occupied the right corner of the bathroom. The center back wall housed twin round sinks, three framed rectangular mirrors and a long travertine top above wood shelves. A large shower with a glass door occupied the final corner and an attractive oval bathtub for two was the center piece of the rectangular bathroom.
Suites
Our 70-square meter suites, Honeysuckle and Plumbago, named for Eastern Cape flowers, were the last two rooms on the right side of the property. The suites were spacious and handsome. Thanks to large sliding glass doors and a triangular window at the top the pale mustard colored rooms were sunlit. They had wood laminate floors and large chandelier type lamps hanging from the ceiling. The room temperature was controlled with underfloor heating, and a wall unit heater and air conditioner. Wood was the predominant element for the furniture and décor in the suites.
Honeysuckle was next to last on the right side of the property. The well appointed suite had an excellent view of the watering hole and bush. It had a thatched roof, high ceiling and three distinct levels. Immediately next to the entrance there was a sitting area with a two-seat leather sofa, multicolor rug, wood cabinet with mini refrigerator and electronic safe, coffee table, and armchair. There were floor to ceiling sliding glass doors facing a covered deck area and plunge pool that faced the watering hole. The deck had wood floors, a table, two chairs, two lounge chairs and a plunge pool (it was much too cold to use the pool and too windy to sit outdoors for long during our visit).
Two steps up in the opposite direction led to a sleeping area with a king size bed set against a cushy brown headboard and matching wood night tables. A desk and armless chair faced a small window on one side. On the other, a wood credenza housed a coffee and tea service with a hot water pitcher,packaged tea and coffee and a Bose radio with an iPod dock (we listen to our iPod music using the dock). There was a multicolor rug on each side of the bed and a framed mirror hung on one side of the wall. Framed African motif artwork by Sally Scott hung on the walls in the bedroom area.
Plumbago, the last suite on the right, felt very private and secluded. It was identical in size and design to Honeysuckle except for the view. It had a view of the bush and a side view of the watering hole. It also had a bush facing 1.2 meter deep plunge pool identical to the one in Honeysuckle.
Food
Breakfast, a combination of buffet and hot made to order choices, was served on our return from the game drives around 11 a.m. Snacks and sweets (chocolate cake) were available at a buffet table with tea right before the game drive around 3:30 p.m. And dinner was plated and served on our return from the game drives around 7:30 or 8 p.m. We were seated separately, except when we requested a joint table with other lodge guests.
The breakfast buffet selections were cold cuts, cheese plate (three types of cheese), fruit plate, cereal and yogurt cup, fruit cup, and breads. Made to order dishes included pancakes, several egg options, and French toast. Dinner, with house wines (premium wines and beverages were available for a supplement), was plated and served in the dining room. There were three appetizer and three main course options. For dessert, we had a choice of a sweet dessert like pannacotta or a fruit place. There were also cheeses available.
Some of the selections included: Starters of Creamy Mushroom and Camembert soup served with garlic croutons, Smoked Crocodile carpaccio salad drizzled with a Caesar dressing and parmesan shavings and Asian duck pancakes served with a plum chutney; mains of Slow roast lamb shank served with a deep fried garlic mash and a red wine jus; Herb crusted Chilean salmon served with a Nicoise salad and lemon butter crème; and Chargrilled Kudu fillet served with rustic potato wedges, red onion marmalade and a green pepper sauce and topped with fried onion rings.
The inclusive house wines at the time of our stay were: Weltevrede Rivers Edge Tricolore, a blend of sauvignon blanc, semillon and colombard from the Weltevrede estate; Stellenbosch Hills Chenin Blanc from the Stellenbosch Hills estate; Bergwater Rendevous Red, a blend of shiraz and merlot and from the Bergwater Estate in Prince Albert; and Kleine Zalze Pinotage from the Kleine Zalze estate.
Amenities
There were cotton bathrobes, house toiletries (shampoo, conditioner, body lotion, bath salts), Charlotte Rhys room deodorizer, complimentary mini bar with soft drinks, beer and wine, in room coffee and tea service, meals including breakfast, afternoon tea before the drive, dinner, game drive beverages and snacks (rusks in the morning; biltong, crackers and nuts in the afternoon). Other complimentary in room amenities: a fruit plate, biltong (dried beef jerky), butter cookies, nuts and chocolate covered peanuts.
Facilities There was a bar, two lounges, dining room, mezzanine computer (one laptop for guest use) and library area, outdoor plunge pool facing the watering hole, gift shop and boma .
Pool The lodge infinity edge pool was 2.1 meters deep.
Game Viewing
Kichaka was situated within its own game reserve and paid traversing rights to access Lalibela Game Reserve, a larger 10-year old reserve. Both reserves were on repopulated farmland. All rangers at the lodge had had cosmic safari training and were completing trails guide training to facilitate guided walks in the bush. They all held Field Guide Association of South Africa (FGASA) certified field guide qualifications. Up to two game vehicles were allowed per sighting. Up to eight guests were allowed per vehicle. Francois, a serious ranger passionate about game viewing, and Smuti, a quiet tracker, looked after us during our stay. The first day we were the only guests at the property and had the safari team to ourselves. The first afternoon drive the weather was so poor (overcast and drizzling) we returned early to the lodge on Francois' recommendation. On the afternoon of the second day of our stay a couple joined us; on the third day a second couple joined us. We had two five-hour morning drives. The drives were varied, mostly over very hilly and bumpy roads with a chill wind that drove through our bones.
During our visit we saw the following animals: elephant, white rhino, buffalo (there were only two males on the reserve), black wildebeest, blesbok, Burchell's zebra, bushbuck, duiker, giraffe, impala, nyala, red hartebeest, scrub hare, springbok, vervet monkey, warthog, waterbuck, and leopard tortoise.
Birds: African pipit, black headed heron, black shoulder kite, black-headed oriole, bokmakierie, cape crow, Cape glossy starling, Cape Langclaw, Cape weaver, common fiscal, crowned lapwing, Denham's bustard, Egyptian geese, fiscal fly-catcher, fork-tailed drongo, hadeda ibis, jackal buzzard, long-tailed widowbird, neddicky, ostrich, red-winged francolin, southern black tit, southern boubou, speckeled mousebird, stone chat, white-necked raven, yellow-billed duck, yellow breasted apalis, rufus naped lark, dark capped bulbul, pearl breasted swallow, and black-collarded barbet.
Activities Options included twice daily game drives and in-room massages (there was a therapist on site). Because the property didn't yet have a license for its rangers to carry rifles the staff were unable to stray from their vehicles or offer bush walks. Although the Internet connection was slow it was a godsend to be able to check on and respond to urgent issues at home from the comfort of our suites and our laptops.
Curio Shop
The curio shop buyer selected items that benefit "those less fortunate, those who haven't had the opportunity to get a proper education but have so much talent and want to put it to good use." There were products from the area, Durban and Cape Town in South Africa as well as Zimbabwe and Swaziland. She also selected environmentally friendly products made from recycled items such as Ngwenya glass products, Flick glass jewelery, and Babazeka jewelery and bowls.
The shop carried the work of a few local artists from Grahamstown such as Nathan Hook a young Zimbabwean who draws wildlife portraits, and Sally Scott, who specializes in Eastern Cape landscapes. The shop also carried artwork from Egazini, a foundation that brings people off the streets and promotes their art.
There were also Kichaka branded golf shirts, fleece tops, caps and beanies; World Wildlife Foundation items; Charlotte Rhys toiletry men's fragrances as well as ladies' salt scrub, moisturizers, body lotions, candles, and bath oil in travel sizes; tanzanite and platinum jewelery from Plantandia; and artwork placed around the lodge and for sale called Cabtography by Cobus van der Walt, an artist from Cape Town.
Other There was an electrical fence around the lodge, allowing us to walk between suites as well as to and from suites and the main building all the time. There was a massage therapists available for in-suite 30 to 90-minute massages. Kichaka was recipient of the 2007 Diners Club International award for best wine list.
Cleanliness
Excellent
Date Of Review October 2009
Reviewers Article by Elena del Valle
Photos by Gary Cox
Service There was twice daily room service. Staff were friendly. On our return from the twice daily game drives we were greeted with beverages like sparkling wine and warm or cool refresher towels.
Would You Stay There Again? Yes
Contact Information
Address:
Highlands Assegai Road
Seven Fountains,
Grahamstown
South Africa
Phone:
Fax:
Website:
Email: