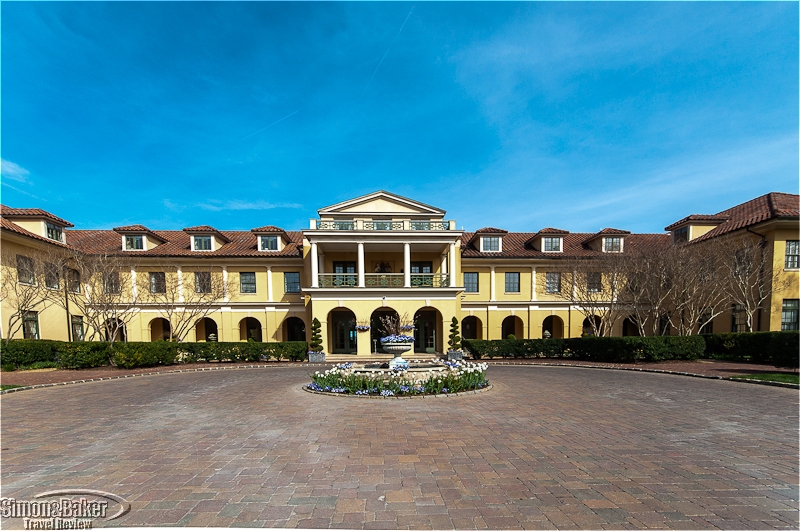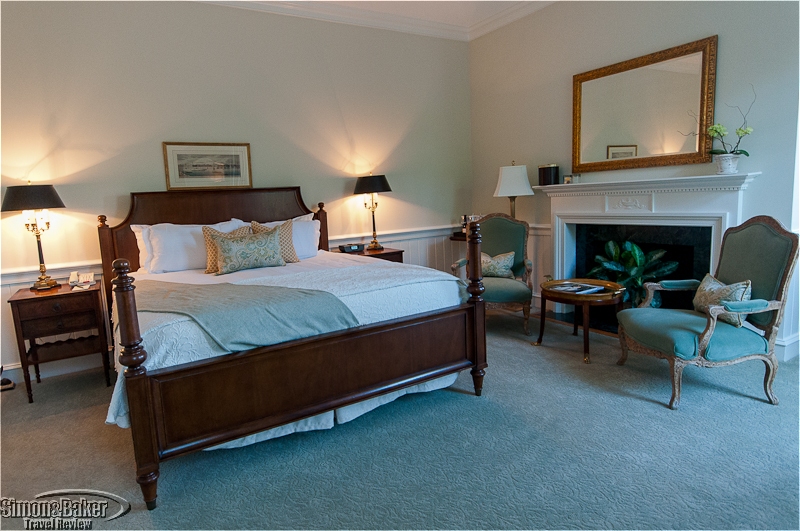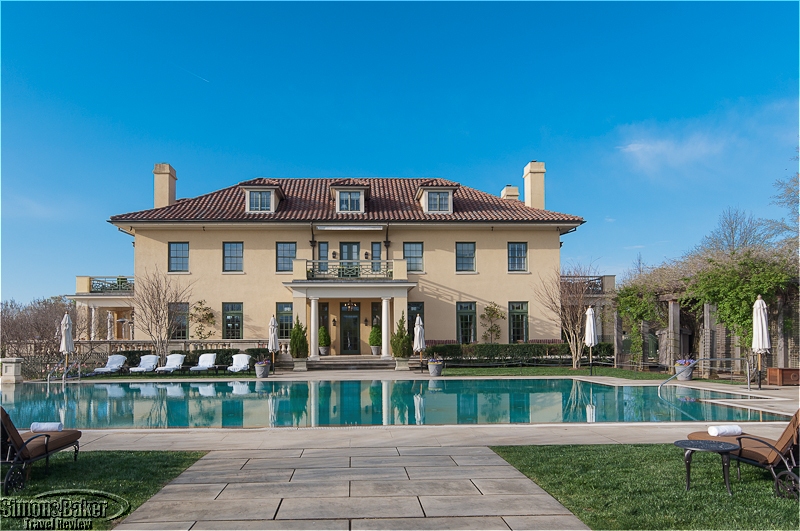 It was the place where I could experience the gracious Virginia living of a bygone era, a destination unto itself to be revisited at every opportunity.
Overall Impression
By Virginia standards, Keswick Hall might be considered a newcomer. The original mansion is, after all, a mere century old. But this exquisite property in the foothills of the Blue Ridge Mountains embraced me with all the charm and grace of an antebellum grande dame. And like most grande dames, it had an interesting history. It began in 1908 as Villa Crawford, an 8,000 square foot (745 square meter), two-story Italianate private residence built for Mr. and Mrs. Robert B. Crawford at the original cost of $100,000. After the untimely death of Mr. Crawford in 1919, the villa passed to a variety of owners and experienced diverse fortunes over the next seven decades before ultimately falling on hard times.
By the 1980s it had come to be seen as "a mansion of senile ruin." In 1990, Sir Bernard Ashley, widower of the noted British designer Laura Ashley, purchased the decaying property and set out to transform it into "your great uncle's country mansion," a world-class property where guests would feel they were staying at a grand private estate. Three years and a $25 million major construction effort later, Villa Crawford had been restored to its original opulence as the historic north wing of the 48 guest-room Keswick Hall. The transformation was so successful that I couldn't detect any difference between the original structure and the more recent one. The atmosphere was indeed that of a grand family estate several centuries in the making. The sumptuous common areas decorated with antiques, many of them from Sir Bernard's personal collection, exuded a warm, lived in charm.
The instant I drove up to the arched central entrance of the mansion, the legendary Southern hospitality of the staff made me feel like a welcomed family guest. A feeling reinforced when I entered my room. I was instantly seduced by its comfortable proportions and the harmony of its décor where contemporary amenities unobtrusively blended with antiques and period inspired furniture to create a warm and inviting environment. By the time I opened the French door leading to my private terrace to enjoy the sweet country air while reviewing the many activities on offer at and around the property, I was ready to settle in indefinitely. Words came to mind, heard earlier in the day during my visit to Monticello, home of Keswick Hall's most illustrious neighbor, Thomas Jefferson. "Back then guests came for long periods of time and not only did you have to make them comfortable but you had to keep them entertained." Keswick Hall had seen to that also, with the original billiard room restored in the north wing, a croquet pitch overlooking the Southwest Mountains, a notable golf course, multiple swimming pools and tennis courts. It even had its own courtside vineyard. And should I ever feel compelled to venture outside the estate, there were horse riding trails, visits to historic presidential homes and nearby wineries, artist studios and art galleries all a short drive away.
But for me returning home to Keswick Hall after hours exploring the best that the greater Charlottesville area had to offer quickly became the highlight of the day. It was the place where I could experience the gracious Virginia living of a bygone era, a destination unto itself to be revisited at every opportunity.
Children
Keswick Hall welcomed children of all ages.
Class Of Accommodation Luxury boutique hotel.
Connectivity There was complimentary reliable high speed WiFi in my room and in the common areas. Mobile phone reception was excellent throughout the property.
General Manager Monte Hanren
Handicapped Access There were two rooms especially designed to accommodate motion impaired guests.
Length Of Stay Two nights
Location Keswick Hall was located in the eastern outskirts of Charlottesville, Virginia, 115 miles (185 kilometers) southwest of Washington, D.C. and 70 miles (110 kilometers) northwest of Richmond, Virginia.
Owned-Managed Historic Hotels of Albemarle, part of the Riverstone Group LLC of Richmond, VA, a subsidiary of Bill Goodwin's CCA Industries owned and managed Keswick Hall.
Pets Allowed No
Size The 48 room property, including one master suite, two one bedroom suites and six junior suites was nestled on 600 acres (243 hectares) of rolling hills. It employed a core staff of 160 that increased to 220 at the height of the season.
Year Opened-Renovated The original mansion, now the historic north wing, was built in 1912. The remainder of the property was built in the early 1990's. It opened as Keswick Hall in August 1993. Since then, the entire property has been the object of on-going enhancements and updates.
Lobby And Common Areas
The central main entrance of the mansion opened onto a great hall with coffered ceiling held by two columns. On both sides of the entrance hall, two inconspicuous desks served as reception and concierge area respectively. The walls, ceilings and columns of the hall were all glazed in various nuances of white to better showcase the art collection and antique occasional pieces that decorated the room. On the floor, on dark rustic clay tiles, fine oriental rugs demarcated sitting areas to create islands of intimacy in the otherwise imposing space. On the one nearest to the entrance, four wing chairs upholstered in rich persimmon velvet sat at the four corners of a large square coffee table. Small antique chests with iron fittings served as side tables. Behind this arrangement in the center of the room, a round piecrust table held two blue and white porcelain jar lamps with fluted silk shades. A tall white quarry stone fireplace occupied the center of real wall. On both sides of it, long rolled arm sofas upholstered in jade velvet faced each other across a large rectangular coffee table. An oversized square hassock covered in buttercup damask and cognac leather wing chairs completed the grouping.
On both sides of the room long hallways lead into the two wings of the mansion. They were lined with small nooks showcasing fine antique pieces such as marquetry bombe chests and pedestals with marble statues against a backdrop of oil paintings and gilded mirrors. In the north wing, the original fireplaces, wainscoting and paneling of the Villa Crawford public rooms had been restored. The dining room lounge and billiard room were reproduced with antique and contemporary furniture. A bar had been added. Made of beveled wood panels, and lined with brown leather bar chairs it blended seamlessly into the period décor. As did the assorted occasional tables that served as cocktail tables, surrounded by slipper chairs upholstered in persimmon velvet and lyre back chairs with brown leather seats.
Bathroom
The white on white bathroom had an oversized bathtub and a separate shower enclosure. On the opposite wall, a long pedestal sink stood under a framed wall size mirror and a shelf that held bathroom necessities. To the left of the sink, a polished stainless steel etagere held an ample supply of sensuous Frette bath and face towels. The bathroom had a large window that opened onto my private terrace. In addition to Venetian blinds, it had a draped damask valance in shades of gold that added a touch of color to the room. The commode sat in the corner between the bathtub and the window.
Room My 515 square foot (48 square meter) Deluxe Room, Number Four, was a welcoming retreat of understated elegance with a French door that opened onto a 12 foot (3.7 meter) wide corner terrace at the southeastern end of the building. The room had a soothing neutral color scheme, with taupe wall to wall carpeting, eggshell walls and window draperies, white lacquered wood trim and dark wood furniture. In the center of the back wall, a king size spindle bed with silky high count cotton bedding faced an antique mirrored armoire. On both sides of the bed, bedside tables held reading lamps with brass candelabra bases and black parchment shades.
In the center of the far exterior wall, two jade velvet bergere armchairs and a small round coffee table sat in front of the fireplace. A gilded rectangular mirror hung over the mantelpiece. To its right, a writing desk and a wooden armchair with a green velvet seat cushion sat in a nook overlooking the terrace. A bureau that served as a base for the LCD flat panel television was tucked in the opposite corner of the room. The terrace was furnished with a wrought iron settee and three matching chairs arranged around a round table. It was the perfect place to relax while enjoying the bucolic views of the estate.
Food And Restaurants
Keswick Hall offered a variety of dining options ranging from casual to formal.
A recipient of the AAA Four Diamonds Award for the eight consecutive year, Fosset's offered classic continental cuisine with Southern accents, and a striking view of the manicured landscape of the golf course and the Blue Ridge Mountains beyond through its entire wall of floor to ceiling windows. I enjoyed breakfast as well as dinner there, my selections for both taking me to the decidedly Virginian flavors on offer.
For breakfast, I especially liked the ginger pancakes with their subtle hint of molasses, vanilla and of course, ginger, topped with a dried fruit compote. I started my dinner with a roasted mushroom nage, a creamy mushroom soup served warm with a garnish of preserved oyster mushrooms and truffled brioche croutons. My main course consisted of succulent Eastern Shore crab cakes served on a coulis of green tomatoes, sweet peas and mint with an innovative Brussels sprout slaw, an original and delicious combination of textures and flavors. For a decadent ending to my meal, I indulged in sticky toffee pudding, served with brown sugar and bourbon ice cream and a Piloncillo sugar wafer.
Amenities
Room amenities included an ice bucket with ice replenished twice daily, electronic safe, under counter refrigerator, ironing board and iron. Bathroom amenities included bathrobes and slippers, magnifying mirror, hair dryer, facial tissues, shower cap, and individual sizes of Gilchrist and Soames shampoo, conditioner, body lotion, cleansing facial soap and bath soap. A national newspaper (
USA Today
) was delivered to my room daily. I also received upon check in a card with instructions and a pass code that allowed me to access the online version of
The New York Times
.
Facilities The property had three restaurants, Fossett's, Villa Crawford and the Palmer Room and two bars, Fosset's Bar and Palmer Room Bar. There was also wine cellar, 18 hole golf course, three swimming pools, fitness center, spa, and tennis and aquatic center with two each hydro clay courts, all weather surface courts and three clay courts.
Pool The 63 foot by 36 foot (19 meter by 11 meter) salt water heated infinity pool had depths ranging from four to seven feet (1.2 to 2.1 meters) and a spectacular view of the golf course. It was open round the clock and reserved for the guests over the age of 18. Located at the far end of the mansion, it acted as a reflective pool for the north side facade. It was surrounded by twelve plush lounge chairs with thick brown canvas cushions and white canvas market umbrellas.
Other In addition to its recognition of Fossett's Restaurant, AAA has also bestowed its Four Diamonds Award to Keswick Hall consecutively for over a decade. Since 2002, the Keswick golf course has been has been recognized as a Certified Audubon Cooperative Sanctuary through the Audubon Cooperative Sanctuary Program for Golf Courses, an Audubon International Program. To date, they are one of only 30 certified courses in the Commonwealth of Virginia.
Cleanliness
Excellent
Date Of Review April 2014
Reviewers Article and photos by Josette King
Service My room was serviced twice daily. It was refreshed during the evening turndown service. Every member of the staff with whom I came in contact was friendly and efficient.
Would You Stay There Again? Yes
Contact Information
Address:
701 Club Drive
Keswick, Virginia 22947
Main Phone:
Toll Free:
+1 434-979-3440
+1 888-778-2565
Guest Fax:
Website:
Email: