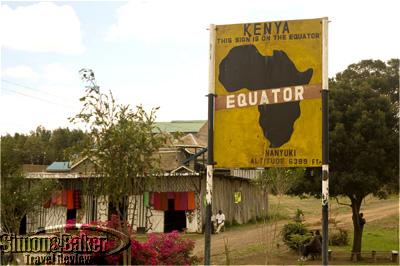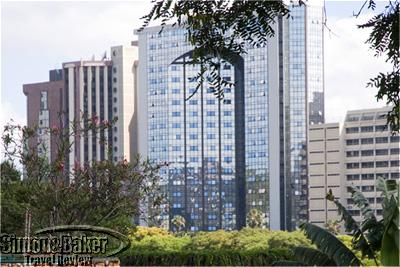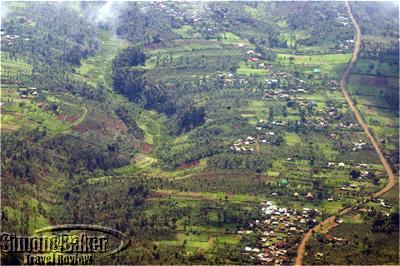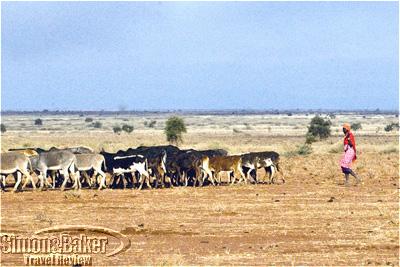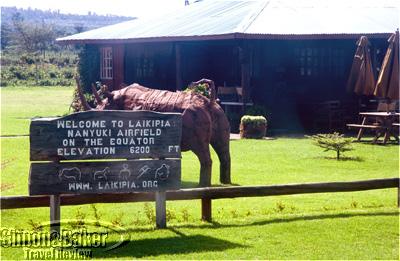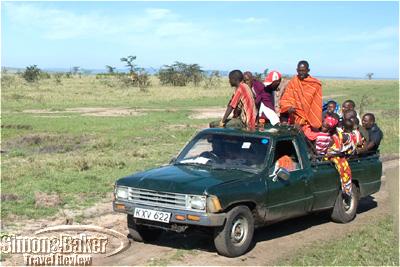 Kenya is a land of contrasts; a mosaic of cultures developed through millennia of rich history, scattered throughout a 225,000 square mile area (582,650 square kilometer; roughly the size of Texas), with a population of 38 million representing over a dozen main tribal groups. Many have retained their ancestral traditions from the Swahili sailing their ancient dhows along the coastal waters of the Indian Ocean to the Masai still herding their cattle across the wide open spaces of the southwest of the country. The topography of the land is equally varied and offers some of the most stunning landscapes in Africa. The country sits astride the equator on the eastern coast of Africa. From a 333 mile (536 kilometer) coastline of tropical beaches melting into the Indian Ocean it rises toward the west to the mile-high plateau of Nairobi and central highlands culminating at the snow-capped peak of Mount Kenya, 17,058 feet (5,200 meters) above sea level. Further west, the land slopes down again toward Uganda, Lake Victoria and Tanzania to the south, to become arid red-dust plains and sun-baked savannah teaming with some of the most spectacular wildlife in the world.Kenya has long being synonymous with safari (Swahili for travel). The country was an early leader in the preservation of game and its natural habitat. Today, Kenya boasts more than 50 national parks and game reserves as well as private conservancies covering over 10 percent of its total landmass. It delights visitors with visions of archetypal Africa: endless open spaces punctuated by the wide umbrellas of flat-topped acacias and omnipresent game. The Big Five (lion, leopard, elephant, rhinoceros and buffalo) can all be found there, sometime within a day's game drive, as well as cheetahs, zebras, wildebeest, giraffes and many other carnivores and herbivores, large and small.Meanwhile, water-sports enthusiasts revel in the endless stretches of palm-fringed sand beaches of the coast. Here the turquoise waters of the Indian Ocean are home to seven marine national parks alive with coral, fish, sea turtles and reef walls reputed among divers for their spectacular coral gardens and drop offs.To accommodate the large numbers of visitors drawn to Kenya by this rich combination of abundant wildlife in scenic and geographically diverse habitat and pristine tropical beaches, the country offers one of Africa's most developed tourism infrastructures. While I had long being aware of Kenya as a favorite destination for group tourism and family travel, I was pleasantly surprised on this, my first visit there, to discover a serene luxury beach resort and secluded boutique safari camps. Although a flair-up of violent civil unrest had been widely reported in the news following the national elections in January 2008 in some suburbs of Nairobi, this apparently had long subsided at the time of my visit. As in most large cities in Africa, I was cautioned by the staff of my hotel from venturing outside of hotel grounds for a walk on my own because of the risk of petty crime, Overall, I found the country peaceful and hospitable, Everywhere I visited, I was especially delighted by the courtesy and professionalism of the staff. They even taught me a few words of Swahili. The first one I learned was "Karibu!" (Welcome!)
Overall Impression
Kenya is a land of contrasts; a mosaic of cultures developed through millennia of rich history, scattered throughout a 225,000 square mile area (582,650 square kilometer; roughly the size of Texas), with a population of 38 million representing over a dozen main tribal groups. Many have retained their ancestral traditions from the Swahili sailing their ancient dhows along the coastal waters of the Indian Ocean to the Masai still herding their cattle across the wide open spaces of the southwest of the country. The topography of the land is equally varied and offers some of the most stunning landscapes in Africa. The country sits astride the equator on the eastern coast of Africa. From a 333 mile (536 kilometer) coastline of tropical beaches melting into the Indian Ocean it rises toward the west to the mile-high plateau of Nairobi and central highlands culminating at the snow-capped peak of Mount Kenya, 17,058 feet (5,200 meters) above sea level. Further west, the land slopes down again toward Uganda, Lake Victoria and Tanzania to the south, to become arid red-dust plains and sun-baked savannah teaming with some of the most spectacular wildlife in the world.
Kenya has long being synonymous with safari (Swahili for travel). The country was an early leader in the preservation of game and its natural habitat. Today, Kenya boasts more than 50 national parks and game reserves as well as private conservancies covering over 10 percent of its total landmass. It delights visitors with visions of archetypal Africa: endless open spaces punctuated by the wide umbrellas of flat-topped acacias and omnipresent game. The Big Five (lion, leopard, elephant, rhinoceros and buffalo) can all be found there, sometime within a day's game drive, as well as cheetahs, zebras, wildebeest, giraffes and many other carnivores and herbivores, large and small.
Meanwhile, water-sports enthusiasts revel in the endless stretches of palm-fringed sand beaches of the coast. Here the turquoise waters of the Indian Ocean are home to seven marine national parks alive with coral, fish, sea turtles and reef walls reputed among divers for their spectacular coral gardens and drop offs.
To accommodate the large numbers of visitors drawn to Kenya by this rich combination of abundant wildlife in scenic and geographically diverse habitat and pristine tropical beaches, the country offers one of Africa's most developed tourism infrastructures. While I had long being aware of Kenya as a favorite destination for group tourism and family travel, I was pleasantly surprised on this, my first visit there, to discover a serene luxury beach resort and secluded boutique safari camps. Although a flair-up of violent civil unrest had been widely reported in the news following the national elections in January 2008 in some suburbs of Nairobi, this apparently had long subsided at the time of my visit. As in most large cities in Africa, I was cautioned by the staff of my hotel from venturing outside of hotel grounds for a walk on my own because of the risk of petty crime, Overall, I found the country peaceful and hospitable, Everywhere I visited, I was especially delighted by the courtesy and professionalism of the staff. They even taught me a few words of Swahili. The first one I learned was "Karibu!" (Welcome!)
Climate
Due to the varied topographical environments I visited, I experienced distinct climatic conditions. Climate ranged from tropical (hot and humid) along the coast, to temperate with cool nights in the central highlands and hot and mainly dry in the lowland.
Cost Of Visiting Reasonable to high depending on the type of accommodations and location of the property and attractions.
Currency The currency is the Kenyan shilling (KES). The exchange rate at the time of my visit was 79 KES per U.S. dollar.
Electrical Current Kenya electricity was 240 volt and 50 hertz. A NW-135C adapter was necessary when using electrical outlets (the kind used in the U.K.)
Health And Vaccinations There were no mandatory inoculations for travel to Kenya at the time of my visit. My local health clinic, following the Center for Disease Control (CDC) guidelines, recommended an up-to-date inoculation schedule for hepatitis, yellow fever, polio, rabies, tetanus, diphtheria and typhoid fever, as well as preventive medication for malaria. For daily protection from insects, I used a combination of repellant cream with CDC-recommended high DEET concentration on exposed skin, and a DEET-free spray for facial protection. Additionally, as always in tropical climates, high protection sunscreen was a daily necessity. Another routine precaution was to use only bottled water for drinking and oral hygiene.
How To Get There There were daily non-stop flights from London, Amsterdam and Paris to Nairobi Jomo Kenyata International airport.
Location East Africa. Kenya is bordered by Tanzania to the south, Uganda and Sudan to the west, Ethiopia and Somalia to the north, with the Indian Ocean forming the southeast border.
Measures Metric system
Money Issues Currency could be exchanged at Jomo Kenyata International airport in Nairobi, where a bank was located in the international arrivals hall , as well as at banks in many city and tourist locations. I found the exchange rate offered by my hotels to compare favorably with that of the bank at the airport. While U.S. dollars and Euros were accepted, I found it necessary to have on hand small amounts of Kenyan shillings for taxis, tipping and incidental purchases. Credit cards were only reliably accepted in establishments catering to tourists.
Technology Electricity, running water, air-conditioning, television, Internet and cell phone access were readily available in Nairobi and Mombasa . In the safari camps and game parks, Internet access was unavailable, while cell phone and Bluetooth connectivity became limited and unpredictable. An occasional "hot spot" materialized when least expected. In several instances, text messages started cascading from my mobile phone during a game drive, only to have the connection vanish again within one mile.
Time G.M.T. plus three hours
Transportation From Nairobi, air connections could be made to various destinations within Kenya, mainly through small charter airlines departing from Nairobi's secondary airport (Wilson Airport) to airstrips serving the major national parks and nearby safari camps and lodges. My transfers to and from airports and airstrips were arranged by the lodges and camps . Although it usually required a connection at its Wilson hub, I found Safarilink, the principal charter airline, to be an efficient and reliable way to travel between the parks. Of the 40,0000 mile (65,000 kilometer) interurban road network, only 6,000 miles (9,500 kilometers) were paved, but tended to be in bad shape and crowded with hurried local drivers, giving road travel the feel of an extreme sport.
Facilities
There were banks, department stores, markets and supermarkets, pharmacies, Internet cafes, cell phone stores, and curio shops as well as healthcare facilities and hospitals in the cities. These were very limited outside of the urban areas, with health care facilities virtually non-existent
.
Safari properties required guests to carry mandatory emergency evacuation insurance.
Shanzu Beach Located 12 miles (20 kilometers) north of Mombasa, Shanzu was an idyllic stretch of creamy sand lined with soaring palm trees and a few luxury hotels unobtrusively integrated within their exuberant tropical surroundings. It bordered the 80 square mile (210 square kilometer) Mombasa Marine National Park and Reserve, ensuring a serene environment and pristine beach. Several coral species had been identified in its reef. It also harbored a prolific marine life including green sea turtles, sea urchins and cucumbers. It was a short 15-minute boat ride from the beach and a major attraction for divers and snorkelers. It could also be easily admired from a glass-bottomed boat.
Shopping And Souvenirs The l uxury hotels I stayed at featured gift shops with good assortments of local crafts, holiday fashion, t-shirts, books and souvenirs. They also offered a reasonable assortment of sun protection and personal hygiene products. Most safari camps did not have a curio shop and those who did limited their offering to Masai beaded jewelry. Local women usually congregated at known stopping points for game drive vehicles, such as park gates, to offer traditional jewelry and small wood carvings.
Tourism Highlights In addition to Nairobi and the coastal area north of Mombasa, I visited several national game reserves and parks. These were the highlights of my visit:
Amboseli National Park
What made Amboseli unforgettable was its breathtaking scenery: Mount Kilimanjaro, Africa's highest mountain rising to its majestic 19,340 foot (5,895 meter) summit was just across the Tanzanian border; a picture-perfect backdrop for the large herds of elephants stirring the red dust as they swayed by, on their way to the swampy oasis and grasslands in the center of the park. Buffalos, zebras and many types of gazelles mingled there, with lions and cheetahs never far behind.
Masai Mara National Reserve Located in the southwestern corner of Kenya, on the border of Tanzania, the Masai Mara is the Kenyan extension of the great Serengeti Plains. The park is one of the most renowned in Africa for its outstanding concentration and variety of game, especially its large lion population. It surpassed its reputation for me, delivering close range viewing of the Big Five in one game drive! Large journeys of Masai giraffes and herds of zebras were a common sight throughout the reserve, as well as astounding quantities of wildebeests and other antelopes, including topi, Coke's hartebeest and the rarely seen roan antelope.
Other At the time of my visit, U.S., Canadian and E.U. passport holders were required to have a visa to enter Kenya. It could be obtained from the Kenyan embassy prior to departure. The cost of one entry tourist visa valid for six months was $50.
Date Of Last Visit
November 2008
Reviewers Article and photographs by Josette King
Would You Visit Again? Yes