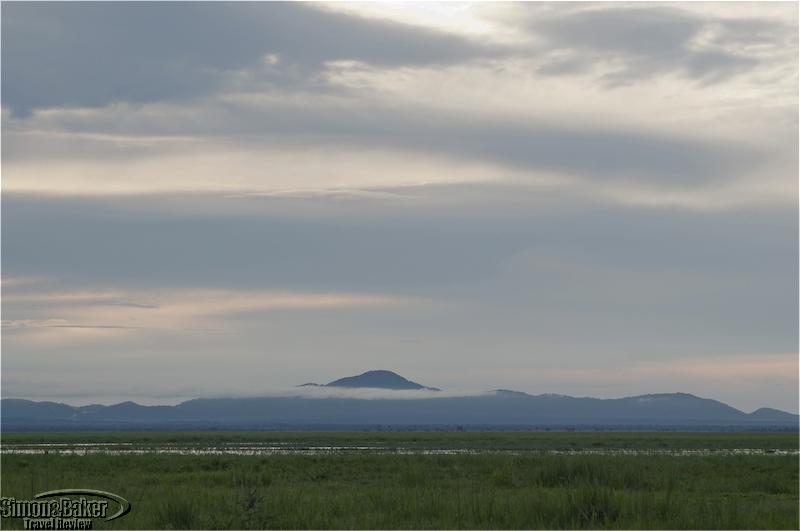 With its charming accommodations, warm and attentive staff, and its unequaled location in one of the most unspoiled wilderness areas I have visited anywhere in Africa, Katavi Wilderness Camp has become one of my most treasured safari destinations ever.
Overall Impression
Katavi Wilderness Camp delivered the ultimate safari experience, a pristine African environment unchanged for millennia, teeming with game and mine alone. The camp was an intimate enclave of comfort and gracious hospitality deep within the Katavi National Park, in the far western reaches of Tanzania. It took determination to reach Katavi, its main link to the 21st century being a twice-weekly light airplane connection with the Ruaha National Park. Road travel, for the daring souls who might consider it, was assessed in days. Which explains why despite its reputation for pristine wilderness and exceptional game viewing the 1,7270 square mile (4,471 square kilometer) park, the third largest in the country, only receives a few hundred visitors per year. The privilege of being one of them was obvious to me by the time I reached the camp.
Nestled in a grove of venerable marula and tamarind trees right at the mouth of the Katuma River, Katavi Wilderness Camp was so seamlessly integrated as to all but disappear within its breathtaking surroundings. The spacious tents under thatch that stood on either side of the lodge, each shielded from its neighbors by lush underbrush, were raised on large wooden platforms to overlooked the endless expense of the Katisunga Plain and the outline of the Lyamba-lya-Mfipa escarpment in the distance. The lodge itself, a vast open space of understated rustic elegance under a high thatch roof, featured an upper level lounge for the ultimate viewing perspective. The camp was one of these rare properties where every detail has been thoughtfully considered to ensure my comfort and optimum enjoyment of this exceptional environment, yet nothing was superfluous, so as not to detract from it. But as always in even the best-planned properties, the tipping point is the staff, and at Katavi it clearly tipped to the side of perfection. From Dick Ashcroft, the efficient and attentive camp manager, to Young Henry, the eager to please young Masai dining-room server and bartender (not to be confused with Chef Henry who worked wonders in the kitchen), every member of the friendly staff was personally committed to making my stay with them an unforgettable experience.
I visited Katavi at the start of the green season, usually considered a most favorable time for bird watching, but when game viewing takes more effort than in the dryer months, because ready access to water keeps animals scattered throughout their habitat. My guide, Apollo, a knowledgeable veteran of the park, proved different. Although birding was indeed excellent, Apollo treated me to some of the most leisurely, closest-range game viewing I have ever encountered. He made his way through the lush vegetation encroaching upon the already narrow trails to spots where the animals, unconcerned by a rare human presence, went about their daily life as they have for time immemorial. In the forest, large families of elephants came to browse within an arm's length of our open-sided vehicle. Herds of zebras unhurriedly made their way across our path, and giraffes came to drink in the puddles on the road. Even the most diffident of antelopes carried on grazing with no more than a cursory glance in our direction. And best of all, not once during my stay at Katavi did we encounter another vehicle, which made for an especially intense wilderness experience.
With its charming accommodations, warm and attentive staff, and its unequaled location in one of the most unspoiled wilderness areas I have visited anywhere in Africa, Katavi Wilderness Camp has become one of my most treasured safari destinations ever.
Camp Manager
Richard (Dick) Ashcroft
Children The camp welcomed children of all ages on a case-by-case basis by prior arrangement
Class Of Accommodation Luxury tented bush camp
Communications My GSM 900/1800 compatible international cellular phone service was erratic around the camp and in the park.
Handicapped Access The camp was fully wheelchair accessible. All guest tents as well the entire first floor of the lodge, including the dining room, lounge and bar had ramp access.
Internet Connectivity The camp had a WiFi connection in the manager's office that could be used to check mail and place internet-based calls. The connection was slow but reliable.
Length Of Stay Three nights
Location In the Rukwa region in western Tanzania, east of Lake Tanganyika
Owned-Managed The Fox family
Pets Allowed No
Size The property consisted of six guest tents that could accommodate a maximum of 12 guests. It employed a staff of seven including two guides. There were three game-watching vehicles.
Year Open-Renovated Katavi Wilderness Camp opened in 2004. It was fully renovated in 2009.
Lobby And Common Areas The lodge was located in the center of the camp. It was an airy open-side structure under a high thatched roof held by rough-hewn tree-trunks over a platform of dark polished hardwood. A central staircase led to an upper lounge that doubled as a viewing hide. To the rear of the first floor, a partial wall served as a backdrop for a mahogany-paneled bar. There were doors on either side of the bar, one leading to the common washrooms, the other to the service kitchen. The lounge décor featured two clusters of brown leather Victorian-style rolled arm sofas and matching wingback armchairs with red cotton toss pillow, and hexagonal occasional tables on taupe cotton rugs. The upper lounge had a similar seating arrangement. Bright tribal rugs with bold geometric designs hung from the staircase. At the front of the lodge, the dining area extended toward the plain. It was furnished with a long rectangular wooden table with pale green and white woven cotton place mats and a central runner over a white linen tablecloth. The table was surrounded with director chairs with tan canvas backs and thick green and white seat cushions.
Bathroom
The bathroom occupied the rear third of the tent. The room dividers separating it from the sleeping area were fitted with storage shelves and a clothes-hanging rod. A central masonry wall held a vanity with twin white ceramic sinks set in a wood countertop. Wood-framed mirrors separated by a toiletry shelf and a light fixture with a circular parchment shade hung above it. Behind the wall, there was a doorless water closet on one side and a shower stall on the opposite side. A towel rack holding an ample supply of dark green bath and hand towels stood on the floor next to the shower stall.
Room My 375 square foot (35 square meter) tent, Number One, sat on an oversized platform that also included a large front veranda. A high peaked thatched roof shaded both tent and veranda. The tent had the usual zippered front entrance and sidewalls with three sets of large netting windows with outside canvas panels that could be zipped down for privacy. The sleeping area occupied the front two-thirds of the tent. Although the furniture was in rustic safari style, the layout and accessories gave the room a relaxed contemporary feel. A king size bed sat in the center of the room. Its headboard was a long credenza with a dark polished wood top that served as bedside table. It held two small reading lamps with natural burlap shades. Bedding was white cotton with silver gray trim and two ornamental toss pillows covered in multicolored striped velvet in shades of crimson, tan and fuchsia. At the foot of the bed a mahogany-stained chest provided storage and a convenient luggage rack. A writing desk and a folding wooden chair with a red seat cushion sat in the right front corner of the room. There were taupe cotton throw rugs next to the bed. At the rear of the sleeping area, two partitions covered in light brown canvas stood on either side of a central doorway leading to the bathroom. One partition held a large carved mask, the other a contemporary oil painting with an African theme in shades of red.
Meals The food was wholesome, plentiful and well prepared. All meals were served plated. Breakfast started with a plate of cut fresh fruit, freshly baked rolls and crepes. Having noticed on the first morning that the latter were my favorite, Chef Henry made sure to prepare them for me each morning thereafter. There was a full English breakfast cooked to order. Breakfast beverages were tea and coffee and assorted fruit juices. Lunch consisted of an assortment of salads, cold meats, savory and sweet pies and turnovers and dessert served family style. The three-course dinner started with an elegant cream soup where the flavor of fresh vegetable really came through, followed by a main course of meat, poultry or fish with vegetables, and tempting desserts such as caramel cheesecake and flourless chocolate cake. A vegetarian meal option was available by prior request. In addition to scheduled meals, complimentary coffee and tea were available throughout the day in the dining area, with cake served at teatime.
Amenities
Room amenities included early morning wake-up tea or coffee delivered to my tent, daily laundry, bottled water for drinking and oral hygiene, insect control room spray, flashlight, golf umbrella and electronic safe. Bathroom amenities included bath and hand towels, face cloths, individual size bottles of house brand shower gel and hand soap.
All meals and daily game viewing activities were included. Other than the water provided in the room, which was replenished daily, soft drinks, bottled water and alcoholic beverages were available at the bar and priced individually.
Game Viewing
Birding and game watching were unique at Katavi in their abundance and variety as well as in the quality of the viewing opportunities. The animals were amazingly unfazed by my presence. On the day of my arrival, I was treated to a spectacular close-up performance of gray crowned cranes engaged in their mating dance. One early morning, a small herd of the notoriously skittish elands came grazing by my tent, while I sat on the veranda enjoying a cup of tea. All my game drives took place in one of the camp's custom-designed, canvas-topped, open-sided vehicles, with the undivided attention of my guide Apollo.
Game I sighted included: buffalo, elephant, lion, hippo, warthog, zebra, impala, black-backed jackal, side-stripped jackals, Kirk's dikdik, giraffe, eland, vervet monkey, reedbuck, topi, waterbuck, Grant's gazelle, impala, greater kudu, yellow baboon and Nile crocodile.
Birds included: yellow-winged bat, European bee eater, white-browed coucal, grey crowned crane, knob-billed duck, adult and juvenile fish eagle, long-crested eagle, adult and juvenile martial eagles, Verreaux's eagle-owl, cattle egret, great white egret, grey-backed fiscal, Hildebrandt's francolin, Egyptian goose, spar-winged goose, Montagu's harrier, squacco heron, African jacana, sacred ibis, hadeda ibis, ground hornbill, woodland kingfisher, pied kingfisher, blacksmith lapwing, longtoed lapwing, red-billed oxpecker, speckled pigeon, broadbill roller, lilac-breasted roller, magpie shrike, wire-tailed swallow, woolly-necked stork, open-billed stork, palm-nut vulture, white-back vulture and lesser masked weaver.
Activities In addition to twice-daily game drives, an all-day game viewing option with a picnic lunch was available.
Other
Electricity was provided from 9 a.m. to 1 p.m. and 6 p.m. to 10:30 p.m. by a diesel-powered generator. My tent had a convenient outlet that could be used to charge my camera, phone and computer batteries. There was a powerful flashlight in the tent for use when electricity was not available during the night.
Katavi is a seasonal camp that is closed during the rainy season, from March until June
Cleanliness
Excellent
Date Of Last Visit January 2011
Reviewers Article and photos by Josette King
Service My tent was serviced twice daily. Every member of the staff I met was consistently friendly and efficient. Apollo, my guide, was outstanding, both in his knowledge of the park's fauna and flora and in his attention to ensuring that I didn't miss a thing, or a picture.
Would You Stay There Again? Yes
Contact Information
Address:
Foxes Safari Camps
P.O. Box 10270, Tazara
Dar es Salaam
Tanzania
Phone:
Mobile:
Emergency:
UK Phone:
Fax:
Website:
Email: