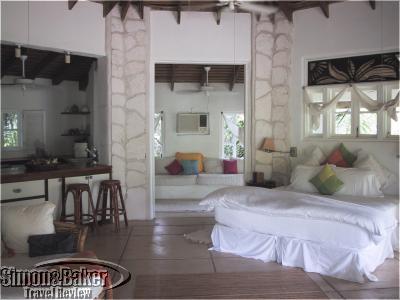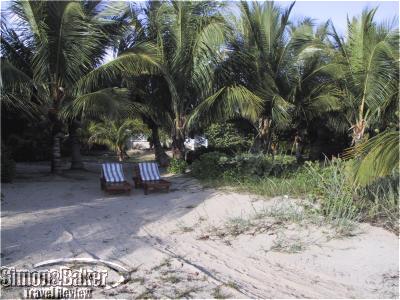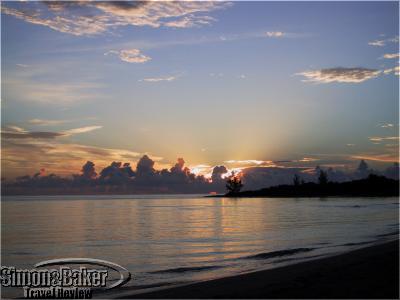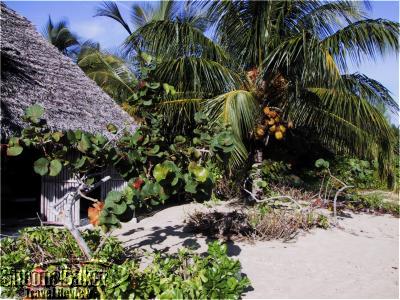 While we were there we enjoyed a laid back, unhurried ambiance and wonderful, inventive food.
Overall Impression Though only a short distance from Florida's east coast Andros might as well be a world away. We encountered friendly Bahamians the way they used to be 20 years ago at Kamalame Cay. We shared the secluded hideaway with a maximum of 8 other guests during our visit. While we were there we enjoyed a laid back, unhurried ambiance and wonderful, inventive food.
Class Of Accommodation
Luxury
Length Of Stay 3 nights
Owned-Managed Jennifer and Brian Hew; Island Outpost
Size Small
Year Opened-Renovated 1998
Lobby And Common Areas Open air relaxed Bahamian/continental decor
Bathrooms
Indoor open air nice size cream colored décor with an oversize bathtub/shower combination, plenty of towels in all sizes and Aveda toiletries
Rooms Open air relaxed Bahamian/continental decor. Earth tone colors with accent colors and use of natural materials (stone, wood, bamboo). Our beachfront cottage, with French doors at the front, was beautifully designed to capture the sunrise. It came with a kitchen, an adjacent small lounge and a covered porch/veranda which added to the feeling of spaciousness. There were plenty of chairs and places to lounge on inside and on the porch. We took advantage of the air conditioning unit to cool the room down in the evenings. Since we did not have a key for our room, we just left the French doors open during the day to allow the breeze to come through. The wide separation of the cottages and the lush growth provided reasonable privacy, even with the entire cottage open.
Restaurant Great House offers lovely Bahamian style continental cuisine emphasizing meat, chicken and seafood. Breakfast is made to order. Lunch and dinner are set menus. The general quality of the food was excellent. Lunches were typically salads with chicken or seafood, and dinner was a more elaborate meal with a soup or appetizer and a main course. Service at the great house was excellent and caring. We had lunch in our room the last day.
Amenities
Room rate included all meals, nice selection of liquors, wines, soft drinks and beer. There were kayaks and snorkeling gear available. Our rooms included a CD player (we will remember to bring some of favorite CD's) and shelf of books. No telephones or television in room (to reduce stress). Cushioned lounge chairs outside each room along the beach. Limited supply of golf carts for guests in cottages further from Great House dining area. Our cottage kitchen was stocked with coffee/tea service, and a small refrigerator with beer, soft drinks, cheese, crackers milk and fruit. On some days, a wonderful jar of freshly baked cookies was dropped off as a treat. There was an in-room safe available (key operated). Massage therapist available for in-room massages at additional fee (the masseuse, who flies in from Nassau had to be booked in advance. She stood out for her warm demeanor and professional attitude).
Facilities Tiki lounge with self serve bar and music system. The Great House, where all meals are served, also has a well stocked self service bar. The marina has small watercraft used for snorkeling and fishing trips.
Pool And-Or Beach A three-mile beach, beachside fresh water swimming pool and adjacent self service tiki bar.
Water Sports Resort offers scuba diving, snorkeling and fishing. Most motorized sports require advance planning; dive masters and fishing guides are not always available. They recommend guests make booking requests with at least a day in advance to ensure availability.
Challenges
The remote location increases travel time to the resort. All activities such as diving, motorboat snorkeling rides, deep sea diving, bone fishing and massages must be requested ahead of time and even then may not be available. Lighting along the golf cart paths and beach was inadequate and sometimes absent completely and there was a shortage of golf carts. The lack of golf carts and umbrellas in our room made walking to/from the common areas unpleasant at times. There was no communication possible from the cottages to the outside; guests would have to walk in search of help in case of a medical emergency.
Conference Facilities N/A
Other Based on our experience there, on a subsequent visit we would communicate our interests in water sports, fishing, hunting and food preferences to the resort prior to our arrival. Due to the remote area, the staff needs a day or two notice to book necessary guides, supplies and equipment to meet a request.
Booking travel to Andros Island was a challenge. There were small charter flights available that could greatly reduce the travel time, but these were not listed on the property website and we did not find out about them until we arrived. When we traveled, there were two scheduled flights available; one early in the morning and another at 4 p.m. Coordinating these with available flights from our departure city meant spending a night in Nassau and a lengthy layover, on the return flight, at the Nassau airport.
Check-In-Check-Out Process Ease
Good
Cleanliness Good, particularly for warm humid climate. No mildew or odors due to selection of materials used in construction.
Date Of Review September 2003
Ease Of Reserving A Room Arranged by a third party
Overall Service Good
Reviewers Article by Elena del Valle
Photographs by Gary Cox
Would You Stay Again? Yes
Contact Information
Address:
Kamalame Cay
Staniard Creek
Andros, Bahamas
Telephone:
1-800-OUTPOST
1-305-531-8800
Fax :
Website :
Email :