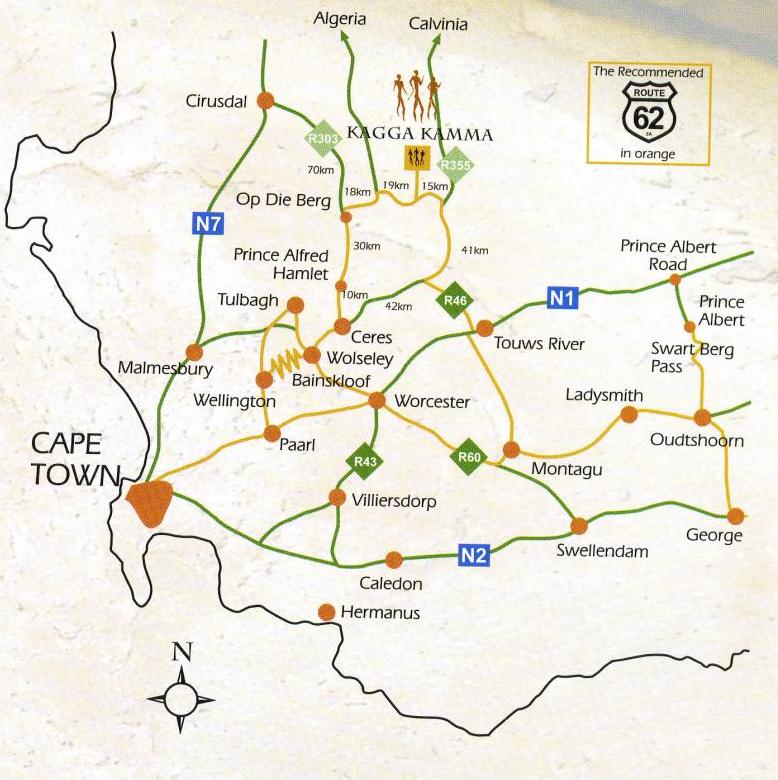 Seeing the famous ancient (350 to 6,000 year old) San paintings, and listening to the guide's colorful storytelling relating to this dying culture was fascinating.
Overall Impression
Kagga Kamma, located in an arid area, was named for the waters that were plentiful at one time. It is the only game lodge in South Africa with four star graded luxury caves, was a great place to get away. We appreciated the lodge's comfort orientation; cave design rooms, and efficient service staff. Without phone, fax cellular phone, or Internet access, we focused on the quiet and stark beauty of our surroundings.
The game viewing was an added bonus. At Kagga Kamma, home to nearly 300 animals, including 36 mammals, we enjoyed some game viewing and stargazing. Seeing the famous ancient (350 to 6,000 year old) San paintings, and listening to the guide's colorful storytelling relating to this dying culture was fascinating.
Class Of Accommodation
Four stars from the Tourism Grading Council of South Africa
General Manager Heinrich de Waal
Handicapped Access No
Length Of Stay Two nights
Location In the Swartruggens region, south of the Cedarberg Mountains, 250km (approximately 150 miles) from Cape Town. A four hour drive; or 40 minute charter flight from Cape Town .
Lodge Manager Andries Ras
Owned Willie de Waal, Pieter de Waal and Pieter Loubser
Size Ten caves and five huts
Utilities During our stay, electricity was available from6:30 a.m. to11 p.m. We found candles in our "cave" for when the electricity was off. They also provided us with a flashlight, attached to our room key, to light the way to and from the main lodge after dark.
It was great to be able to walk freely within the lodge at night. Almost all the other lodges and camps we visited would only allow guests to walk around at night with security escorts.
Year Opened-Renovated 1989 first construction; 1997 caves and huts built
Lobby And Common Areas
: The lodge including the reception area, restaurant and pub had a bushman arid style. There were reproductions of bushman art on the walls; the bar stools featured animal print cloth and the furniture though rugged looking was comfortable. There was a satellite television in the pub.
Between the bar and the boma (dining area) was a lovely mat of green grass with chairs and tables where some guests rested in between activities. A small area for astronomical observation was under construction when we visited.
Bathroom : In a corner of our "cave" there was a bathtub, sink and W.C. (toilet). They were part of the room with no divider of any kind. This meant anyone in the room would hear, and possibly see, the other while they used the facilities. Though it took a moment to adjust, this unusual arrangement was acceptable for us. Shy individuals or parties who are not close may prefer to make alternate arrangements.
Room From inside "our cave" and from the adjoining small open terrace of our "cave," at the top of a hill, we had an impressive view of the plateau. The grotto like and cool (there was easily a 10 degree temperature difference with the outside) room included a king bed with a night table and lamp on each side, a vanity/wet bar, a small built-in closet, and a large rock we used as a table and luggage rack. The bathroom facilities (see below) were part of the room. The floor was terracotta color tile and the area by the bed was carpeted.
Food And Restaurants
The restaurant served three meals a day at the following times: Breakfast 8 a.m. to 9:30 a.m. ; lunch 12:30 p.m. to 1:30 p.m. ; dinner 7:15 p.m. to 8:15 p.m. In between those hours, it was possible to order a sandwich at the pub.
While breakfast and lunch were served in the restaurant, dinner was served in the boma with an open fire roaring and the night sky as a ceiling. There were only two choices on the diner menu. The lunch menu offered more options. No dessert was available when we had lunch.
Amenities
Complimentary tea bags and instant coffee in the room; Bushmen Lodge travel size toiletries including foam bath, soap, body lotion, and sun screen.
Facilities Bushmen Lodge had a pub, curio shop and restaurant with an open air boma (dining area)
Pool Yes. The pool, situated in the Rest Camp time share area of the lodge, was a 25 minute walk away from the lodge main area.
Game Viewing : We spotted oryx, eland, bontebuck, springbok, baboons, blue wildebeest, Burchell's zebra, Cape hare and lots of dassies during the short morning game, a visit to the Reed River Canyon and a Bushman painting outing.
Conference Facilities
One conference room with capacity for up 30
Other Seeing the San or Bushmen paintings was a treat. During the lodge's San tour, we visited three locations where a handful of ancient Bushmen paintings appeared on the sandstone rocks. We were also able to see one of the remaining San huts.
We had looked forward to meeting the descendants of some of the artists who for a while lived on the Kagga Kamma land. It was not to be; when we arrived, we discovered the Bushmen had relocated to government granted land in the Kalahari area.
Check-In-Check-Out Process Ease
Excellent
Cleanliness Excellent
Date Of Last Visit May 2004
Would You Stay Again? Yes
Contact Information
Admin Address:
17 L'Ideal Estate
Paarl 7646
South Africa
Property Address:
Ceres, Western Cape,
South Africa
Phone:
Fax:
Website:
Email: